Zaatar is a fine aromatic spice blend, fresh, tangy and nutty. Prepare this Lebanese zaatar from scratch and use on various foods (see in the post for zaatar uses) or double the recipe to make a bigger batch and store in airtight containers.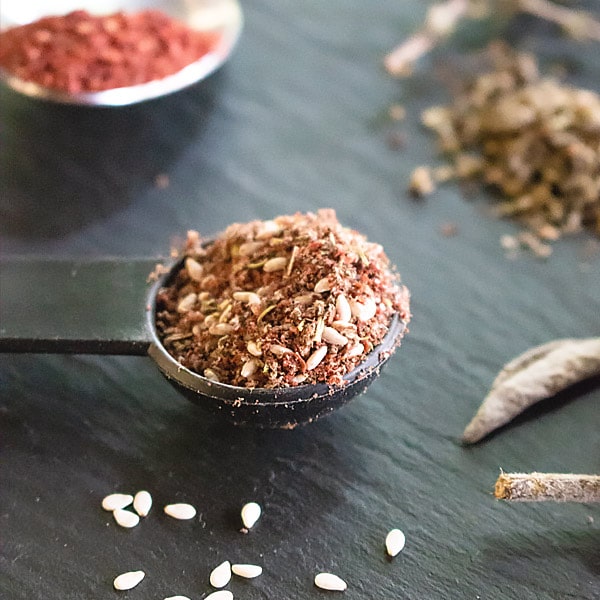 A flavorful Lebanese Zaatar Spice Blend Recipe so that you can make this wonderful Mediterranean spice blend at home with your own spices.
This will give you the option to use only real ingredients in this popular Levantine seasoning blend and at the same time, you will understand what ingredients make this spice blend so amazing!
Global Food Recipes
with Spices and Herbs
Free E-Book available for a limited time. Grab yours now and get instantly inspired!
Jump to:
📕 What is Zaatar?
Zaatar (actually spelled Za'atar) has two meaning:
Zaatar is the name given to certain herbs in the middle east/Mediterranean area. This includes prominently Thyme, Hyssop, Oregano and Savory and similar plants such as Marjoram.
Zaatar is a seasoning spice blend made of these herbs and more. The most well known is the Lebanese zaatar.
When people in these regions say zaatar they just mean the herbs growing behind the back of their homes and because local ingredients are intensively used in the daily cuisine, it was just fitting to name the blend of herbs and spices as Zaatar.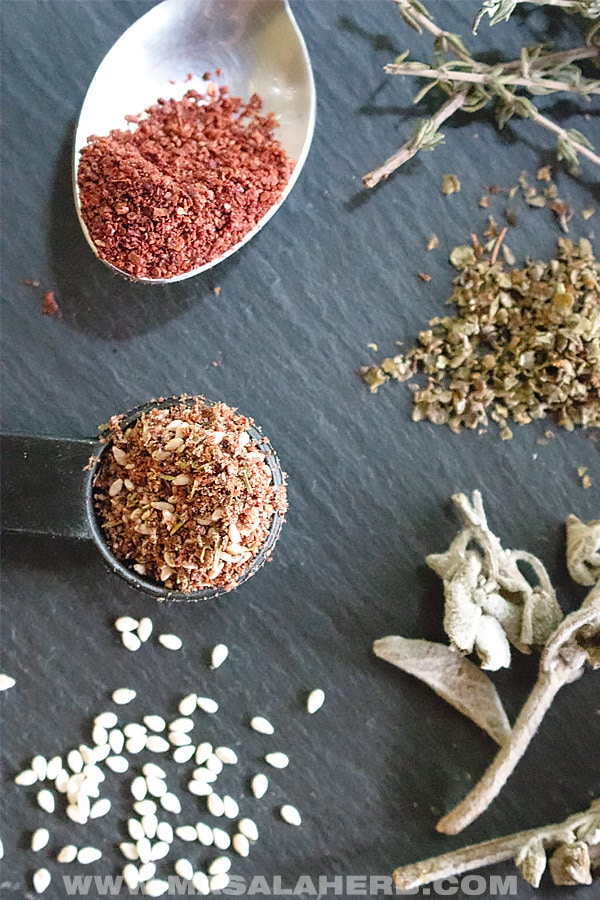 Zaatar is a common seasoning in Lebanon, Israel, Palestine, Syria and Jordan and regions touching this area including Iraq, Saudi Arabia, Cyprus island and Turkey.
This geographical area is also known since the antique as the Levant.
This is a huge area so you can imagine that the zaatar in Lebanon will be different from the one in Israel.
In fact, zaatar is one of those treasured family recipes and usually people in this area don't tend to share these kinds of recipes for outsiders.
Just as they wouldn't tell how they make their bread but each home claims to prepare the best recipe and things can get heated when you want to talk about the best zaatar or shakshuka in this world.
I think so you get the picture.
Zaatar is used on a daily basis first thing in middle eastern homes.
In traditional places, it's still commonplace that the women prepare the bread early mornings and Zaatar with olive oil is spread over the flatbreads before they are taken to a communal bakery and baked.
Zaatar bread is breakfast to the people in this region!
🧂 Lebanese Zaatar Ingredients
What makes zaatar so flavorful and such an amazing seasoning?
Zaatar tastes fresh thanks to the combination of herbs, the sour sumac, and the toasted sesame seeds.
The Zaatar flavors need to transport you to those middle eastern villages, where all the ingredients grow on the hot dry hills around the small villages.
I chose the following ingredients for my Zaatar mixture, whereas each ingredient finds purpose in one way or the other.
Of course, keep in mind there are countless zaatar recipes out there.
Yet, I like this recipe for its balanced flavors and tart touch.
Thyme
Thyme lends the Lebanese zaatar the classic base flavor.
It's a refreshing herb with a strong unique aroma.
Thyme grows well in arid areas with plenty of sun and it's a herb that grows without problems as long as there is no frost.
Thyme is usually harvested in the summer months and then dried to use it the rest of the year.
Marjoram or Oregano
Marjoram and Oregano are similar in taste and character.
Yet I believe Marjoram works best in this zaatar spice blend.
However, I am well aware that most people don't keep marjoram in the pantry, so I give you the option to use oregano instead.
Savory
Savory is super important in this zaatar spice blend as it is the flavor link between the herbs and the other ingredients.
It balances out the zaatar and adds another aspect of freshness to the zaatar.
Sumac
Sumac is a sour tart spice from red flower buds, it's not that well known outside the Middle East, which makes it difficult to track down.
Sumac is an essential ingredient in this Lebanese Zaatar and I suggest not to skip this spice as it gives the spice blend the sour touch, which makes zaatar so special.
You can buy pure Sumac here and it's completely worth it because you can use sumac to season all kinds of food, not just middle eastern Hummus (I make a Hummus without Tahini), and soups.
I add some sumac on my oven roasted chicken too, it adds a tart aroma to other middle eastern and Mediterranean dishes.
If you are looking for a semi-decent sumac substitute, try using dried lemon acid concentrate or simply lemon juice in your dish.
[caption id="attachment_13789" align="aligncenter" width="600"]
Sumac
Sesame Seeds
The Sesame seeds make the zaatar so very middle eastern!
Usually, white sesame seeds are used but I think black ones can be used as well.
It's just the white sesame seeds are not ground but left whole and they pop out in the spice blend which kind of looks nice when you use the spice blend on foods.
What is important is the toasting of the sesame seeds so that the flavors come out.
The warm toasty flavors give the zaatar a homely feeling.
📜 Why make your own Lebanese Zaatar at home?
I noticed a difference in quality between store-bought zaatar and homemade zaatar.
I even went so far as to ask someone to bring me zaatar from the middle east (because I didn't plan on traveling there so soon).
The zaatar from the middle east was from a Carrefour store in Dubai and I think most of us have access to a supermarket or amazon online so I bet you will get the same ready-made zaatar quality in most stores.
The store-bought zaatar is less intense, it's acidic but you can't visibly see red sumac.
I compared flavors with the homemade versions and realized that the sumac tastes differently, that means the store bought version includes artificial acidity such as lemon acids.
That said, I prefer the zaatar with real sumac.
That spice simply has something to it that makes it special and that is why I recommend that you make your own zaatar from scratch because you get to choose:
the ingredient quality
the dosage
to add sumac
what's in it!
🔪 How to make Lebanese Zaatar?
When you make Zaatar from scratch you need to take care of one aspect and that is dry ingredients.
The herbs need to be crispy and should crumble easily between your fingers.
That way you will have an easier time preparing the Lebanese Zaatar because the herbs need to be ground dry.
If you find your dried herbs being not that crispy then you can just heat up a small pan and add your herbs to the pan for a few seconds until they get a bit crisper.
I have encountered this problem in humid conditions with a room humidity level of +55%.
For the Zaatar you will need to grind the herbs small with the sumac.
Use a mortar and pestle for that, no need for a mixer because the pounding does it best and results in a very attractive aromatic spice mixture.
The sesame seeds are toasted so that the oils of the seeds come to the surface which in turn intensifies the comforting sesame flavors.
Then you just need to mix all ingredients and store in an airtight container.
I make sure to use glass containers so that I see all my spice blends and a rack so that it's not in my way.
💡 How to use Zaatar?
on Flat Bread (Manakish)
over french fries or potato wedges as seasoning
mixed into Fatoush salad or Tabbouleh
in Mujadara Rice
to season grilled chicken or vegetables
in Labneh
over Hummus which I serve with sesame chicken schnitzel
add to Falafel mixture
over chickpea soups or red lentil soups such as for the Turkish red lentil soup dressing
over fresh cucumber dishes
great too with autumn root vegetables, think potato mash, carrot mash, kohlrabi.
I add a pinch over my fried eggs
or I sprinkle zaatar of my favorite shakshuka with feta
seasoned lamb chops
zaatar crackers
The beauty of Zaatar is that you can use it in a very creative way without messing up a dish. In fact, I found it to be super versatile.
More Homemade Seasoning ideas:
Dear Reader, how are you planning to use this homemade Lebanese zaatar?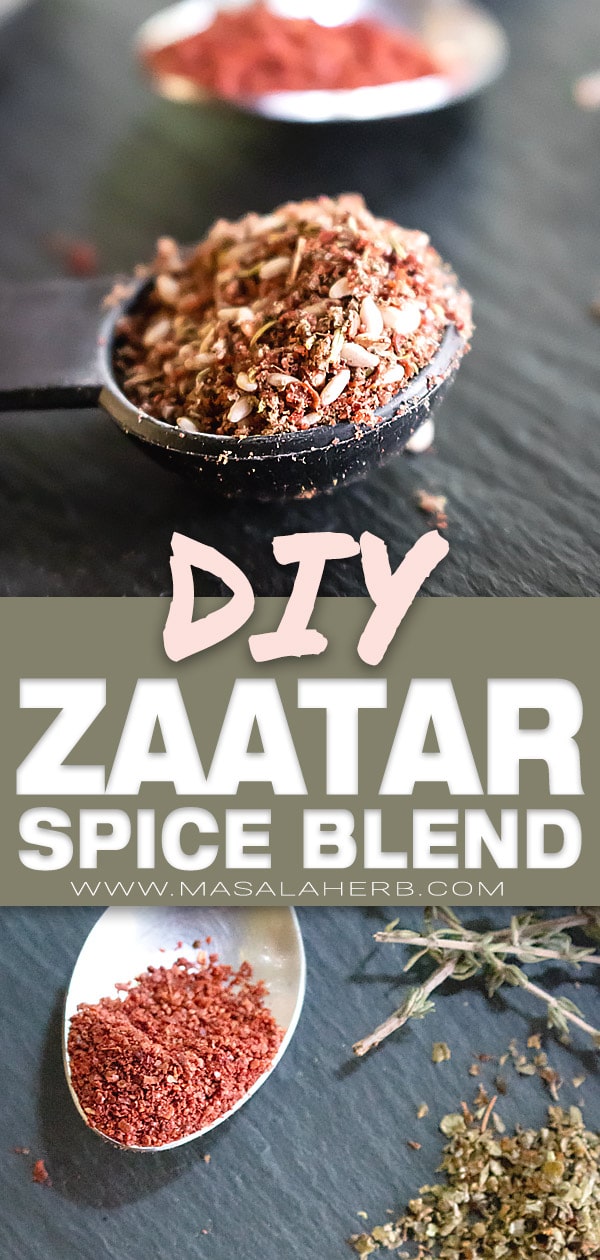 Global Food Recipes
with Spices and Herbs
Free E-Book available for a limited time. Grab yours now and get instantly inspired!
📖 Recipe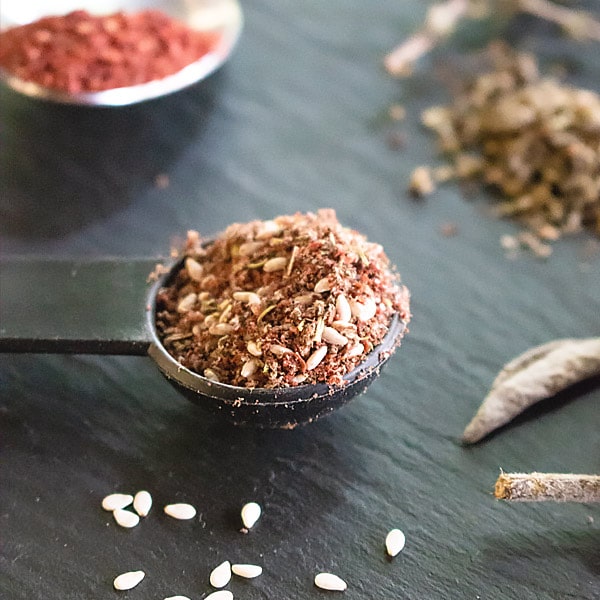 Lebanese Zaatar Spice Blend Recipe
Zaatar is a fine aromatic spice blend, fresh, tangy and nutty. Prepare this Lebanese zaatar from scratch and use on various foods (see in the post for zaatar uses) or double the recipe to make a bigger batch and store in airtight containers.
Print
Pin
Rate
Ingredients
1

Teaspoon

Sesame seeds

1

Teaspoon

dried Thyme

½

Teaspoon

Savory Herb Dried

1

Teaspoon

Marjoram or Oregano Dried

see Note

1 ½

Teaspoon

Sumac

¼

Teaspoon

Salt
Instructions
Place the Sesame seeds into a small pan and dry toast the sesame seeds until you can smell them toasting or see them popping up. Keep aside to cool.

In a mortar and pestle add the thyme, savory, marjoram, and sumac. Pound all the ingredients until well mixed and you can smell the spice blend forming.

In a small bowl or container combine the previously pound ingredient mixture with the sesame seeds and salt.

Store in an airtight container until further use.
Notes
1. You can substitute de Marjoram with Oregano. I just prefer Marjoram in this recipe but this is up to you.
2. If your herbs are not crispy enough, place them into the small pan and just dry toast them until crispy. Don't burn the herbs.
Nutrition
Nutrition Facts
Lebanese Zaatar Spice Blend Recipe
Amount Per Serving
Calories 7
% Daily Value*
Sodium 291mg12%
Calcium 19mg2%
Iron 0.8mg4%
* Percent Daily Values are based on a 2000 calorie diet.