Flavorful Indian Lentil Soup – comfort level is high because the soup will brighten up your dinner with the heartwarming colors and nutritious ingredients.
Besides the soup comes together real quick and easy, therefore the soup is a perfect meal idea after a long day at work as each bite revitalizes you. Plus point: the soup is vegan.
Other MasalaHerb.com Videos
Indian Lentil soup vs Lentil Curry
This particular Indian lentil soup is a variation of my Goan masoor dal curry. The difference is the number of spices used and the quantity. Also, today's Indian lentil soup is actually a soup as it includes more water than the Goan dal curry.
Red split lentils are also known as masoor dal or masoor lentils.
I personally make a difference between the Goan dal curry and any the masoor red lentil soup because the Goan dal is poured in small quantities over rice as it's spicy and thicker.
Today's Indian inspired red Lentil soup, on the other hand, has got the Goan food flavor profile but resembles the Lentil soups which I have tried in North India. Those are super thin and most are always prepared with split red masoor dal lentils.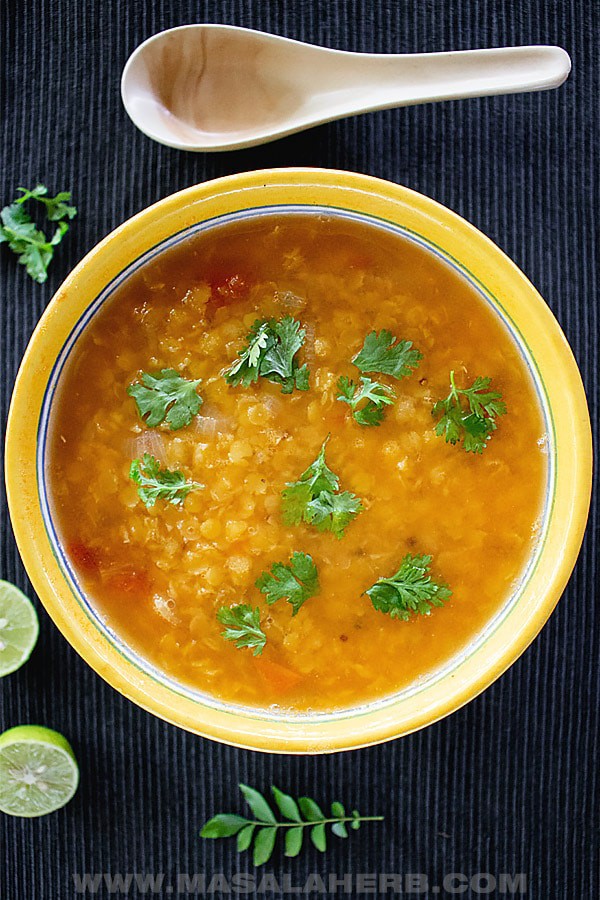 How to make the Indian Lentil Soup? [Video]
You can prepare this lentil soup in any soup pot, you don't need special equipment for that. Another reason why this meal might be a great idea for students and couples. Minimum workload here and zero compromises on the taste and you know I love that!
The Indian soup with lentils comes together fairly easy.
Wash lentils and keep to soak a bit so that your cooking time is less (saves you time in the kitchen and stove energy)
Peel and slice your tomato, onion and if you use fresh ginger and garlic (otherwise paste)
Fry ingredients, spices, add lentils, broth.
Let cook for 10-15 mins or until done.
Serve hot and enjoy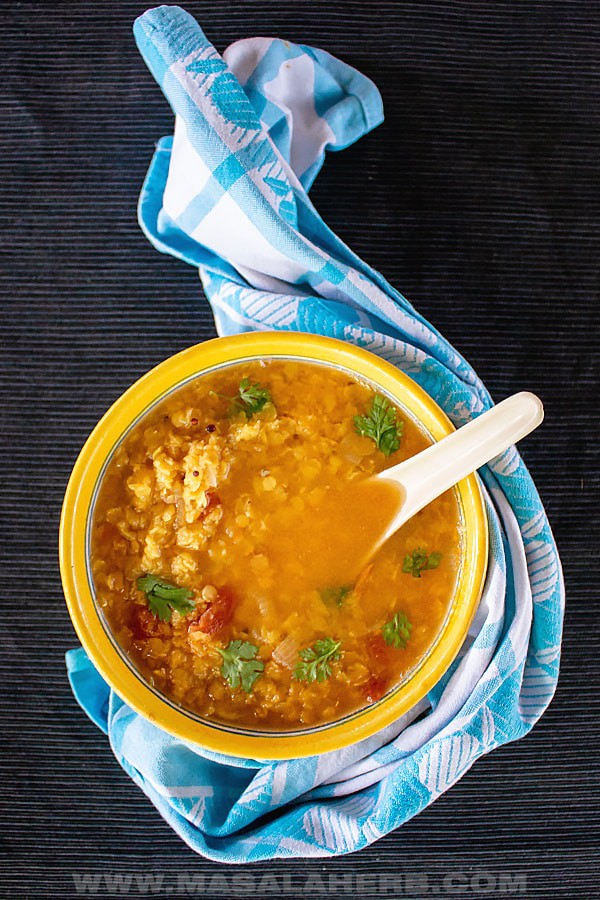 How to serve the Indian Lentil Soup?
I love this soup with flatbreads. It doesn't matter what kind of flatbread, in fact, I even tend to use middle eastern or Italian flatbreads because those are seasoned well and it works great with this lentil soup too.
Otherwise, my husband loves this Indian lentil soup with garlic bread or butter herb bread. I am good with that too :).
Usually, we serve the Indian lentil soup as a meal on its own because the lentils are rather filling and then we just serve a green salad or a french bean salad with a mustard vinaigrette with it as at the side. In the end, we always take out our cheese to finish off the meal.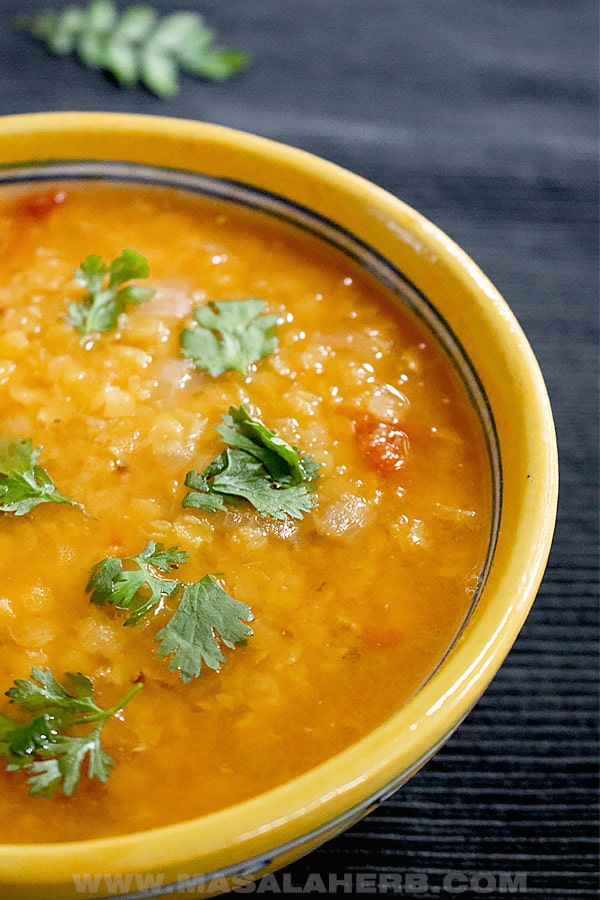 Red Lentil Soup is suitable for the following diets:
Vegan
Gluten-free
Low Carb
High Protein Plant-based
Similiar dishes like the Indian lentil soup:
Easy Indian Lentil Soup Recipe [Vegan] below:
Easy Indian Lentil Soup Recipe
Flavorful not hot spicy Indian lentil soup with split red masoor dal lentils, a couple of spices and other healthy ingredients. This soup is great all year round but of course most suitable when the days get shorter and cooler. See notes for ingredient advice.
Ingredients
300 grams (10.6 oz or 1½ cup) Masoor Dal (aka red split lentil)
1 Tablespoon Oil
1 medium Onion sliced
1 Teaspoon black Mustard seeds
3 Curry Leaves (optional, see Notes)
1 regular Tomato diced
1 Tablespoon Ginger Garlic paste homemade or store-bought ginger garlic paste (see Note)
¼ Teaspoon Turmeric Powder
¼Teaspoon Red Chili Pepper Powder
¼ Teaspoon Black Pepper Powder
½ Teaspoon Cumin Powder
½ Teaspoon Coriander Powder
1 liter (33.8 fluid ounces or 2.1 pints) Veg Broth
pinch scraped Nutmeg
pinch Salt
Juice of one Lime
Garnish with chopped fresh Cilantro (Coriander)
Instructions
Wash and keep your red lentil to soak for about 20-30 mins. That will reduce your cooking time a bit and save you stove energy as well.
Add oil to a pan and heat up, add in and fry your onion slices.
Add the mustard seeds with the curry leaves and temper/stir-fry until the spices emit the fragrant aroma.
Now add the tomato and ginger and garlic, Stir cook again.
Next, reduce the heat so that you can add the spices one by one without anything burning on. Add in the turmeric powder, the chili powder, the black pepper, the cumin powder and the coriander powder.
Stir fry the spices on high heat for a minute, then reduce the heat again.
Add the lentils to the pan and stir fry for a minute on high heat again. This I believe helps in releasing the taste of the lentils for the soup flavor.
Pour in your broth, mix and add the scraped nutmeg and mix again well.
Let the soup cook covered until the lentils are soft, that should take about 10 minutes.
Take from heat season with salt to taste and add the lime juice. Mix well.
Pour soup into serving bowl and garnish with fresh cilantro (coriander).
Notes
1. Curry leaves are optional because they are not always available. However, I do suggest you get them because the curry leaves add real flavor to the Indian dal soup. Curry leaves btw have nothing in common with curry powder. These are two very different ingredients. Curry leaves grow on the curry plant tree. The leaves taste best when fresh, in fact, curry leaves are rarely used dry in India. You can purchase
fresh curry leaves here
for a reasonable price.
2. For the Ginger and Garlic paste, you can also use fresh ginger and garlic but I prefer the paste because it mixes in better and the ginger in paste form helps to thicken any soup or sauce. Yet feel free to use ginger and garlic fresh, substitute 1 tbs paste for 2 fresh garlic clove and ½ inch fresh ginger and chop fine.
3. You may double the dal soup recipe to prepare more. That way you can meal prep for the week and besides lentil soup heated up again the next day usually tastes better.
4. If you feel your soup is getting too thick, add some more water to the soup at the end. Sometimes I add about 100 milliliters more, depending on how liquid I want my soup.
5. If you are short on time, you can skip the soaking part of the lentil. red lentils usually cook fast but the soaking can reduce it a bit and with the soaking the tend to cook evenly and get nice soft.
6. I add the mustard seeds and curry leaves after the onion has been added because the mustard seeds don't jump up that much when the onion is in the pan.
Nutrition Information
Serving size: 
389 g/ 13.72 oz
Calories: 
341 kcal
Fat: 
5.46 g
Saturated fat: 
0.915 g
Unsaturated fat: 
4.2 g
Trans fat:
0.018 g
Carbohydrates: 
56.96 g
Sugar: 
6.97 g
Sodium: 
285 mg
Fiber: 
8.7 g
Protein: 
18.64 g
Cholesterol: 
0 mg
Dear Reader, how are you planning to serve the Indian lentil soup?
Please feel free to share your thoughts and ideas with us in the commetn section further below!
This post may contain affiliate links, and I receive a small commission when you click through and purchase. It basically buys me my daily coffee and cheese, and yes, my flour so that I can make pizza for dinner!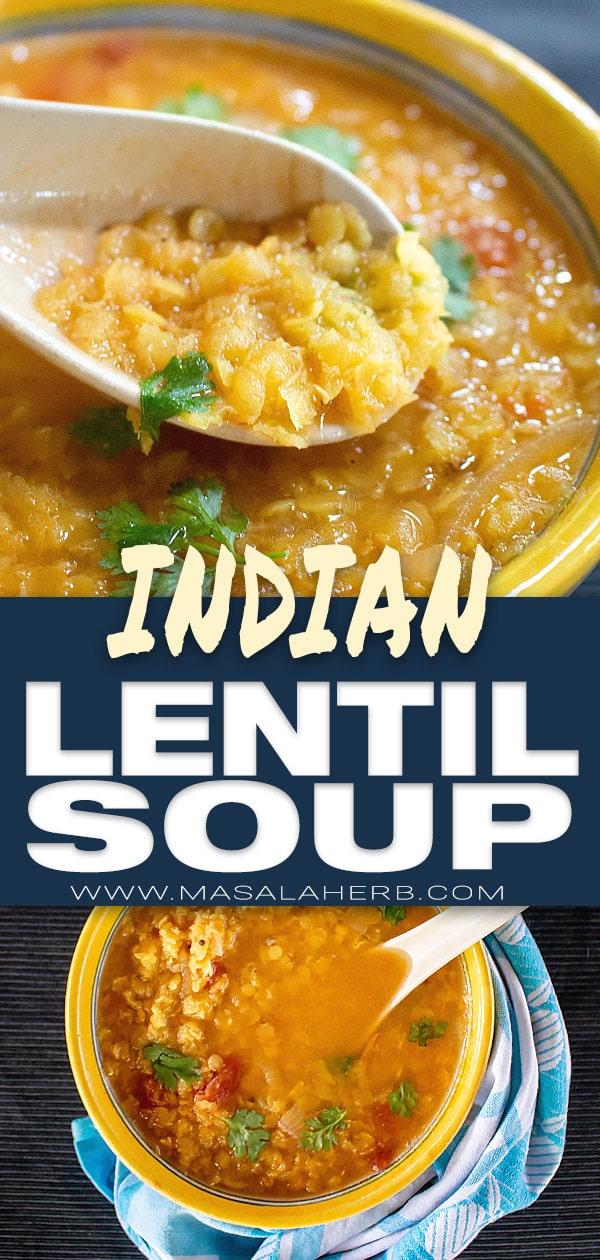 The following two tabs change content below.
I am Helene, and created Masala Herb to share my food and travel journey with the whole world. You will find Asian and Western dishes here, as well as unique travel guides to inspire your day. Don't miss a post! Subscribe to the free newsletter!
Latest posts by Helene Dsouza (see all)