Make this Dal makhani with whole urad dal/mungo beans/black lentils or with split black lentil.
Dal Makhani is a North Indian spiced and creamy lentil dish.
This recipe is a budget-friendly, one-pot, vegetarian and gluten-free dish.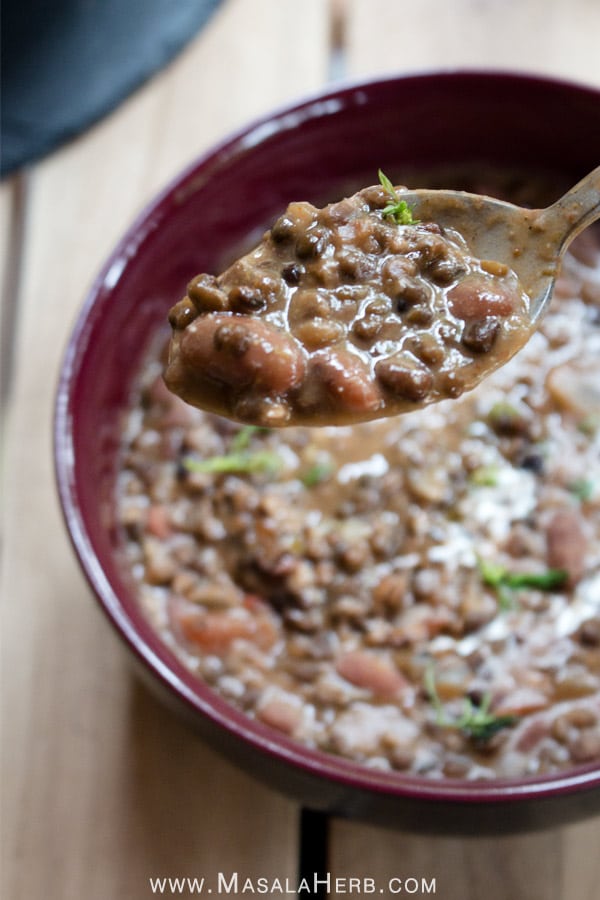 What is Dal Makhani?
Dal Makhani means butter lentils. Dal are the lentils and butter is called Makhan in Hindi.
It's a creamy north Indian dish, which originated in Punjab a northern region known for its rich use of milk products.
Dal Makhani is healthy and a very rich dish. It's pure Indian comfort food!
Which lentils and beans can be used?
Whole urad dal lentils and kidney beans (called rajma in hindi) are used in this lentil curry.
Urad dal lentils are also known as black lentils, black grams, matpe beans, mungo beans (don't confuse with mung beans!) and vigna mungo.
Urad lentil/black lentil look like Mung beans, which are green, yet both have the same distinct shape.
Black lentils are simply... well black, as you can see.
I use whole black lentils in this dal makhani recipe, you can use split urad dal/black lentil too.
The soaking time is less if you use split lentils, however, I think the dish looks better with whole lentils.
If you can't get urad black dal lentils, use brown whole masoor lentils or canned Mexican black beans instead.
Kidney beans can be skipped too.
How to make Dal Makhani?
The lentils and beans need to be cooked soft first.
I have never encountered urad lentils in cans, they only exist dried.
That means they need to soak and cooking them soft takes time. Use a pressure cooker to cook them fast!
On the other hand, you can buy kidney beans in cans. I recommend you buy the ones in cans because dried kidney beans take even longer to cook through. The ones in cans had time to soak, so they don't need to be cooked soft.
Here is a rough outline to make this lentil curry. Find all the details in the recipe card below.
Step 1
Keep lentils to soak for about 8 hours or over night.
Cook lentils and beans soft. Use a pressure cooker to save time and energy.
Step 2
Saute sliced onions with spices and diced tomatoes.
Stir in cooked lentils and beans with tomato sauce and broth and combine.
Step 3
Simmer and stir occassionaly.
Pour cream in and combine, just before serving. Garnish with freshly chopped cilantro.
Storing
This is a great dish to meal prep for the week or to freeze in batches.
You can keep batches ready in your fridge. Warm-up your dinner whenever you feel like it!
For frozen dal makhani, just place it into a pot over a low heat setting and stir occasionally to make sure nothing sticks on.
Leftovers taste even better when warmed up the next day!
More Indian lentil recipes
Dear Reader, do you enjoy Indian lentil dishes?
Global Food Recipes
with Spices and Herbs
Free E-Book available for a limited time. Grab yours now and get instantly inspired!
Dal Makhani Recipe
Make this Dal makhani with whole urad dal/mungo beans/black lentils or with split black lentil.
Print
Pin
Rate
Instructions
Cover lentils and beans with water. Soak overnight or for about 8 hours in water.

Cook lentils and beans soft. Use a pressure cooker to save time and energy.

Heat up a shallow pan with the clarified butter, and add in the bay leaf and slit green chili halves. Stir fry for a minute so that the aroma develop.

Stir in onion slices and saute over medium heat.

Lower heat and stir in ginger and garlic, Add spices: cumin, coriander, chili and garam masala and stir cook for a minute over low fire.

Stir in diced tomato and sautee soft over medium heat.

Throw in cooked beans, tomato sauce and vegetable broth. Mix well.

Cover dish and cook for about 15 minutes so that flavors develop. Stir occasionally because beans can stick at the bottom of the pan.

When it is cooked, and just before serving, add 1-2 tablespoons of liquid cream to the dish.

Garnish with chopped fresh cilantro (coriander leaves)
Notes
Canned kidney beans don't need soaking and cooking.

Split lentils (instead of whole lentils) require less soaking and cooking time.

Use fresh ginger and garlic finely chopped (ration 1:2) or use ginger and garlic in paste form

Use a pressure cooker to cook lentils and beans soft.
Nutrition
Nutrition Facts
Dal Makhani Recipe
Amount Per Serving
Calories 291
Calories from Fat 90
% Daily Value*
Fat 10g15%
Cholesterol 24mg8%
Sodium 313mg13%
Potassium 243mg7%
Carbohydrates 37g12%
Protein 15g30%
Vitamin A 600IU12%
Vitamin C 10.8mg13%
Calcium 49mg5%
Iron 4.9mg27%
* Percent Daily Values are based on a 2000 calorie diet.