If you are serious with Indian food, you will completely submit to and crave this Dal Makhani with all your flavor senses! The buttery and creamy lentil & beans dal makhani curry recipe is Vegetarian and Gluten-free.
Learn how to make dal makhani curry form scratch with the step by step photo instructions in the printable recipe below and watch the video for more visual details, so that you can impress your family and friends with your newly found cooking skills!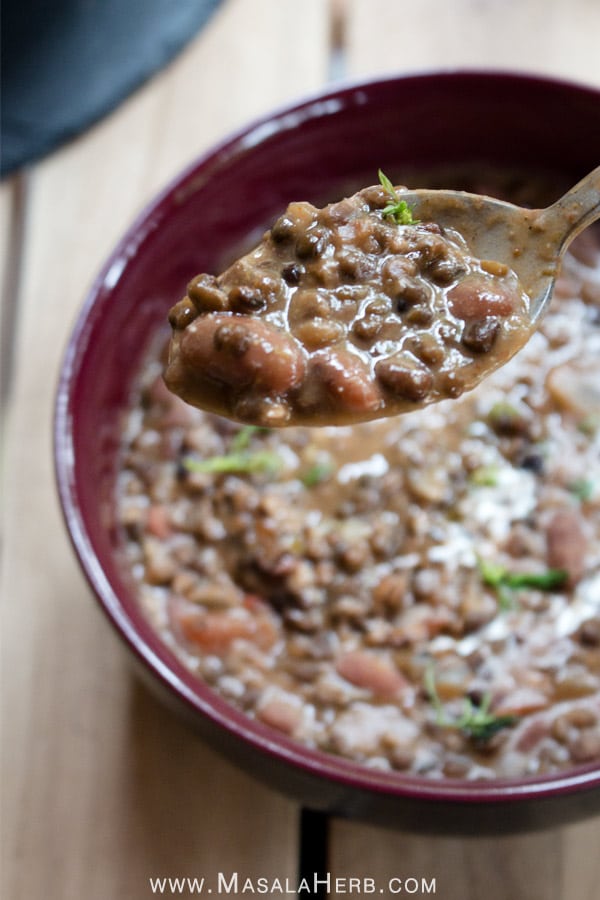 What is Dal Makhani?
Dal Makhani simply means dal = lentil and makhan= butter and it's a creamy north Indian dish, which originated in the state of Punjab and has been enjoyed through India and all over the world.
When you go to an Indian restaurant in Europe or the American continent, you will see somewhere in the menu dal makhani among other dishes such as saag paneer (green leaf curry with Indian cottage cheese), Butter Chicken – Murgh Makhani, Tandoori and Tikka Chicken.
Generally speaking, north Indian dishes seem to be more popular in the western world and I think it has something to do with the cream based Moghul and Punjabi style of food. I personally love this type of food and you must have noticed that by now.
-> Get the free Masala Herb Newsletter
In central Europe, the weather is rather cold so our diet is based on heavier milk and meat dishes. The north Indian food with its velvety texture and aromatic spices has been my extension of food know-how and to be honest, my ultimate addiction.
So, a dish like this Dal Makhani is of course, in its own right, a complete success in the western world. Dal Makhani is healthy and rich in proteins which of course makes for a welcome change from our deeply rooted meat culture. After all, we need proteins!
What lentils to prepare Dal Makhani?
We will use whole urad dal lentils for this gorgeous rich lentil curry and kidney beans, and they make a great team. Urad dal is also know as black lentils, black grams, mungo beans (don't confuse with mung beans!) and vigna mungo.
When you go to buy this lentil type, refer to this picture to make it easier for you because different places might have different names for this lentil variation. Urad lentil/black lentil look like Mung beans, which are green, but both have the same distinct shape. Black lentils are simply… well black, as you can see.
I use whole black lentils in this dal makhani recipe, you can use split urad dal/black lentil too. The soaking time might be less, however I think the curry looks better with the whole lentils.
How to make Dal Makhani Curry [Video]
The dal makhani recipe will take you about 15 minutes to prepare. What you need to do first is to soak the urad dal lentils and kidney beans together for at least 7 hours or simply overnight in water so that the beans get soft.
After soaking, I cook the beans in the pressure cooker for about 10-15 minutes with 4 whistles. The pressure cooker saves you time and energy (gas/electricity) but you can cook it too the regular way, which might take around 1-2 hours.  Once cooked you can just add the beans while cooking as described in the recipe instructions.
Dal Makhani Recipe – Spiced Indian Butter Urad Dal Black Lentil Gravy recipe below:
Dal Makhani Recipe - Spiced Indian Butter Urad Dal Black Lentil Gravy
Recipe type:
Vegetarian, Beans
Make this Dal makhani with whole urad dal/mungo beans/black lentils or with split black lentil. The split lentil might require less soaking and cooking time. Keep the lentil and beans to soak over night or for 7 hours first and then cook until soft. I like to use the pressure cooker and cook them for 10-15 minutes or 4 whistles.
Ingredients
170 grams dried Black lentil/Urad dal/ Mungo beans or 1 cup
70 grams dried Kidney Beans/Rajma Beans or 1/2 cup
2 Tablespoon Clarified Butter (Ghee) or unsalted Butter
1 Bay Leaf
1 green Chili - slit lengthwise
1 Onion sliced
1 Tablespoon Ginger Garlic Paste
½ Teaspoon Cumin Powder
1 Teaspoon Coriander Powder
½ Teaspoon red Chili Powder
1 Teaspoon Garam Masala
1 Tomato diced
200 milliliter Vegetable broth or 6.8 fl oz or ⅚ cup
1 Tablespoon Tomato Paste
Salt to Taste
1-2 Tablespoon fresh Cream
fresh Coriander/Cilantro to garnish
Instructions
Keep the lentil and beans to soak over night or for 7 hours so that they get soft and then cook them soft. don't use salt to the lentil and beans cooking because they tend to take longer to cook otherwise. I like to use the pressure cooker for 10-15 minutes, 4 whistles.
In a pan add the clarified butter, and add in the bay leaf and slit green chili halves. Stir fry for a minute so that the aroma comes out. Then add the Onion slices and fry till they turn a bit yellow in color.
Now add in the ginger garlic paste and stir fry. Continue to season with the cumin powder, coriander powder, chili powder and garam masala powder. Stir fry.
Then add in the diced tomato and stir fry again.Continue with the cooked beans and the veg stock. Mix a bit and add the tomato paste, which will help in thickening the dal makhani. Stir well and cover, let it cook for about 15 minutes and make sure to stir occasionally because beans have a habit to stick on the ground of the pot and you don't want them to burn.
Once the dal makhani is cooked and just before serving add 1-2 tablespoons of fresh cream and garnish with fresh coriander/cilantro.
Serve hot with nan, roti, chapati flat bread or rice.
Nutrition Information
Serving size:
208 g
Calories:
284 kcal
Fat:
6.14 g
Saturated fat:
7.7 g
Unsaturated fat:
3.341 g
Trans fat:
0 g
Carbohydrates:
45.06 g
Sugar:
5.1 g
Sodium:
163 mg
Fiber:
10.9 g
Protein:
14.7 g
Cholesterol:
11 mg
More recipes with lentils/beans similar to Dal Makhani:
Masoor Dal Curry [Vegan]
Kidney bean salad
Dear Reader, do you enjoy Indian lentil dishes?
This post may contain affiliate links, and I receive a small commission when you click through and purchase. It basically buys me my daily coffee and cheese, and yes, my flour so that I can make pizza for dinner!
Save
Save
Save
Save
The following two tabs change content below.
I am Helene, and created Masala Herb to share my food and travel journey with the whole world. You will find Asian and Western dishes here, as well as unique travel guides to inspire your day. Don't miss a post! Subscribe to the free newsletter!
Latest posts by Helene Dsouza (see all)