Homemade stewed tomatoes. With instructions to easily peel and stew your tomatoes.
Simple flavored stewed tomatoes, prepared from scratch from whole fresh tomatoes and peeled.
I share seasoning, storing options and ways to use them.
Global Food Recipes
with Spices and Herbs
Free E-Book available for a limited time. Grab yours now and get instantly inspired!
Jump to:
📕 What are stewed tomatoes?
Tomatoes are peeled and then slowly cooked over a medium to low heat setting.
The tomatoes can be diced or cooked as a whole.
Stewed tomatoes and variations exist all over the world.
🍅 Ingredients
Full recipe with ingredient measurements and steps is located in the printable recipe card further below.
This is a simple stewed tomato recipe.
tomatoes - large tomatoes of your choice. You can make it with smaller varieties too.
olive oil
onion
garlic
salt
black pepper
water or broth or water+maggie cube
Here are some country specific flavors to pep up your stewed tomatoes:
🔪 How to stew tomatoes?
This is an overview, check the recipe in the recipe card below.
Step 1
Heat up water, place in tomatoes to blanch, peel tomatoes.
Step 2
Prep ingredients. Slice onion, chop garlic, cut peeled and blanched tomato ends off.
Step 3
Sauté onion garlic and add whole tomatoes.
Pour in water or broth, season as you like and cover to cook.
Step 4
Cook down to desired consistency.
Mash tomatoes a bit with your cooking spoon.
Serve up.
🍴 Use
I love stewed tomatoes because they are simple to prepare and great with most meals as a side dish.
Here are some ideas to enjoy your homemade stewed tomatoes. Serve up with:
rice
polenta or grits
bread
cooked potatoes
You can also use your stewed tomatoes to make another dish, such as in:
zucchini boats as a filling
shrimp fra diavolo
a soup
a casserole dish
a pasta sauce
chili
a sauce such as a salsa
🍱 Storing
Cooked stewed tomatoes can be stored int he fridge for up to 4 days in an airtight container. In fact I think they even taste better when reheated after a day or two.
To freeze, simply prepare desired batch size and place in a freezer friendly container. Freeze for up to 2 months max.
To thaw simply place into the fridge over night or heat up gradually in the microwave or over the stove top in a non-sticking pan.
💭 FAQs
Can I use other tomato varieties to make stewed tomatoes?
Yes you can make colorful stewed tomatoes by using different tomato varieties such as green tomatoes, yellow tomatoes, black tomatoes, purple tomatoes. Or use your favorite tomato variety. I like to use oxheart tomatoes if I get them or else I use oval tomatoes.
How to thicken stewed tomatoes?
Slowly and gradually cook down your stewed tomatoes until you are satisfied with the thickness. I don't recommend adding a slurry (flour with water) to thicken the stew because then it will look shiny and kind of off.
Who can eat these stewed tomatoes?
Almost everybody! They are vegan and therefore suitable for a vegetarian diet. They are also healthy all natural without artificial ingredients and preservatives, they are also a great addition to a low-calorie diet and a gluten-free diet.
Global Food Recipes
with Spices and Herbs
Free E-Book available for a limited time. Grab yours now and get instantly inspired!
📖 Recipe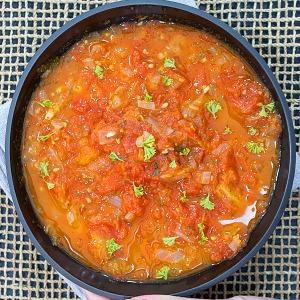 Simple Stewed Tomatoes Recipe
Homemade stewed tomatoes. With instructions to easily peel and stew your tomatoes.
Print
Pin
Rate
Ingredients
8

Tomatoes

fresh, normal-sized

1

Onion

white or purple

2-3

pieces

Garlic Cloves

fresh

2

Tablespoon

Olive Oil

½

Teaspoon

Salt

¼

Teaspoon

Black Pepper Ground

1½

cup

Water

or broth, *see Notes

Seasoning of your choice

*see Notes
Instructions
Bring a pot of water to boil and place your fresh whole tomatoes into it.

Cook shortly for about 30 second (that's called to blanch) or until skin cracks on tomato.

Keep a bowl or container with ice cold water ready and place tomatoes in it to stop cooking process.

Dice onion and chop garlic. Cut and remove tomato top.

Heat up a small pot with olive oil and saute first onion and then add garlic when the onion looks a bit soft.

Continue to add the whole tomato. Cook over a slow to medium heat setting.

Season with salt and black pepper.

At this point you can season your tomato stew further. You can add basil, Italian seasoning or as I did bay leaf and dried lovage. This is optional.

Cover to bring to a boil and keep over a medium heat setting.

Uncover after 5 minutes and check if the tomatoes have become a bit soft. Mash lightly with your cooking spatula to desired consistency.

Cook further down until you are satisfied with the consistency and thickness. Keep it to stew over a medium to slow heat setting at the end.

If you added whole spices to season (such as bay leaf) take them out and discard at this point.

Serve up your stewed tomatoes.
Notes
You can use water, broth, or maggie cubes with water to cook your tomatoes. broth or maggie cubes add more flavors whereas water makes it taste plainer.
You can choose to season your tomato stew further. In the video, I added bay leaf and lovage (for french flavors), but you can add 1-2 teaspoons of oregano or marjoram too or Italian seasoning or herbs de Provence. See post under Ingredients for some more seasoning ideas.
Nutrition
Nutrition Facts
Simple Stewed Tomatoes Recipe
Amount Per Serving
Calories 160
Calories from Fat 90
% Daily Value*
Fat 10g15%
Sodium 412mg17%
Potassium 841mg24%
Carbohydrates 17g6%
Protein 3g6%
Vitamin A 2734IU55%
Vitamin C 48mg58%
Calcium 49mg5%
Iron 1mg6%
* Percent Daily Values are based on a 2000 calorie diet.