Roasted Butternut Squash Soup with Apple, ginger and cream. Make this soup vegan by switching the cream in the recipe with coconut cream.
Bright, healthy and the best roasted butternut squash soup with apple and cream.
This easy butternut squash soup with deep beautiful flavors will be your new fall soup favorite!
Watch the video how-to and get the recipe with process shots further below.
Jump to:
Ingredients
For this recipe, you will need a handful of ingredients.
These are some of the main ingredients that add all the flavors to your autumn squash soup recipe.
Butternut squash
The butternut squash is roasted in this recipe because roasting releases the natural sugars in your winter squash.
That means your butternut squash is kind of caramelizing a bit and that way you will get a whole lot of natural flavors into your roasted squash soup.
You can use large or small butternut squash, it doesn't matter because the squash is cut into cubes to roast in the oven later.
Apple
Yep, I did it. I added an apple to this soup.
Why? Because I have done it before in my mulligatawny soup and I love the combination of roasted butternut squash apple soup.
You are going to love the addition of apple in this soup!
You can use a granny smith because this green apple will add more sour flavors to your soup, which in turn will balance the natural sweetness of your roasted butternut squash.
Ginger and Garlic
Ginger and Garlic go hand in hand.
The ginger adds a warm fall-like touch to your soup and the garlic mellows the ginger while bridging the taste.
Both are anti-inflammatory and boost the health of your immune system.
Seasoning
The seasoning is easy and compliments the roasted butternut squash, apple, and ginger-garlic flavors.
The seasoning includes:
Cumin
Coriander Seed
Paprika
Black Pepper
Salt
Other ingredients
I also add sliced onion, stock, olive oil and cream to the soup.
You can use a regular white onion or a red/purple onion in this recipe, the choice is up to you.
For the stock, I use vegetable stock, such as concentrated stock from Knorr mixed with water, or a bouillon cube mixed in water or homemade vegetable broth or commercial broth.
You can use extra virgin olive oil in this recipe (yes you can heat up extra virgin olive oil).
You can choose to add regular liquid cream, fresh cream, heavy cream or half and half.
How to make it?
To prepare this roasted butternut soup recipe with apple is easy.
Just follow the steps below and watch my video, located in the recipe card at the bottom of this post.
Detailed ingredients and instructions can be found in the printable recipe card further at the bottom too.
Step 1
To prepare your butternut squash, peel and cut your squash into same-sized cubes.
Place the squash cubes into a mixing bowl with olive oil, salt, and black pepper.
Mix everything well so that your butternut squash pieces are well coated with the oil.
Spread your squash out over a baking sheet and roast the squash in the oven until cooked through.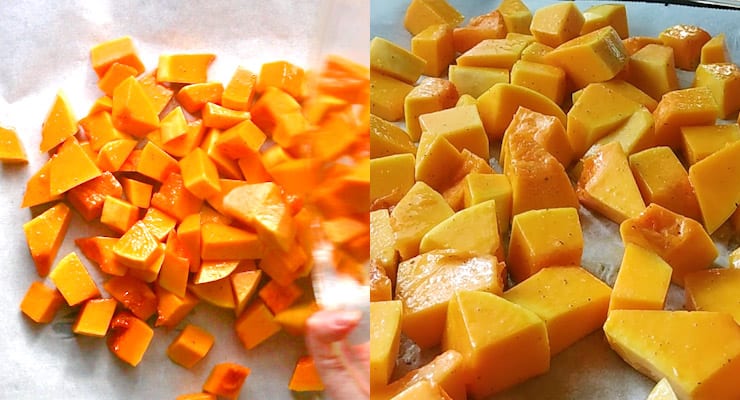 Step 2
Heat up a pot with the olive oil and onion and cook the onion soft.
Add the ginger, garlic, roasted squash and apple and combine.
Add the seasoning, the cumin, coriander seed powder, paprika, salt, and black pepper.
Pour in the stock, mix everything and cover and cook.
Step 3
Cook your winter squash soup until your ingredients are soft.
Blend your soup smooth with an immersion blender.
Enrich the soup with cream and mix well over the stove.
Your soup is ready when it's cooked and it starts to bubble up.
Serve hot with garnish.
Garnish
You can garnish your apple butternut squash soup with a dollop of sour cream or fresh cream.
I like the thicker cream varieties because they thicken the soup nicely.
BUT when I try to control my weight and calorie intake, I tend to just simply add some fresh herbs or spices to top my butternut squash soup.
Here are some herb butternut squash soup toppings:
Parsley - that's a classic choice of herb to garnish your soup
Cilantro - if you enjoy cilantro. Works great with the spices used in the soup
Chives - to add a sharp touch to your soup
Garden Cress - Those are young delicate sprouts, similar to chives.
Other Sprouts - such as radish sprouts, pea sprouts. Those add some nutrition to your food too.
You can also garnish your soup with the following ingredients:
Paprika or Cayenne powder - that's what I used in the pictures
Zaatar seasoning - amazing Mediterranean seasoning
Pumpkin Seed Oil or Olive Oil - The first one adds a lot of flavors
Balsamic Vinegar - a few drops can make it all special
Serving
You can serve this soup as a starter or as a stand-alone soup.
I tend to enjoy it for dinner as the main course dish with bread and I love roasted butternut squash with garlic butter bread.
I think flatbreads such as Italian focaccia, middle eastern zaatar manoushe or Indian nan or chapati are great with this soup too.
Freeze
Yes, you can freeze this butternut squash soup!
Here is how I do it.
I prepare and cook my soup as per the recipe further below.
Then I make batches and keep the soup in square Tupperware containers.
The containers are then kept in the freezer so that the soup freezes.
I usually freeze a batch for 2 servings or 1 serving, but you can also freeze a larger batch in one big container if you need to feed your family on a busy night.
To thaw the soup, simply place the frozen soup into a pot on the fire.
The soup will melt gradually over medium heat on the stove and turn into a creamy liquid soup once again.
Then just heat up the soup enough so that you can serve it hot.
Vegan option
The soup recipe is vegetarian because it contains cream, which is added at the end of the soup making process.
However, you can turn this roasted butternut squash into a vegan meal by switching or leaving out the cream in the recipe.
You can substitute the cream with coconut cream or thick coconut milk
I prefer the coconut cream because it adds to the texture and coconut works great in this soup due to the ginger garlic flavors and the cumin and coriander powder.
More fall soups
Global Food Recipes
with Spices and Herbs
Free E-Book available for a limited time. Grab yours now and get instantly inspired!
📖 Recipe
Roasted Butternut Squash Soup with Apple
Roasted Butternut Squash Soup with Apple, ginger and cream. Make this soup vegan by switching the cream in the recipe with coconut cream.
Print
Pin
Rate
Ingredients
To roast Butternut Squash
Instructions
To roast squash
Peel your butternut squash. Cut the squash into same-sized cubes.

2 pounds Butternut Squash

Place the butternut squash into a mixing bowl and add olive oil, salt, and black pepper. Mix so that the squash is covered in oil.

1 Tablespoon Olive Oil,

1 Teaspoon Salt,

pinch Black Pepper

Line an oven tray with a parchment paper and arrange squash cubes on it so that they are spread out.

Roast the butternut squash in the oven for about 20 minutes or until cooked through at 350° Fahrenheit/ 180° Celsius.
To prepare the soup
Heat up a pot with the olive oil and sauté your sliced onion. Cook until soft on medium heat.

1 Tablespoon Olive Oil,

1 Onion

Add in your chopped ginger and garlic and your roasted butternut squash cubes and apple pieces. Combine everything in a lower heat setting.

1 inch Ginger,

2 cloves Garlic,

1 Apple

Season with the spices, the cumin, coriander seed powder, paprika, black pepper and salt and mix over a lower heat setting.

1 Teaspoon Cumin ground,

1 Teaspoon Coriander Seeds ground,

¼ Teaspoon Black Pepper ground,

1 Teaspoon Paprika powder,

1 Teaspoon Salt

Pour in your broth and mix.

Cover and cook over medium heat until all your ingredients look soft. Stir occasionally. That can take about 10 minutes.

With a hand blender, blend your soup smooth. Heat up your soup over a lower heat setting.

Pour in your cream and mix. Cook 2 more minutes and you are done.

Serve hot with a garnish of your choice (see garnish suggestions in the post)
Equipment
1 Medium Pot with Lid

1 Hand Blender
Nutrition
Nutrition Facts
Roasted Butternut Squash Soup with Apple
Amount Per Serving
Calories 259
Calories from Fat 99
% Daily Value*
Fat 11g17%
Cholesterol 27mg9%
Sodium 2358mg98%
Potassium 922mg26%
Carbohydrates 41g14%
Protein 3g6%
Vitamin A 25297IU506%
Vitamin C 52mg63%
Calcium 142mg14%
Iron 2mg11%
* Percent Daily Values are based on a 2000 calorie diet.