Quick clear broth prepared with wholesome healing ingredients. This soup will make you feel better.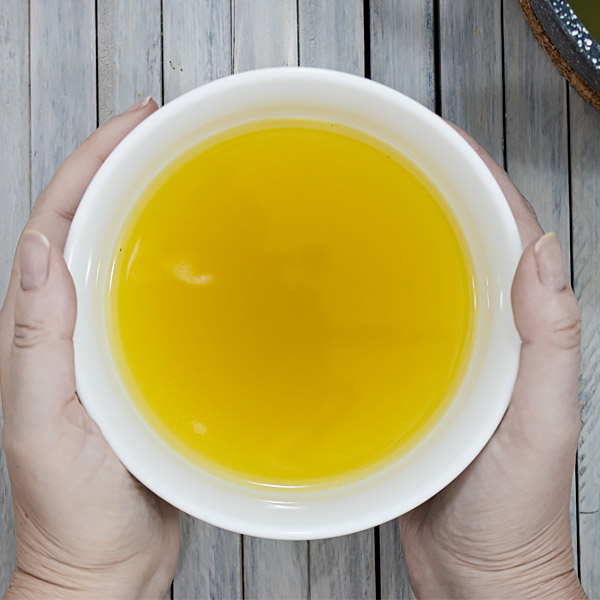 A delicious clear broth soup with healing spices and herbs to boost your well being.
This recipe is quick and easy, ready within 20 minutes, effortless to prepare as it's also oil free (no sautéing).
Global Food Recipes
with Spices and Herbs
Free E-Book available for a limited time. Grab yours now and get instantly inspired!
Jump to:
📕 What is this healing broth soup?
This clear broth is the result of me getting sick on my travels and trying to get better in a jiffy AND the input from Paul, who grew up drinking a cup of spiced clear broth as a child in India.
It also includes the knowledge passed down by my Austrian grandmother, who would use a set of spices to beat a cold winter flu.
It's a combination of Asian and European know-how to help you get through a seasonal cold, flu, cough, upset stomach, or any general minor sickness.
It's also the only food that I can take in when I'm feeling under the weather.
Yet, over the years I just ended up making it at least once a week because it tastes great, stimulates digestion, boosts my well-being, my stomach and gut health, and makes me simply feel better.
So this is also totally a daily soup because it's simply prepared in one pot. Besides, it's low-calorie and can help you on your weight loss journey.
🌿 Ingredients
The clear broth soup consists of a ready-made broth of your choice and a set of spices. This saves time and effort. The broth is infused with health-promoting spices.
Broth
You can use a pre-homemade broth as a base. I like to use my clear vegetable soup as a base.
Or you can also use regular clear liquid package broth or concentrated stock mixed with water or dry bouillon cubes/seasoning mixed in hot water. (I do the bouillon cube thingie sometimes)
Pick a base broth such as vegetable, chicken, bone, beef, veal, fish, seafood, lobster, mushroom, or lamb.
Choose one with less sodium if possible and less oil.
I personally like a vegetable broth, Paul enjoys a chicken broth.
You can make this soup vegan by using a vegetable broth as a base and gluten-free by checking the broth labels.
Spices & Flavor givers
Over the years I came up with this perfect selection of spices. I combined European and Asian spice and herb knowledge to create this healing soup.
The combination makes it and you will feel better if you have a cold or it simply helps your overall health when you are not sick.
Ginger - fresh. Helps digestion, boosts the immune system, reduces irritating cough.
Garlic - fresh. Same as ginger except for the cough. Also adds a lot of flavors.
Turmeric - fresh if possible or else dry is ok too. Boosts immunity, good for gut health, and will get you back on your feet when you are ill because of anti-bacterial properties.
Salt - I like to use pink salt because it adds umami but any salt will do.
Black Pepper - freshly crushed if possible. Helps you decongest the nose and sneeze out all the mucus.
Bay Leaf - as a whole, a typical soup spice. Adds flavor, it's soothing, helps your digestion, and beats the flu.
Nutmeg - grated, also a common soup spice. It's a warm spice that is antibacterial and antiviral.
Juniper Berry - dried whole berries. Uplifting moods, numbs body aches when you have the flu and it's also antiviral.
Sage - dried or fresh. Relieves sore throat and stomach pain.
Lime Juice - or lemon juice. I like it better with lime when I add cilantro as garnish. Both are a great option. Freshly squeezed to brighten the flavors and add vitamin C.
🔪 How to make it?
Here is an overview on how this soup comes together.
The detailed US and metric measurements are located at the bottom of this post in the recipe card. The video is the pop-up.
Step 1
Prepare your fresh ingredients.
Peel the garlic clove and cut it roughly into chunks.
Cut fresh ginger, and if you are using fresh turmeric, into chunks without peeling.
Step 2
Heat up a soup pot with broth and water.
Season with all the spices.
Allow spices and herbs to infuse for about 20 minutes.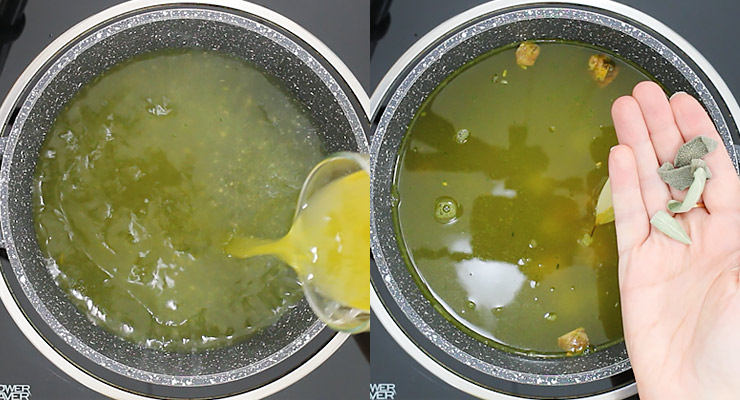 Step 3
Stir in lime/lemon juice
Strain clear soup and serve up hot.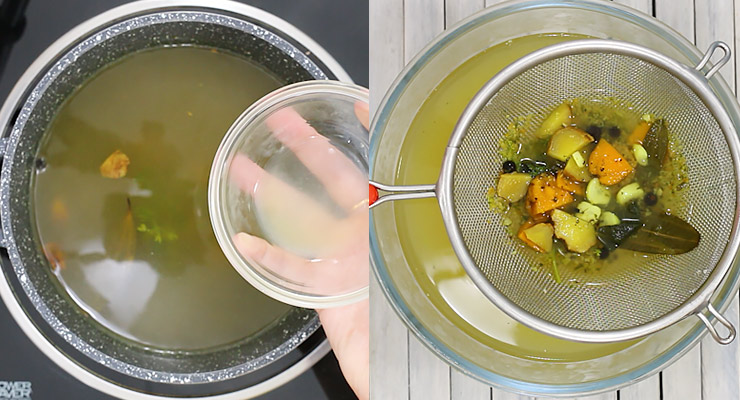 🍴 Serving
I like to top my soup with fresh cilantro because of the flavor profile of this soup but if you don't like cilantro, you can use another green topping.
chives
parsley
mint
green onion stalks
wild garlic greens aka ramsons weed (in spring when it's in season)
I like my healing broth in a soup bowl or shallow plate, Paul drinks his in a cup.
🍱 Storing
You can meal prep and freeze this soup for the future. I even recommend that you do this because you never know when you will feel a bit ill.
I always keep 2 servings in my freezer!
Just make a batch of a serving and keep in a freezer-friendly airtight container.
To reheat, place the frozen broth in a saucepan or small soup pot and reheat gradually until it's hot and you can eat it.
💭 FAQs
Do I have to use all the spices listed?
I recommend that you do because the combination makes this soup so amazing. In fact, all the spices listed come handy sooner or later and should be part of a well-equipped kitchen pantry.
Can I use dried ginger, garlic and turmeric?
I recommend using fresh ingredients if possible because of the health properties. That said, I understand that this is not always possible, so in this case, you are free to use dried ingredients, especially dried turmeric. Fresh turmeric is not always available but it has become a mainstream ingredient in most grocery stores in the West.
Global Food Recipes
with Spices and Herbs
Free E-Book available for a limited time. Grab yours now and get instantly inspired!
📖 Recipe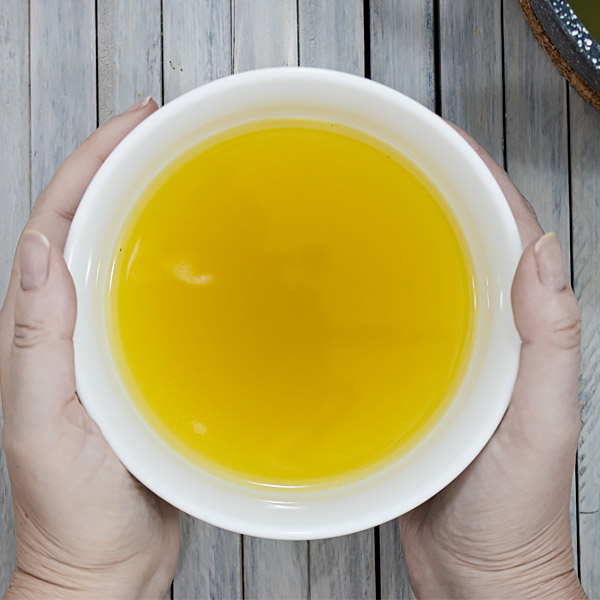 20 min Healing Broth Soup
Quick clear broth prepared with wholesome healing ingredients. This soup will make you feel better.
Print
Pin
Rate
Instructions
Prep your fresh ingredients. Peel garlic and chop roughly. Cut ginger and turmeric root roughly too. (if you don't have turmeric root, use turmeric spice powder).

Heat up a small soup pot with the water and broth. Keep over medium heat setting.

Add the cut ginger, garlic, and turmeric.

Add in the remaining spices. The bay leaf, black pepper, salt, nutmeg, sage, and juniper berries.

Stir in cilantro too if you choose to add it. Otherwise, skip this step.

Keep simmering over a medium to low heat setting. Cover and cook slowly for about 12-15 minutes.

When it's done infusing, pour and mix in lime/lemon juice.

Take from the heat, strain soup with a large strainer.

Pour soup back to heat or serve hot in a bowl.
Notes
As a base use, a broth of your choice can be homemade, carton, bouillon cubes mixed in hot water. Can be vegetable, chicken, beef etc. whichever you prefer.
You can get fresh turmeric roots here.
Equipment
8" Chef Knife

Lemon Press/Juicer
Nutrition
Nutrition Facts
20 min Healing Broth Soup
Amount Per Serving
Calories 55
Calories from Fat 18
% Daily Value*
Fat 2g3%
Sodium 104mg4%
Potassium 280mg8%
Carbohydrates 5g2%
Protein 6g12%
Vitamin A 18IU0%
Vitamin C 1mg1%
Calcium 26mg3%
Iron 1mg6%
* Percent Daily Values are based on a 2000 calorie diet.