Small individual salmon wellington stuffed with a mushroom parsley duxelles. This is a festive dinner meal idea!
Individual Salmon Wellingtons are baked puff pastry wrapped salmon filets inspired by the beef wellington.
Here you will find a recipe with easy progress pictures and video.
Jump to:
📕 What is a wellington and what's this dish?
A wellington is originally a whole beef wellington, an English dish, which is also called boeuf en croute in french.
A beef tenderloin steak is topped with mushroom duxelles (mushroom sauteed with fresh parsley) and mustard. This is then all wrapped into a puff pastry sheet.
The classic wellington is a one-piece this but smaller individual wellingtons are fashionable because they look great and are easier to prepare.
This fish wellington is easier to prepare than a beef wellington because you don't have to cook the fish first, as you would do with a beefsteak.
Also salmon cooks through faster and better. It's hard to overcook this fish compared to beef.
🐟 Ingredients
Here is a quick overview of what you will need to make your own salmon wellington (almost) from scratch. Get the detailed measurements in the recipe card further below.
For the fish:
salmon fish filet - fresh or frozen and thawed
salt and black pepper
For the mushroom duxelles:
mushroom - fresh and button mushrooms are preferred.
parsley - flat leave or curly parsley
shallot - can be susbtituted with red/purple mild onions
olive oil - extra virgin olive oil
salt
thyme - fresh or dried
white wine - required for a duxelles, but if oyu want it alcohol-free use vegetable broth instead.
To arrange everything:
dijon mustard - plain or whole grain dijon mustard
puff pastry sheets - I use store bought because it's faster that way but you can use homemade ones too.
egg yolk - the egg wash aka "glaze". Substitute yolk with milk to make eggless.
To garnish, you can add sliced fresh lemon pieces.
Try to buy and use sustainable salmon fillets.
You can also add fresh or frozen spinach or leeks to the duxelles to add more flavors.
🔪 How to make it?
Here is how your salmon wellington is made. These instructions shall help you get going, the full recipe steps are in the printable recipe card.
Step 1
Season your salmon fillet on all sides with salt and black pepper. Keep aside
Prep and chop your shallot, mushroom, and parsley small. Keep aside.
Step 2
Prepare the duxelles. Sauté shallot first, then add mushroom and parsley.
Season with salt and thyme. Pour in the wine and cook down until the duxelles appears dry.
Step 3
Cut puff pastry sheets into two.
Place a salmon fillet on each puff pastry sheet. Spread mustard over that and the mushroom duxelles.
Step 4
Wrap puff pastry around the salmon fillet and filling. Cut off excess pastry (and use that for something else).
Place salmon wellingtons next to each other on a baking tray.
Make a grid design on the fish wellington, that way it will cook faster through.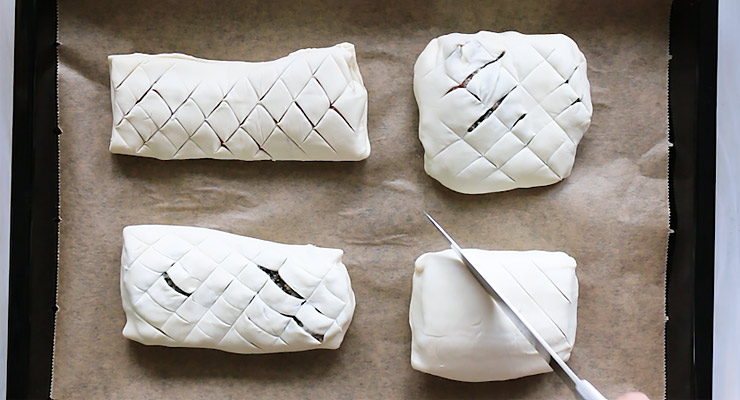 Step 5
Separate egg yolk from the whites. Scramble the egg yolk to make an egg wash.
Brush the egg wash over the wellingtons.
Bake salmon wellington at 400 Fahrenheit or 200 Celsius for 20-25 minutes or until golden.
🍴 Serving
Salmon wellington can be served the same way you would serve your beef wellington.
That includes classic side dishes such as mashed potato, french green beans, parsley butter potatoes, roasted parsnips or carrots, and other root veggies.
Besides vegetables, you can also add cooked plain or flavored rice to that, couscous or ebly instant wheat berries.
If you love sauce with your main course meals, then you can add some sauce tartar (yep my favorite) or a gravy such as a mushroom gravy to that.
I also think that a proper homemade hollandaise sauce is delicious with this savory salmon-baked pastry.
🍱 Storing
Leftovers can be stored in your fridge in an airtight container. It doesn't keep too long because salmon and seafood do not keep longer than a day in the fridge.
Reheat in the oven at 350 Fahrenheit or 180 Celsius, gradually so that the fish doesn't dry out.
Do not reheat in the microwave because the pastry will turn out soggy and wet.
Technically you can also prepare your salmon wellington in advance and freeze it unbaked. Im'saying technically because I haven't done that yet, but I did it with the individual beef wellington.
This can be useful if you intend to prepare a larger batch for the future or holiday season.
To freeze just prep as described with the sauteed mushrooms. Assemble it all so that you have an unbaked salmon wellington parcel in front of you.
Place each raw salmon wellington on a tray, away from each other, and into your freezer.
Wait for them to freeze hard, then wrap the salmon wellington into parchment paper. That way they won't stick to each other when placed over or next to each other in a large freezer-friendly container or zip lock bag.
To thaw, keep in your fridge overnight and bake the next day as directed in the recipe. Because these are smaller individual fish wellingtons, they defrost faster and better.
💭 FAQs
How to substitute puff pastry for this recipe?
You can switch puff pastry with phyllo or crescent pastry. It's just that puff pastry is more suitable because it creates flakey soft and puffed layers around the salmon.
How to make salmon wellington faster?
Skip the duxelles and just spread the mustard as directed in the recipe over the salmon before you wrap the pastry around the fish. This will shorten the process considerably.
How to avoid a soggy bottom?
Make sure that all the waters are cooked out of the mushroom duxelles to start outright. Also, keep in mind that a wellington is bound to get a bit soggy at the bottom because the steam is trapped inside the pastry during the baking process and the duxelles and fish juices run down and collect at the bottom. What's important is, that the pastry is not raw but cooked through. For that, you should cut off any excess pastry when putting together the fish parcels so that the pastry gets to cook through on all ends equally well. Then, keep your baking sheet in the oven at 350 F/180 C. for about 10 minutes, place the salmon wellingtons on that and bake them as per directions. Preheating your baking sheet will help in getting your pastry to cook faster through at the bottom and this decreases sogginess.
What's a duxelles?
A duxelles is chopped mushrooms sautéed with chopped parsley and deglazed with white wine. It's normally used as a filling.
📖 Recipe
Individual Salmon Wellington Recipe
Small individual salmon wellington stuffed with a mushroom parsley duxelles. This is a festive dinner meal idea!
Print
Pin
Rate
Ingredients
Instructions
For the fish:
Rinse and pat dry salmon fillet. If they are too large, cut them into the needed size. Try to have equal sizes so that everything cooks equally well. If there is skin, remove the skin. I also remove grey patches, those are not that good.

Season your salmon with salt and black pepper on all sides. Keep aside.

1½ Teaspoon Salt,

½ Teaspoon Black Pepper
For the mushroom duxelles:
Slice and cut shallots small.

Rinse mushrooms, pat dry, and cut the mushrooms. Chop them into rough pieces.

4 ounces Button Mushrooms

Rinse and pat dry parsley. Chop parsley fine.

Heat up your skillet with the olive oil and sauté shallots soft first.

Stir in mushroom and parsley. Season with salt and thyme. Mix it all well and cook over a medium heat setting.

4 ounces Button Mushrooms,

3-4 Tablespoon Parsley,

pinch Salt,

1 Teaspoon Thyme

Deglaze by pouring in the white wine. Keep on the same medium to high heat setting. Mix it up.

Reduce your duxelles, stirring occasionally. Everything should be dry when it's done in the skillet and not soggy. Keep aside.
To assemble:
Preheat oven to 400 Fahrenheit or 200 Celsius.

Cut puff pastry sheets into two.

2 pieces Puff Pastry Sheets

Place a salmon on one puff pastry rectangle. Spread 1 tablespoon mustard per fillet over the fish.

4 piece Salmon Fillet,

4 Tasblepoon Dijon Mustard

Spread about 2 tablespoon mushroom duxelles over each fillet and over the mustard layer. Use up everything, there shouldn't be any mushroom duxelles left.

Carefully wrap the puff pastry around the salmon with the layers so that the pastry is well wrapped around and the fish and it is enclosed completely. Cut off any excess pastry dough because excess pastry will turn out raw and uncooked.

Place salmon wellington on a parchment-lined baking tray. Cut a grid design in.

Separate an egg yolk from the whites. Scramble the yolk and brush it over the individual wellington parcels.

Bake salmon wellington at 400 Fahrenheit or 200 Celsius for about 20-25 minutes or until they appear golden on top. Test and check if the pastry is cooked through on one. The pastry should not be raw or else bake for a little longer (like a few minutes longer).

Serve up still warm as individual wellington.
Notes
1 salmon wellington per person because those are small ones.
Cut larger salmon fillets into two. Each fillet should be about 5 oz or 150 grams. Measure with your eyes. If your fish comes with skin, remove the skin first!
1 pack (US) Mushrooms equals 8 ounces. Use half of it. For the rest of the world, use half as well and adjust as well as possible.
Wine can be substituted with vegetable broth to make it non-alcoholic.
Nutrition
Nutrition Facts
Individual Salmon Wellington Recipe
Amount Per Serving
Calories 285
Calories from Fat 108
% Daily Value*
Fat 12g18%
Cholesterol 142mg47%
Sodium 966mg40%
Potassium 984mg28%
Carbohydrates 3g1%
Protein 36g72%
Vitamin A 412IU8%
Vitamin C 6mg7%
Calcium 39mg4%
Iron 2mg11%
* Percent Daily Values are based on a 2000 calorie diet.