Beef Wellington shaped into individual meat pastries. Serve as an elegant main course meal this holiday season.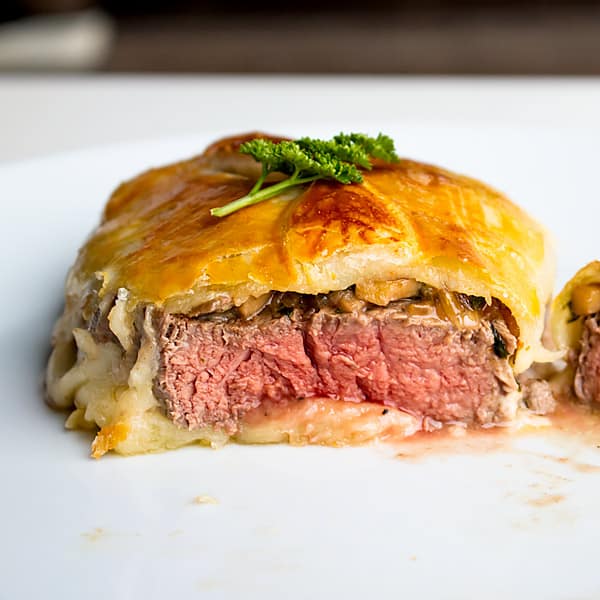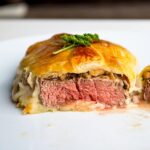 Individual Beef Wellington make a delicious, pretty and elegant main course meal this holiday season.
Serve them up to your family and friends for Christmas or New Year's for dinner.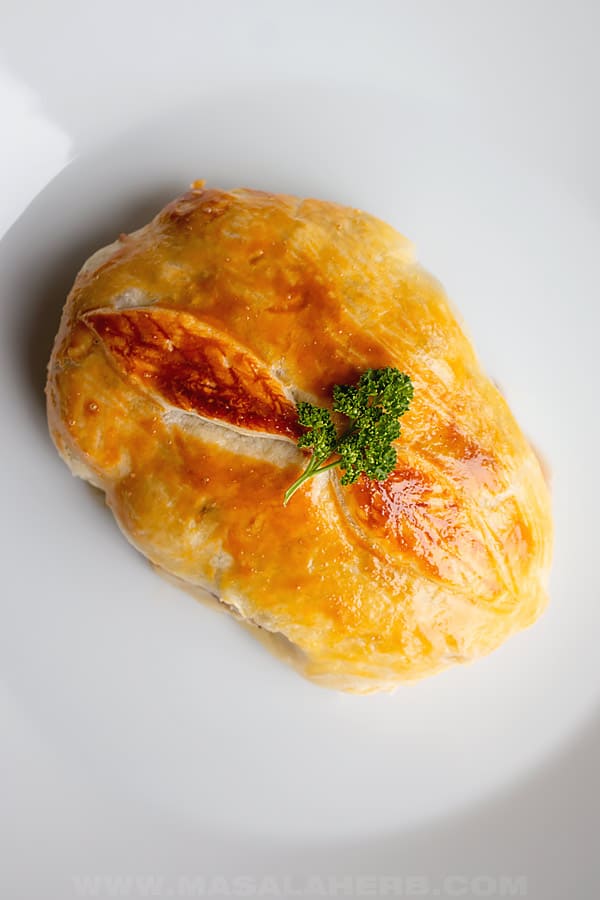 Global Food Recipes
with Spices and Herbs
Free E-Book available for a limited time. Grab yours now and get instantly inspired!
Jump to:
📕 What is Beef Wellington?
Beef Wellington tenderloin filet steak topped with a mushroom duxelles and wrapped into a puff pastry.
The English dish is also known as boeuf en croute and is usually prepared with a whole beef tenderloin wrapped in pastry.
I think individual beef wellington looks way better than one large piece and they are easier to prepare.
A twist on this classic dish is the salmon wellington.
🥩 Ingredients
The original recipe calls for paté spread over the meat with the duxelles together with a layer of ham or crepes.
Instead of paté, I use mustard paste and I skip the ham and crepes wrapping all together because I think the dish is great as it is.
So, this beef wellington is entirely without paté.
A duxelles is used to top the beef tenderloin, which is basically chopped mushrooms and parsley reduced in a frying pan.
For an easy wellington, I use a pre-made puff pastry to save time.
This beef wellington recipe is for you if you are looking for an almost foolproof, elegant Christmas dish for 4 servings.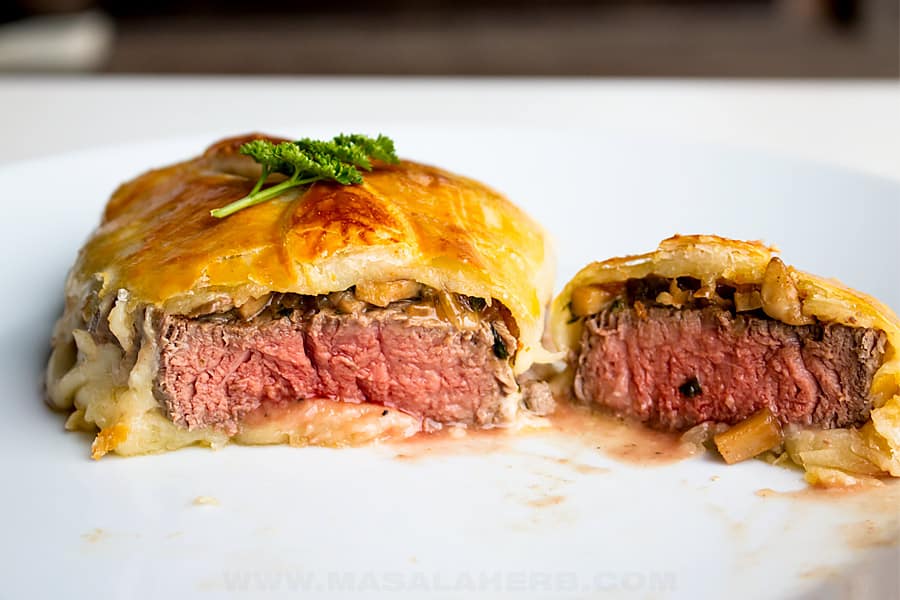 🔪 How to make it?
This is an easy recipe for individual mini beef wellington.
I find it easier to prepare individual ones and they also look better on the plate.
Here you will find a quick preview on how to make beef wellington from scratch with process shots
Find the complete recipe with ingredients, instructions, and video at the bottom of this post
Step 1
Season and sear tenderloin steaks on both sides.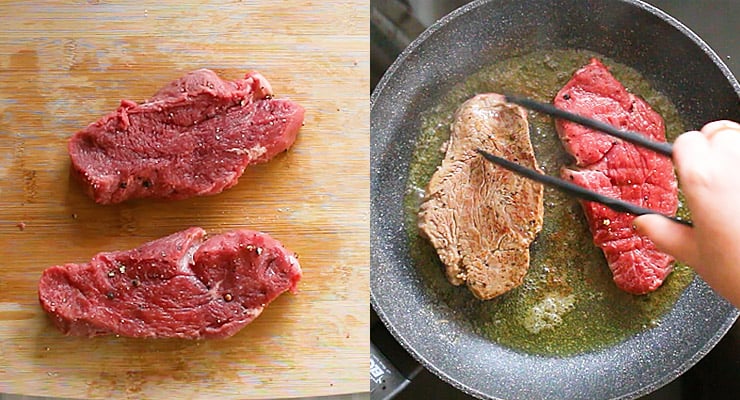 Prepare the mushroom parsley duxelles.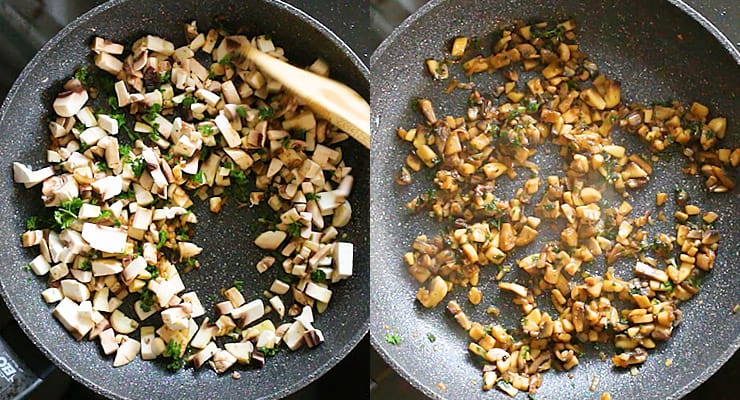 Step 2
Place steak on your working place, spread mustard over the beef and the cooked duxelles as well.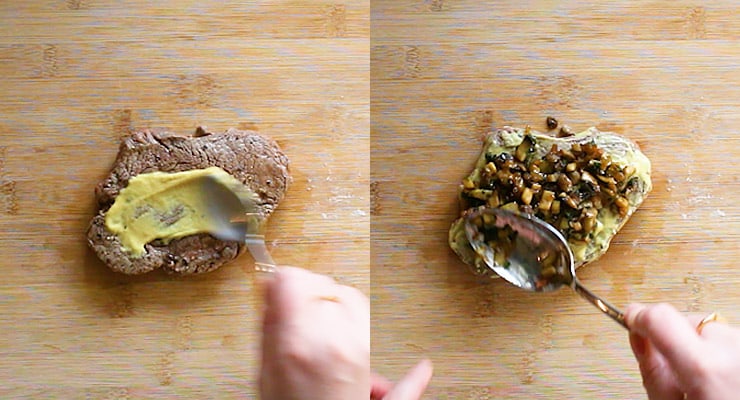 Cut the two puff pastry squares into two.
Spread puff pastry over the steak and wrap around it so that you can enclose it completely at the bottom of the steak.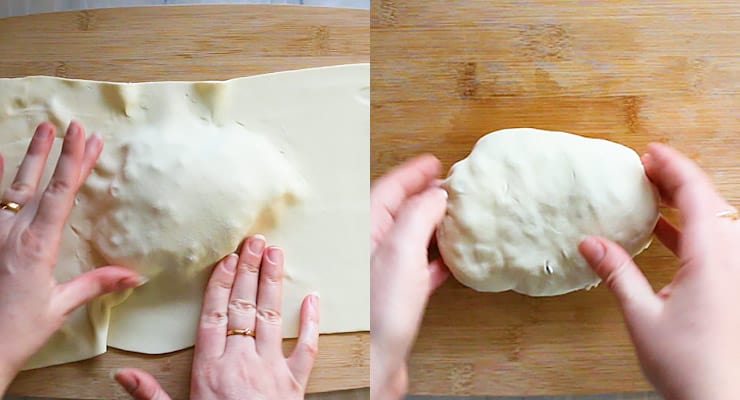 Step 3
Place meat pastries into a baking dish or on a baking sheet with parchment paper.
Use the leftover pastry to decorate your uncooked wellington with pastry deco such as leaves or diamonds.
Spread beaten egg yolk over the pastries.
Bake pastries at 400 Fahrenheit/ 200 Celsius for about 10 minutes (more details below)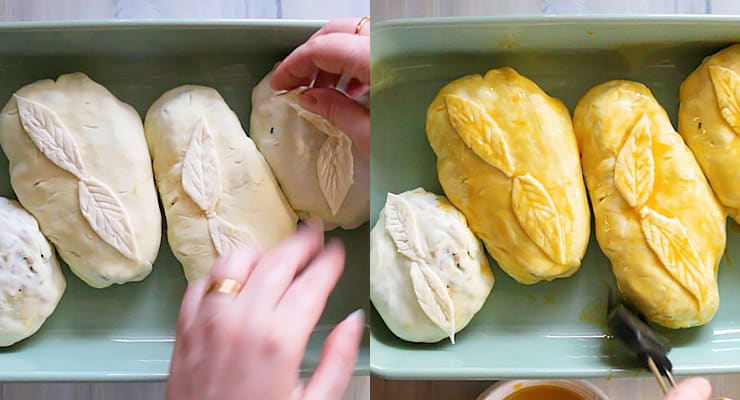 ⏳ Cooking time
The cooking time of your beef wrapped in pastry depends on the size of your individual wellington parcels.
I used 2 different sizes in my video because some of my guests wanted the meat to be well done.
The ideal way to bake your wellington steak is to use same sized steak wrapped in pastry.
That way you ensure that they are all same cooked.
Besides, the cooking duration of your wellington depends on the following points:
the temperature of the steak before cooking
the thickness of your meat and the pastry thickness.
the oven temperature and duration of baking
The steak for the wellington is first seared on the outside in the pan before it is wrapped in pastry and baked in the oven.
A 1-inch thick steak takes about 2-3 minutes to sear on both sides on high heat.
The baking of the individual wellington meat parcels takes about 10-12 minutes at 400 Fahrenheit/ 200 Celsius and the result is a pink wellington as seen in the pictures.
For a well-done wellington, I recommend baking for at least 3 more minutes.
💭 FAQs
How to prepare the dish in advance?
You can sear the steak, prepare the mushroom duxelles, spread the duxelles and mustard over the steak and wrap the meat into the pastry in advance. Keep in the fridge for up to 24 hours max. and bake as described.
Can beef wellington be frozen?
Yes and to freeze your wellington, don't pre-sear the meat but instead freeze the prepared meat parcels. To bake later don't thaw the wellington because that would result in a soggy pastry. Just bake frozen for about 30 minutes or until golden brown (depending on the size). Use a meat thermometer to determine doneness in the center of the meat parcel.
How to reheat the dish?
Place the wellington into the oven and gently reheat at a lower heat temperature for about 5-8 minutes in the oven. Or reheat in the microwave at a lower heat wave setting for about 5 minutes. Just make sure to not overcook the wellington.
How much does beef tenderloin cost?
Individual beef tenderloin steak to make this wellington recipe cost about 10 USD or 10 EUR in average. Beef tenderloin is expensive because it's the softest beef meat.
👁️ Serving
I love to serve vegetable sides and wine sauces with my mini beef pastries.
Global Food Recipes
with Spices and Herbs
Free E-Book available for a limited time. Grab yours now and get instantly inspired!
📖 Recipe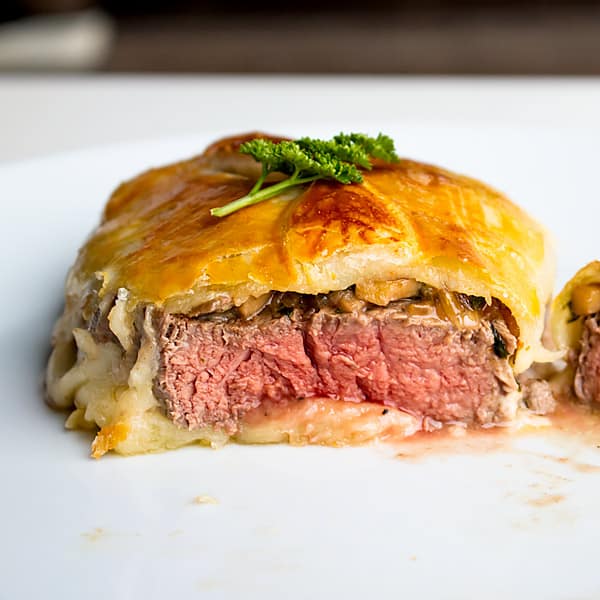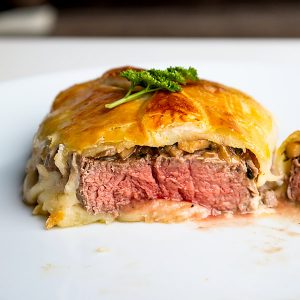 Individual Beef Wellington Recipe
Beef Wellington shaped into individual meat pastries. Serve as an elegant main course meal this holiday season.
Print
Pin
Rate
Ingredients
For the Meat
1.1

Pound

Beef Filet

1½

Teaspoon

Salt

Black Pepper Ground

pinch

2

Tablespoon

Butter

1

Tablespoon

Olive Oil
For the Mushroom Duxelle
1-2

Tablespoon

Olive Oil

1

Shallot

cut small

4.5

Ounces

Mushrooms

roughly chopped

3

Tablespoon

Parsley Fresh

chopped

Salt

pinch

⅛

Cup

White Wine

optional, *see Notes
To arrange Wellington
4

Tablespoon

Mustard

I use french Dijon mustard

2

Puff Pastry Sheets

1

Egg Yolk
Instructions
For the Meat
Season cut filet steak pieces with salt and black pepper on all sides.

Heat up a pan with the butter and olive oil and wait for it to get super hot.

Place meat into the pan and sear on both sides on high heat. Each side for about 2-3 minutes.

Take the meat from the pan and keep aside. Reduce heat in pan and continue to use to make the duxelles.
For the Mushroom Duxelle
Add olive oil to the same pan and keep on a steady heat.

Place cut shallot pieces into the pan and saute till they are cooked through.

Add cut mushroom and parsley together to the pan and stir cook occasionally so that they turn into a duxelles (that's how it's called).

When cooked halfway through you can choose to season with salt and pour wine over the duxelles over the mushrooms. Cook further until liquids are dissolved and you are left with cooked through mushrooms. Keep aside
To arrange Wellington
Prepare puff pastry by rolling it out. Cut one sheet into two, we will be using 2 sheets for 4 servings. *see Notes

Place cooked meat on a working board and cover with mustard paste. 1 Tablespoon mustard paste per meat steak.

Spread some of the mushroom duxelles over the steak with mustard.

Take a cut puff pastry sheet and cover the naked wellington steak with it. Carefully wrap the puff pastry around the steak and cut off excess dough. Close the dough at the bottom of the steak. Repeat the process with all wellingtons

Preheat oven to 400° Fahrenheit/ 200° Celsius.

Place beef wellingtons on a baking sheet or onto a baking dish.

Decorating the wellington with extra cut out shapes of puff pastry is optional.

Brush wellington parcels with egg yolk.

Bake at 400° Fahrenheit/ 200° Celsius for about 10-12 minutes or until golden brown on top. You can check if the meat is pink and cooked inside with the help of a meat thermometer.

Serve hot with a side dish and sauce of your choice. (see post for serving suggestions on top)
Notes
I forgot to show how I add the salt and wine in the video. Adding the white wine is optional anyway. I add salt and whine after the sauteeing the mushrooms half way through and reduce the mushrooms duxelles (that's how it's called) until no liquids are left while stirring continuesly.
I use store bought puff pastry rolls to save time. One roll can be used to wrap in two beef wellington with pastry. There will be leftover puff pastry, which you can use to decorate your wellingtons or you can use it for something else. I found this to be the easiest method. You can also choose to use one puff pastry sheet for 4 wellington too by cutting it into two, wrapping two wellington with pastry, taking the remaining pastry, rolling it out into two squares to wrap around the remaining two wellingtons. But keep in mind that you might get short on pastry.
Nutrition
Nutrition Facts
Individual Beef Wellington Recipe
Amount Per Serving
Calories 835
Calories from Fat 585
% Daily Value*
Fat 65g100%
Cholesterol 151mg50%
Sodium 1313mg55%
Potassium 576mg16%
Carbohydrates 31g10%
Protein 30g60%
Vitamin A 493IU10%
Vitamin C 5mg6%
Calcium 34mg3%
Iron 5mg28%
* Percent Daily Values are based on a 2000 calorie diet.