3 Ingredients oven roasted turnips to serve as a healthier side dish.
Oven roasted turnips are a great low carb every day and holiday side dish.
I show you how to prepare your turnips and how to roast them from scratch easily with the help of my how to process shots.
Global Food Recipes
with Spices and Herbs
Free E-Book available for a limited time. Grab yours now and get instantly inspired!
We had tons of turnips growing this year that we ended up with a huge surpluss.
I love turnips turned into mashed turnips or cooked and served with a bechamel sauce and a boiled egg.
Another way to enjoy these healthy root vegetables is to roast your turnips!
Jump to:
👩🏻‍⚕️ Health benefits
You can consume the roots and the tops (green leaves) of a turnip and both are great for your health!
I like to use my turnip tops in a turnip greens soup because it would be a waste. The veggie greens are rich in vitamins.
Turnip roots are more commonly enjoyed and those are low in calories, high in nutrients and especially rich in dietary fibers.
Low calories means that you should add turnip roots to your diet if you are looking to reduce your weight.
Fibers help you regulate your digestion and bowel movement and they reduce your risk of heart disease and diabetes.
Because your stomach takes longer to digest fibers, you will feel full longer, thus assisting you in controlling your hunger pangs.
🔪 How to prepare turnips?
Preparing turnips is easy!
You get small baby turnips, which are more tender, and larger fist sized turnips.
Turnips can come in different varieties.
The ones I use in my video and pictures are purple top baby turnips but you can use any other turnip type too.
How can you tell if a turnip is bad?
Before you go about preparing your turnip roots, find out if they are fresh and if you can consume them.
Look out for black spots and soft places that appear rotten or moldy.
Worms and insects can cause a turnip to turn black and damaged too.
If a turnip gets really bad, it will smell spoiled and rotten.
Take the root towards your nose and smell if your turnip is good or going bad.
You can see in my video that the turnip form my garden was slightly damaged at the border.
I simply cut it off and still used my turnip because it's still good!
Cut off bad parts that are not white flesh and use the good stuff in your food, avoid wasting food.
Do you peel turnips before roasting?
I peel my turnips before roasting my roots because I like it this way better.
You don't need to peel your turnip roots if the roots have been scrubbed properly to get rid of mud and impurities.
Only use organic pesticide-free turnip roots if you leave on the skin.
Root vegetables are more sensitive towards pesticides because they take the substance in with the roots (which in turn we eat).
Is there an easy way to peel a turnip?
I use a Swivel Vegetable Peeler which gets the job done because the blade is flexible.
Baby turnips and smaller turnip chunks are always easier to peel because turnip roots and skin are super hard.
How to cut a turnip?
Cut your turnip the same way you would cut a potato.
Cut the root vegetable into two and then quarter and cut further into smaller chunks if it's a large turnip.
❔ How to roast turnips?
Roasted Turnip roots are a great alternative to roasted potatoes.
I explain and show you below how to prepare and roast your turnips from scratch with my step by step pictures.
Find the complete recipe with ingredients and instructions in the recipe card at the bottom of this post.
Step 1
Cut off the end of your clean turnips where the greens were attached.
Peel your turnips.
Cut your turnip roots into two and then into quarters.
Cut into smaller pieces if you are using large fist-sized turnips.
Step 2
Place turnip pieces into a mixing bowl and season with salt and olive oil.
Toss your roots with the olive oil and salt and make sure that the vegetable pieces are all coated.
Place prepared turnips into a casserole dish or on a sheet pan with a baking sheet.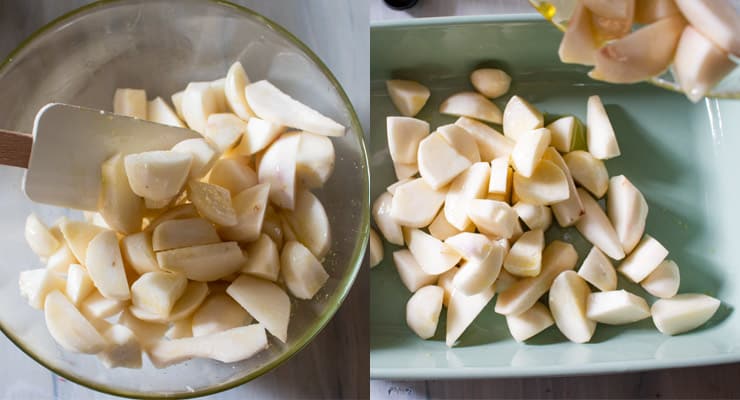 Step 3
Make sure your turnips are spread ou in your dish and roast and cook turnips. This can take about 30 minutes.
🧂 Seasoning ideas
I like this roasted baby turnips recipe as it is without seasoning.
BUT you can add the following seasonings and ingredients over your turnips before you roast them in the oven to create variations.
Italian Seasoning
Zaatar Seasoning - middle eastern/ Mediterranean seasoning
Cajun Seasoning - kind of like cajun fries
Rosemary
Thyme
Parmesan
Balsamic vinegar (add after roasting)
Sage brown butter (instead of olive oil too)
Maple Syrup or Honey
🥕 Choice of vegetables to roast along
You can also save some time or enjoy other vegetables with your turnips.
I like to prepare an assortment of roasted root vegetables and that usually includes turnips too.
You can add the following vegetables to your turnips or serve them separately along with the roasted turnip roots.
Keep in mind that some vegetables can take longer or shorter to roast through.
carrots
beets
parsnips
squash
rutabagas
potatoes
broccoli
fennel
shallots or onions
brussels sprouts
leeks
mushroom
kale
apple
💭 FAQs
How long to roast turnips?
The roasting time of your turnips depends on the size and age of your root. Baby turnips are younger and tend to cook through faster. My turnips took about 30 to 40 minutes to roast through.
What do turnips taste like?
There are a many turnip varieties in this world and all taste slightly different. Turnips with red and pink tops taste much like potatoes but they are harder and resemble yams too.
Why do my turnips taste bitter?
Turnips are not a sweet root and may taste bitter to you if you are used to eating sweet foods. I don't eat many sweets so I personally don't notice it. If the bitterness bothers you, try to roast your turnips with sweeter root vegetables such as carrots to equalize the taste experience. Another idea is to cover your roots with maple syrup or honey before roasting. The older a turnip gets (and the larger) the more bitter it might get. Pick baby turnips to avoid a bitter taste.
👁️ More oven-roasted vegetables
Global Food Recipes
with Spices and Herbs
Free E-Book available for a limited time. Grab yours now and get instantly inspired!
📖 Recipe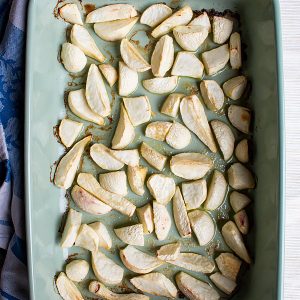 Oven Roasted Turnips Recipe
3 Ingredients oven roasted turnips to serve as a healthier side dish.
Print
Pin
Rate
Instructions
Separate turnip roots from the greens if it hasn't been done yet. Scrub your roots with a vegetable brush to get rid of mud and impurities. Pat dry.

Trim off the green ends of your turnips and peel.

Cut your turnips into quarters or smaller pieces.

Preheat oven to 400° Fahrenheit/ 200° Celsius.

Place turnip pieces into a mixing bowl and season with salt and pour olive oil over the roots.

Toss your turnips so that they are completely coated with the olive oil and salt.

Spread turnip pieces over a baking sheet or place them into a casserole dish.

Roast turnips at 400° Fahrenheit/ 200° Celsius for about 30 - 40 minutes until cooked through. *see Notes
Notes
Use about 12 baby turnips. You can weigh too, to get to the correct amount.
The roasting time depends on the size of your turnips. They usualy take somewhere between 30 to 40 minutes. For example baby turnips might cok through faster then say fist-sized turnips.
Nutrition
Nutrition Facts
Oven Roasted Turnips Recipe
Amount Per Serving
Calories 162.15
Calories from Fat 64
% Daily Value*
Fat 7.12g11%
Sodium 826.73mg34%
Potassium 699.06mg20%
Carbohydrates 23.54g8%
Protein 3.29g7%
Vitamin C 76.86mg93%
Calcium 109.8mg11%
Iron 1.1mg6%
* Percent Daily Values are based on a 2000 calorie diet.