Simple Asparagus Recipe, roasted with a drizzle of salt and fresh garlic. Drizzle some lemon juice over the roasted asparagus before serving as a healthy side dish. You can garnish the dish with fresh parsley too.
Easy Garlic Roasted Asparagus to serve as a side dish with meat, seafood, and even meatless main course meals.
This sheet pan roasted asparagus with garlic and lemon is completely vegan, gluten free and low carb.
I think the best way to cook green asparagus is either to roast/bake, grill or skillet sautee.
Today I want to share my favorite way to cook fresh asparagus, it's a lemon garlic asparagus side dish prepared in the oven.
Usually, I serve it up with my salmon en papillote and with cooked wheatberries but you can also enjoy these baked asparagus with a steak.
Jump to:
Market availability
Asparagus is in season in most parts of the world from March to June with April and May being the peak season.
Try to avoid being Asparagus outside the season.
You can get two types of asparagus in your local grocery store at that time of the year.
One is the green Asparagus and the other the white asparagus.
Both are one and the same variety, it's just that the white ones are kept away from sunlight during th growing process.
Both, green and white asparagus almost taste the same.
However, I think the white ones tend to be more intense in flavor.
The white ones can be more fibrous at times and need to be peeled.
If you purchase the green asparagus, pick the bright green ones.
If you can easily poke into it and you find it juicy and crunchy, you have a quality fresh asparagus.
They are not that fresh if the asparagus are hard to break and elastic.
How to roast asparagus in the oven?
You will soon reckon that cooking asparagus in the oven is one of the easiest ways to prepare delicious perfect asparagus side dish.
For this oven baked asparagus recipe, I suggest you use the green variety only and not the white ones.
This is because green asparagus are more convenient and for some reason, they are more suitable for roasting.
However, you can of course also try out roasted white asparagus, if this is all that you get locally.
Keep in mind to peel and cut off fibrous parts of the white asparagus.
Duration
Roasting time for green asparagus depends on the thickness of your asparagus and the temperature.
The thinner the asparagus the less the cooking time.
The ones I used for the baked garlic asparagus in the picture are on the smaller side and I roasted them at 350 Fahrenheit/ 180 Celsius for about 15 minutes.
Temperature vs roasting time
Let's assume you have average thick fresh asparagus, the approximate temperature and cooking time would be the following:
Roasting at 350 Fahrenheit/180 Celius for about 17 minutes.
Roasting at 375 Fahrenheit/190 Celius for about 14 minutes.
Roasting at 400 Fahrenheit/200 Celius for about 11 minutes.
I don't recommend to oven roast asparagus at 425 Fahrenheit/220 Celsius, because the heat is too high.
This sucks out the life from your asparagus, the asparagus spears get all shriveled and chewy.
I recommend 350 Fahrenheit/180 Celsius to make this easy roasted asparagus recipe.
Also keep in mind that every oven is different, that means my timing above is just an approximate and are suppose to guide you.
You need to keep an eye on your oven-baked asparagus the first time you make this asparagus dish, so as not to overcook them.
After roasting, the asparagus should be consumed the same meal.
They don't keep that well in the fridge.
More asparagus recipes
Global Food Recipes
with Spices and Herbs
Free E-Book available for a limited time. Grab yours now and get instantly inspired!
📖 Recipe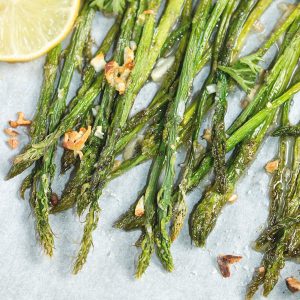 Garlic Roasted Asparagus Recipe
Simple Asparagus Recipe, roasted with a drizzle of salt and fresh garlic. Drizzle some lemon juice over the roasted asparagus before serving as a healthy side dish. You can garnish the dish with fresh parsley too.
Print
Pin
Rate
Instructions
Rinse your asparagus well and pat dry.

Cut off any tough or chewy stalk parts. I poke into my asparagus with my fingernail to see if it's tough and according to that I decide where to cut. The fresher your asparagus the less of a chance that you will need to cut off anything.

Preheat your oven to 350 Fahrenheit/180 Celsius.

Place your asparagus on a prepared tray with baking sheet.

Spread the chopped garlic over the asparagus. Sprinkle the olive oil equally all over.

Season with salt and pepper.

Roast in the oven for about 15 minutes at 350 Fahrenheit or until the asparagus are cooked through. Keep an eye on your asparagus in the oven, the cooking time may vary.
Nutrition
Nutrition Facts
Garlic Roasted Asparagus Recipe
Amount Per Serving
Calories 145
Calories from Fat 126
% Daily Value*
Fat 14g22%
Sodium 1165mg49%
Potassium 151mg4%
Carbohydrates 4g1%
Protein 1g2%
Vitamin A 570IU11%
Vitamin C 5.4mg7%
Calcium 25mg3%
Iron 1.6mg9%
* Percent Daily Values are based on a 2000 calorie diet.