Dry rub for pork roast, to season pork roasts such as loin, sirloin, tenderloin, ribs, and chops.
Your own homemade pork roast seasoning recipe will be your new favorite dry rub for your crispy pork roast.
Make it, use it, and store it in a spice jar for future uses.
Global Food Recipes
with Spices and Herbs
Free E-Book available for a limited time. Grab yours now and get instantly inspired!
Have you ever asked yourself how to season a pork roast?
Well, it turns out making your own seasoning for pork loin roast or other pork meat cuts is actually super easy and tastes so much better than the store-bought stuff!
Jump to:
🥩 Ingredients
The pork roast seasoning consists of salt and various spices.
This particular pork rub doesn't include any dried herbs.
Salt
Salt doesn't only add flavor but also helps the pork meat to form a lovely crisp crust.
The salt goes into the pores of the meat and helps the other ingredients to infuse all the more.
I like to use special salts such as pink Himalaya salt or Fleur de Sel but you can use simple table salt too.
Quality salts add another flavor dimension to the whole rub.
Garlic and Onion
I use ready-made Garlic and Onion powder because I'm too lazy to make my own.
You can use smoked garlic turned into powder too. That adds flavor too!
Both, Onion and Garlic powder, compliment pork meat and are the link to the other spices.
To make your own garlic and onion powder, cut them small, dry, and turn them into powder in a grinder.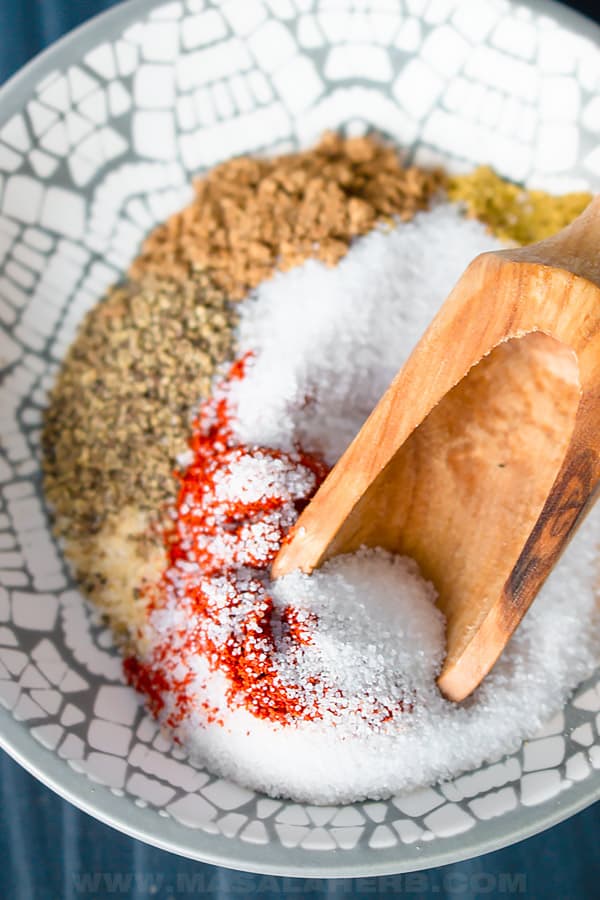 Caraway or Cumin
I love to use caraway seeds in my pork rub because it goes hand in hand with meat.
Cumin is ok too but caraway is most definitely my choice.
Use caraway powder if you can instead of cumin.
Only use cumin if you can't get caraway seeds.
And no, they don't taste the same.
Coriander
Coriander seed powder always goes hand in hand with caraway or cumin.
It's like coriander is the day and cumin and caraway the night.
Coriander will bring out the pork flavors all the more and will add tons of flavors.
Black Pepper
Freshly ground black pepper from quality peppercorn is what you want to use in this rub.
There are different qualities of black pepper.
Buying whole peppercorns and grinding them just before you intend to use them is most definitely a good way to use black pepper.
I get mine from an organic farm in Goa.
If you live in a tropical climate, try to source your black pepper locally.
If you live in a cold climate buy this kind of black pepper, the triple AAA grade ones.
There is a reason why our ancestors used to be obsessed with black pepper and even instigated trade wars.
Paprika
Paprika adds color but also flavor to your pork roast seasoning.
You get smoked paprika, sweet paprika or spicy paprika.
I tend to use smoked paprika in my pork roast rub because I love the smokiness!
🍴 Uses
The pork roast seasoning is often while known as a salt seasoning too because it contains mainly salt.
Its purpose is to act as a dry rub for pork meat.
This means you can use your pork seasoning on:
loin roast
sirloin
tenderloin (filet)
shoulder
butt
ribs
pulled pork
We like to make a loin roast with stuffed garlic on Sundays which we roast in a large cast-iron dish. (Recipe coming soon)
Use this seasoning as a dry pork chop rub, pork loin rub, and similar and roast or grill.
I like to rub some of it into a pork steak too and cook the meat in some oil in a pan.
🍱 Storing
You can prepare a larger batch of this pork rub and store it in airtight spice containers.
I like to use transparent glasses with airtight lids so that I can see how much is left.
That way I don't forget my spices in the back of my pantry.
You don't use this spice blend too often but when you do, you will be glad to have some around.
The salt in the seasoning will help to preserve the other spices, so your spice blend will last forever.
Just make sure to shake the jar before using your pork roast seasoning because salt is heavier than the spices.
🔪 How to make it?
To prepare this pork roast seasoning is beyond easy.
I mean you just need to have all your ingredients in powdered form and you are good to go to mix them all together.
That's all there is to it.
Yet, if you are using whole spices such as caraway/cumin seeds and coriander, then you need to turn them into powder first.
To do that, take your whole spices and dry roast them in a pan until you can smell the aroma of your spices.
Let them cool a bit and grind them in a coffee grinder, blender with a small jar or in a mortar and pestle.
If you use a proper marble or granite mortar and pestle, you will realize that it is a quick and easy job to grind the spices to a fine aromatic powder.
👁️ More seasoning recipes
Dear Reader, how are you going to use your pork roast seasoning?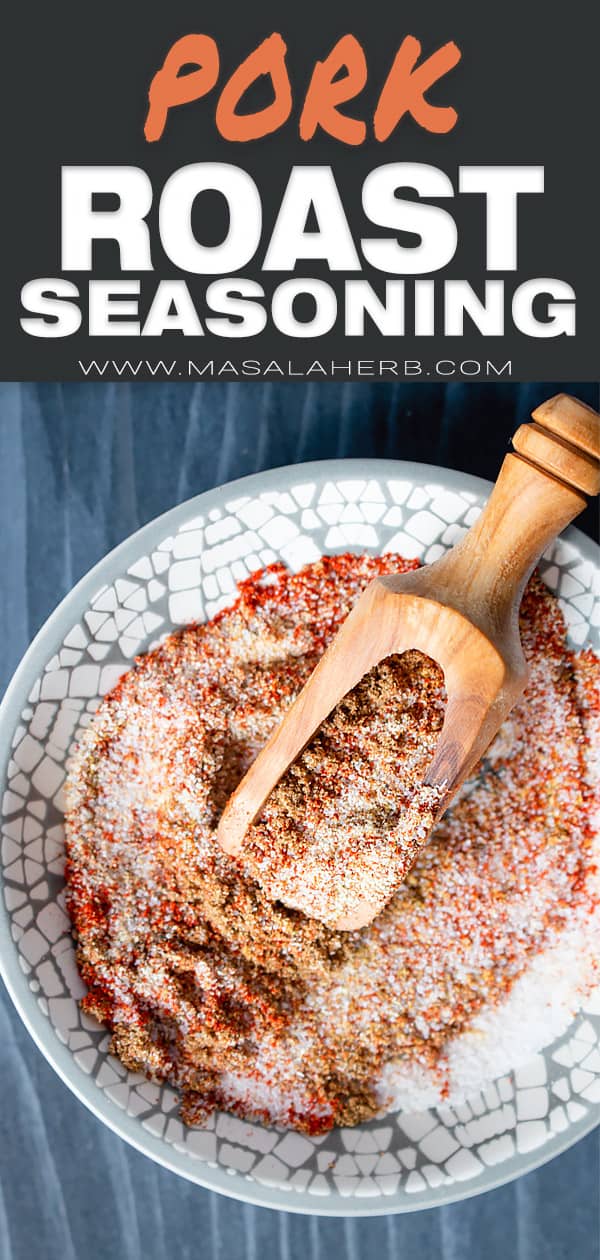 Global Food Recipes
with Spices and Herbs
Free E-Book available for a limited time. Grab yours now and get instantly inspired!
📖 Recipe
Pork Roast Seasoning Recipe
Dry rub for pork roast, to season pork roasts such as loin, sirloin, tenderloin, ribs, and chops.
Print
Pin
Rate
Instructions
Keep your salt and spices ready. The spices should be all dry ground and in powdered form.

Add the spices and salt to a small mixing bowl and combine.

Dry rub the pork roast seasoning into your meat or store for future use.
Nutrition
Nutrition Facts
Pork Roast Seasoning Recipe
Amount Per Serving
Calories 30
Calories from Fat 9
% Daily Value*
Fat 1g2%
Sodium 3492mg146%
Carbohydrates 6g2%
Protein 1g2%
Vitamin A 493IU10%
Calcium 28mg3%
Iron 1mg6%
* Percent Daily Values are based on a 2000 calorie diet.