A simple vegan low-carb dish to cook your wonderfully fresh king oyster mushrooms.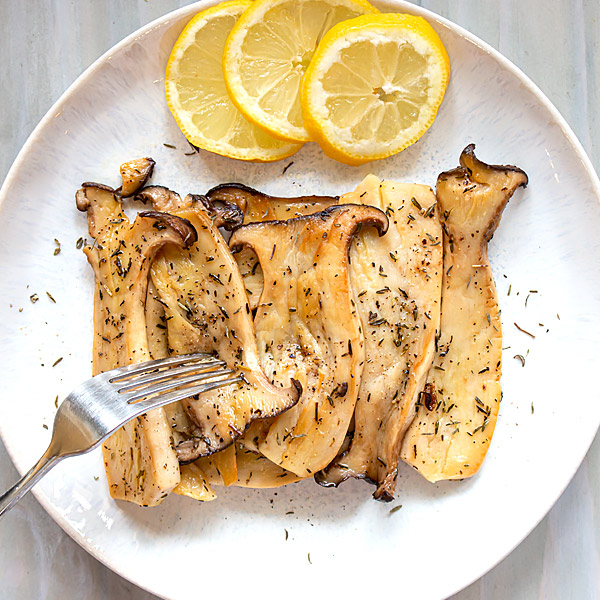 Pan-fried king oyster mushroom cooked in one pan with thyme and lemon flavors.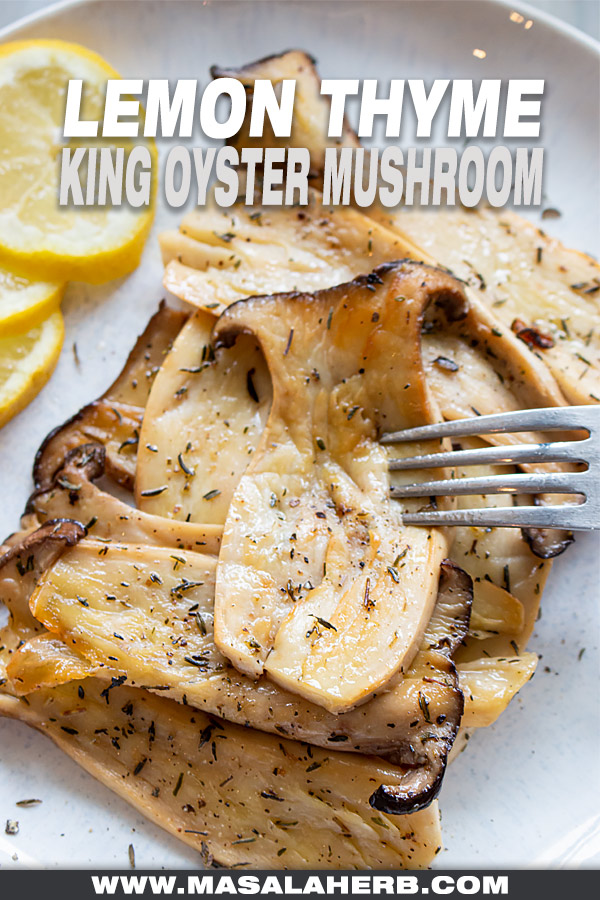 Global Food Recipes
with Spices and Herbs
Free E-Book available for a limited time. Grab yours now and get instantly inspired!
Jump to:
📕 What are King Oyster Mushrooms?
King oyster mushrooms are also known as king trumpet mushrooms, royal trumpet, and some other regional names.
They are part of the oyster mushroom family. Remember those mushrooms growing on trees? Well, that's the same mushroom family.
So, while they don't grow on dying tree stems, they choose to instead grow on dying tree roots.
King trumpet mushrooms are a delicacy, just like chanterelle and saffron milk caps.
They have been commercialized in the west and east and appear occasionally on local regional menu cards.
For example, in Germany and Austria, you can find them under the name Kräuterseitlinge. Yet the mushroom is also quite popular in east Asian cuisine.
The most common and best way to enjoy them is sliced and sauteed in a skillet, just like scallops. This is how they earned the vegan scallop title.
The texture is meaty, a bit chewy and when cooked they turn out flavorful, umami. Almost like shiitake!
🍄 Ingredients
Here is an overview of what you will need to make these lemon thyme-flavored king trumpet mushrooms.
The full US and metric measurements are located further below in the recipe card.
king oyster mushroom - fresh and if they are the same size it's a plus point.
olive oil - extra virgi preferred.
salt and black pepper
thyme - dried or fresh. Fresh herbs will make it pop.
lemon juice - just a few drops to brighten up your dish
To add some flavor variations, you are free to enhance your seasoning by adding some rosemary, sage, and or dill/fennel.
Freshly chopped parsley or chives can be used as well.
🔪 How to cook them?
In a nutshell, to help you get going. Full recipe instructions are in the printable recipe card.
Step 1
Clean mushrooms and slice them lengthwise.
Step 2
Heat up a skillet with olive oil and place mushroom slices in.
Sprinkle salt, black pepper, and thyme over your mushrooms.
Cook on both sides.
Step 3
When they turn golden cooked, take out and place in a dish and repeat the process with the remaining mushrooms.
Sprinkle some lemon juice over your mushrooms, mix and serve up.
🍴 Serving
This is a vegan side dish, which can be served with other meals. That can be other vegan meals, or with your favorite meat dish.
With meats or fish:
Served up vegetarian or vegan:
🍱 Storing
Fresh king oyster mushrooms don't spoil that fast, they are quite hardy.
But I don't recommend keeping them for too long because mold can grow on your fresh mushrooms.
Use them up within 2 days after you have purchased them.
The finished dish itself can be stored in your fridge for up to 3-4 days.
Reheat the mushroom slices in a skillet and enjoy them with your food.
💭 FAQs
When are king oyster mushrooms in season?
They are mainly available in late spring and fall but can be bought in stores during that period too. Homegrown mushrooms will thrive best in fall and you will find them in the woods in the northern hemisphere from August up to November.
Where to buy the mushrooms?
If they are in season, you can buy your king trumpet mushrooms in local farmers' markets. You get them online too on freshdirect. Some larger hyper stores carry them all year round too. Your neighborhood Asian store might sell them too. Keep your eyes peeled, they might just appear when you least expect it.
Can you eat the entire mushroom?
Yes, the whole mushroom can be consumed and everything tastes great.
How to substitute king oyster mushrooms?
I think porcini mushrooms resemble king oyster mushrooms in their consistency and also in flavor. Large shiitake mushrooms can be also used instead.
Should I rinse or brush my mushrooms?
Mushrooms with gills shouldn't be rinsed with water because water gets trapped in the gills and the mushroom also loses on flavors when rinsed. Professional chefs brush mushrooms with a mushroom brush. The problem is that commercially available mushrooms tend to be treated with pesticides and you really don't know where they came from. So, in those cases, I recommend taking them through some running water quickly and then pat them dry very well and carefully so as to not damage your mushroom. If your mushrooms are just muddy, I recommend wiping them off with a damp clean cloth. I also recommend only buying mushrooms that are labeled as pesticide-free. Organic (or Bio) doesn't always mean no pesticides because every country has different labeling laws.
Global Food Recipes
with Spices and Herbs
Free E-Book available for a limited time. Grab yours now and get instantly inspired!
📖 Recipe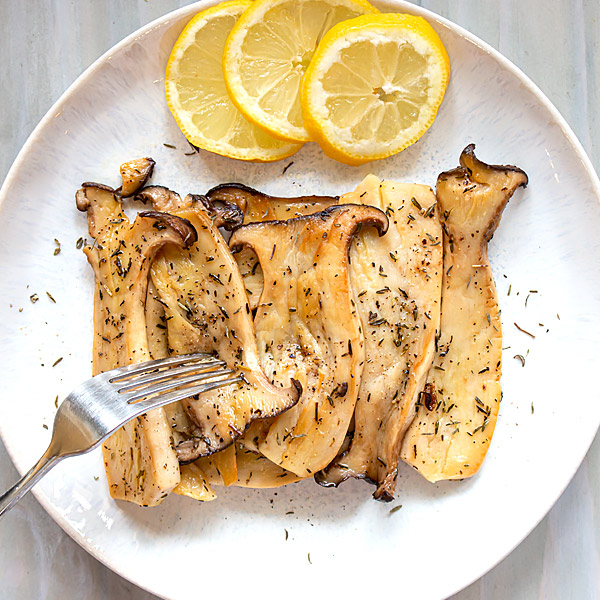 Lemon Thyme King Oyster Mushroom Recipe
A simple vegan low-carb dish to cook your wonderfully fresh king oyster mushrooms.
Print
Pin
Rate
Instructions
Clean your mushrooms. The professional way to do this is with a brush and not water. Yet, if your mushrooms are very dirty and/or treated with pesticides then rinse them through some water and pat dry.

4 Piece King Oyster Mushroom

Slice mushrooms lengthwise, all the same thickness. I cut them to about 0.2 inches/ 0.5 centimeter thickness.

Take your skillet to the heat and pour in olive oil. Wait for the oil to get hot but it shouldn't smoke.

Place mushroom slices into the pan. Don't overcrowd your pan, you should be able to move and turn your mushrooms easily in the pan.

4 Piece King Oyster Mushroom

Season mushroom on both sides with thyme, salt, and black pepper.

1 Teaspoon Salt,

½ Teaspoon Black Pepper Ground,

1 Teaspoon Thyme

Cook mushrooms on both sides until they turn a bit golden brown or until they look cooked. Take them out and place them into a serving dish.

Sprinkle freshly squeezed lemon juice over the mushrooms. A few drops are enough to brighten up the dish.
Nutrition
Nutrition Facts
Lemon Thyme King Oyster Mushroom Recipe
Amount Per Serving
Calories 291
Calories from Fat 297
% Daily Value*
Fat 33g51%
Sodium 776mg32%
Potassium 15mg0%
Carbohydrates 1g0%
Protein 1g2%
Vitamin A 34IU1%
Vitamin C 1mg1%
Calcium 5mg1%
Iron 1mg6%
* Percent Daily Values are based on a 2000 calorie diet.