Johnny Marzetti is a baked noodle dish prepared with ground beef and tomato sauce. Top it with your favorite cheese.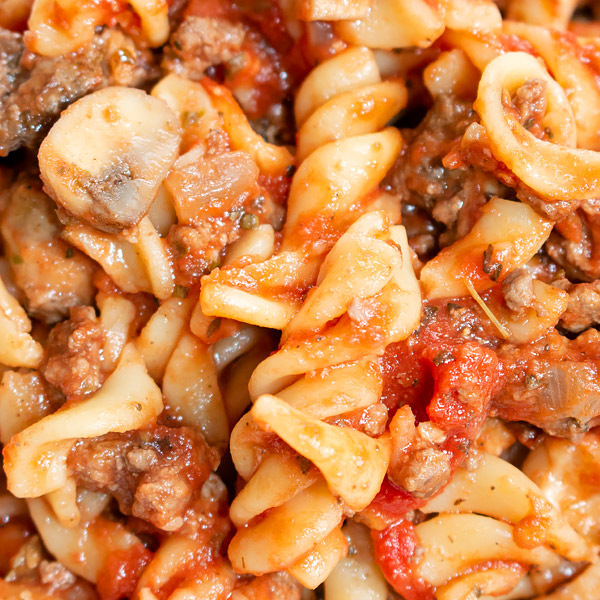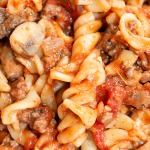 Johnny Marzetti is a baked comfort noodle dish prepared with tomato sauce, ground beef, and topped cheese.
It's a 100% delicious, fool-proof recipe and a family favorite!
Global Food Recipes
with Spices and Herbs
Free E-Book available for a limited time. Grab yours now and get instantly inspired!
Jump to:
📕 What is Johnny Marzetti?
Johnny Marzetti is a baked pasta casserole dish prepared with ground beef and tomato sauce.
It's an Italian-American dish from the midwest, Columbus Ohio.
Teresa Marzetti immigrated from Florence Italy to the US in the 19th century.
She came up with this dish in their family-owned Italian restaurant called Marzetti in Columbus.
She called the pasta casserole after a family member and it was a major hit at the time.
The restaurant is long gone but the T. Marzetti Company is still a major food brand in the US and many grew up eating Johnny Marzetti in school canteens.
Some claim that Johnny Marzetti is an American goulash (not to be confused with the Hungarian beef goulash stew) or an American chop suey.
I think this dish deserved its own name and I don't think it can be called an American Goulash. What do you think?
🍅 Ingredients
These are the basic ingredients to make this dish the old fashioned way at home from scratch.
pasta - pick egg noodles that easily coat with the sauce in the baking dish. Elbow macaroni, penne, spaghetti or fusilli pasta are all good choices.
onion and garlic - white, yellow or purple onion and fresh garlic
mushrooms - fresh sliced. Can be button mushrooms, cremini or Portobello. If you don't like mushrooms, you can skip that.
oil - olive oil preferably but regular cooking oil is ok too
ground beef - lean or 20% fat ground beef. I like the one with fats better because it's more flavorful
seasoning - salt, black pepper, Italian seasoning (or substitute with oregano) and dried basil
peeled canned tomatoes and plain tomato sauce
cheese - I used cheddar and parmesan. You can use mozzarella too.
More ingredients to add
You can also add black or green olives, sweet corn, bell pepper and/ cooked kidney beans.
The ground beef can be substituted with ground pork sausage or venison. You can mix meat varieties too.
🔪 How to make it?
A part of the dish needs to be prepared over the stove top and then comes together at the end in your baking dish before it's being baked.
The complete printable recipe with US and metric measurements is located at the bottom of this post.
Step 1
Cook pasta as per packet instructions.
Prep and cut onion, garlic and mushrooms.
Step 2
Saute onion garlic and mushrooms.
Stir in ground beef and seasoning.
Step 3
Spread canned peeled tomatoes, tomato sauce and seasoning in the baking dish
Mix in cooked noodles and ground beef from earlier.
Top with cheese and bake.
🍴 Serving
I love this baked ground beef with pasta dish when served with a simple green salad and vinaigrette dressing.
Other side dish salads complement the salad well too such as a green bean salad, carrot salad, or even a beet salad.
🍱 Storing
Keep leftovers in an airtight container in your fridge for up to 4-5 days.
Warm up in the microwave in a microwave save dish.
It can be prepared and baked to meal prep for the week too. That way you need to warm it up again.
To freeze your marzetti pasta bake, I recommend to prepare and to fill your casserole dish as per my instructions.
The baking dish with its contents can simply be frozen hard for up to 2 months.
When you are ready to eat and enjoy it, take it out from the freezer and place the ice-cold dish into the oven. Bake it 20-30 minutes extra to the regular baking time.
📜 More Recipes like this
Global Food Recipes
with Spices and Herbs
Free E-Book available for a limited time. Grab yours now and get instantly inspired!
📖 Recipe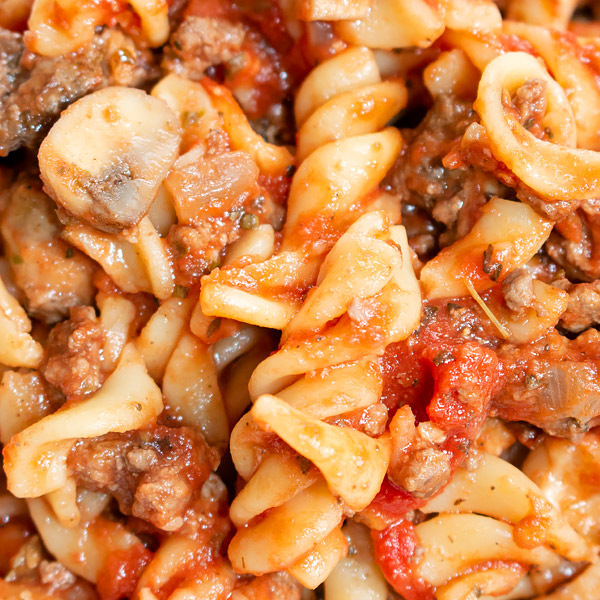 Johnny Marzetti Recipe
Johnny Marzetti is a baked noodle dish prepared with ground beef and tomato sauce. Top it with your favorite cheese.
Print
Pin
Rate
Johnny Marzetti - Ground Beef Noodle Casserole in tomato sauce. Italian-American family comfort dinner meal. If you like baked pasta with meat or American goulash, then this is all yours! www.MasalaHerb.com
Ingredients
Instructions
Cook the Pasta
Bring water to boil with salt and cook pasta according to package instructions. Strain and keep aside.
Cook the Ground Meat
Prepare the fresh ingredients. Slice the onion, chop the garlic and slice the mushrooms.

Heat up a skillet with olive oil and saute onions soft over a medium heat setting.

Stir in chopped garlic and saute for a minute or two over the same heat setting.

Add in the sliced mushrooms. Keep over a medium to high heat setting and try to stir and mix when they start to reduce in size.

Turn the heat down to medium and continue to saute mushrooms until they have reduced considerably.

Make some space in the center and stir in ground beef. Keep over the same medium heat setting and stir cook for a minute so that it all gets mixed up.

Season with salt, black pepper, and Italian seasoning. Use oregano if you can't get Italian seasoning.

Mit it all up and cook over a medium flame for a few more minutes until beef isn't red anymore.

Take the pan from the heat.
Assembling in the baking dish
Preheat your oven to 320 Fahrenheit/160 Celsius.

Spread whole peeled canned tomatoes in your rectangular baking dish. I like to just smash and break the tomato pieces with my spatula.

Pour in tomato sauce and season with salt and basil. Mix it up.

Place cooked pasta into the casserole dish to the tomato. Also, add the ground-cooked beef mixture to the baking dish.

Stir and mix the contents of the johnny marzetti, so that the pasta is evenly coated with tomato and beef sauce.

Cover the baking dish with aluminum foil and bake covered first for 20 mins at 320 Fahrenheit/160 Celsius.

Take out and uncover the dish, take it back to the oven and finish baking uncovered at 320 Fahrenheit/160 Celsius for another 10 minutes. I like to use the broiler function so that cheese gets crunchy and the dish gets some color on top.
Equipment
8" Chef Knife

9 x 13" Rectangular Baking Dish
Nutrition
Nutrition Facts
Johnny Marzetti Recipe
Amount Per Serving
Calories 446
Calories from Fat 243
% Daily Value*
Fat 27g42%
Cholesterol 73mg24%
Sodium 872mg36%
Potassium 726mg21%
Carbohydrates 29g10%
Protein 24g48%
Vitamin A 501IU10%
Vitamin C 12mg15%
Calcium 217mg22%
Iron 4mg22%
* Percent Daily Values are based on a 2000 calorie diet.