Healthy energizing detox smoothie prepared with only fresh fruits. Completely vegan and rich in nutrients. Make it, drink everything one go and feel the difference instantly! This is for one smoothie. You can double the recipe to prepare more smoothie. Use a
powerful blender
for the best result.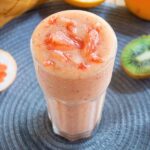 My POW Detox smoothie stuffed with only fresh nutritious fruits.
This cleansing smoothie is great to start the day for breakfast or after a fun-filled hangover prone weekend.
I added apple, grapefruit, and kiwi to my detox smoothie.
The healthy fruit beverage will give you the power boost that you need.
Below you can read up the health benefits and what this amazing detox smoothie can do for you!
Global Food Recipes
with Spices and Herbs
Free E-Book available for a limited time. Grab yours now and get instantly inspired!
Whenever I feel exhausted dehydrated and heavy, I tend to enjoy a fresh detox smoothie.
Especially tropical fruits are great smoothie material such as a pomelo fruit smoothie or a mango pineapple banana smoothie.
Fruit smoothies can be enjoyed the whole day but I think they have a better effect on the body in the morning or early afternoon hours.
Jump to:
💡 Benefits
A smoothie is a convenient way to reach the daily recommended fruit intake
Fruits are stuffed with fibers, vitamins, minerals, boosting your immunity and assist your physical and mental health.
Fruit smoothies contain a good amount of water to hydrate your body. In turn, it clears all the body organs including the skin, lending you a glowing skin.
A detox smoothie cleanses your liver
When you drink a smoothie packed with fruits, you ultimately cleanse your body. The healthy liquids take only 3 hours to get digested and pass toxins by flushing all the bad stuff out. That means your intestines and guts get cleared as well.
When drinking fruit smoothies, you tend to feel fuller longer. It cuts sudden cravings.
The fibers in the super detox smoothie will assist you in losing weight.
This super detox smoothie will get rid of your hangover!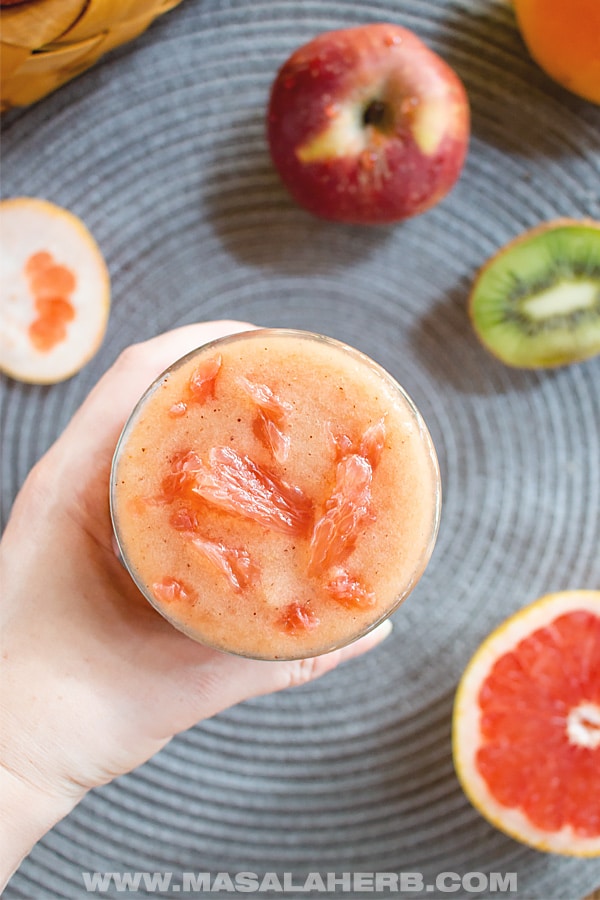 🆚 Choice of fruits
I think some fruits are better than others in smoothies.
Sometimes I would even go so far to combine certain fruits together and not with another fruit because they taste better that way combined.
My fruit choice for this detox smoothie is simple.
For one detox smoothie, I pick one fresh and ripe apple, grapefruit, and Kiwi.
Why?
Because apple grapefruit and kiwi taste great together and because each fruit is known to help the human body to detoxify.
Apples are known to bring us joy and a good dose of nutritious value.
The fruit is stuffed with fibers, vitamins, and pectins.
Pectin feeds the healthy good bacteria in your guts.
Grapefruit gets your metabolism running and may prevent kidney stones by flushing out excess calcium in your kidneys.
The higher amounts of Vitamin C in the fruit keep your liver in the best shape by getting rid of the toxins in your liver.
Besides, grapefruits are my favorite fruits because they hydrate my body instantly.
I feel the difference every time!
Kiwi is known to contain more Vitamin C than most fruits too.
It acts as a liver cleanse, just like the grapefruit but kiwis also promote a regular bowel movement.
Your healthy fruit smoothie is completely sugar free if you use good quality fruits which are a bit sweeter in nature.
For example, red apples are sweeter than green apples.
Kiwis tend to be on the sweeter side too.
Ingredient variations
While I think my detox smoothie is perfect as it is, I can still give you some ideas on what fruits you can add to your smoothie.
However, keep in mind adding these fruits will change the taste.
I would not recommend switching the apple, grapefruit or kiwi in this smoothie recipe.
Feel free to add the following fruits to your smoothie.
It will turn your healthy smoothie not only into a detox beverage but also into a nutritious smoothie.
As you can see tropical fruits tend to be a popular choice.
Soursop - Very Rich in Vitamin C (antioxidants to prevent bad cancer growth)
Strawberries
Mango
Pineapple
frozen Coconut Water instead of regular water ice cubes
I have compiled a list of lesser-known tropical fruits.
The list might come handy for fruits you have not encountered yet during your travels or when something new hits your grocery supermarket.
Dear Reader, Did you try the super detox smoothie?
Global Food Recipes
with Spices and Herbs
Free E-Book available for a limited time. Grab yours now and get instantly inspired!
📖 Recipe
Super Energy Detox Smoothie
Healthy energizing detox smoothie prepared with only fresh fruits. Completely vegan and rich in nutrients. Make it, drink everything one go and feel the difference instantly! This is for one smoothie. You can double the recipe to prepare more smoothie. Use a
powerful blender
for the best result.
Print
Pin
Rate
Ingredients
1

Apple

*see Notes

1

Grapefruit

1

Kiwi

ice cubes

or even better-shaved ice.
Instructions
Wash your apples well but do not peel your apples. Apple skin is stuffed with important nutrients and you don't want to throw this away. Quarter your apple and cut out the seed core.

The thick grapefruit skin needs to be cut off. Start with the ends and continue to remove the remaining grapefruit skin, including the white parts. Take the grapefruit apart into bigger chunks.

Peel the Kiwi fruit with a simple small fruit knife and cut into half.

Place all the fruits into a blender smoothie jar with the ice. Blend the fruits into your detox smoothie. Make sure there are no bits left.

Enjoy cold in a glass instantly. I suggest you drink it all in one go.
Notes
I like a red sweet apple variety because we don't add sugar to this smoothie
Nutrition
Nutrition Facts
Super Energy Detox Smoothie
Amount Per Serving
Calories 253
Calories from Fat 9
% Daily Value*
Fat 1g2%
Sodium 4mg0%
Potassium 810mg23%
Carbohydrates 64g21%
Protein 3g6%
Vitamin A 3005IU60%
Vitamin C 169.5mg205%
Calcium 96mg10%
Iron 0.7mg4%
* Percent Daily Values are based on a 2000 calorie diet.