Homemade papaya jam with lime recipe. Tropical flavors in a jar.
Papaya Jam with lime is one of my favorite fruit tropical jams.
The lime lends the papaya fruit a lovely aroma, which you will surely enjoy.
Spread the jam over your bread for breakfast and enjoy it.
Learn how to make a papaya jam.
Get the complete papaya jam with the lime recipe below with step by step instructions to guide you along the way.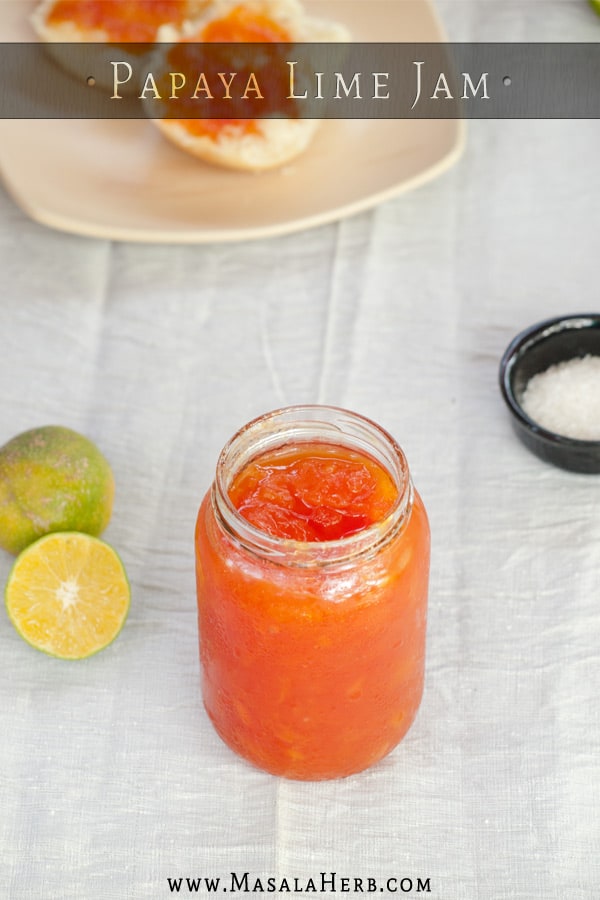 Global Food Recipes
with Spices and Herbs
Free E-Book available for a limited time. Grab yours now and get instantly inspired!
We have been growing a little garden at home with fruit trees and herbs.
We have Papaya trees and they are in full bloom giving fruits.
Jump to:
📜 Papaya Trees In Bloom
We noticed our few papaya trees have been growing wild.
Thanks to the little birds that have been eating the papaya and spreading seeds across our our humble paradise garden.
Few people do know that fruit trees are actually female or male.
You can tell the difference between both, by the way, the flowers bloom.
A female papaya tree grows its flowers on the stem while the male grows flowers on branches.
See picture...
Male & female papaya tree
Once the female tree has been pollinated by insects, the papaya fruits slowly emerge.
Only the female papaya tree gives fruits!
I have been meaning to make a good batch of papaya jam with papayas growing in our garden.
If you are lucky enough to have an extra load of homegrown papayas then go ahead and try this papaya jam with lime recipe asap.
The recipe turns out great too, of course, if you use quality store-bought papaya fruits.
📕 What do you need to look out for when preparing papaya jam and how will your homemade jam turn out well?
The fruit quality choice is very important for the perfect homemade jam.
That means using organic, non treated limes in this papaya jam recipe is essential.
The skin of the lime is used to give the homemade jam some natural pectin (and of course the lime lends the jam a lovely refreshing aroma)
Lime skin, and citrus fruits, in general, contains a lot of natural pectins, which helps in gelling the jam so to preserve it for longer, naturally.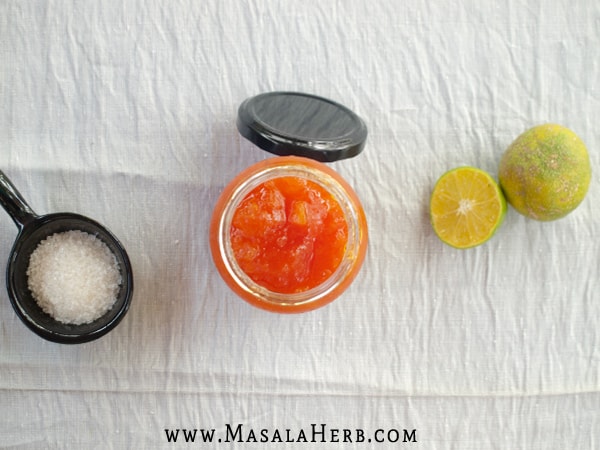 Another step, to make sure that your homemade jam holds well without getting moldy, is to always work in a clean and hygienic environment!
(Check out my recent tips on keeping your kitchen clean at Kitzine.com)
Also, the amount of sugar helps in the preservation, as does the cooking and rolling boil process.
In the end, just before filling your jars, make sure to sterilize the jars and lids in boiling water.
Sterilizing will get rid of any germs.
Ensure you keep a pot with water to boil and place your washed jam jars into it for a few minutes.
Just before closing the lid, pour a small amount of rum into the lid, to kill remaining germs and to give your papaya lime jam a longer shelf life.
I always store my jam in the fridge once opened, simply because I live in a very humid climate and I would suggest you to do the same thing so that you can completely enjoy your homemade jam.
👁️ More decadent easy to prepare at home Jam Recipes:
I love to spread my jams over homemade brioche buns or Indian Chapati flatbreads for breakfast!
Or how about adding a dollop of jam to your daily fresh yogurt bowl?
Dear reader, do you grow your own fruits and vegetables?
Global Food Recipes
with Spices and Herbs
Free E-Book available for a limited time. Grab yours now and get instantly inspired!
📖 Recipe
Papaya Jam with Lime Recipe
Homemade papaya jam with lime recipe. Tropical flavors in a jar.
Print
Pin
Rate
Ingredients
Instructions
To prepare the papaya cut into half and quarter and scrape out and discard the seeds and strings with a spoon. Cut and discard the peel as well. Cut the Papaya into one inch sized pieces and weigh the fruit pulp.

Place the papaya pieces in a bowl and add the sugar, juice of the 3 lime and the previously washed lime peels. Mix the content, cover with a lid and keep for 12 hours or more in the fridge. Stir the content every few hours.

This will help the fruits to incorporate with the sugar better. If you are in a hurry, you can skip that step.

Place everything into a pot and cook on low heat for about 25 minutes. Keep on stirring frequently!

Increase the heat and bring it to a rolling boil (lot of bubbles and foam are an indication). Remove from the heat.

Simmer the papaya jam for a while until the jam is set. Check with a candy thermometer (jam setting temp 220° Fahrenheit/105° Celsius) or by doing the ice cold plate test. Drop hot jam on an ice cold plate and move the plate to see if it runs. If it runs, let the jam simmer a bit longer, repeat the test until the jam is set.

Test if the jam is set by dropping some jam on a cold plate. If the jam runs, it needs some more cooking time.

Pick out the lemon peels and mash the jam if you like with a blender or hand masher.

Prepare your jars and lids by sterilizing in boiling water and pour some rum into the lid (to kill further germs). Place your jam into the jars, close and turn them upside down until the next day.

Store in a cool and dry place!
Notes
1 servings = 1 teaspoon, Total amounts to about 2-3 jars = 80 servings approx.
Use only untreated organic lime because we will add the lime rind to the jam to add natural pectin which is in the lime rind. You don't want chemicals on your lime to be in your jam.
Nutrition
Nutrition Facts
Papaya Jam with Lime Recipe
Amount Per Serving
Calories 35
Calories from Fat 9
% Daily Value*
Fat 1g2%
Sodium 1mg0%
Potassium 25mg1%
Carbohydrates 9g3%
Protein 1g2%
Vitamin A 120IU2%
Vitamin C 8.3mg10%
Calcium 3mg0%
Iron 0.1mg1%
* Percent Daily Values are based on a 2000 calorie diet.