Mango Pineapple Banana Smoothie is a nutritious breakfast idea. The tropical flavors will wake you up guaranteed and give you a power boost. To make this fruity smoothie is super easy. Use a proper blender or a powerful immersion blender to prepare this delicious sunrise smoothie from scratch!
Mango Pineapple Banana Smoothie is one of my favorite fruit smoothies prepared with greek yogurt.
It's filling, tastes great and the creamy thick smoothie reminds me of summer holidays at the beach.
The tropical fruit combination of Mango Pineapple and Banana is a real pick me up in the morning, that's why I also call this my sunrise smoothie!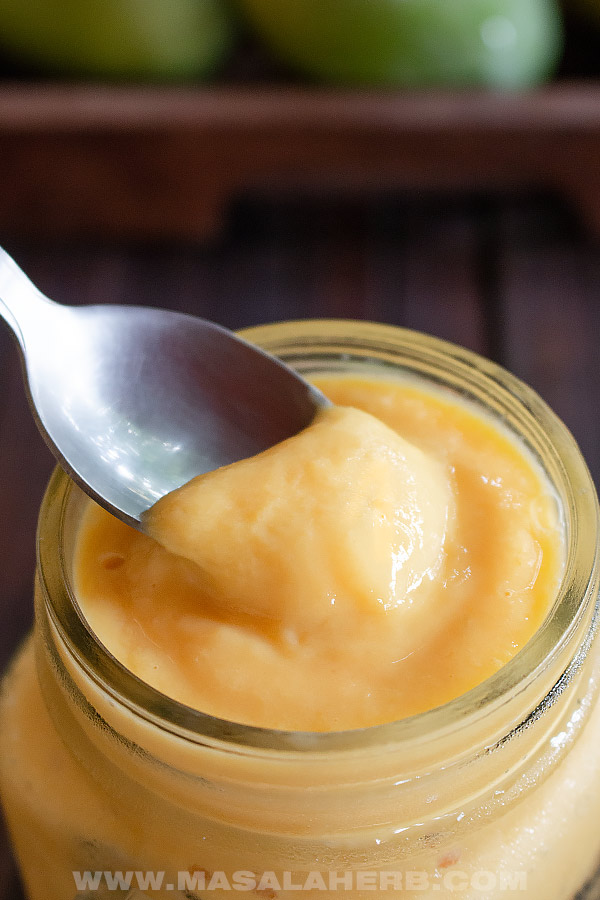 I am a bit grouchy in the morning when I get up (that's my husband's perspective).
This is because I need a pick me up and a fruity tropical smoothie prepared with Mango Pineapple Banana Smoothie helps me along the way to get into the daily groove.
Are you the grouchy type in the morning?
Well, I don't judge you.
I mean if we were all born with royalty prince blood and a handful of servants, 90% of us wouldn't be that grouchy anymore (with a golden pillow holding our precious butt).
Yet, of course, we need to remember to take care of ourselves.
This is a lesson we learn the older we get with the simple observation that our body takes more rest when recovering from a hangover.
Reminding us that a healthy balance is necessary!
We are not supermen & women.
Therefore we need to keep a healthy balance and take care of:
Our food habits – Nutritious, non-junky food which also tastes great so that our spirit is satisfied as well.
Our sleeping habits – Get enough quality sleep because you don't want to be half awake during the day.
Our mind – A good combination of being busy, doing something you enjoy, having a social life, adding discipline and some healthy stress to keep you evolving and developing without self-destroying yourself.
Our body – Movement, work out, walking, sports games.
From my personal perspective, I think the easiest of the four points listed above, is to take care of the food aspect.
I love to eat and to taste great food and although I don't particularly like to cook, I will do it anyway (and even enjoy it along the way) because I know I will get something tasty and nutritious into my body.
That makes me happy.
So, smoothies such as this Mango Banana Smoothie with Pineapple or my recent Strawberry Banana Smoothie give me the energy I need to kick start the day.
How do you keep a healthy balance in your life?
Do you have something to keep you motivated along your journey?
Tools to make this Mango Pineapple Banana Smoothie easily:
I always used a proper blender such as the Vitamix blender to prepare my smoothies.
The thing is I am a bit lazy in the morning and I really don't want to wash the blender jar after that.
Therefore, I started to simply use an immersion blender to make my fruit smoothie.
Ok, I know, we still create dirty dishes that way but I find it easier to wash out a simple jar and the immersion blender with the blade then the blender jar of a blender.
Of course, your choice might be the other way round and yes I am aware that I might sound crazy.
Which one do you pick? Blender or immersion blender?
By the way, reusable straws are about to become the norm all over the world.
You can reduce your plastic consumption with reusable straws which you can wash easily.
By now there is a wide choice of reusable straws! Some come with a useful brush to clean out your straws.
I think those stainless steel eco-friendly rose gold straws look rather pretty.
Or I also like those transparent glass straws too.
I am still finding it a bit difficult to get around reusable straws but I have great hopes for this to change soon.
I will keep you posted with cool eco-friendly discoveries via the Masala Herb facebook page.
Related to the Banana Mango Pineapple Smoothie:
Dear Reader, did you try the Recipe?
Please feel free to share your thoughts and ideas with us in the comment section further below!
Subscribe & Get your freE
Recipes from around the World E-Book 📱
Weekly Newsletter 📰
Spice, Herb, Seasoning Cheat Sheet 🌿
Printable Jam Labels 🍯
No-Nonsense Travel Checklist 🏞️
Exclusive Access - Seasoning Club (Facebook Group) 💬
Mango Pineapple Banana Smoothie Recipe
Mango Pineapple Banana Smoothie is a nutritious breakfast idea. The tropical flavors will wake you up guaranteed and give you a power boost. To make this fruity smoothie is super easy. Use a proper blender or a powerful immersion blender to prepare this delicious sunrise smoothie from scratch!
Print
Pin
Rate
Ingredients
6

ounces

Mango Pulp

2-3

slices

Pineapple

depends on the slice thickness

1

Banana

1/2

cup

Greek Yogurt

a few Ice Cubes
Instructions
If you use a fresh whole mango, peel and cut the fruit flesh from the seed core. Cut off the pineapple peel and remove the banana peel.

Place all the fruits, greek yogurt, and ice cubes into the blender jar and blend smooth. Or use the immersion blender with a large tall plastic jar and blend smooth.

Serve cooled with a reusable straw (for the eco-conscious).
Notes
You can either use a whole fresh Mango or Mango Pulp. I use mango pulp because during mango season I turn the surplus of fruits into a pulp.
Use a blender or an immersion blender, whichever suits you better.
You can cut the pineapple the previous night and place into an airtight container in your fridge. That way you won't need to cut the fruit in the morning. I don't like to cut fruits in the morning, so this is a time saver too!
Nutrition
Nutrition Facts
Mango Pineapple Banana Smoothie Recipe
Amount Per Serving (568 g)
Calories 413
Calories from Fat 9
% Daily Value*
Fat 1g2%
Cholesterol 5mg2%
Sodium 77mg3%
Potassium 746mg21%
Carbohydrates 91g30%
Protein 13g26%
Vitamin A 4255IU85%
Vitamin C 114mg138%
Calcium 149mg15%
Iron 22.2mg123%
* Percent Daily Values are based on a 2000 calorie diet.
This post may contain affiliate links that point to things or services that I recommend. This may include Amazon, getyourguide and booking.com. As an Amazon Associate I earn from qualifying purchases.