Refreshing Orange Mango juice will bring the tropical vibe into your home. Enjoy this nutritious juice for breakfast, brunch or as a little refreshment during the course of the day to tank energy again!
Orange Mango Juice is a great breakfast or brunch addition to start out the day.
These kinds of fresh juices with whole fruits are like gems, elevating your well being for the whole day and giving you the healthy glow which you are looking for!
You can also make a batch of orange mango juice during the day whenever you feel like it.
I usually tend to just make some in the afternoon when I need a break and I feel I need to tank some energy.
I got into juices when I was struggling to cool down in the hot summer heat on the beach.
That's when fresh and cool fruit juices are really useful and mangos and oranges are packed with nutrients that help your skin to take the sun better.
Or at times I catch myself craving a glass of fruit juice when I spend the afternoon at the shopping mall.
Shopping can be so exhausting, right?
They have those over prized organic fruit juice bars in most malls and I always end up having a glass.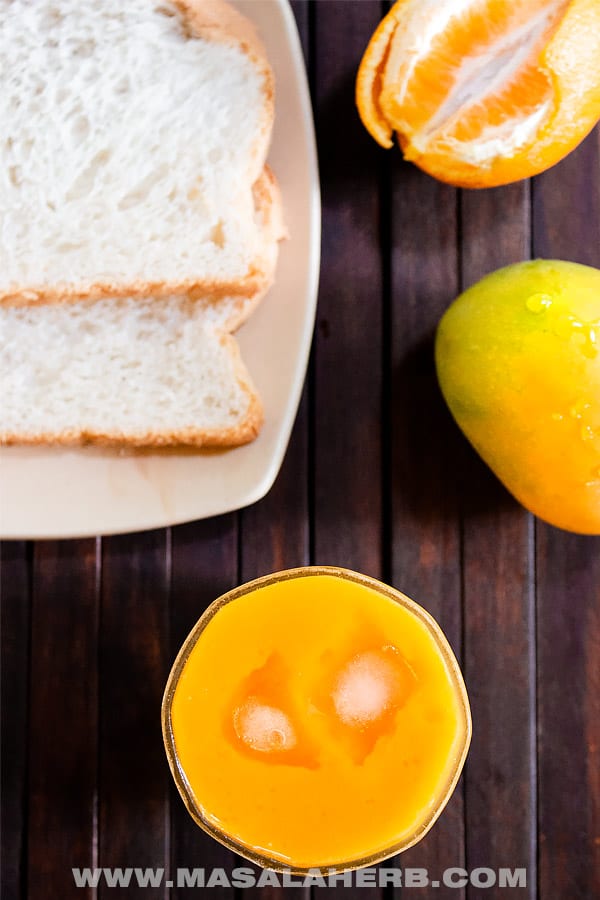 Preparing Orange and Mango Juice
At home at least I get to make my own orange mango juice the way I like it most and it's not just cheaper but also more hygienic.
I am a bit picky when people prepare and serve me food, therefore I will always prefer to make my own batch.
The cool thing is that making orange and mango juice from scratch doesn't take up much time and the mess is minimal.
You can make a bigger batch of orange and mango juice and just fill up a bottle and enjoy the fresh juice over the course of a day while keeping it stored in the fridge.
I like to prepare Orange and Mango Juice for breakfast too because a glass of this juice does give you a visible boost of energy and it's so easy to make it from scratch.
Just juice an orange, make a pulp of the ripe mango, mix it all and done!
Another option, for a super lazy morning, is to just peel the mango and orange and throw both into a mixer jar, blend it smooth, strain and voila, a freshly prepared mango orange juice in less than 5 minutes!
I usually rotate the different juice and smoothie variations, so that I have another one every day.
It also depends on what I have in my fruit pantry.
For the Mango and Orange juice, you can use Mango Pulp too.
I make my own mango pulp whenever mango season comes up and then I freeze it batch-wise for the rest of the year.
Totally useful and tastes like a fresh mango!
What Mangoes to pick?
You can use any kind of Mango for this juice.
I like a less sweet variation with more pulp such as the lesser-known and oversized bishops mangoes.
Brazilian mangoes are the most common mangoes across the northern hemisphere and they are great so prepare this orange and mango juice too.
Pick a mango that is firm and light green.
It shouldn't be stone-hard but just firm.
Soft mangoes can be used too but I usually prefer firm mangoes for the simple reason that they hold for some days and I don't like the mess overripe mangoes make when you peel them.
More Juice ideas:
Tools
Citrus Juicer - Convenient easy way to juice oranges in the morning
Powerful Blender - If you don't mind orange fruit fibers (which you can strain) and want to make a quick juice easily
Glass Set for when you have friends over
Dear Reader, what time of the day do you like to enjoy a fresh glass of homemade juice?
Global Food Recipes
with Spices and Herbs
Free E-Book available for a limited time. Grab yours now and get instantly inspired!
Orange Mango Juice with Fresh Fruits
Refreshing Orange Mango juice will bring the tropical vibe into your home. Enjoy this nutritious juice for breakfast, brunch or as a little refreshment during the course of the day to tank energy again!
Print
Pin
Rate
Ingredients
Instructions
Peel the Orange and the Mango.
For a pure juice
Juice the Orange with a citrus juicer and mix freshly pressed orange juice with smooth blend mango pulp and ice water. Serve cold.
When you are in a hurry
Add whole orange pieces with mango pulp and ice water into a mixer and blend smooth. Strain and serve cold.
Nutrition
Nutrition Facts
Orange Mango Juice with Fresh Fruits
Amount Per Serving
Calories 160
% Daily Value*
Sodium 7mg0%
Potassium 514mg15%
Carbohydrates 40g13%
Protein 2g4%
Vitamin A 2080IU42%
Vitamin C 129.8mg157%
Calcium 71mg7%
Iron 0.3mg2%
* Percent Daily Values are based on a 2000 calorie diet.