Refreshing, healthy and delicious breakfast elixir. The carrot apple ginger juice will be your soon to be a new friend.
The carrot apple ginger juice is a classic freshly made juice commonly found in juice bars.
The juice packs a punch of nutrients and you will be in love with the smooth flavors!
I came across this gorgeous colored carrot apple ginger juice in several places across the world.
It's a basic freshly prepared juice, popular amongst health conscious folks.
If you see a health club or yoga retreat somewhere, you will see this juice promoted as well.
This orange shaded juice comes close to the Beet Carrot and Apple Juice, however, the ginger is the key difference.
Juice Ingredients
Carrots
Carrot is known to be stuffed with important Beta-Carotene nutrients and this means in simple words that it will benefit greatly your eyesight and your skin in the long run.
My mother would say, "Carrots will give you pink cheeks!"
People with a white skin color planning to tan in the sun for a few days tend to enjoy carrot juice frequently because it is believed to help the tanning process of the skin cells.
Certain carrot variations are more suitable than others for making a juice.
You will be looking for a juicy carrot root such as the one in the picture below.
You get similar carrot types. Some might be lighter in color but the main trait is the juiciness, so look out for those kinds to make this delicious health elixir!
Apples
Apples are known to be men's special favorite fruit and that too with good reason.
Green, red or yellow, apples in all variations are rich in antioxidants which means it improves the health of your cells and thus prevents cancer mutations to a certain extent.
Apples will give you a feeling of satisfaction so that you feel full longer.
The dietary fibers in an apple help in controlling weight for instance.
Ginger
Ginger is an aromatic root, common in Asian food.
These days you can get ginger easily in supermarkets across the globe and it gained popularity thanks to ginger lemon honey tea, which is a powerful flu killer.
It emits strong tongue-tickling flavors.
That is why you use only small quantities or the humble ginger root will turn your tongue kind of numb and it has the habit of overpowering other flavors.
The yellow ginger root is used frequently as a tonic.
Pregnant women with morning sickness are advised to drink some kind of beverage with fresh ginger to control the sickness.
Ginger helps your stomach health, so to say to digest properly.
It's antiseptic and antibacterial and stuffed with antioxidants. It will prevent you from getting a cold!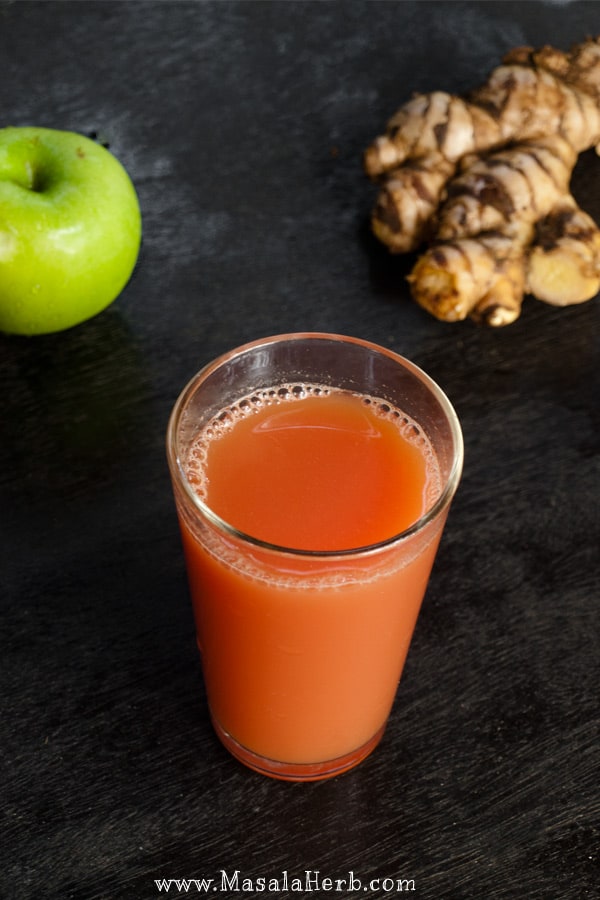 So, the combination of these 3 ingredients, carrot apple ginger, makes this juice a great refreshment on sunny hot days.
It's fairly easy to prepare this carrot apple ginger juice as long as you have a juicer at home.
By the way, a juicer might seem like another unnecessary and unimportant appliance at home, but I can tell you, I am so happy to have one!
Tools to make Carrot Apple Ginger Juice:
Related to the Carrot Apple Ginger Juice:
Have you ever made your own juice at home? If yes what has been your experience?
Global Food Recipes
with Spices and Herbs
Free E-Book available for a limited time. Grab yours now and get instantly inspired!
Carrot Apple Ginger Juice Recipe
Refreshing, healthy and delicious breakfast elixir. The carrot apple ginger juice will be your soon to be a new friend.
Print
Pin
Rate
Instructions
Rinse the carrot, apple and remove all the dirt form the ginger root. Peel the carrot, apple and ginger (you don't have to peel the apple if it wasn't treated with insecticides).

Cut and discard the end of the carrots, Half, quarter and cut out the apple core.

Cut the carrot and apple into small chunks. Press through the juicer kitchen appliance and the ginger too.

You can add sugar to the juice if you wish (or maybe honey/stevia?), I usually don't do that but I add maybe 100 milliliter water to stretch the juice out.

Best enjoyed cooled.
Notes
You can prepare the juice the night before, store in a jar or bottle in the fridge and the next day in the morning just shake the container so that it mixes then enjoy the juice.
Nutrition
Nutrition Facts
Carrot Apple Ginger Juice Recipe
Amount Per Serving
Calories 247
Calories from Fat 9
% Daily Value*
Fat 1g2%
Sodium 175mg7%
Potassium 1090mg31%
Carbohydrates 62g21%
Protein 3g6%
Vitamin A 41825IU837%
Vitamin C 27.3mg33%
Calcium 99mg10%
Iron 1.1mg6%
* Percent Daily Values are based on a 2000 calorie diet.