Called ABC Juice because well the health benefits are obvious like the ABC. Apple Beetroot and Carrot.
Beet Carrot Apple Juice is one of my favorite juice combinations out there because it's not only super healthy (cell repairing) but also very tasty!
I came across this amazing fresh "ABC" juice in my travels to India, where it is often served in the main "spiritual" traveler spots.
BTW I also write about my travel experiences with people from around the world on train journeys in India, as you can read in the Mexican Cafe de Olla Recipe.
Nothing like Fresh Pressed Juice
Many foreigners come to India for a health trip.
That might be to learn Yoga or to receive an Ayurvedic treatment.
Most of them are looking to get back in touch with nature so they look for healthy foods and drinks, healthy beverages such as the Beet Carrot Apple Juice.
Further, it is not surprising that in most places you get to discover some kind of health-related course such as yoga.
This is something that motivates ones to go healthier all the way!
Why apple beetroot carrot juice?
After a party weekend, some of us need to detox and some of us just need a Vitamin kick to start a fabulous new week.
The healthiest juice combination is the Beet Carrot Apple Juice (aka ABC Juice which stands for Apple Beetroot Carrot).
The origin of this particular juice recipe is a bit in the shadows and I don't want to make falls claims.
The importance is that it became quickly famous, some people would even have it daily early mornings before or after a workout or yoga session.
I love this juice and I advocate this miraculous beverage.
Hence, why you should include the Apple Beetroot Carrot juice in your daily diet.
This healthy juice is for you if you are looking to:
detoxify
reduce blood pressure
reduce cholesterol levels
take in more antioxidants
regulate bowel movement
take care of your mental health
strengthen the immune system
take advantage of anti-inflammatory properties
Beet Carrot Apple Juice Ingredients
Apples are rich in Antioxidants, fibers, minerals, and vitamins.
Antioxidants prevent damage to our body cells, means they prevent carcinoma.
The fiber content helps to regulate bowel movements and it reduces cholesterol.
Apples further prevent dementia and overweight.
Green apples like granny smith are a great choice!
Beetroots are rich in important Antioxidants, minerals and vitamins which support cardiovascular health (prevents harm to blood cells) and which assist the all over health of a human mind.
Some studies have found that beet root juice has a positive stamina effect, which makes it perfect as pre work out booster.
Carrots are an excellent source of Vitamins and minerals, especially Beta Carotene (Vitamin A).
The root improves your eyesight, your skin, and your immunity and fights and helps in preventing cancer.
It is a great tonic and as a juice, it will give you extra nutritious value.
Tip: Use a proper juicer such as the Omega Juicer to prepare this juice!
Apples, Beets, and Carrots need to be juiced.
Thrown together into a juicer and you have a super healthy Beet Carrot Apple Juice.
It will help you to prevent damage to your body cells and further even improve your body health.
Plus points, if you drink the apple beetroot carrot juice for breakfast and work out after that, you 'll feel more active and more alive then ever.
Don't be afraid to consume Beets. The Beet amount in this recipe is a small quantity and is the juice's red color giver. The apple and carrots are the main flavor givers here. Hence why this Beet Carrot Apple Juice is so delicious!
You will learn to love beet juice!
More powerful Juice ideas to improve your health!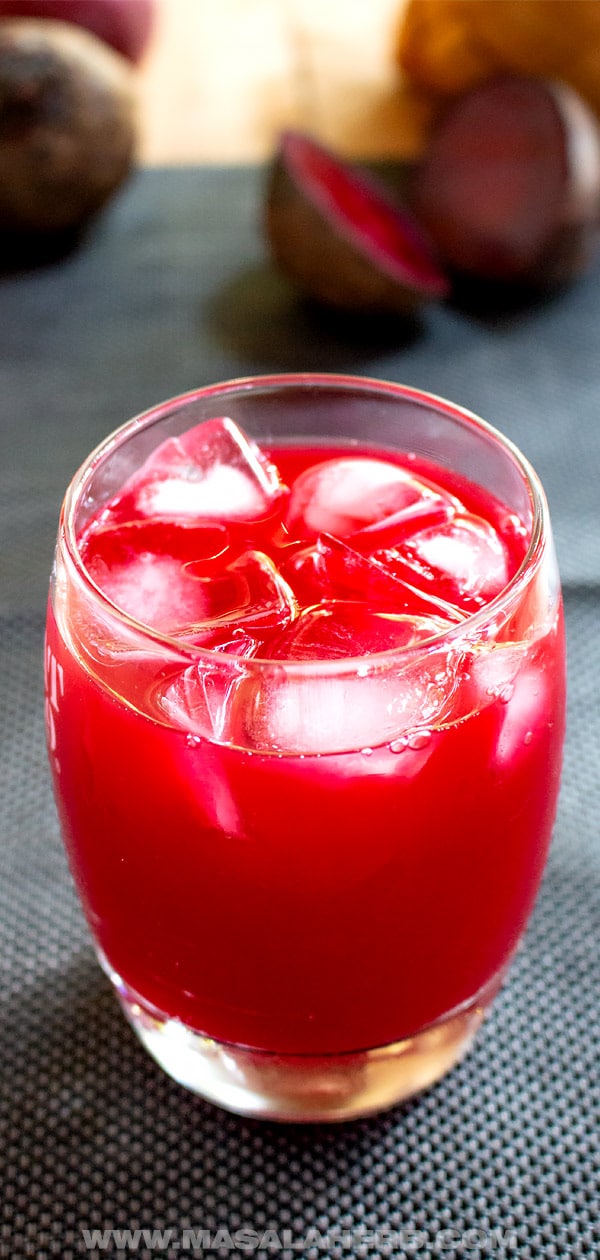 Global Food Recipes
with Spices and Herbs
Free E-Book available for a limited time. Grab yours now and get instantly inspired!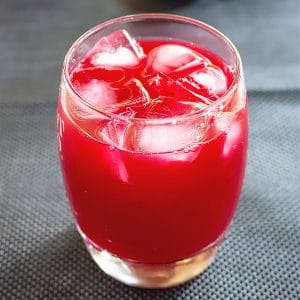 Apple Beetroot Carrot Juice [ABC Juice]
Called ABC Juice because well the health benefits are obvious like the ABC. Apple Beetroot and Carrot.
Print
Pin
Rate
Instructions
Wash your apples, beets, and carrots well.

Press the apple, beet and carrot chunks through a juicer (not a blender!). You don't need to peel or decore the apples because it all gets smashed anyway.

Let the juice drip into a container or glass.

Add honey to sweeten if you like and/or ice cubes to enjoy your Beet Carrot Apple Juice cooled.
Nutrition
Nutrition Facts
Apple Beetroot Carrot Juice [ABC Juice]
Amount Per Serving
Calories 320.95
Calories from Fat 11
% Daily Value*
Fat 1.21g2%
Sodium 159.08mg7%
Potassium 1163.07mg33%
Carbohydrates 81.98g27%
Protein 3.72g7%
Vitamin A 21624.52IU432%
Vitamin C 32.24mg39%
Calcium 82.6mg8%
Iron 1.6mg9%
* Percent Daily Values are based on a 2000 calorie diet.