A simple but oh so good puff pastry dessert "danish" with a jam and cream cheese filling. Great as a little reward at work or during school break.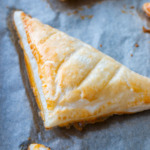 A flaky jam cream cheese puff pastry dessert, golden baked to perfection.
Sweet temptations made in a jiffy, and it can be transported to work or school.
Jump to:
📕 What is this?
Puff pastries with a jam and cream cheese filling are inspired by filled cream cheese danish pastries.
Danish are not the same as puff pastry because danish pastry includes yeast. Layered puff pastry, on the other hand, is made without yeast.
Technically, and as a reference, french croissants are danish because the buttery flaky pastry includes yeast.
Yet, you are free to use danish pastry to make these little pocket/triangle/turn-overs, instead of puff pastry.
I used puff pastry dough because it's much more common in stores and the idea of this recipe is to reduce time spent in the kitchen by using store-bought pastry sheets.
As a little backstory: Danish were popularized in Copenhagen Denmark, and they come in all shapes. They originally, together with other Viennese treats, came from Vienna in Austria and in the Scandinavian countries they are still known as Wienerbrød.
These can be enjoyed as a dessert but also as a breakfast or brunch pastry.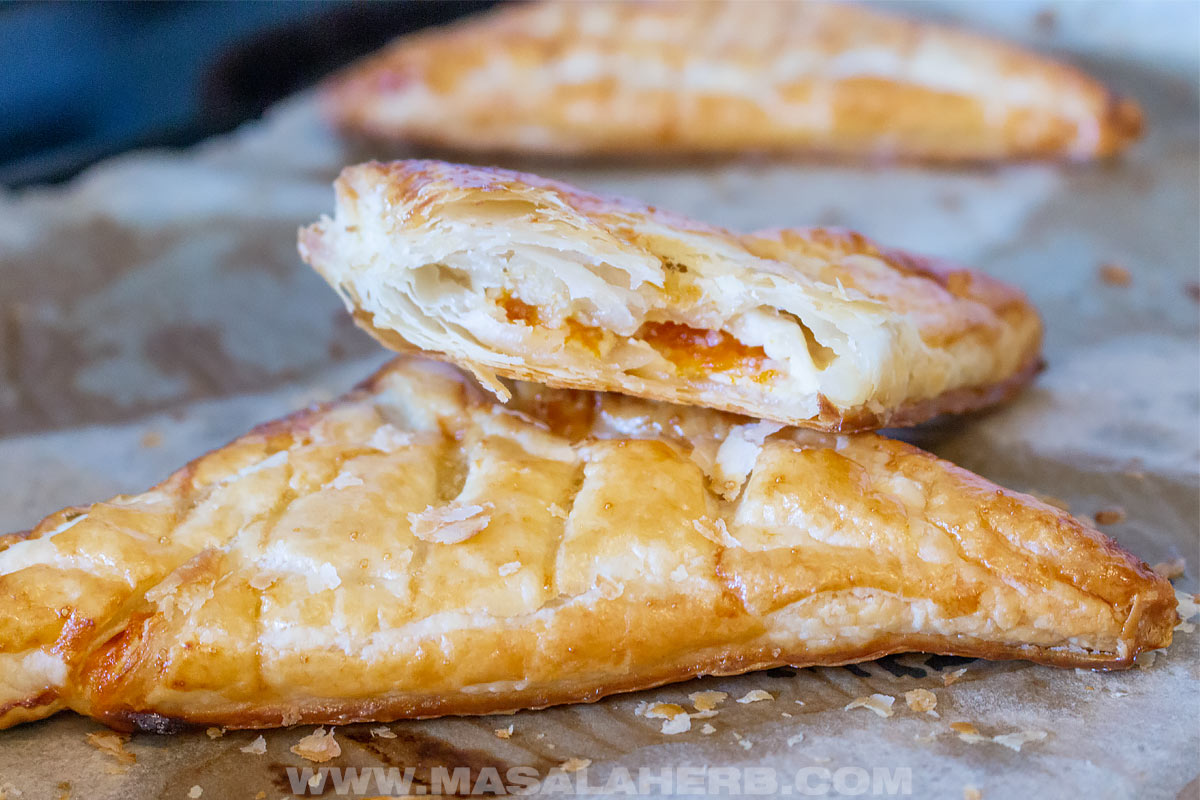 🥐 Ingredients
I developed this recipe with ease of use and simplicity in mind.
Here is what you need to get to make it. Detailed measurements can be found in the recipe card further below.
Puff pastry sheet – store bought or homemade puff pastry. I prefer to use refrigerated puff pastry sheets to frozen ones because those have to be thawed. If you can only get frozen sheets, you will have to thaw them first.
Jam – I used homemade apricot jam because that's what I had on hand. These pockets also turn out great with sweet or sour cherry jam, chunky or smooth strawberry jam or homemade red currant jelly.
Cream Cheese - plain unflavored.
Egg – for the egg wash. Optional but makes it look better. You can use just the egg yolk too. The whole egg as egg wash option is for lazy people like me.
🔪 How to make it?
Here is a quick overview on how to make these babies within minutes.
The full recipe with detailed instructions and how to video can be found further below in the recipe card.
Step 1
Spread your puff pastry sheet over your parchment baking sheets.
Divide into 6 rectangles.
Step 2
Spread cream cheese and jam over each rectangle
Step 3
Fold over and seal the sides with a fork.
Step 4
Make some cuts at the top (helps release steam).
Scramble an egg in a small bowl and brush egg wash over pastries. That will create the shine.
Bake pastries golden brown.
💡 Tips
Use a cooled pastry sheet because the longer it sits out at room temperature, the less it will puff later in the oven.
Spread the cream cheese and jam into the center of each rectangular. Keep a distance from the border to avoid cream cheese or jam on the part where you need to close and seal them. The pastry parts need to stick together and that works only without the jam or cream cheese. Pastry to pastry sticks and seals the best!
Place filled pastries only into preheated oven.
🍱 Storing
Keep your freshly baked pastries in airtight containers or in boxes at room temperature.
But make sure they have cooled completely to avoid condensation in the box. That would make them soggy otherwise.
The cream cheese puff pastry pockets can be wrapped into parchment paper to take to work or school.
If stored in a humid-free cool environment, they stay good for 2 days at least. Don't consume if older than two days because of mold danger, and besides the pastry becomes hard too.
They are best enjoyed freshly baked or a few hours later.
Typically, you can prepare your puff pastry danish at night, and in the morning you can take them to work or to school.
💭 FAQs
Do I have to roll out store bought puff pastry?
No, you don't have to roll out your puff pastry sheet. In stores, you can get refrigerated or frozen puff pastry sheets. You can also get one large roll or smaller rectangular. If you use smaller rectangular sheets, you won't need to cut them, and you can skip step 1 in the main instructions.
Can I use something else instead of egg for the pastry wash to make the pastries shiny?
An egg wash is definitely the best option to make your pastries shiny at the top. You can also substitute the egg and use milk for a pastry wash. Just brush milk over your pastry, the same way you would brush a scrambled raw egg over your pastry.
Can I pour a sugar glaze over the pastries?
Yes, you can choose to pour a sugar glaze over your pastries. In that case, you can eve skip the egg wash. The sugar glaze is poured over the pastries after they have baked and cooled. Mix powdered sugar with fresh lemon juice. A few drops of lemon juice are more than enough. You can also substitute the lemon juice with rose water or orange blossom water. Note that sugar glaze can crumble off easily, so I try not to add a glaze when I will be transporting the pastries.
Why is my puff pastry not crispy?
If your puff pastry is soggy or not crispy, it's an indication that it needs more baking time at a constant heat level. Bake at a steady heat of 350 Fahrenheit (ca. 180 °C) for 15–18 minutes. The time may vary from oven to oven and also the pastry brand can make a difference. Furthermore, make sure to only place your filled puff pastries into the oven if the oven was adequately preheated. Keep in mind, that these are "pockets" and that steam will get trapped on the inside, which will result in a soft bottom side.
👁️ More simple puff pastry recipes:
📖 Recipe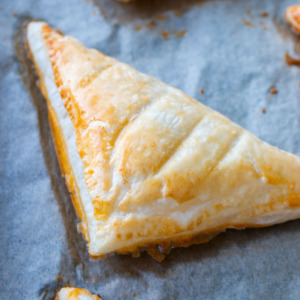 Jam Cream Cheese Puff Pastry Dessert Recipe
A simple but oh so good puff pastry dessert "danish" with a jam and cream cheese filling. Great as a little reward at work or during school break.
Print
Pin
Rate
Instructions
Preheat your oven to 350 Fahrenheit (180 degree Celsius).

Place your rolled out puff pastry sheet over a parchment paper and baking pan.

1 Piece Puff Pastry Sheet

Divide the pastry into six rectangles. It's ok if they are only approximately the same size.

Spread about 2 Teaspoons of the cream cheese over each rectangle. Spread it over the center and exclude the borders.

4 Tablespoon Cream Cheese

Add about 1 Tablespoon jam over each rectangle, over the cream cheese. Spread it out a bit, excluding again the borders.

Fold over each pastry to create a closed triangle shape. You can press the borders a bit together.

With a fork, press into the pastry along the border, so to seal the "pockets".

Make a few cuts with a knife into the top of your sealed pastries. This will help the steam to release, and it reduces the chance of your pastry getting soggy during the baking process.

Break an egg into a bowl and scramble the raw egg.

Brush the egg over your pastries. This will add a glossy shine to your cream cheese pastries.

Bake your pastries at 350 Fahrenheit (180 degree Celsius) for about 15 minutes or until they are golden brown. If they don't look cooked enough add another 2–3 minutes to your baking cycle.

Take out from the oven and leave to cool for 5 minutes. Enjoy your pastries warm or at room temperature.
Equipment
1 baking pan with parchment paper

1 Butter Knife

1 Fork

1 Pastry Brush

for the egg wash
Nutrition
Nutrition Facts
Jam Cream Cheese Puff Pastry Dessert Recipe
Amount Per Serving
Calories 325
Calories from Fat 180
% Daily Value*
Fat 20g31%
Cholesterol 37mg12%
Sodium 149mg6%
Potassium 63mg2%
Carbohydrates 33g11%
Protein 5g10%
Vitamin A 170IU3%
Vitamin C 2mg2%
Calcium 22mg2%
Iron 1mg6%
* Percent Daily Values are based on a 2000 calorie diet.