Our french cherry jam will set perfectly if you follow my instructions. The lemon halves contain natural pectin and help in setting your cherry jam.
The best homemade cherry jam recipe prepared with fresh cherries, completely without artificial pectin sugar.
Your jam will be perfectly set, just like my cherry jam in the picture.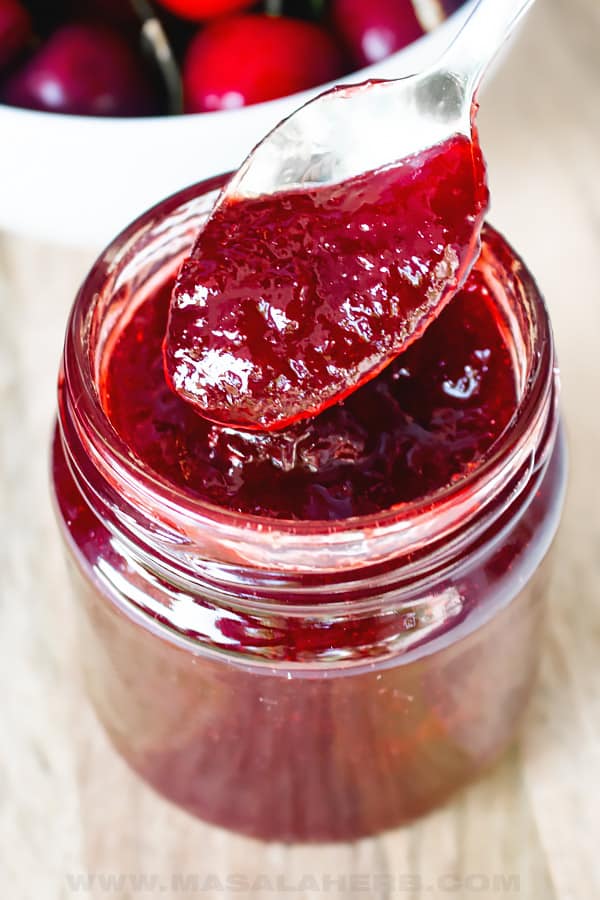 This is a french cherry jam prepared the way my mother and grandmother showed me.
That means we follow the traditional way of making jam, which by the way is 100% safe for consumption if you follow all my tips further below and work in a clean environment.
Jump to:
Choice of cherries
To make your cherry jam use only fresh ripe cherries.
You can pick sweet cherries or sour cherries.
Some varieties or cherries are more suitable than others to make jam.
In the sweet cherry section, you will often while find the Bing variety to be a suitable choice to make jam.
Sour cherries like Morello make a great choice too if you want to prepare a tart cherry jam.
I personally love sour cherry jam because the tart flavors of the deep red fruits work really well with the sugar in the jam.
We also have a sour cherry tree at home and our cherries ripen in July always, so we are bound to use up all the cherries to prepare a homemade jam.
You can make this into a sweet cherry jam recipe or a sour cherry jam recipe, the choice is yours.
How to make it?
To prepare cherry jam is beyond easy!
You just need patience, you need to watch your jam and you need to work clean.
Follow my steps to prepare this gorgeous bright jam from scratch
Step 1
Rinse your cherries and take off the stalks.
Remove the pit by hand or with a tool.
I do it by hand because I'm faster picking out the seed core with my fingers
Step 2
Place the cherries with the sugar, lemon juice, and 2 lemon halves into your jam-making pot and mix well.
Bring your cherry jam to a rolling boil.
Reduce the heat and cook on a steady heat while stirring occasionally, until the jam appears translucent, has reduced and looks set.
You can blend the jam to a smooth consistency if you like.
Step 3
Test if your jam is set by dropping some of the hot liquid jam on an ice-cold plate (kept in the freezer) and move the plate to see if the jam is running or if it's set.
If the jam is not set, leave to cook further and repeat test OR check with a candy thermometer if the jam is set.
FAQ
Here are some commonly asked questions that you might have when making jam.
These are often while questions I get from my readers on some of my previous jam recipes.
What's the cherry jam setting temperature?
Your Cherry jam sets at 220 Fahrenheit/ 105 Celsius.
The jam will appear translucent and thick and should not be liquid.
Why won't my cherry jam set?
Your cherry jam won't set if you didn't cook it long enough overheat.
Cherry fruits are notoriously low in natural pectins and compared to citrus fruits or green apples, for example, the cherry jam won't set as easily and will need some help.
This is why people will add store-bought pectin enriched sugar instead of regular sugar to help the setting process.
Yet, artificial pectin changes the flavor of your jam a bit and pectin sugar is not always everywhere available.
I add lemon juice to my jam and cook the jam with two untreated lemon half rinds to help the setting process and this will help your jam to set too.
If your jam is not set, leave it to cook further and test if the jam is set and repeat if necessary.
What is pectin and why do I need it?
Pectin is a setting agent found naturally in the skin of fruits.
Pectin mainly appears in sour fruits such as lemons, red currants, and green apples.
That means pectin helps in preserving your fruit jam over a longer period of time without it turning bad.
Sweet and sour cherries contain low to medium-low quantities of natural pectin.
However, sour cherries are a tad richer in natural pectins, yet both cherry varieties need the addition of pectin, either by adding pectin sugar or natural pectin to the cooking process.
Why is my jam stone hard?
If your jam is stone-hard, it means that you have over-cooked it.
This can happen when you are preparing jam for the first time and you are unsure if your jam has set or not.
In that case, it makes sense to use a thermometer or else you will miss the point when your jam is set.
You have a large enough window, so if you test your jam if it has set or not, you should be fine.
Keep in mind that jam will appear liquid when cooking hot and that the jam will get thicker the moment it cools down.
Fixing an over-cooked jam is more difficult than fixing an undercooked running jam.
You can always cook a running jam further until it's set, but a stone-hard jam will have to be used differently.
The solution for your hard overcooked jam is to turn it into fruit leather, to cook it again a bit with the addition of water so that you can use the jam within days or to turn it into candy.
Jam making cleanliness precautions
Make sure that you wash your hands frequently when preparing this easy cherry jam recipe.
Sterilize your glass jars and lids to kill all germs by boiling them in water or by keeping them on a tray in the oven.
I drop some vodka or other alcohol into the lids to kill further germs, as this helps in prolonging the shelf life of the cherry jam.
Do not use damaged lids which are corroded.
The jars need to be filled up to the rim because the jars will be turned upside down after they are closed with a lid to create a vacuum.
French jams are prepared this exact way and we don't sterilize the jam-filled jars further in a water bath because it's not necessary if you have followed all the cleanliness precautions mentioned.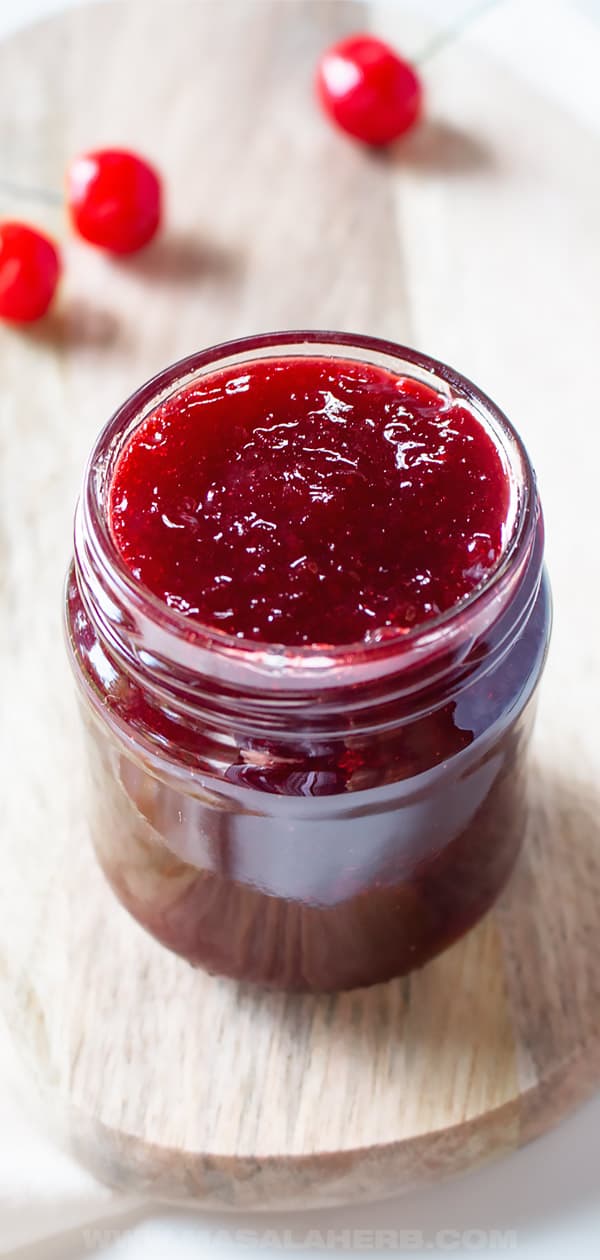 How long will my cherry jam last?
Follow all the cleanliness points and your homemade jam with no pectin will last you about 10 months unopened, stored in a dry and dark place.
Store your jam in the fridge once opened and used and use within a couple of weeks.
Do not eat from the spoon and dip the spoon back into the jam as this will contaminate the jam.
More fruit jams
Dear Reader, how are you going to enjoy your cherry jam and what cherries did you use?
Please feel free to share your thoughts and ideas with us in the comment section further below!
PIN to save for later!
So you love SPICES and HERBS?
GET 5 FREE SEASONING LESSONS
Type in your email address below.
Including free access to the
Seasoning Members only Club!
📖 Recipe
BEST Cherry Jam Recipe without Pectin
Our french cherry jam will set perfectly if you follow my instructions. The lemon halves contain natural pectin and help in setting your cherry jam.
Print
Pin
Rate
Ingredients
Instructions
Rinse your cherries and discard the stems. Pit the cherries to collect the cherry pulp ad discard the seed core.

Place the cherries into a large jam cooking pot.

Pour all the sugar over the cherries.

Cut your lemon into two, squeeze out the juice and pour juice over cherries and sugar. Drop the lemon halves into the pot.

Mix the fruits and sugar and keep on the heat.

Stir everything well and bring your cherry jam to a rolling boil.

Reduce the heat and leave your jam to cook so that the jam can form and gets reduced. This can take 30-60 minutes, depending on your heat setting and pot. Stir occasionally and don't let anything burn on.

You can choose to blend the jam smoothly. This is optional.

Test if your jam is set by dropping some of the liquid hot jam on an ice-cold plate (which you kept in your freezer). Then turn the plate around to see if the jam is running or set. If the jam is running continue to cook further and repeat the test later again. Or/And test by checking the temperature of your jam. The jam setting temperature should be 210° Fahrenheit/ 105° Celsius.

Grab clean sterilized jars and lids. Pour 2-3 drops of rum or vodka into the lids to disinfect further.

Pout the jam into your jars up to the rim. Close the jars with the lids and quickly turn the jar upside down to create a vacuum.

Turn the jar back, later on, label with name and date and store in a cool and dry place. Store in the fridge once the jar has been opened.
Notes
Use only organic untreated lemon halves in your jam because you don't want pesticides in your jam!
1 Teaspoon = one serving, 100 Teaspoons is about 3 jars (roughly). Recommended use is 1 Teaspoon serving on a slice of bread.
Can be sotred for up to 10 months in a dry and cool place away from sun light. Keep in the fridge after opening the jam and use up within weeks.
Nutrition
Nutrition Facts
BEST Cherry Jam Recipe without Pectin
Amount Per Serving
Calories 33
Calories from Fat 9
% Daily Value*
Fat 1g2%
Sodium 1mg0%
Potassium 24mg1%
Carbohydrates 9g3%
Protein 1g2%
Vitamin A 6IU0%
Vitamin C 1mg1%
Calcium 2mg0%
Iron 1mg6%
* Percent Daily Values are based on a 2000 calorie diet.
This post may contain affiliate links that point to things or services that I recommend. This may include Amazon, getyourguide and booking.com. As an Amazon Associate I earn from qualifying purchases.