Baked Low carb vegan tofu with vegetables. Weeknight dinner meal idea with Asian flavors!
Total Time:
1

hour
20

minutes
Tofu Pressing and Marination Time:
30

minutes
Jump to Recipe
Crispy baked tofu cubes prepared on one sheet pan with your choice of vegetables.
Makes an easy to prepare complete low carb and vegan dinner meal for two.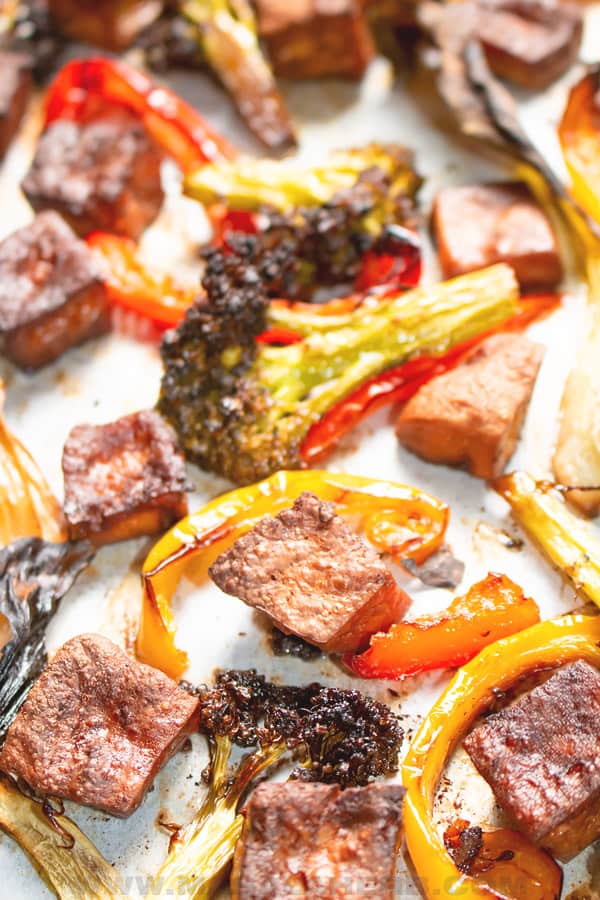 Global Food Recipes
with Spices and Herbs
Free E-Book available for a limited time. Grab yours now and get instantly inspired!
You can also make this dish a tad healthier by using gluten-free soy sauce and/ or low sodium ingredients.
This plant-based dish is great for weight loss too!
If you like sheet-pan meals, check out my Mediterranean vegetable and sausage sheet pan recipe.
Jump to:
🔪 How to make tofu taste good?
The secret to making tofu taste good is to infuse your soy cubes with a wet marinade.
Pick quality fresh and drained tofu and leave it in your marinade.
Tofu is great in taking in flavors, it's almost like a sponge!
Firm tofu is preferred but to be honest, I have made it with silken soft tofu too and it turned out great as well.
I usually stick to my Asian tofu marinade because it's easy to prepare and flavors tofu beautifully.
📜 Drain and press tofu
Draining and pressing out excess water from your tofu block is important or else the tofu won't be able to take in the marinade.
To do that, cut open your tofu pack and remove the tofu block from the liquids.
Tab dry the block with a paper or clean cloth kitchen towel first.
Then keep a paper or cloth material kitchen towel on your working surface, place tofu over it and another kitchen towel on the tofu.
Keep a weight, such as a heavy bowl on the kitchen towel, so that excess waters are being pressed out of the tofu and soaked in by your paper or cloth.
Keep that way for about 10 minutes or so, or when you feel your tofu looks ready to be processed further.
❔ How to make it?
This dinner meal is great for all those who call themselves tofu beginners.
Here is a rough outline of how you can make this oven-baked tofu with vegetables.
The recipe card with all the ingredients and instruction details can be found at the bottom of this post.
The how-to video is the video pop-up. Reload the page if you closed it by accident.
Step 1
Prepare cut and marinate tofu.
Prepare and cut vegetables. Coat vegetables with oil and seasoning.
Step 2
Spread tofu cubes and vegetables over a prepared baking tray with baking sheet.
Step 3
Bake for 15 minutes, turn the tofu and vegetables on the tray and bake the other side until crisp and done.
Serve right after baking when still hot and crisp.
🥔 Choose vegetables
You can use an assortment of mixed vegetables for the roast veggies, which comes with the tofu in this recipe.
I used broccoli, bok choy and bell pepper combined in mine because that's what I had at home.
Besides, I like the taste of the three combined and the bell peppers add color too.
You can also add the following ingredients:
Cauliflower
Zucchini
Butternut Squash
Potatoes or Sweet Potatoes
Kale
Asparagus
Mushroom
Eggplant
Carrot, turnip and other root vegetables
💡 Dipping Sauce serving ideas
I love to serve this sheet pan dinner meal with various dipping sauce.
Just pick one or two to make your supper all the more exciting.
💭 FAQs
How long to marinate tofu?
The longer you can keep your tofu cubes to marinate the better. I usually keep them for 20-30 minutes if I'm hungry and in a hurry.
How long to bake tofu?
The baking duration depends on the size of your cubes. Cut your tofu into 1-inch thick uniform pieces and bake for about 30 minutes.
At what temperature to bake?
Cook at 350 Fahrenheit/ 180 Celsius with the roasting function turned on. I like to use the broiler/grilling function too to brown the tofu and veggies.
Can you reheat the tofu and vegetables?
The tofu and vegetables are at their best right after roasting. The longer you leave them standing the chewier the tofu will get and the tofu will lose its crispness. You may place it all back into the oven for a few minutes until the tofu is crisp again but be careful to not overcook it all.
Baked Tofu vs Fried
Preparing baked tofu is easier, just keep on a sheet and bake on both sides. Fried tofu doesn't always turn out that great and the marinated tofu will need to be deep-fried to get super crispy.
👁️ More Asian Tofu Recipes
Global Food Recipes
with Spices and Herbs
Free E-Book available for a limited time. Grab yours now and get instantly inspired!
📖 Recipe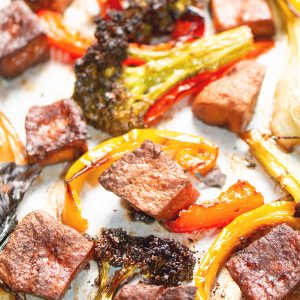 Baked Tofu with Vegetables (Sheet Pan) Recipe
Baked Low carb vegan tofu with vegetables. Weeknight dinner meal idea with Asian flavors!
Print
Pin
Rate
Ingredients
For the Vegetables:
11

ounces

Mixed Vegetables

*see Notes or post for ideas

2

Tablespoon

Olive Oil

½

Teaspoon

Salt

¼

Teaspoon

Black Pepper Ground
Instructions
Prepare your tofu: drain and press tofu between two paper or clean towels to get rid of excess liquids. Cut tofu into uniform 1-inch cubes.

Prepare marination by combining soy sauce, rice vinegar, and olive oil.

Place tofu cubes into a large bowl with marination and toss so that tofu is covered by the marinade. Keep to marinade for at least 20 minutes or more and toss once in a while so that all cubes get to soak in some flavors.

In the meanwhile prepare vegetables. Rinse, peel, cut wherever applicable. Your aim should be almost same sized/thick vegetable pieces.

In a large bowl combine olive oil, salt, and black pepper.

Toss vegetables in seasoned olive oil. All veggies should be well coated with oil.

Preheat your oven to 350° Fahrenheit/ 180° Celsius.

Place a baking sheet over a baking tray. Spread marinated tofu and vegetables over the sheet pan.

Bake in the oven for 15 minutes first. Take out and turn the tofu cubes and vegetables.

Roast for another 15 minutes or so or until cooked to desired color and crispness.

Enjoy hot when tofu is still crisp.
Notes
Fresh firm tofu or extra firm tofu is usualy preferred but I have made this dish with silken soft tofu too and it turned out great as well.
Use mixed vegetables of oyur choice. I used almost equal parts broccoli, bell pepper and bok choy. (I like crisoy roasted bok choy). You can also add other vegetables such as potatoes, cauliflower and kale. See in post for inspiration.
To make this dish low sodium use low sodium salt and soy sauce.
To make it gluten-free use gluten-free soy sauce.
I baked mine in the pictures little longer to get it extra crisp and darker.
Nutrition
Nutrition Facts
Baked Tofu with Vegetables (Sheet Pan) Recipe
Amount Per Serving
Calories 441
Calories from Fat 297
% Daily Value*
Fat 33g51%
Sodium 1191mg50%
Potassium 359mg10%
Carbohydrates 25g8%
Protein 15g30%
Vitamin A 7918IU158%
Vitamin C 16mg19%
Calcium 163mg16%
Iron 3mg17%
* Percent Daily Values are based on a 2000 calorie diet.