I think so you saw this one coming right? I know, homemade ginger garlic paste should have been on the agenda ages ago after I had mentioned it in countless recipes before, yet here we are 2 years later. My defense; better late then never! I was toying with the idea in the past to post a homemade recipe, but sharing something so simple didn't deserve a own post. Or so I thought…
Some of you were so kind to direct my attention more towards a homemade ginger garlic paste and I understand that ready made ginger garlic pastes are not always available in Western stores, so the only option is to make your own from scratch ginger garlic paste. Of course the homemade fresh paste version is stuffed with handpicked aromatic ingredients, so it makes sense to roll up the sleeves and to make your own at home. Let's not forget the fact too that the ginger garlic paste is an essential in the Indian cuisine. Not only does the paste enhance the flavor of any dish but it also has a super useful meat tenderizing ability which makes it indispensable in my kitchen!
Ginger Garlic paste is the most important basic food item in any local kitchen here. Everybody has it and everybody mostly makes it from scratch, I am not joking! First i used to only use it in Indian dishes but slowly it found it's way in home cooked fusion dishes as well. Back in our Tandoori times, I was the ginger garlic maker. We would make big batches by grinding peeled ginger chunks and peeled fresh garlic pods into a fine paste. One kg would maybe last for a week.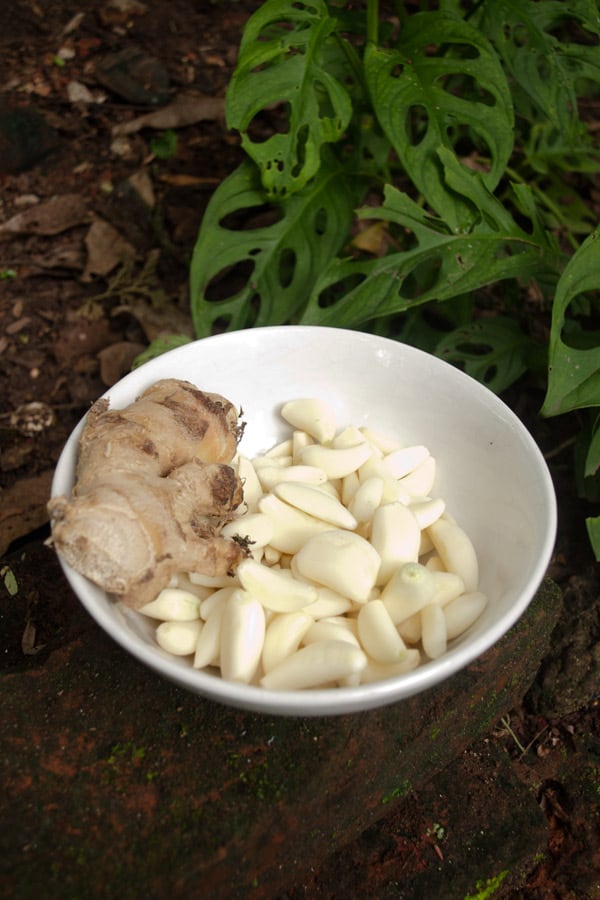 In India you can buy already peeled garlic in bags, also there is a great choice of Garlic and fresh ginger in the markets. I tend to buy local garlic since it's very flavorful. They also sell other types but non of the sellers ever seems to know a name. They do not differ in color but mostly in size and aroma. Some emit wonderful pure garlic flavors and some have mellower garlic notes, trust  me when I say it's a garlic paradise!
I am aware of the fact that fresh ginger roots are not always frequently available in some parts of this world but when you intend to make this ginger garlic paste, make sure that you buy super fresh younger ginger. Ginger has a tendency to turn fibrous, dry with irritating strings and those should not be blend into a paste or you ll end up with irritating strings. The fresher the better, no doubt!
Since it's not a very common paste in the Western world, I can imagine that homemade ginger garlic paste would make a nice attentive and useful little homemade gift for Asian food loving family members and friends. The version I am sharing today can be stored for a few weeks in the fridge without that it turns bad. Ginger and garlic are anyway known as effective natural food preservatives and I add some organic local coconut vinegar so that it stores even better and longer. You can always use some regular white vinegar in this recipe instead of the coconut vinegar. I use coconut vinegar because it's a local product in Goa and I love the intensive flavors.
My husband's family and our Punjabi cook follow the same ginger garlic ratio. That means the ginger is a third to the garlic, less then many other Indian ginger garlic paste recipes. You can always double the amount to make a bigger batch. I often prefer bigger batches since I use it frequently in my cooking and I just like to have enough paste for a few weeks.
Homemade Ginger Garlic Paste
Recipe type:
Paste Condiment
Rich and flavorful homemade ginger garlic paste for your Asian dishes.
Ingredients
250 grams peeled Garlic
80 grams freshly peeled Ginger
70 milliliter White Vinegar (I use Coconut Vinegar)
Instructions
Peel your garlic and ginger.
Cut your ginger into chunks.
Blend the garlic, ginger and vinegar to a fine paste. When doing so you might want to work in batches or your mixer will get over loaded. Do not add any water because that will reduce the shelf life of the paste.
Store the smooth paste in a jar and keep in the fridge for further use.
Recipes that call for Ginger Garlic paste
You might like...
The following two tabs change content below.
I am Helene, the author behind Masala Herb! My aim is to show you an incredible world full of surprises. Food, Culture and Travel are my forte and that's what I enjoy. Follow my Food and Travel adventures and learn some incredible things! Now in the beautifull Indian coastline state, Goa.
Latest posts by Helene Dsouza (see all)