A cup of hot Pumpkin Spice Tea between your hands will warm up your cold bones.
Comfort guaranteed with this 5-minute homemade spiced pumpkin spice chai tea recipe!
Global Food Recipes
with Spices and Herbs
Free E-Book available for a limited time. Grab yours now and get instantly inspired!
Autumn is one of my favorite seasons of the year, and that is for a good reason.
I enjoy all the bounties of the year to the fullest, while the air is getting crisp, and I get inspired by the landscape turning into a colorful world around us.
The best part is to finally have a good excuse to enjoy a hot cup of pumpkin spice tea!
Jump to:
📕 What's pumpkin spice tea?
Pumpkin pie spice is a popular spice blend in North America that has taken over the world by storm. Originally, this zesty spice blend was used to season pumpkin pie, hency why the name.
Today, pumpkin pie spice has been used to season a full range of autumnal sweet foods.
I created the pumpkin spice tea as I was intending to make a cup of Indian masala chai.
Instead, I got inspired and came up with the pumpkin spice tea.
Besides spices, the hot fall beverage also includes black tea leaves, milk, and sugar. So, the pumpkin spice tea is essentially a chai variation.
By the way, did you know that chai means tea? Hence why writing pumpkin spice chai tea would mean pumpkin spice tea tea. 😄
☕ Ingredients
Milk – I use whole milk, but you can use low-fat milk too. Whole milk works great because the higher fat quantities in the milk help to extract the spices faster.
Water
Pumpkin Pie Spice Blend – I used my homemade pumpkin pie spice blend recipe, or you can use store-bought pumpkin spice. Eventually, you can also use the pumpkin pie spice ingredients individually to prepare the milk tea. Using the pumpkin spice blend is quicker.
Black Tea Leaves – Indian loose tea leaves, or you can break open a tea bag with black tea and use that too. Another option is to prepare the tea as per instruction without adding tea leaves and to add a tea bag only at the end when serving up the tea to the cup.
Sugar – optional, but a small quantity elevates your tea experience.
The pumpkin pie spice blend contains ground cinnamon, ginger, cloves, nutmeg and allspice.
🔪 How to make it?
You will need at most 5 minutes to prepare the pumpkin spice tea if you use the pumpkin pie spice blend.
The spice blend is cooked with the tea leaves in milk and water over the stove-top so that the milk tea takes in the aromatic flavors.
Locate the recipe card further below with US and metric measurements and short video instructions.
Step 1
Heat up the milk with water. Add tea leaves and the pumpkin spice blend.
Step 2
Bring to a boil. Take from heat but leave to infuse.
Step 3
Strain tea. Serve with sugar in a cup.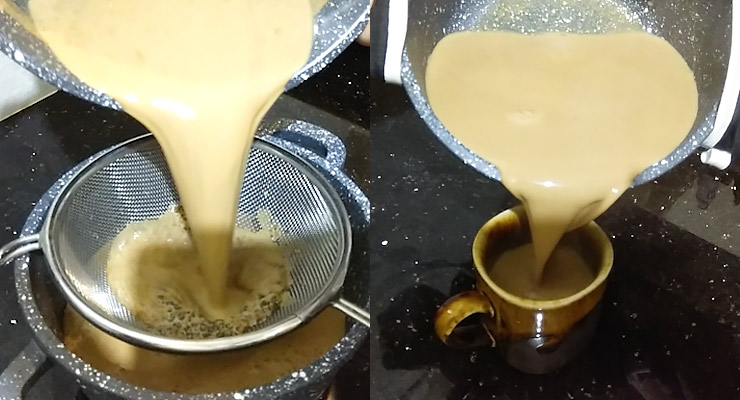 📖 Recipe
Ingredients
1 ⅓

cup

Milk

1 ¾

cups

Water

1 ½

Tablespoons

Pumpkin Spice

2

Tablespoon

Black Tea Leaves

loose

Sugar

to taste
Instructions
In a small pan, pour in the Milk and Water. Heat up over a medium to low-heat setting.

1 ⅓ cup Milk,

1 ¾ cups Water

Add the pumpkin spice and loose tea leaves (see post for tea leaf choice). Stir everything well.

1 ½ Tablespoons Pumpkin Spice,

2 Tablespoon Black Tea Leaves

Bring to a boil over a medium heat setting. Keep an eye on it because it can boil over rapidly, as this takes only a few minutes.

Strain through a sieve and press the tea leaves through the fine mesh sieve so that all the tea comes out.

Add sugar to taste, stir and serve up hot.
Nutrition
Nutrition Facts
Chai Pumpkin Spice Tea Recipe
Amount Per Serving (439 g)
Calories 113
Calories from Fat 54
% Daily Value*
Fat 6g9%
Cholesterol 20mg7%
Sodium 75mg3%
Potassium 279mg8%
Carbohydrates 11g4%
Protein 6g12%
Vitamin A 275IU6%
Vitamin C 1mg1%
Calcium 237mg24%
Iron 1mg6%
* Percent Daily Values are based on a 2000 calorie diet.
💭 FAQs
Can I use alternative milks to make this pumpkin spice flavored milk tea?
Yes, you have the option to switch the cow milk with almond milk or coconut milk,
What does pumpkin spice tea taste like?
This homemade tea is milky and tastes like a burst of fall flavors. Lightly spiced with warm autumn spices such as cinnamon and ginger, it lends the drink comforting flavors reminiscent of Indian masala chai.
Can I make this tea caffeine free?
Yes, you can make your chai pumpkin spice tea caffeine-free by switching regular tea leaves with loose decaf tea.
💚 Sustainable Black Tea
For black tea leaves, I recommend using Indian tea-leaf granules, which are dry crushed leaves.
Pick something like loose CTC Black Assam tea leaves or Darjeeling tea leaves. CTC means crush, tear, and curl. These CTC granules are suitable for preparing milk tea, and this is what they use in India to make Masala Chai.
Look out for USDA-certified organic, Fairtrade premium black tea leaves.
I recommend a Premium Assam Black tea from Vahdam. The teas have all the certifications, are high in quality and taste, and they are suitable for milk teas.
The fair trade aspect is significant. These women and men in India's North East work for almost nothing in the tea gardens.
Tea leave plantations are owned by massive corporations, and the people there barely get paid enough to live a dignified life.
Things haven't really improved after the British left. However, as a consumer, you can make the right choice by buying only fair trade products.
These products have a visible international well-known certification on them. Fairtrade products improve social and environmental standards.
They cost a bit more, but you can actively choose to work towards a more sustainable world.
Reading recommendation: 10 Principles of Fair Trade
👁️ More Fall Season Recipes
Global Food Recipes
with Spices and Herbs
Free E-Book available for a limited time. Grab yours now and get instantly inspired!