Homemade Pineapple Jam is a treat that you will enjoy for breakfast on your bread if you are into Caribbean flavors or if you want to start your day with a sweet sunshine and beach memories jam. I usually make a batch which lasts for some months if you store it correctly. Also, make sure to take a look at my tips mentioned in the post. That way your pineapple jam will be a huge success.
I adore Pineapple jam slathered over my breakfast bread!
Did you know that it's super easy to prepare a 2 ingredient pineapple jam?
You are going to love pineapple jam if you are into tropical fruity flavors!
I have put together a how to make pineapple jam video and recipe further below with some lesser known tips and tricks to preserve it better.
Pineapple jam brings out the tropical flavors of this poky fruit.
It always transports me back to Guadeloupe a French Caribbean island.
We visited the island with my parents when I was a child in the 90s and somehow this trip was so memorable that it shaped my outlook towards food later on in life.
I have turned into a great fan of Caribbean food.
You must have noticed it when I shared my recipe for outstanding Banana Jam and the recent jerk seasoning rub!
Caribbean or Creole food is actually quite fun.
It's rich in flavor and prepared with fresh ingredients.
It frequently includes fruits, a good dose of spices, amazing seafood and a balanced diet of meat.
It's colorful and full of charisma.
Each island has its own specialties, which makes the cuisine all the more interesting.
If you are interested in Caribbean food then check out my old food buddy Larry Fournillier's, aka the Triniman50's, youtube channel.
He is cracking it!
Getting back to the Pineapple Jam...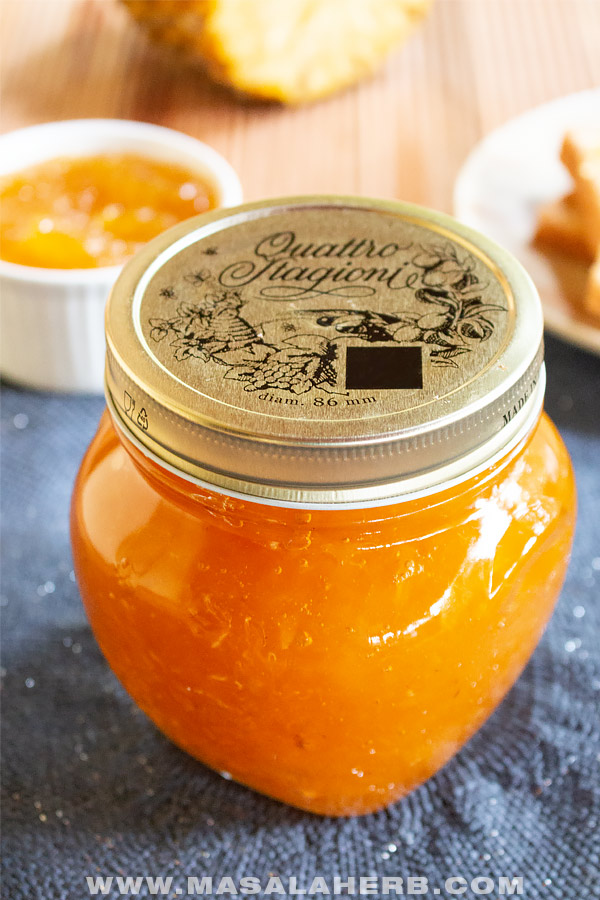 Ingredients
Today we are going to make a proper pineapple jam and not that stuff that you can buy from the shop stuffed with additives.
This Pineapple jam is prepared the French island way and based on the traditional french jamming ways.
That means no artificial pectin!
This is how we make jam in France and my mum and grandmother always succeeded.
On top of that,t I have had experience preparing all kinds of jams in a tropical environment so I do know the different climate challenges one might face when working without artificial pectin in a jam recipe.
There is no rocket science in making jam. You will need 2 ingredients:
Fresh Pineapple - cut out the center of the pineapple as it's too hard and cut off the peel.
Sugar - all-purpose sugar
Sugar preserves the fresh pineapple and while the pineapple is low in natural pectin (as are strawberries) we still make this jam without artificial pectin because we have always succeeded doing it that way.
How to make it?
Here is an overview. The full recipe is below in the recipe card.
Step 1
Cut pineapple into chunks and place with sugar in a large pan.
Step 2
Bring to a boil and cook jam down. Test if it's set. Blend jam.
Step 3
Pour jam into prepared clean jars. Close with a lid and store well.
Tips
Jam making is easy but you need to make sure that you follow some simple rules when preparing jam.
You need to be hygienic and clean - wash your hands a million times, use only clean utensils, sterilize your jars and lids and implement my vacuum trick mentioned further below in the recipe card.
Use tools to assist you to take out the hot sterilized jars or to fill your jars with jam, such as with this basic home canning kit.
You need to maintain the sugar fruit ratio - Don't cut on the sugar!
I mean, all your life you are swallowing random sugary treats and now that the point has come to prepare jam you are about to cut down on sugar?
Nobody cuts down on sugar when preparing jam in France and the French don't have a carb problem.
The simple rule applies when consuming food: the dose makes the poison.
1 teaspoon of natural jam on your bread is nothing compared to 1 teaspoon store-bought jam (you don't even know what's in the store-bought jam or in the packed artificial pectin!)
Cook the jam until it's set, not any shorter and nor any longer.
Get a jam food thermometer to know when it's set!
Use a pot which cooks the jam evenly.
In France, they use copper pans. I know they are not cheap but worth an investment if you plan on making more jam in the future.
My mother got hers from her mother and so on and I hope to get my mum's one day.
For now, I use a large stainless steel pot.
The pineapple jam setting temperature is 105 Celsius/220 Fahrenheit.
FAQs
Why is my jam runny?
You doubled the batch. It's easier to work with a batch of 1 kilogram/2 pounds of pineapple.
You reduced the sugar amount. Just don't... The sugar helps in preserving the jam.
Your jam didn't get a chance to set. It's undercooked and needs to cook longer or with more heat. Use a thermometer to know when it's set.
Your pan didn't cook the jam uniformly. Some cooked more, some less. Use a proper pan that cooks the jam properly such as a large copper or stainless steel pan.
Why is my jam hard?
You cooked the jam for too long
You cooked the jam on a very high heat
You need to know that when you prepare fruit jam, the jam will appear super liquid in the pan while it's still cooking.
The moment it cools down, the jam hardens.
So, because you are not sure if it's done or not, you might be overcooking it and then your pineapple jam can turn super hard.
Therefore, it's important that you keep a thermometer ready and/ or use a cold plate/spoon to test if it's set or not.
Keep a spoon in the freezer before preparing the jam and when you think it's set add a drop off the hot jam on the spoon.
If the jam runs keep on cooking.
The drop of jam should be staying where it is, not moving, that's how if it's set.
More Tropical Fruit Jams:
Dear reader, are you a regular in preparing jam?
Please feel free to share your thoughts and ideas with us in the comment section further below!
So you love SPICES and HERBS?
GET 5 FREE SEASONING LESSONS
Type in your email address below.
Including free access to the
Seasoning Members only Club!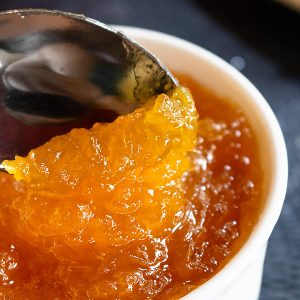 Pineapple Jam Recipe
Homemade Pineapple Jam is a treat that you will enjoy for breakfast on your bread if you are into Caribbean flavors or if you want to start your day with a sweet sunshine and beach memories jam. I usually make a batch which lasts for some months if you store it correctly. Also, make sure to take a look at my tips mentioned in the post. That way your pineapple jam will be a huge success.
Print
Pin
Rate
Instructions
Cut your pineapple. To cut pineapple without wasting too much of the skin. Cut out the center too because the pineapple center is too hard. You can eat the pineapple center, there is nothing wrong with it (some people get an itching in the throat).

Place the pineapple pieces into a pot and add in the sugar. Mix the content. Let it sit for a little while so that the juices can mingle.

Place the pot on the heat and bring slowly to a rolling boil. Then bring down the heat to a low flame and let the jam simmer slowly.

Check with your thermometer if the jam is ready or do the running jam test with a cold spoon or plate.

If the jam is set, get your clean immersion blender and just blend the jam real quick into a smooth consistency. Keep on the heat for a few more minutes after that just to make sure to kill all germs.

Then grab your sterilized jar and lid and fill up your jar with the jam up to the rim. up to the rim is a must!)

Close the jar with the lid very well and quickly turn the jar upside down to create a vacuum. That way your jam will preserve very well for a long period of time.

Keep your jar upside down overnight and then store your jam in a cool, dark and dry place (not in the hot attic or wet cellar!). That way you can store your jars for more than 8 months. Once you open the jars store in the fridge.
Notes
 Use pineapple without the center and the skin
Sterilize your glass jar and lids by placing them into the oven or boiling them. Sterilizing means the germs are all killed. Then touch only the glass jar with proper jamming tongue and kit.
Turning your jam jars once sealed upside down creates a vacuum. That's an old French trick.
Calculated 3 jars with 30 servings each. 1 serving = approx 2 Teaspoons
Nutrition
Nutrition Facts
Pineapple Jam Recipe
Amount Per Serving (18 g)
Calories 36
% Daily Value*
Potassium 14mg0%
Carbohydrates 9g3%
Vitamin A 10IU0%
Vitamin C 6.2mg8%
Calcium 2mg0%
* Percent Daily Values are based on a 2000 calorie diet.