The Banana Jam can be enhanced with true Caribbean rum. Try using different tropical banana varieties for various results and flavor experience. I like my banana jam on a slice of bread for breakfast.
Banana Jam is easy to make at home and it tastes ravishingly exciting on a slice of freshly baked bread for breakfast with coffee or tea.
The banana jam recipe is an original from the French Caribbeans and it's completely without pectin.
How I discovered Banana Jam
The first time I had banana jam was back then in 1996 in the Caribbean island of Guadeloupe.
It was partially rainy season in July, it was humid and the mosquito bites where huge big bumps on our skin.
I was only 8 years old.
We were there for 2 weeks and it was the experience of a lifetime!
Besides suffering in the humidity and heat, we were discovering a whole new world.
The 90s were great, as a traveler you would see the real world as it was.
Today it's all different and I think, if I would go to the Caribbeans nowadays and somebody would introduce me to banana jam, I would most probably say "I have seen this on Pinterest", and the whole charm of discovering something and experiencing the aha-moment would be futile at this point.
The banana jam really left a thumbprint back then. It was my most favorite breakfast treat on that island.
My mother bought 3 jars to take in her hand-baggage (!) for the Air France flight back to Paris.
My mother's friend, who lend us her abode for the 2 weeks in the south of the island, gave us the banana recipe.
I learned back then, that banana is not just banana.
The most commonly used banana variety in the world is a robusta variety, the Cavendish banana.
My favorite thing to do on the Guadeloupe island was to go to the local market and discover all the different fruit varieties.
There were Love apples, breadfruits and I remember different kinds of banana types.
Small bananas, nano bananas, red bananas, plantain, black bananas, round bananas, you name it!
Banana Jam Ingredients
The Caribbean banana jam is mostly prepared with smaller bananas.
There are different small variations too, some taste like pineapples, some like apples, some are gooier inside.
You can try your banana jam with different banana varieties. You get small bananas too.
Locals from the island use sugar cane molasses too, which is rather common in South America, Africa and Asia.
Some black ladies from the Caribbeans would add white rum too, which is an amazing addition to your banana jam, but only if you get white rum produced in the Caribbeans.
Caribbean white rum is notoriously the best rum in the world!
However, I did add some rum – as I always do in my jam recipes – into the lid before closing the jar to keep germs and fungus away.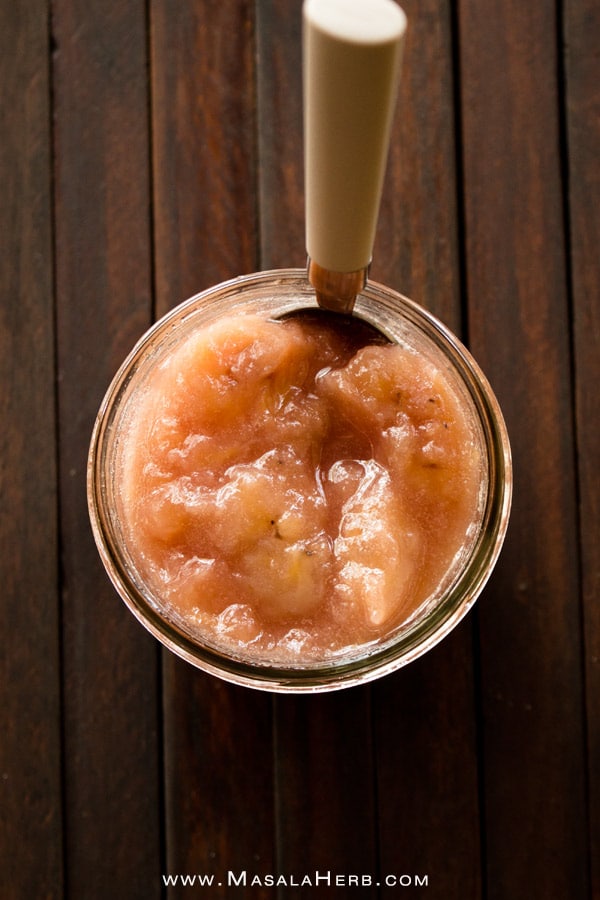 More Jam, Jelly and Preserves
Dear Reader, did you try the Recipe?
Please feel free to share your thoughts and ideas with us in the comment section further below!
PIN to save for later!

Subscribe & Get your freE
Recipes from around the World E-Book 📱
Weekly Newsletter 📰
Spice, Herb, Seasoning Cheat Sheet 🌿
Printable Jam Labels 🍯
No-Nonsense Travel Checklist 🏞️
Exclusive Access - Seasoning Club (Facebook Group) 💬
Banana Jam Recipe
The Banana Jam can be enhanced with true Caribbean rum. Try using different tropical banana varieties for various results and flavor experience. I like my banana jam on a slice of bread for breakfast.
Print
Pin
Rate
Ingredients
2.2

pounds

Banana

peeled

4

cups

Sugar

Juice of 3 Lime
Instructions
Cook on higher heat until you have a strong rolling bowl, then reduce heat and let the jam cook very slowly. Cooking the jam should take you no more then 30 minutes all together. Check if the jam is set by placing a few drops of cooked hot jam into a very cold spoon. If it runs, the jam needs some more cooking. repeat the the test to see if it has set. Once the jam is ready pour into clean sterilized jars. Add a few drops of rum into the lid and close the lid well. Turn the jam upside down for a few hours, then store in a dry, dark and cool place.

Store the opened jam jar in the fridge!
Notes
1 serving = 1 Teaspoon, 70 servings ~ 3 jars
Nutrition
Nutrition Facts
Banana Jam Recipe
Amount Per Serving
Calories 56
% Daily Value*
Potassium 51mg1%
Carbohydrates 14g5%
Vitamin A 10IU0%
Vitamin C 1.2mg1%
Calcium 1mg0%
* Percent Daily Values are based on a 2000 calorie diet.
This post may contain affiliate links that point to things or services that I recommend. This may include Amazon, getyourguide and booking.com. As an Amazon Associate I earn from qualifying purchases.