Try using different tropical banana varieties for various results and flavor experience. I like my banana jam on a slice of bread for breakfast.
Banana Jam is easy to make at home and it tastes ravishingly exciting on a slice of freshly baked bread for breakfast with coffee or tea.
The banana jam recipe is an original from the French Caribbeans and it's completely without pectin.
Global Food Recipes
with Spices and Herbs
Free E-Book available for a limited time. Grab yours now and get instantly inspired!
Jump to:
Banana is possibly one of the most versatile fruits of all time.
Sure, it's super tasty to eat as is (and so hassle-free it's basically God-send for bachelors), but there are various different ways you can consume this super-fruit.
Banana bread, smoothies, pancake toppings are just a few mainstream ways to add potassium-rich bananas to your diet.
📕 What is Banana Jam?
One other fun way to eat bananas is in jam form. Banana jam is quite common a find in the Caribbean Islands, which is where I first tried it.
It's super delicious and stores for a long time.
It is also a fairly simple recipe, quick and easy to whip up, with just 3 ingredients.
This recipe for jam has origins in France because it follows the no pectin French preparation way and canning technique.
🍌 Ingredients
Banana
It goes without saying that banana is the first, foremost, and most basic ingredient in a banana jam.
There are so many different varieties of bananas that you can try for this jam recipe.
Robusta, Cavendish, small bananas, nano bananas, red bananas, plantain, black bananas, or round bananas - all different varieties of the fruit have different tastes and textures which will give you varying jam types.
It's always a good trick to play around with the type of banana that's locally available.
Sugar
You can use either regular or brown sugar for this recipe. In the Caribbeans, they use sugarcane molasses to make the jam.
If you want, you can go half and half on the molasses and sugar.
The really important thing is to not reduce the quantity of the sugar in this recipe.
Reducing the quantity of sugar will affect the shelf life and your jam may spoil pretty soon.
Only take the risk of reducing sugar if you're going to use up the jam within a week (and even then, make sure you store it in the fridge).
Lime or Lemon Juice
The third and final ingredient for the banana jam is lime juice, which you can substitute with lemon juice if lime is not available.
You want to use it freshly squeezed and never from a bottle.
Lime or lemon juice is full of vitamin C and natural pectin, which helps set the jam.
After it is set, your jam will store for months without spoiling.
📜 Flavor Variations
You can customize and enhance your jam with added flavors like cinnamon, clove, or cardamom.
If you are adding such spices, you can put in their powdered forms or simply go in with whole spices, but take care that whole spices have to be picked out of the jam before you bottle it up.
Another great flavor combo to try is Ginger-Raisin.
If you want, you can make a jam variation even and swap out half the banana quantity with strawberries so that it's Banana-Strawberry jam.
🔪 How to make it?
Here is a quick overview on how to make this jam from scratch.
The detailed recipe is in the card further below.
Step 1
Combine sliced banana, sugar, and lemon/lime juice and place into a pan. Heat up.
Step 2
Cook on high heat until you have a rolling boil, and then reduce the heat to let it simmer.
Step 3
Pour the cooked jam into sterilized jars, close the lid, and turn the bottle upside down to create a vacuum until cooled.
Uses
This Banana Jam tastes terrific on toast and makes for a delicious breakfast.
You can also put the jam in plain yogurt, on top of cakes, in puddings or smoothies, or even on muffins.
You can also use the jam as a fantastic pastry filling.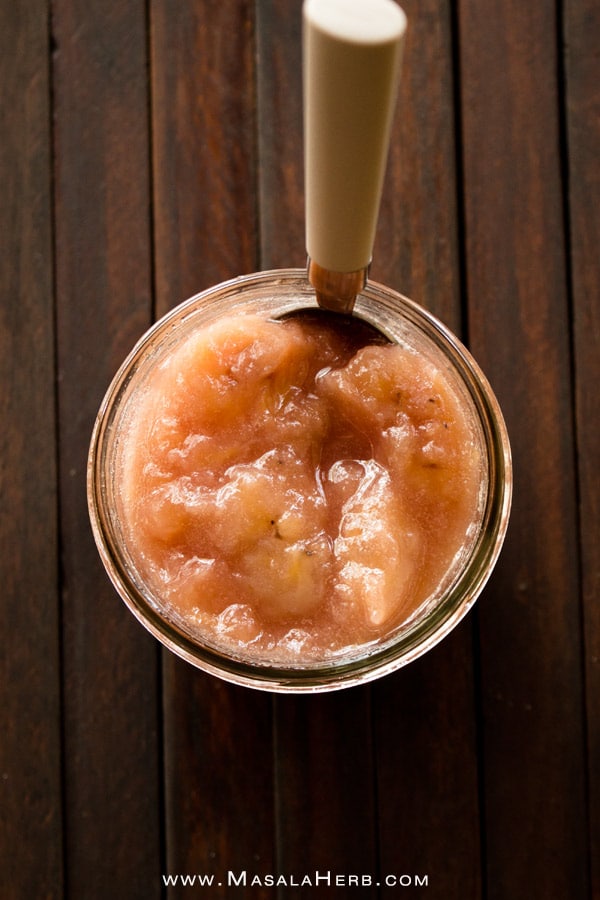 🍱 Storing
Store in a cool, dry place, and away from direct sunlight.
The jam should not be stored in a humid place.
A wet cellar is not the place to store this jam.
To sterilize your storage jars, place them in hot, boiled water for 10 minutes (along with the lid).
You can also place clean jars and lids in the oven for 10 minutes at 350 F or 180 C.
Make sure you always use new lids, or ones that are not rusted, damaged, or deformed in any way.
An unopened jar of jam keeps for 12 months to 24 months. Once opened, it has to be stored in the fridge or else it may spoil.
When refrigerated, the banana preserve should last for a year (if the recipe has been followed exactly).
To avoid contamination, always make sure to use a clean spoon or spatula to dip into the jam jar.
💭 FAQs
Is banana jam and banana jelly the same thing?
No, jam is made with whole fruits, while jelly is made with fruits that are first cooked in water, strained, and then cooked with sugar.
Why is there so much sugar in the recipe?
Sugar is the main ingredient that helps preserve jam and contributes to its long shelf life. The sugar to fruit ratio is perfect as is and must not be reduced. If you reduce the quantity of sugar in the recipe, then the jam won't hold for long and will have to be utilized within a week. This beats the purpose of a jam, which is supposed to be stored for months.
Why don't you add pectin sugar?
I personally don't like the taste and the consistency of the jam if pectin sugar is added. You can get the same results with just plain sugar, but it is important to cook down to the setting point.
How to test the setting?
To test if the jam is set, drop hot jam on an ice cold plate and move the plate around a bit to see if the consistency is running. The jam will cool instantly on the ice cold plate and that's how you know if it's set. You can also check the temperature on a candy thermometer. The banana jam will appear glossy or transparent when properly set.
What's the setting temp?
The perfect setting temperature for this jam is 220 degree Fahrenheit or 105 Celsius.
What jars to use?
You can use mason jars that are commonly available to store the banana preserve. French, Italian, or German storage jars are okay to use as well. Just take care not to use jars with rubber lids. 
Why do you turn the jar upside down and why not run it in a water bath?
Turning the jam jar upside down when it is hot and freshly poured creates a vacuum. This is an important step to discourage the growth of bacteria or mold. It's a common technique used in France and since this is a French recipe, it's best to trust the method. You can, of course, do water bath canning for extra safety, but it is not necessary if you follow the sterilization and setting steps exactly to the T. 
👁️ More Jam, Jelly and Preserves

Global Food Recipes
with Spices and Herbs
Free E-Book available for a limited time. Grab yours now and get instantly inspired!
📖 Recipe
Banana Jam Recipe
Try using different tropical banana varieties for various results and flavor experience. I like my banana jam on a slice of bread for breakfast.
Print
Pin
Rate
Instructions
Slice your banana and place it into the bowl. Add sugar and lemon Juice.

Cook on higher heat until you have a strong rolling boil, then reduce heat and let the jam cook very slowly. Cooking the jam should take you no more than 30 minutes altogether. Check if the jam is set by placing a few drops of cooked hot jam into a very cold spoon. If it runs, the jam needs some more cooking. repeat the test to see if it has set. Once the jam is ready pour into clean sterilized jars. Tighten the lid over the jar. Turn the jam upside down to create a vacuum, then store it in a dry, dark, and cool place.

Store the opened jam jar in the fridge!
Notes
1 serving = 1 Teaspoon, 70 servings ~ 3 jars
Nutrition
Nutrition Facts
Banana Jam Recipe
Amount Per Serving
Calories 56
% Daily Value*
Potassium 51mg1%
Carbohydrates 14g5%
Vitamin A 10IU0%
Vitamin C 1.2mg1%
Calcium 1mg0%
* Percent Daily Values are based on a 2000 calorie diet.