A two ingredient all natural lemon marmalade without artificial pectin added.
A homemade all-natural 2 ingredient Lemon marmalade.
Based on the french orange marmalade and kumquat marmalade recipe.
It's without artificial pectin.
Global Food Recipes
with Spices and Herbs
Free E-Book available for a limited time. Grab yours now and get instantly inspired!
Jump to:
🆚 Marmalade VS Jam VS Jelly
So what's the difference between a marmalade a jam and jelly?
marmalade - citrus fruit preserve prepared with the whole fruit, skin and fruit pulp.
jam - a fruit preserve with just the fruit pulp cooked down until set.
jelly - fruits are infused in water. That juice is then strained and cooked down with sugar until set.
🍋 Ingredients
You will only need 2 ingredients to make this citrus fruit marmalade from scratch.
US and metric measurements are located in the printable recipe card below.
lemons - fresh lemons that have not been sprayed with pesticides because the skin is cooked with the pulp. Some countries label them as organic lemons but not every country follows the same laws. So check the labels because you don't want pesticides in your marmalade.
sugar - any sugar. I just use regular sugar but you can also use brown sugar if you like.
You can use your favorite lemon variety such as lisbon lemon (regular ones), genoa, villafranca, eureka, meyer or bears. It depends if you want a tangy or sweeter lemon preserve.
The fruit and sugar quantity has been fixed. Don't reduce the sugar quantity or else your marmalade won't last very long.
Sugar helps in preserving the marmalade. The point of a fruit preserve is that it lasts for at least 10 months sitting on your pantry shelf.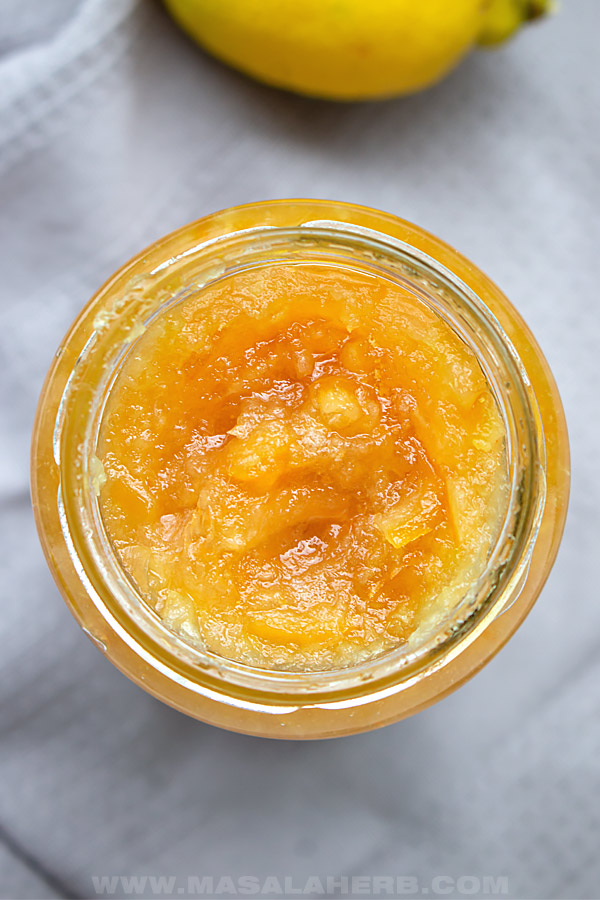 🔪 How to make it?
This is an overview of how it's done. It will help you get on how it comes together. The recipe is further below in the recipe card.
Step 1
Rinse your lemons well to get rid of impurities, pat them dry.
Cut off ends, slice lemon with the skin on.
Step 2
Add sugar and lemon slices to a large cooking pot and heat up.
Bring to a rolling boil and continue to simmer until the lemon looks translucent and it has cooked down.
Step 3
Blend marmalade to a chunky consistency.
Test if it's set and pour in your clean jars.
Lock with a lid, turn upside down to create a vacuum. Turn back after 10 minutes or so and store.
🍱 Storing
Pour the jam into clean sterilized jars and lids. The lids should be without rust too.
You can sterilize your jars and lids by boiling them in water or by "baking" them in the oven or by using a high heat setting in your dishwasher.
Store your lemon marmalade in a dry and cool place away from direct sunlight.
The marmalade is good for at least 10 months unopened if you followed the setting and cleanliness instructions to the T.
Keep in the fridge once opened.
Note that if you ever reduce the sugar quantity in your marmalade, that it won't store that long. You can do it but you will have to consume your fruit preserve within weeks or even days.
🥣 Uses
I don't use this marmalade the same way I would use my other fruit preserves.
It works really well with savory dishes.
That means I use it as a condiment, like a lingonberry jam with Schnitzel or steaks.
You can serve it also with your charcuterie or cheese board. It has a beautiful lemony aroma and your guests will be talking about it for weeks!
Lemon marmalade is very hard to get in stores or in farmer's markets. So I think it makes a beautiful DIY gift to your family and friends.
💭 FAQs
Should I let the fruits macerate in the sugar overnight?
You can let the lemon slices macerate in the sugar, it's not a must. It most definitely softens the citrus skin and it might reduce the cooking time a bit. I didn't do it in the video because, well, I'm a busy bee and in a hurry. 🙂
Can I spice up my lemon marmalade?
Yes, you can add spices or some culinary herbs to your marmalade. Don't forget to pick out the pieces before blending the marmalade. You can add green cardamom or thyme or basil or rosemary or savory or ginger. Add a small quantity to start out and take it from there.
Do I have to blend the marmalade?
No, you don't have to and it will be still fine. It's just that the consistency looks better when you blend it a bit. It can be chunky, that's how people usually like it. Also, blending helps to see if the jam is set or not. Because it looks still liquid otherwise and that can be misleading.
How do I check if my marmalade is set?
Use a candy thermometer and if it hits 105 Celcius/220 Fahrenheit it's set. Or/And check by dropping some marmalade on an ice-cold plate. The hot preserve will be forced to cool immediately and it will show its true consistency.
When do I know if my marmalade is about to get set?
Once the fruits appear a bit translucent and the marmalade has reduced, it might be set. At this point I recommend blending it and once blend, you will see that it is quite thick. A preserve will only look set if it cools. So be careful to not overcook your marmalade!
What if my marmalade is not set and it looks runny?
Keep on cooking it down over a low heat setting and repeat the setting test.
What if my marmalade is stone hard?
You can't really fix an overcooked stone-hard marmalade. The only thing you can do is add some water to it and cook it down again over a low heat setting. Repeat the setting test until set but be careful to not overcook it again! Also, once you added water, you have to keep in mind that your marmalade won't hold that long anymore. The addition of water is an open invitation for mold growth. Consume it within weeks and store in your fridge,
Can I water bath can my marmalade jars?
Yes, you can add another layer of protection to store your marmalade even longer by water bath canning the jars. This is not a must, as it's not commonly done in France (and that's a french recipe). The FDA in the US recommends it, we do without it in Europe (see my storing instructions on top).
Global Food Recipes
with Spices and Herbs
Free E-Book available for a limited time. Grab yours now and get instantly inspired!
📖 Recipe
Lemon Marmalade Recipe
A two ingredient all natural lemon marmalade without artificial pectin added.
Print
Pin
Rate
Servings:
3
10 0unce jars
Instructions
Rinse lemons to get rid of impurities and pat dry.

Cut off lemon ends and discard, cut into two, and slice lemon.

Pick out seeds and discard seeds.

Place lemons into a large cooking pot with the sugar and mix up.

Bring to a rolling boil, reduce heat and simmer over a low to medium heat setting.

Reduce until lemons start to appear glossy and a bit translucent.

Blend with an immersion blender. I like it chunky.

Test if the marmalade is set by dropping some on an ice-cold plate. The setting temperature to check with a candy thermometer is 220 Fahrenheit/ 105 Celsius. If it runs, cook until set, repeat test.

Fill clean jars with your marmalade up to the rim. Close jar with lid and turn upside down to create vacuum. Turn it back down after 10 min or so.
Equipment
3 x 10 oz/ 370 ml Jars with lids
Nutrition
Nutrition Facts
Lemon Marmalade Recipe
Amount Per Serving
Calories 1064
Calories from Fat 9
% Daily Value*
Fat 1g2%
Sodium 9mg0%
Potassium 464mg13%
Carbohydrates 281g94%
Protein 4g8%
Vitamin A 73IU1%
Vitamin C 176mg213%
Calcium 89mg9%
Iron 2mg11%
* Percent Daily Values are based on a 2000 calorie diet.
Global Food Recipes
with Spices and Herbs
Free E-Book available for a limited time. Grab yours now and get instantly inspired!