Homemade 3 ingredient kumquat marmalade prepared with fresh fruits. Without artificial pectin.
A homemade kumquat marmalade recipe with 3 ingredients to preserve those wonderful fruits.
Follow my guide to make the best and easiest marmalade from scratch at home.
Global Food Recipes
with Spices and Herbs
Free E-Book available for a limited time. Grab yours now and get instantly inspired!
Do you love marmalades? Then check out my lemon marmalade and orange marmalade recipes!
Jump to:
📕 What are Kumquats?
Kumquats are small citrus fruits that resemble small oranges or clementines.
They are usually the size of a medium to large-sized olive and grow on a small tree.
The skin is delicate and edible so you con't need to peel the fruit.
The fruit comes from southeast Asia, China and Japan, yet over the years it has been popularized in Europe and the North American continent.
The trees look rather cute and can hold well over 20 fruits. We bought one of these for 20 bucks for my mum.
The tree was full of kumquats and the best way to enjoy them is in the form of marmalade.
🍋 Ingredients + Flavor Variations
This recipe is without artificial pectin added and just requires 3 main ingredients.
Kumquat
You will need fresh ripe kumquats. The fruits shouldn't be hard but slightly soft to the touch.
I used a large round kumquat variety, they are called meiwa but you can use any other kumquat variety that you like.
Sugar
Use regular sugar that you have at home. Sugar is essential because it helps in preserving the marmalade for a long period.
This is why I don't recommend reducing the sugar quantity in this recipe or switching it with honey or any other sweetener.
Lemon Juice
We also add lemon juice to bring out flavors and help preserve the jam.
Lemon juice, as well as the kumquat fruit, are rich in natural pectins, which in turn helps in preserving your marmalade.
Other Ingredients that you can add
Besides the base recipe, you can make this marmalade the way you like it by enhancing it with some flavors.
Here are some ideas, I didn't add these in the video but you are free to make it your way:
dash cinnamon or a cinnamon stick
one star anise
dash Chinese five spice
dash grand marnier or cointrau
inch fresh ginger grated
🔪 How to make Kumquat Marmalade?
Here is an overview on how you can make your own kumquat marmalade.
It's a small batch recipe. The US and metric measurements can be adjusted for larger quantities, which are located in the recipe card further below.
Step 1
Rinse your kumquats to get rid of impurities stuck on the skin.
Slice your fruits into thin slices.
Place fruits with sugar and lemon juice in a pot over the heat and mix up.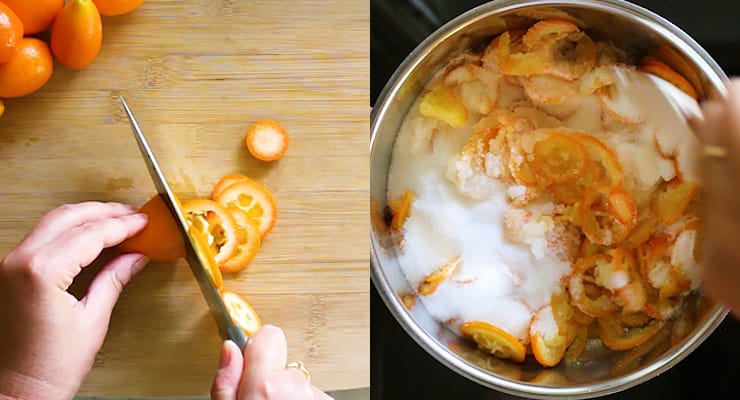 Step 2
Bring to a rolling boil.
Reduce heat a bit and allow to cook until fruits start to appear translucent.
Blend marmalade to desired consistency with a stick blender.
Step 3
Test if marmalade is set or still running.
Prepare clean sterilized jars and lids and pour hot kumquat preserve into the jars. I drop some liquor into the lids to kill all microbes.
Close and lock jars, turn upside down to create a vacuum (french/European technique, see preserving below).
Watch how to video (pops up) for all the details.
🍱 Preserving + Storing
We use the french/European technique to preserve our marmalades and jams.
That means the jam is filled into the jars, locked and turned upside down quickly. This technique creates a vacuum in your jam.
When the jars have cooled down a bit, turn them back and store them in a cool and dry place, away from direct sunlight. We keep them in shelves in a storage room.
You can also preserve them further with the help of the water bath canning technique.
We don't use it for jams in Europe but rather for whole fruits and veggies. this is because the jam has been cooked to the setting point and the vacuum technique is safe enough.
If you work in a clean environment and exactly as per my instructions, you won't need to do a water bath canning.
Note that the FDA in the US recommends water bath canning, the EU's public health division doesn't recommend it for jams.
🍯 Equipment
a large pot
wooden spoon with long handle
jam glass jars with suitable lids. Aluminum lids are best.
a jam funnel (optional but helpful)
ladle
💡 Ideas to use your marmalade
I simply love a teaspoon of this preserve over my breakfast bread but it has so many other great uses!
You can use the marmalade as a pastry filling, as in stuffed donuts or in dutch cream cheese pastries.
It makes a great filling in cakes too or in cookies as in the Linzer cookies or thumbprint cookies.
A teaspoon sweetens your plain homemade yogurt or you can add a layer of it in creamy glass jar desserts.
The kumquat marmalade can be used in savory meals too, to glaze ham or other meats.
Or make it a base ingredient for your dipping sauce, in the spirit of the sweet-sour sauce from McDonald's.
💭 FAQs
Marmalade vs Jam vs Jelly. What's the difference?
A marmalade includes the fruit skin, as in citrus fruit skin. The skin is candied along in the cooking process. A jam is just the fruit pulp cooked to a preserve. A jelly is made by extracting fruit flavors from whole fruits in water, this is then strained and cooked with sugar to a set jelly.
When are kumquats in season?
Kumquats are in season from November to March/April
Are kumquats high in pectin?
Yes kumquats are high in natural pectin, just like other citrus fruits such as oranges and lemons. This is why you don't need to add artificial pectin or lemon halves to the cookies process.
Do you have to peel kumquats?
No you don't need to peel kumquats, you can just bite into the fruit as they are. The skin is soft and mildly acidic.
What about the Kumquat pips?
Slice your Kumquats and the pips will fall out. Just pick them out after slicing your fruits and discard the pips. (Thanks to Georgia for asking about this!)
What's the candy thermometer setting temperature for the kumquat marmalade?
105 Celcius/220 Fahrenheit is the setting point.
Global Food Recipes
with Spices and Herbs
Free E-Book available for a limited time. Grab yours now and get instantly inspired!
📖 Recipe
Kumquat Marmalade Recipe
Homemade 3 ingredient kumquat marmalade prepared with fresh fruits. Without artificial pectin.
Print
Pin
Rate
Ingredients
14

Ounces

Kumquats

about 12 pcs (larger variety)

10.6

Ounces

Sugar
Instructions
Rinse fresh Kumquat fruits to get rid of impurities.

Cut kumquat into thin slices. Pick out the pips and discard the pips.

Place kumquat slices into a pot and stir in sugar and lemon juice.

Heat up and bring to a rolling boil. Stir occasionally.

Reduce heat to a medium setting and keep on cooking down the marmalade.

Blend marmalade with a hand blender to desired consistency. I like it chunky.

Test if the marmalade is set by pouring some of the hot marmalade on an ice-cold plate. If it's running it's not set and it needs to cook further down. OR check with a candy thermometer if it's set. 105 Celcius/220 Fahrenheit is the setting point.

Prepare jars and lids. They should be clean and sterilized. Pour some liquor into the lids to kill all remaining microbes.

Pour the marmalade into the jars up to the rim and close the jar with a lid. Turn it upside down to create a vacuum.

Turn it back when it's not too hot anymore and store jars in a dry and cool place on a shelf. Store in your fridge after you opened the jars.
Notes
Marmalade serving -> ~3 Jars (8 oz/230 ml) = ~100 Teaspoons (1 Teaspoon per serving)
Use a few drops of rum/vodka and similar to drop into the cap. This is to disinfect further (to avoid mold growth in the long run)
You can double the recipe by adjusting the servings further on top (under the prepping time) 
Dropping hot marmalade on an ice-cold plate will help you to see if the preserve is set. The ice-cold plate will cool the hot marmalade instantly. Hot marmalade will appear liquid and it only thickens when it cools.
Nutrition
Nutrition Facts
Kumquat Marmalade Recipe
Amount Per Serving
Calories 29
Calories from Fat 9
% Daily Value*
Fat 1g2%
Sodium 1mg0%
Potassium 15mg0%
Carbohydrates 7g2%
Protein 1g2%
Vitamin A 23IU0%
Vitamin C 3mg4%
Calcium 5mg1%
Iron 1mg6%
* Percent Daily Values are based on a 2000 calorie diet.