Easy homemade Orange Marmalade prepared with 2 ingredients only. Makes about 3 jars with 8 ounces/ 230 milliliters each.
I make my mum's orange marmalade recipe every year in winter when the first gorgeous scented oranges appear in store!
The fragrant fruity citrus marmalade is an authentic french foolproof family recipe prepared without pectin and it includes only two ingredients.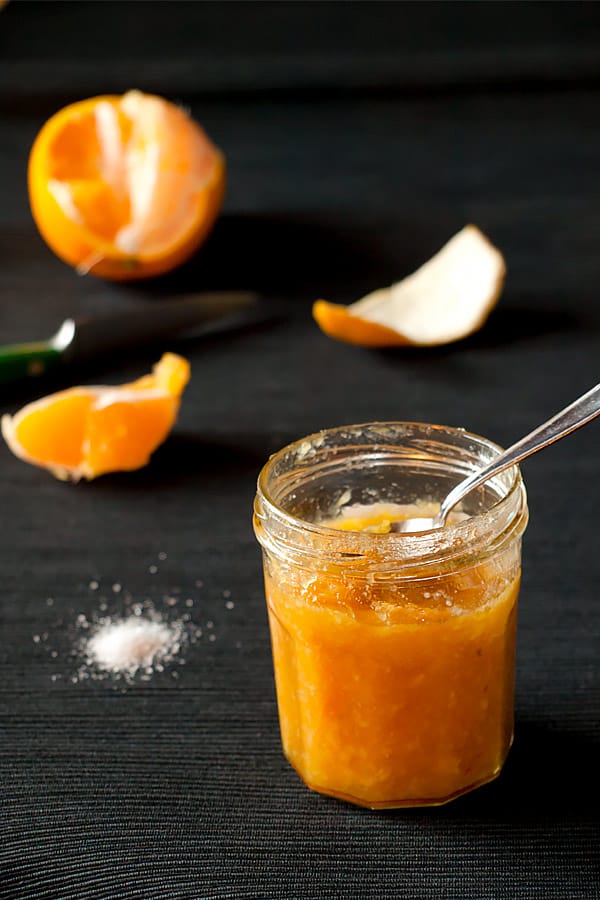 Global Food Recipes
with Spices and Herbs
Free E-Book available for a limited time. Grab yours now and get instantly inspired!
The orange preserve is all-natural prepared with organic oranges because orange marmalade always includes the orange skin.
If you like oranges, I can recommend the candied orange skin and the semolina pudding with orange.
Jump to:
🆚 Orange marmalade VS jam VS jelly preserve
Essentially this is the most common perceived explanation.
A Marmalade is made with cooked fruit pieces and fruit skin. I.e. Kumquat Marmalade or Lemon Marmalade
A Jam is made and cooked with just fruit pieces.
A Jelly is made by cooking fruits in water first, which is then strained and the juice is cooked with sugar.
📕 When are Oranges in Season?
Organic oranges are in season throughout autumn and winter.
It makes sense to prepare this easy orange marmalade recipe during this time of the year only.
Always use seasonal produce because fruits growing during the natural seasonal phase are higher in quality, have more taste and don't get spoiled that easily.
🍊 Choice of oranges
Preferably, you might want to use more sour/bitter orange variations for making this orange marmalade recipe.
This is because high acidity, resulting in sour oranges, and bitterness in the orange skin is a sign of natural pectin in oranges.
We frequently use navel oranges to make the marmalade but you can use Seville Oranges too.
🔪 How to make Marmalade?
A homemade orange marmalade is a delicacy!
I show you in my process shots how to do it.
I recommend you watch the complete video how to in the recipe card located at the bottom of this post.
Step 1
Wash your oranges well to get rid of impurities.
Cut off ends.
Cut into half and into thin slices.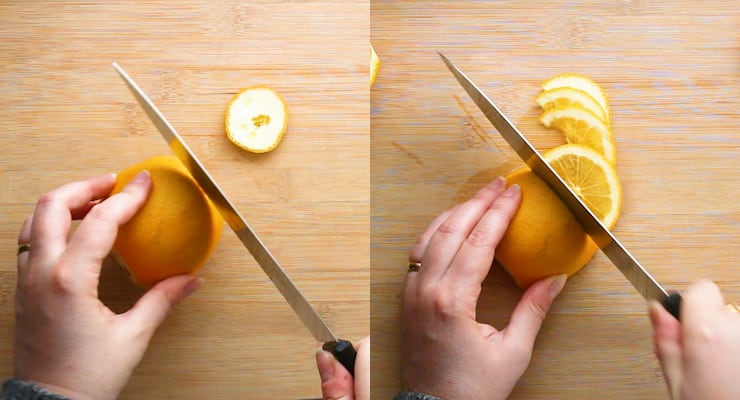 Place oranges slices with sugar into a large cooking pot and combine.
You can leave it to macerate overnight which will result in a better marmalade quality at the end.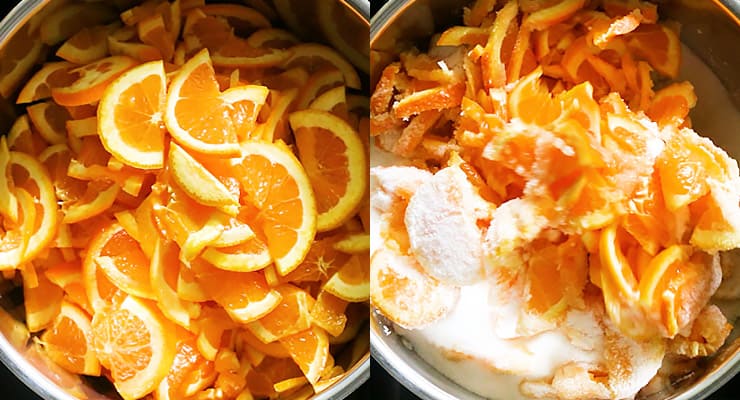 Step 2
Take to the heat, stir and allow to cook.
Bring orange marmalade to a rolling boil and then reduce the heat to cook at medium flame.
Allow the marmalade to cook until set and oranges appear rather translucent.
Mash the jam to desired consistency with a hand blender.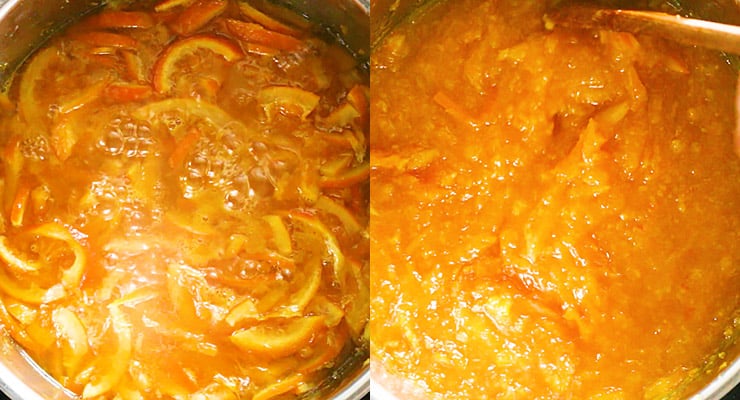 Test if set by using a thermometer or by dropping some hot jam on an ice-cold plate. If it runs, it needs a little more cooking.
Step 3
Keep clean sterilized jam jars ready. I use 8-ounce jars.
Place the wide-mouthed funnel over the jar (or you can work without too) and pour the jam into the jar with the help of a ladle.
Pour marmalade up to the rim.
Drop some liquor of your choice (vodka, rum, whiskey) into the clean lids to kill the remaining bacteria.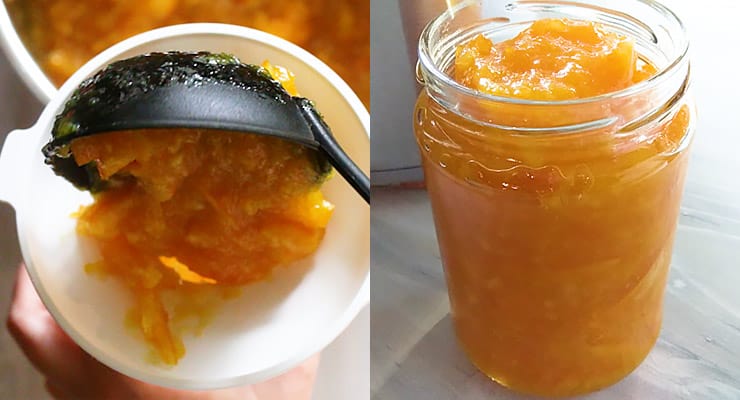 Close the jar with the lid and turn upside down to create a vacuum. You can leave it that way for 30+ minutes or so (it doesn't really matter).
Clean jars with a sponge around if you poured some over by accident and label jars with date and jam name.
💭 FAQs
What's the set temperature for the orange marmalade?
The perfect setting temperature for your homemade orange marmalade is 105 Celcius/220 Fahrenheit. You can check that with a candy thermometer. I also recommend performing a cold plate test by dropping hot jams on an ice-cold plate to see if it runs or not. If it runs, it needs more cooking and a repeated test.
Why will my orange marmalade not thicken?
Marmalade is runny when it has not set yet. That means it needs to cook more to set so that it thickens. But be careful, your marmalade might appear runny when bubbling hot, but when it cools down, it is thick. There is a danger to overcook the jam.
Why is my fruit marmalade stone hard?
Your preserve is hard when you have overcooked your marmalade. Jams etc will appear liquid in a hot state but turn quickly hard when cooled. Make sure to test if your jam is set to prevent overcooking.
How to fix a runny marmalade?
Runny jam needs further cooking until it is set.
How to fix hard jams?
You can't really fix a hard jam except by taking it back to the heat with water. Cook it for 5-10 minutes and pour in clean jam jars but use it within weeks.
Why is my orange marmalade bitter?
Homemade Orange marmalade tends to be a bit bitter compared to commercially prepared marmalade. This is something that marmalade lovers might not notice or they even enjoy it. To avoid bitter flavors, use super sweet oranges and leave the sliced oranges to macerate with the sugar overnight before you cook the preserve. This will soften the orange slices and the result will be better. Also, make sure to not burn your marmalade.
Why don't you sterilize the jars with the jam in a water bath at the end?
Because this is not something that we ever needed to do. It's not common practice in France with jams and marmalade and this is a French recipe (canning jars is more commonly done with whole fruits). You are free to can your jars to preserve them for a much longer period of time.
🍱 Storing
Keep your marmalade in a cool and dry place away from direct sunlight until you open it.
If you followed all the instructions above, then your marmalade can last unopened like this for 10+ months.
Keep your marmalade in the fridge once you have opened it and use it up within weeks.
📜 Variations
You can make variations of your orange preserve.
Add any of the ingredients below to cook with your marmalade.
If you want to add another fruit, reduce the weight of oranges in the recipe.
I.e instead of 2.2 pound/1 kilogram oranges you can use 1.1 pounds/ 0.5 kilograms of oranges and the other half another fruit (see below).
liquor - such as whiskey, bourbon, gin, cointreau, vodka.
fresh chopped jalapeno - for a hot variation
pinch cinnamon
fresh ginger or Curcuma root
in combination with other fruit - such as cranberry or quince
with other citrus fruits combined - such as mandarine, pomelo, grapefruit
🥣 Uses
I love my orange jam marmalade slathered over a freshly baked slice of bread for breakfast.
Yet there are other great ways to use this amazing preserves! I have collected some ideas for you to check out.
over pork chops
over salmon filet
in sandwich cookies, Linzer or thumbprint cookies
in stuffed doughnuts or eclairs with custard cream
a spoon full in a vinaigrette
to flavor zucchini bread
🧰 Tools
So, before you start making the homemade marmalade, make sure that you have some equipment ready such as…
large cooking pot to cook the jam - french copper pots preferably
long handle wooden cooking spoon
thermometer to check if the jam is set
a frozen cold plate to test if the jam is ready
sterilized jam jars with lids (preferably 300-350 ml)
rum or vodka to disinfect the inner lids before closing
labels for the jars
📕 What is pectin?
Pectin can be most naturally found in higher dosages in fruits such as citrus fruits, apples and pears.
Pectin is a stabilizer and gelling agent, which is used extensively in commercially available jams and sauces.
Pectin gives food items such as preserves a longer shelf life and so extends a jam's consumable life.
Some jam recipes will call for pectin powder addition, however, I have been trying to abstain from pectin completely simply because there are many fruits that have way enough natural amounts of pectin in them.
Besides that, I follow my mum's traditional French jam recipes.
Artificial pectin is not a common ingredient in French jam recipes.
Also, pectin powder is difficult to be found in some countries.
Which fruits are rich or poor in pectin?
Certain fruits should not be used without pectin powder addition in the making, such as grapes and cherries because these fruits are poor in natural pectin.
Orange, mandarin, clementine, lemon, lime, grapefruit, pomelo, mosambi and similar citrus fruit peels have the highest amount of natural pectin.
That is exactly why we add the peel into the marmalade.
The peel turns into a delicious candy in the jam which is a true delicacy!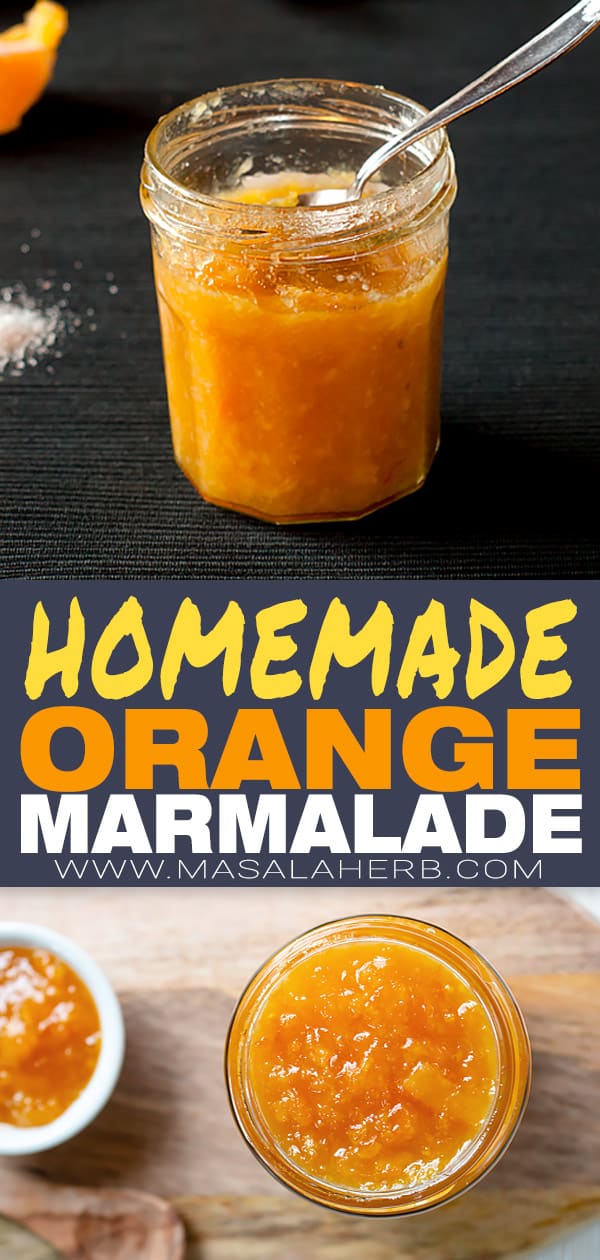 Global Food Recipes
with Spices and Herbs
Free E-Book available for a limited time. Grab yours now and get instantly inspired!
📖 Recipe
Orange Marmalade Recipe
Easy homemade Orange Marmalade prepared with 2 ingredients only. Makes about 3 jars with 8 ounces/ 230 milliliters each.
Print
Pin
Rate
Ingredients
You will also need...
a few drops

Liquor

*see Notes

Jars

Labels
Instructions
Wash your oranges well. Cut off ends.

Cut in half and into thin slices.

Place the orange slices in a pot and pour sugar over the oranges.

Combine everything well so that the sugar melts and the fruit slices are covered with it.

Optional: Keep to macerate overnight. This can result in a better marmalade.

Keep your marmalade over a medium to high flame and stir occasionally. Bring to a rolling boil.

Cook down the marmalade over low to medium heat and stir occasionally to make sure nothing sticks to the bottom.

Reduce marmalade to the desired consistency with a hand blender.

The marmalade is ready when the fruit skin appears translucent and cooked. Test if the marmalade is set by dropping some of it into an ice-cold plate. If the marmalade is not running, it is set. You can test setting with a thermometer too (*see post above for details). If it runs, keep it for some more time on the heat and repeat the test until it doesn't run anymore.

Pour the preserve into clean sterilized jars up to the rim.

Pour a few drops of liquor (vodka, rum,...) into the lid to kill the remaining bacteria. Close jam with lid tight. Turn upside down quickly to create a vacuum.

Clean jar on the outside with sponge and label with marmalade name and date.

Store in a cool and dry place until further use. Keep in the fridge once opened.
Notes
Organic unwaxed Oranges are a must because you use the skin in the marmalade as well and you don't want odd unknown pesticides in your marmalade
Use a few drops of rum/vodka and similar to drop into the cap. This is to disinfect further (to avoid mold growth in the long run)
Marmalade serving -> ~3 Jars (8 oz/230 ml) = ~100 Teaspoons (1 Teaspoon per serving)
Nutrition
Nutrition Facts
Orange Marmalade Recipe
Amount Per Serving (9 g)
Calories 34
Calories from Fat 9
% Daily Value*
Fat 1g2%
Sodium 1mg0%
Potassium 18mg1%
Carbohydrates 9g3%
Protein 1g2%
Vitamin A 22IU0%
Vitamin C 5mg6%
Calcium 4mg0%
Iron 1mg6%
* Percent Daily Values are based on a 2000 calorie diet.