French yogurt with active culture yogurt as a starter.
I show you how to make yogurt the french way easily at home.
You will only need milk and store-bought yogurt to start out, no fancy starter culture!
Global Food Recipes
with Spices and Herbs
Free E-Book available for a limited time. Grab yours now and get instantly inspired!
My mother and grandmother have always made their own yogurt at home.
My grandmother was born in a farmer's family in Normandy France, and they had their own cows so making yogurt was a daily thing.
I always loved the simple flavors or homemade french yogurt and totally believe that it's super healthy for our digestion and gut.
It's about time I share our yogurt making tricks and knowledge with you!
Jump to:
🆚 French Yogurt VS Greek Yogurt
French yogurt is made of whole milk and yogurt cultures.
Combined, they are left to sit for at least 8 hours in a cup in a warm place so that the french yogurt sets and thickens.
Greek Yogurt, on the other hand, is filtered to get rid of excess liquids so that it turns out thick.
Greek yogurt (including Bulgarian yogurt and Icelandic skyr) are much thicker and richer in proteins.
French yogurt is lighter and more like a healthy breakfast or after food dessert, which may assist your gut bacteria.
Besides french style yogurt is made with whole organic milk.
💡 Benefits of homemade yogurt
Making your own yogurt at home has its plus points:
You know what's in it - no hidden weird ingredients and you can adjust sweetness.
Budget-friendly - This is a huge plus point if you are a regular yogurt consumer because you just need milk and some leftover yogurt from your previous batch of homemade yogurt.
Environment-friendly - Think about it, store-bought yogurt come in plastic containers.
French-style yogurt might not be available where you live but you can make it at home now.
🔪 How to make it?
Yogurt is made by adding live culture bacteria to heated milk.
This can be achieved by adding starter cultures or previously made plain yogurt to your milk.
We prefer to use plain yogurt as it's easy to make french yogurt from that, so I will show you how to make french yogurt from regular plain yogurt.
The plain whole milk yogurt should contain Live culture bacteria and shouldn't be sweetened AND pick organic yogurt.
The fewer ingredients the better, so check the label!
Use clay pots or glass jars to make your yogurt.
In the yogurt maker
The combined milk and yogurt culture are poured into pots and placed into the yogurt maker.
The heat in the yogurt maker is a constant and you don't have to do anything else after that until your yogurt sets.
Having a constant heat (which isn't too hot and will kill your live culture) is super important!
In the oven
The combined milk and yogurt culture and poured again into pots, placed into a tray and covered.
The tray with the still warm yogurt milk and placed into the oven with the oven light on.
Keep the lights on because it creates heat which is enough to get your live cultures going.
Leave the yogurt pots in the closed oven with the light on for about 8-12 hours or until completely set.
🍽️ Process
I will focus on explaining the process of making yogurt in the yogurt maker.
For yogurt and oven making variation see the recipe card at the bottom of this post.
Step 1
Heat up milk but don't bring to a boil.
I added vanilla bean in my milk to flavor the milk.
Step 2
Mix warm milk into yogurt.
Pour yogurt milk into prepared pots in your yogurt maker.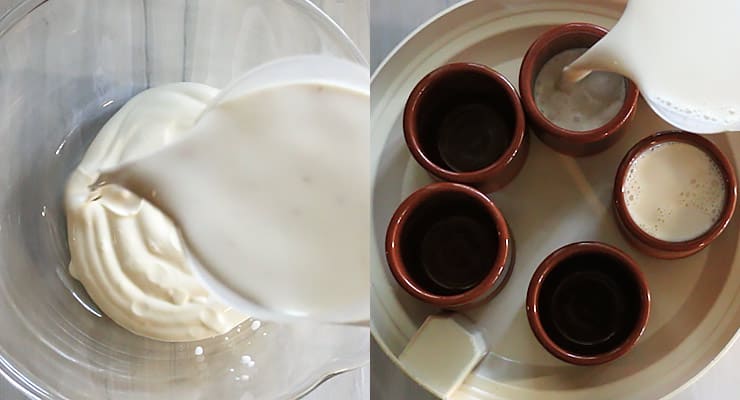 Step 3
Cover and turn on yogurt maker. Follow device instructions.
The yogurt will set after 8 hours.
Keep in the fridge or enjoy when set.
📜 Flavor variations
I flavored my homemade yogurt in the video and pictures with vanilla by cooking the milk first with whole vanilla beans to extract the vanilla flavors and little seeds.
You can flavor your yogurt the same way by adding the following to your milk during the cooking process:
💭 FAQs
How long does homemade yogurt last?
Homemade yogurt needs to be stored in the fridge. Consume it within 7-10 days. You can use a jar of homemade yogurt to make another fresh batch.
Why is my homemade yogurt watery?
Your yogurt is watery if your yogurt starter is weak in live cultures or if your milk is overly pasteurized. Also, low-fat milk can cause watery yogurt. If you are left with watery yogurt, you can strain it so that it gets thicker and beat it a bit.
How to make homemade yogurt thicker?
To make thicker yogurt you can add some powdered milk when you mix milk with yogurt starter. Another way to make thicker yogurt is to use ultra fatty whole milk or even raw unpasteurized milk (this is still common practice in Europe). And straining help of course too.
👁️ Recipes to use your yogurt
Global Food Recipes
with Spices and Herbs
Free E-Book available for a limited time. Grab yours now and get instantly inspired!
📖 Recipe
French Yogurt Recipe
French yogurt with active culture yogurt as a starter.
Print
Pin
Rate
Instructions
Heat up milk but don't bring to boil. I added vanilla beans to infuse my milk (pick out beans once infused)

Let the milk cool down a bit so that it is rather warm.

Add plain yogurt to a mixing bowl with milk and combine with a whisk.

Keep pots ready in a yogurt maker (or tray if you are doing it in the oven) and pour yogurt milk mixture into the pots.

Turn on yogurt maker and cover. Follow the instructions of your yogurt maker. With my yogurt maker, I turn on the device to add heat for 3 hours while it's setting and then I turn it off and the yogurt sets further. For oven turn on light in oven and place tray with pots covered in and let set. Setting time for both techniques varies between 8-12 hours.

When set, store your yogurt in the fridge until further use. You can start the whole process anew by keeping some yogurt aside for this recipe.
Notes
Use whole organic milk, the fattier the better for a thick yogurt. You can use raw unpasteurized milk too (but only if you are used to work with this milk)
Use plain store bought yogurt or yogurt from a previously made batch. The yogurt from the store should have life cultures mentioned on the label.
I flavored my yogurt with vanilla, you can flavor yours with powdered fruits too or chocolate powder.
I prefer to work with a yogurt maker but the oven technique works well too.
Nutrition
Nutrition Facts
French Yogurt Recipe
Amount Per Serving
Calories 122
Calories from Fat 54
% Daily Value*
Fat 6g9%
Cholesterol 21mg7%
Sodium 87mg4%
Potassium 273mg8%
Carbohydrates 10g3%
Protein 6g12%
Vitamin A 297IU6%
Vitamin C 1mg1%
Calcium 229mg23%
Iron 1mg6%
* Percent Daily Values are based on a 2000 calorie diet.