Water infused with fresh mint, to enjoy during hot days or after working out. Cool your stomach from within. All sugar-free and plantbased.
My instructions will help you to make homemade mint infused water from scratch within minutes.
Global Food Recipes
with Spices and Herbs
Free E-Book available for a limited time. Grab yours now and get instantly inspired!
Jump to:
📕 What is this Mint Water?
Mint water is basically water flavored with fresh mint leaves. The leaves are left in the water to infused them slowly.
The result is a subtly flavored minty water, which isn't overpowering.
These flavored waters are also known as infused waters, detox waters, or spa waters because they have been popularized by spas around the world.
I love these flavored waters because they are not sweet, and they help me to drink more when.
I have the habit since childhood of skipping drinking water and a flavored water, such as this mint water recipe, got me into drinking more water.
Besides, I don't like sweet sticky drinks. If you can relate to this, then this easy mint infused water recipe is all yours!
🌿 Ingredients
Here is a quick overview of what you need to make this infused homemade water. Spoiler, it's just 3 ingredients!
The full recipe with US and metric measurements is further below in the printable recipe card.
Mint Sprigs – Fresh, any mint plant type. I like to use Moroccan mint, but you can use other mint varieties too, such as peppermint, spearmint, hugo mint to just name a few.
Water - cold, fresh.
Ice Cubes (optional)
🔪 How to make it?
A quick visual guide to give you an idea of what to expect. You will find the recipe below with measurements and instructions, including a how-to video.
You don't need to boil the mint, as this would modify your mint flavors! Besides, I'd just call that a mint tea. 🙂
Step 1
Clean your fresh mint. Separate the leaves from the stem and collect them in a bowl.
With a small kitchen scissor, roughly cut through the fresh mint leaves in the bowl. The water will get faster infused that way.
Step 2
Place the fresh leaves into a clean bottle or infuser insert for a bottle or infusion pitcher.
Pour cold water over the leaves in the bottle or pitcher, up to the rim. Close with a lid.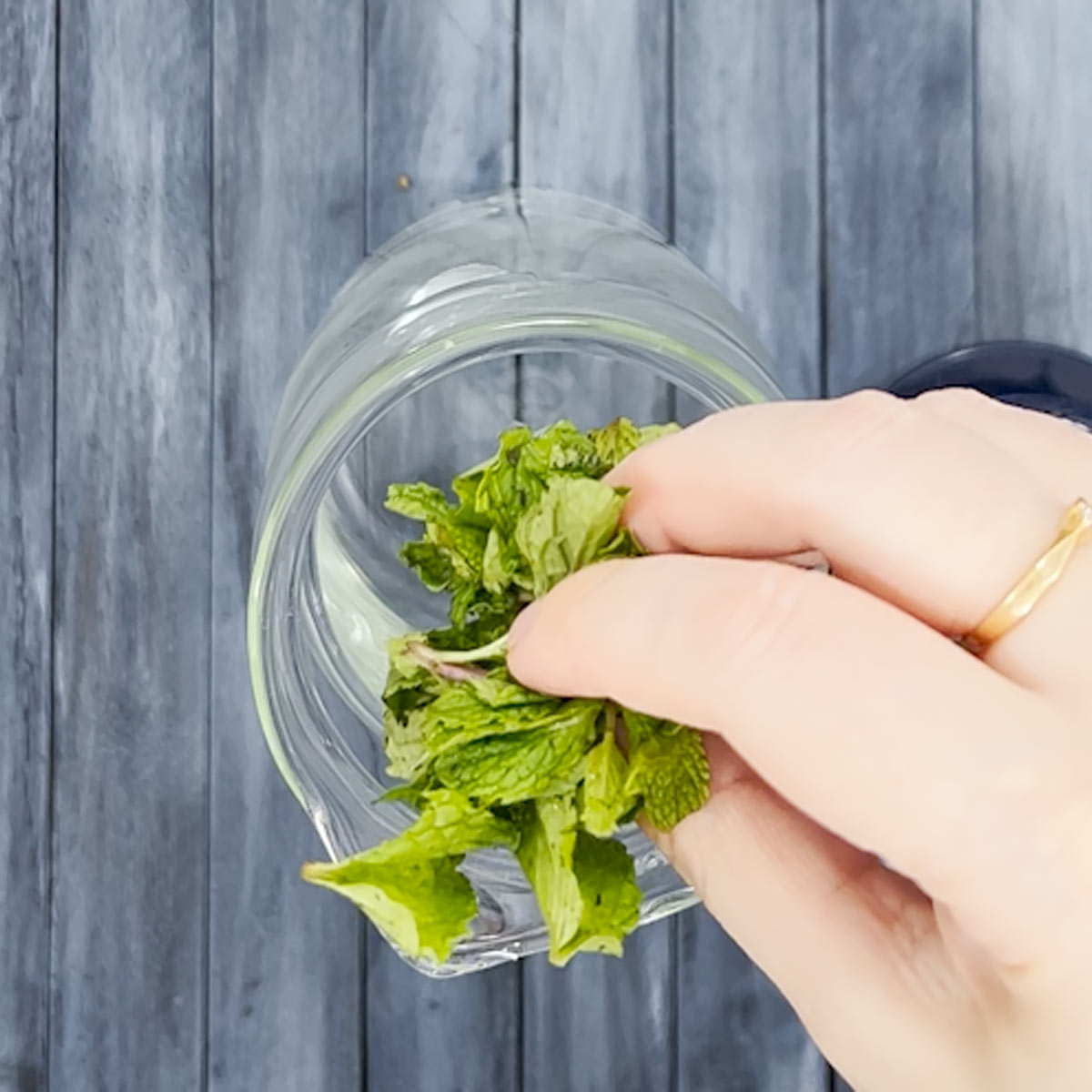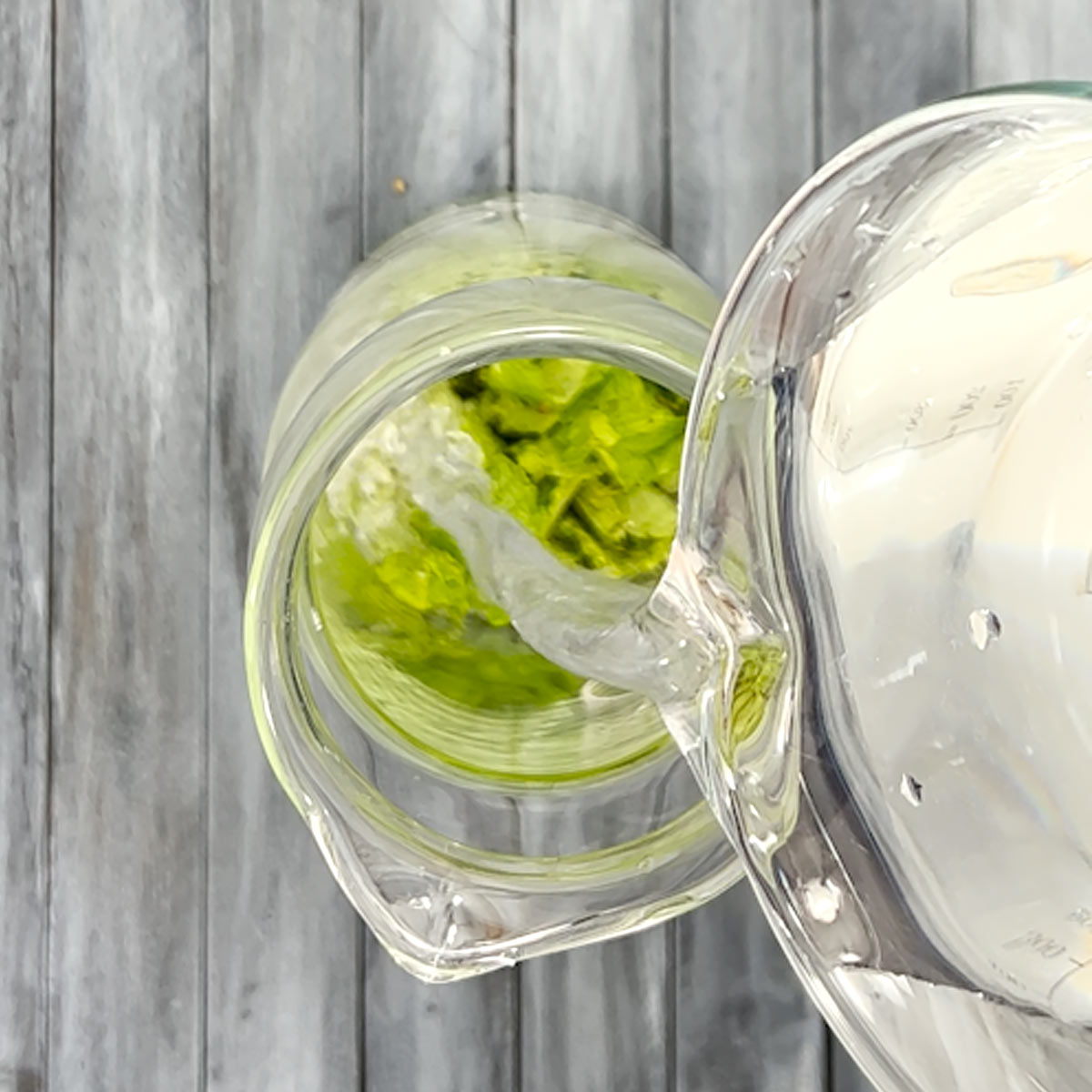 Step 3
Place the bottle or pitcher in a refrigerator and allow the water to get infused with minty flavors. You can leave it for as long as you like or drink it straight away.
Pour mint flavored water into a glass with ice cubes and enjoy your cooling beverage.
🍱 Storing
You have the choice to make infused waters with special water infuser bottles or infuser pitchers.
While these might be convenient, they are not always the best option because the water infuser insert is hard to clean and small pieces of produce can get stuck in the small holes.
It's not the best hygienic option, and you'd have to buy new separate equipment.
I, personally, prefer placing my fresh and clean mint into a simple quart or liter large regular glass bottle or glass pitcher.
In the video and photos, I used a simple Borosilicate pitcher with a lid to infuse my water with fresh mint.
The downside of this is that the mint pieces can freely flow out with the infused water. You can fix that using a pitcher with a lid, which can filter mint leaves.
The same principle can be applied to portable glass bottles. That way you can take your homemade infused water to the pool, spa, gym, or yoga session.
Your mint infused water should be stored in the fridge for up to 3 days.
🍹 Uses
This water is great on hot summer days, as it helps you to cool down from within.
But I also love mint infused waters in the winter months, when the humidity decreases in the heated rooms.
I frequently make a batch for us whenever we plan a day at a spa or at the sauna in Europe. The thirst during the exchange of heat and cold is best quenched with mint water!
You might have noticed that I'm not one for sweet drinks, and if you feel the same way, then you will love to infuse your own flavored waters at home.
I highly recommend trying it out with new additional flavored besides mint!
💡 Tips
Rinse your mint well to get rid of impurities and pesticides. I can recommend placing the fresh leaves into a bowl of fresh water with a dash of vinegar. The vinegar will get rid of all bad things, including insects, if you picked your mint from your herb garden.
You can add other fresh herbs to your mint in the water, such as basil, thyme, rosemary or lemon balm. Another idea is to pour a few drops of lime or lemon juice to the water.
Club soda water, or mineral water can be used instead of tap water.
Paul likes to add a pack of electrolytes or salt to his infused mint water in the hot summer months. It changes the flavor a bit and adds essential minerals, which you need to replenish when you perspire.

Adding ice cubes is very optional. I tend to skip them because I don't like my water too cold.

Once empty, the bottle with the mint in it, can be refilled with fresh water. You can do that for up to 3 times, if you drink it up within 2 days. Thereafter, discard, the mint, clean your bottle well and start fresh from anew.
Making your own mint infused water is a frugal budget-friendly option. It's simple enough, and you get to decide what's in it. Store-bought waters can be unnecessary expensive compared to homemade spa waters.
💭 FAQs
Does this mint water have any health benefits?
I found that my digestive health and stomach were doing much better after consuming my homemade mint water. Mint helps to burp and releases gasses from your digestive tract, so mint water benefits are usually connected to your digestion.
How long can you keep mint leaves in drinking water?
If you use a simple bottle or pitcher, you can leave the mint leaves in for up to 2 days, if stored in a fridge. If you use a bottle infuser insert, clean it out every day because bacteria can form in the crevasses and that's a health hazard.
Is it good to drink mint water daily?
There is no harm in drinking adequate quantities of mint water daily, even if you are pregnant or on some medication. If you have experienced adverse effects in the past with mint, consult your physician.
Can I soak mint in water overnight?
Yes, you can, and I recommend that you do this if you intend to take your water to your day job. You can strain the water in the morning and pour it into a bottle to take to work.
What does mint do to your body?
Mint cools you from within. It stimulates your digestion.
👁️ More like this:
📖 Recipe
Mint Infused Water Recipe
Water infused with fresh mint, to enjoy during hot days or after working out. Cool your stomach from within. All sugar-free and plantbased.
Print
Pin
Rate
Ingredients
½

Cup

Mint

fresh, loose

1

Quart

Water

tap, mineral, or club soda

Ice Cubes

optional
Instructions
Clean your mint leaves from impurities, insects, and pesticides. *See Notes.

Separate leaves from stems, if that hasn't been done yet. Discard the stems.

Place the leaves into a small bowl and roughly and briefly cut the mint with scissors. The water will infuse better that way.

Put the leaves into your bottle or infuser insert and top up with water.

Close the bottle or jug with a lid and place it into your refrigerator to infuse.

For the best result, infuse for at least 4 hours before enjoying it cooled with or without ice cubes.
Notes
You can choose to use any mint variety. That can be peppermint, spearmint, Moroccan mint, hugo mint, chocolate mint to just name a few ideas.
Use loosely packed mint. ½ cup is about 12 grams or about ½ a bunch of mint.
You may decide to use tap water, mineral water, club soda.
You can enhance this recipe by adding more ingredients such as other herbs (basil, tulsi, rosemary, thyme, lemon balm) or by adding a few drops of freshly squeezed lemon or lime juice.
The best way to clean fresh mint leaves, is to place the leaves in a bowl covered with fresh cold water. Add a dash of vinegar to that and mix it a bit. Leave to soak for a few minutes and then rinse your leaves. The vinegar, kills all insects if there are any and it removes impurities and pesticides. You can also use citric acid powder instead of vinegar to do this.
Ice cubes are optional.
The mint can be left in the bottle for up to 2 days, and it can be topped up again with fresh water 2–3 times. Don't reuse the leaves if you use an infuser insert because the leaves will get stuck and rot in between the holes.
Equipment
1 Wide-mouthed bottle or bottle infuser or infuser pitcher

With or without infuser insert. Please see in the post "Storing" for more info.

1 Kitchen Scissors
Nutrition
Nutrition Facts
Mint Infused Water Recipe
Amount Per Serving
Calories 5
Calories from Fat 1
% Daily Value*
Fat 0.1g0%
Polyunsaturated Fat 0.04g
Monounsaturated Fat 0.003g
Sodium 18mg1%
Potassium 43mg1%
Carbohydrates 1g0%
Protein 0.3g1%
Vitamin A 319IU6%
Vitamin C 2mg2%
Calcium 28mg3%
Iron 0.4mg2%
* Percent Daily Values are based on a 2000 calorie diet.