If your mangoes have strings, cook with the seed core as shown in the pictures. If your mango doesn't have many strings, cut the flesh from the seed and cook as shown in the video.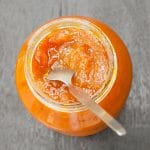 Enjoy the Mango season to the fullest with this homemade mango jam preserve.
Everybody loves Mango Jam spread on a freshly baked bread for breakfast.
Store the goodness of the season in form of mango preserves.
Global Food Recipes
with Spices and Herbs
Free E-Book available for a limited time. Grab yours now and get instantly inspired!
Jump to:
The mango season honored our beings this year with a load of fruity, quality fresh Mangoes.
The trees worked hard on their fruits and we get to indulge them.
However, we collected a proud and envious amount of fruits and shared it with our neighbors.
They, in turn, did the same thing.
So I ended up with a few different Mango types.
My first thought, a Mango Jam Recipe!
🥭 Ingredients
For your own mango jam, you will only need...
fresh organic lime or lemons (adds sufficient natural pectin)
That's it! No preservatives and a mango jam without artificial pectin! This Mango jam is with natural pectin only!
🥭 Choice of mangoes
Pick Mangoes that are...
undamaged ripe but not hard raw
not overripe as these tend to turn mostly faster in the jar
with the least of string
rather sweet and flavorful
The Mango jam recipe uses whole mangoes with the core to prepare the jam.
This is because a lot of mango varieties tend to have strings and so to not have the strings in your jam, you cook the mango without the peel, still on the core.
If you have a Mango variety without strings, you can cut the mango from the core and the mango pulp into smaller pieces to cook into mango preserves.
Attention: If your Mangoes have more strings then pulp, you are better off getting a different, more suited type of Mango for the Mango Jam Recipe. 

The Mangoes should have fewer strings, that's why I chose Bishop Mangoes for example. 

Also, make sure that your Mangoes are ripe but fresh. (See comment section for possible problems that may occur if wrong Mangoes are used).
Some Mango types have lots of annoying strings and I don't like those in my jam, so leaving the core can be a big bonus.
You can use different mango varieties in the jam, which results in different interesting flavors.
Yet be aware that it's easier to deal with one mango variety when preparing this mango preserves recipe for the first time.
⁉️ Is Mango rich in pectin?
Mangoes contain less pectin than other fruits. Pectin is needed for preserving and gelling agent.
Therefore, to maintain the amount of pectin in this Mango jam, add lime/lemon peel and juice to the jam.
Lime/lemon peel is rich in pectin and will naturally help the mango jam in the preservation.
The Mango will preserve well for months this way with the addition of lime/lemon peel and sugar during the cooking process.
You can use either lime or lemons, both are suitable.
It' s a personal choice.
I prefer my mango jam with lime because it adds a great flavor dimension that way.
In that case, just as a side note, use only organic/untreated fresh lime or lemon, which has not been sprayed with insecticides.
Using natural pectin from fruit such as lime is a healthier, non-artificial way to prepare jam and preserves from scratch.
You know that way what's in your jam!
This Mango Jam recipe is therefore vegan and suitable for most people with food allergies.
🔪 How to make the Jam?
To prepare the mango jam follow the main preparation steps.
The full printable recipe with instructions and ingredients can be found further below in the post.
Step 1
Peel your mangoes and cut the flesh from the seed core.
If you use a mango variety with fibers and strings, keep the fruit flesh on the core.
Place mango with sugar into the pot and combine the ingredients.
Optional: You can add lemon/lime juice and the squeezed-out lemon halves to the jam too as this can help the jam to set better.
Step 2
Bring to your jam to a rolling boil.
Continue to cook your jam for a while so that it gets reduced and starts to appear translucent.
Step 3
Test if your jam is set with a thermometer or by checking if it's running on an ice-cold plate.
Optional: Blend your jam smooth with a hand blender.
Fill up your sterilized jar with the hot jam up to the rim.
Lock the jar with the lid and turn upside down to create a vacuum.
Allow to cool, label and store on a shelf in a cool and dry place.
💭 FAQ
Here are some frequently asked questions regarding the mango jam preparation.
What's the jam setting temperature?
The Mango jam setting temperature is 105 Celsius/220 Fahrenheit.
Why is my Mango jam runny?
These are some reasons why your Mango jam is not set and why it remains runny.
Low Pectin
Your Mangoes are naturally low in pectin and you forgot to add the lime/lemon.
Quick fix: Add 2-3 organic lime/lemon with the skin and juice.
That way you add a load full of natural pectin to your mango jam!
Quantity
You tried to make a larger amount of mango preserves.
It's way easier to create a smaller batch of around 1 kilogram (2 pounds) of mango jam.
The more you make the more you would have to adjust your ingredients and that can complicate things in your jam making.
Sugar
You reduced the amount of sugar in the recipe because you thought it contained way too much sugar.
Don't ever reduce the sugar in a jam recipe, especially when it's without pectin.
The sugar has its place in the mango jam making.
Sugar preserves and makes sure that your mango jam doesn't go bad.
Cooking
Your jam didn't cook to a rolling boil or you didn't cook your jam long enough.
If you are new to jamming, use a thermometer and stick to the temperature mentioned above.
Your pot is not heating up uniformly.
Use a large shallow pot. Best are copper pots, copper tends to spread out the heat evenly and that can be very helpful when preparing jam from scratch.
Make sure to stir frequently too!
---
Keep in mind this mango jam recipe does not include artificially added pectin.
This Mango preserves recipe is prepared after the French jam making tradition.
Why is my Mango Jam hard?
Your mango jam got overcooked on high heat for a longer period of time.
A quick fix to a hard jam is to take it back to the pot, heat it up again add water and just cook it slowly until dissolved and hot.
Then take the jam back to the jars and consume soon.
🧰 Equipment
a large cooking pot (preferably a large copper pot as it transmits the heat better)
a long handle spoon made of wood
a cold frozen plate to test if the jam set
a jam funnel
tongs to lift the hot sterilized jars
a pot to sterilize your jars and lids
labels for your jam jars
👁️ More Mango Recipes
Dear Reader, what's your favorite Mango variety?
Please feel free to share your point of view and experience with us in a comment further below!
Global Food Recipes
with Spices and Herbs
Free E-Book available for a limited time. Grab yours now and get instantly inspired!
📖 Recipe
Homemade Mango Jam Recipe
If your mangoes have strings, cook with the seed core as shown in the pictures. If your mango doesn't have many strings, cut the flesh from the seed and cook as shown in the video.
Print
Pin
Rate
Ingredients
Instructions
Start by peeling your mangoes and discard the peel. Cut the fruit flesh from the mangoes if you are using regular commercial mango varieties. If your mango variety has fibers and strings, don't cut the flesh off but rather leave it on the seed core. The fruit flesh will fall off the fibers and the seed core during the cooking process. *see Notes

Pour all the sugar over the mangoes and mix everything well.

This step is optional. Wash your lemon/lime and cut into half. Press out the juice and pour over the mangoes. Throw the 2 squeezed out lemon halves into the pot with the mangoes. Lemon skin adds natural pectin to the jam making and it helps to set the jam.


Heat up your pot on low heat and stir the fruits. Cook on low heat for about 30 minutes or until you see the rolling boil happening.

Reduce heat and cook until jam is set. Use a thermometer in doubt: The setting temperature is 105 Celsius/220 Fahrenheit. You can also test if the jam is set by using a frozen plate or spoon and by dropping some of the hot cooked jam on the frozen part. That will cool the drop of jam instantly and you will be able to see if the jam has set or not. If the jam is still running, cook it a bit more and repeat the test until the jam has set. Always keep an eye on the cooking jam as to not burn the jam.

Pick out and discard the lime/lemon halves and if you used fibrous mangoes, then the seed core as well. *see notes

Grab a sterilized Jar and fill it up with the jam up to the rim.

Seal the jars and turn it upside down before you store the mango jam jars in a cool and dry place. Keeping the jam jars upside down creates a vacuum and helps in preserving the jam all the longer.

Make sure to label your jam with jam name, date and best before date. The jam will be good for about 10 months if unopened. Store in the fridge once opened.
Notes
When choosing mangoes pick a mango variety with fewer fiber/strings and undamaged mango. If you use a mango variety which doesn't have fibers and only fruit flesh, cut off the fruit flesh from the seed core and discard the seed core. You only need to cook the seed core with the mangoes if the mangoes have fiber strings because you don't want those in your jam and they remain on the seed core like a layer of hair.
Use only untreated/pesticide free lime/lemon because the whole lemon halves are used to cook up the jam as it provides natural pectin.
Store jars filled with jam in a dry, cool and dark place. Once you open the jars, store in the fridge.
Only use sterilized jars when making any jam.
1 serving = 1 teaspoon, 70 servings = about 3 jars
You can reduce the sugar in this mango recipe but you will need to consume the mango jam in the next 1-3 days. The sugar in the mango jam and the lime/lemon help the jam to preserve for months if ripe fresh mangoes are used.
1 medium Mango weighs about 200 grams/ 7 ounces with the seed core.
Nutrition
Nutrition Facts
Homemade Mango Jam Recipe
Amount Per Serving (26 g)
Calories 43
% Daily Value*
Potassium 29mg1%
Carbohydrates 11g4%
Vitamin A 180IU4%
Vitamin C 6.6mg8%
Calcium 2mg0%
* Percent Daily Values are based on a 2000 calorie diet.