Quick one-pot pastina soup for when you feel under the weather.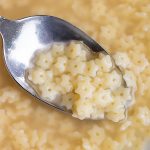 A quick simple pastina soup for when the days are cold and you are feeling under the weather.
Make this clear Italian pasta soup within minutes in one pot only.
Jump to:
What is Pastina?
Pastina are a variety of tiny pasta that originated in Italy.
The most common pastina pasta are the star shaped stelline, which may or may not contain eggs.
The noodles are most commonly made with a clear broth.
I normally make them when I'm sick, so to say when I caught a common cold or when I have an upset stomach.
My mum used to make a pastina soup for my siblings when they were babies.
How to cook it?
Fortunately cooking pastina is easy which is especially a blessing when you are feeling under the weather.
Here is how I make mine. The complete recipe with ingredients and instructions can be found at the bottom of this post.
Step 1
Heat up a pot with broth, stock or water with maggi cubes.
Bring the liquid to cook.
Step 2
Pour the pastina noodles into the cooking broth and mix.
Cook as per packet instructions.
Step 3
Pour cooked soup and noodles into bowl or plate and garnish with fresh thyme and parmesan (optional).
Choice of broth
You can use chicken broth, vegetable or even beef broth.
Also, feel free to use stock instead of a broth.
At home, we tend to just use water seasoned with a Maggi or knorr broth cube.
You get those broth powders too which you can use to create a broth easily.
Or else a broth made from scratch is the healthiest and tastiest option.
Storing & freezing
Yes, you can!
Keep your soup in airtight containers.
Best are the fridge save/microwave save/freezer-friendly container that you get in stores.
Place the container in the fridge but eat within days or store in the freezer for another day in the future.
Recipe ideas when you have a cold
Please feel free to share your thoughts and ideas with us in the comment section further below!
So you love SPICES and HERBS?
GET 5 FREE SEASONING LESSONS
Type in your email address below.
Including free access to the
Seasoning Members only Club!
📖 Recipe
Pastina Soup Recipe
Quick one-pot pastina soup for when you feel under the weather.
Print
Rate
Instructions
Pour broth into a pot and place over the heat. Keep on medium to high heat and bring to a slow boil.

Pour pastina pasta noodles into the cooking broth and mix. Allow to cook and make sure to stir occasionally to avoid the noodles from sticking at the bottom.

Season with salt to taste ad cook noodles soft.

To serve, pour soup with noodles into a bowl or shallow plate and garnish with a rosemary sprig and/ or parmesan. The garnish is optional
Notes
The fresh rosemary and parmesan garnish are totaly optional. These are traditionaly used in north italian homes.
Nutrition
Nutrition Facts
Pastina Soup Recipe
Amount Per Serving
Calories 139
Calories from Fat 9
% Daily Value*
Fat 1g2%
Sodium 1212mg51%
Potassium 74mg2%
Carbohydrates 29g10%
Protein 4g8%
Vitamin A 644IU13%
Calcium 7mg1%
Iron 1mg6%
* Percent Daily Values are based on a 2000 calorie diet.