Passatelli are prepared with breadcrumbs, parmesan, and lemon. They are an Italian regional pasta variety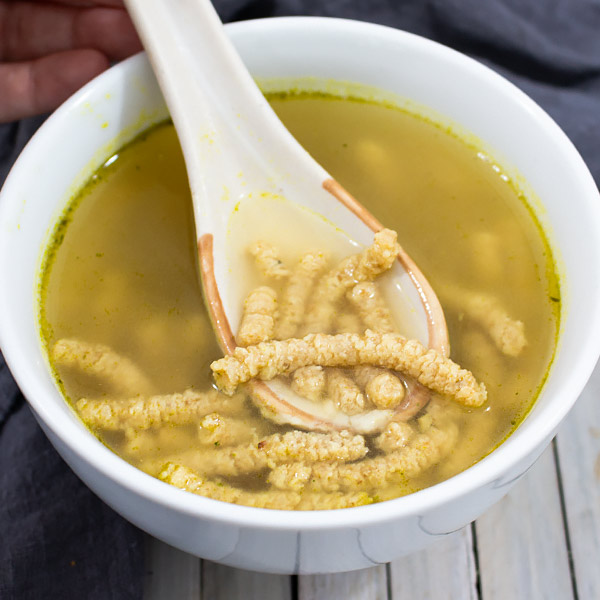 Passatelli in brodo (in clear soup broth) is a regional Italian food specialty.
Jump to:
📕 What are Passatelli?
Passatelli is an Italian regional pasta specialty, that originated in the province of Pesaro and Urbino.
The dish is a specialty from Emilia-Romagna but it appears all over northern Italy. We had it in Venice too.
The reason why this pasta variety is so special is that the pasta dough is made with bread crumbs instead of wheat flour.
The mass is enriched with parmesan, grated lemon zest, and nutmeg. That is then pressed through a potato ricer into a simmering clear broth.
Traditionally they would use a so-called Passatelli iron tool but a potato ricer with large holes does the trick too.
The Passatelli cook in the broth and turn into pasta-like elongated shapes.
This dish is also known as Passatelli in brodo (brodo means broth).
Other new-age variations have been popularized in northern Italy by chefs. The passatelli are served like pasta with mushrooms or seafood.
To prepare "dry" passatelli, without soup, you would have to cook the passatelli in boiling water.
🍋 Ingredients
This passatelli recipe was shared and filmed with my friend Susanna. She is originally from Trentino, northern Italy, and she runs an Italian restaurant in Goa, India.
All the US and metric measurement details are located further below, this is just an overview to help you get organized.
breadcrumbs
parmesan - the Italian parmegiano reggiano is prefered if possible.
finely grated lemon zest - from untreated lemon, that means no pesticides on the skin
nutmeg - grated
salt
all purpose flour - small quantity to bind it all together
egg
You will also need a soup broth. You can make your own vegetarian broth or you can use commercial ones such as maggie cubes dissolved in the cooking water.
In Italy, they tend to use chicken or beef broth. Fish broth is another variation over there.
🔪 How to make it?
The process is very straightforward. It's a simple ad easy from-scratch recipe.
You will find all the details further below in the recipe card. This is a quick summary.
Step 1
Combine the passatelli ingredients in a bowl to a well combined, non-sticky mass. It should just hold well together.
Step 2
Wrap the mass into a cling wrap and cool it for a minimum of 30 mins in your fridge.
Step 3
Keep broth to simmer.
Press passatelli mass through a potato ricer, so that the passatelli falls into the cooking broth.
Step 4
Cook passatelli until they swim on the surface of your broth.
Take from the heat and serve passatelli in brodo hot.
🥣 Serving
The passatelli soup is served as is, hot on a cold fall or winter day.
It makes for a lovely soup the rest of the year too because of the lemony flavors.
Italians like to sprinkle some parmesan over the soup as a garnish.
You can also sprinkle fresh cut chives or parsley over your soup before serving it up.
🍱 Storing
This soup can be added to your meal prepping menu for the week.
Just prepare the passatelli in broth and store it in glass containers and a lid in your fridge.
It will be good for at least 5 days if stored in your refrigerator.
You can freeze the soup with the bread crumb pasta pieces. Prepare it as per directions and just freeze it in batches in a freezer-friendly container.
Keep in your oven or microwave to thaw and warm up when you want to eat it.
💡 Tips
if the mass is too sticky (because larger egg) add a small quantity at a time of bread crumbs to the mass and mix and work it in. The mass should not be sticky soft. It should hold together well.
if your passatelli mass is too dry, add a small quantity of water, a few drops at most. Mix it well in. You want a smooth mass.
if you increase the quantity of parmesan in the recipe preparation, you will find that your passatelli break during the cooking process. Stick to the measurements.
the passsatelli can also break during the cooking process in the broth if the broth is cooking and boiling too much. The movement breaks them apart. Use low boiling heat, it shouldn't bubble too much.
💭 FAQs
Why is my passatelli mass stone hard and difficult to press through the potato ricer?
That's normal, you will need some muscle power to press the dough through the potato ricer. I also recommend using a quality potato ricer. Apply your physics knowledge here and press down at the handle ends, and you will see it will be easier. It also helps to keep the mass out for 2-3 minutes, after it has cooled in the fridge, so as to "warm it up a bit. But don't keep it out too long because soft passatelli mass increases the risk of the Passarelli's breaking in the broth during the cooking process.
Can I make this without lemon zest and/or nutmeg?
Theoretically yes but the dish will be missing flavors.
What if I don't have a potato ricer to make Passatelli?
You can use a spätzle press too, the same tool that you would use to make Spätzle from scratch.
How can I make passatelli without a soup broth?
Press the passatelli mass through the potato ricer into boiling hot salt water and cook them the same way you would cook homemade pasta. Strain and use with mushrooms, seafood or a sauce of your choice.
What does Passatelli mean in Italian?
Passatelli means to pass through. As in the sense of the pasta passing through the potato ricer.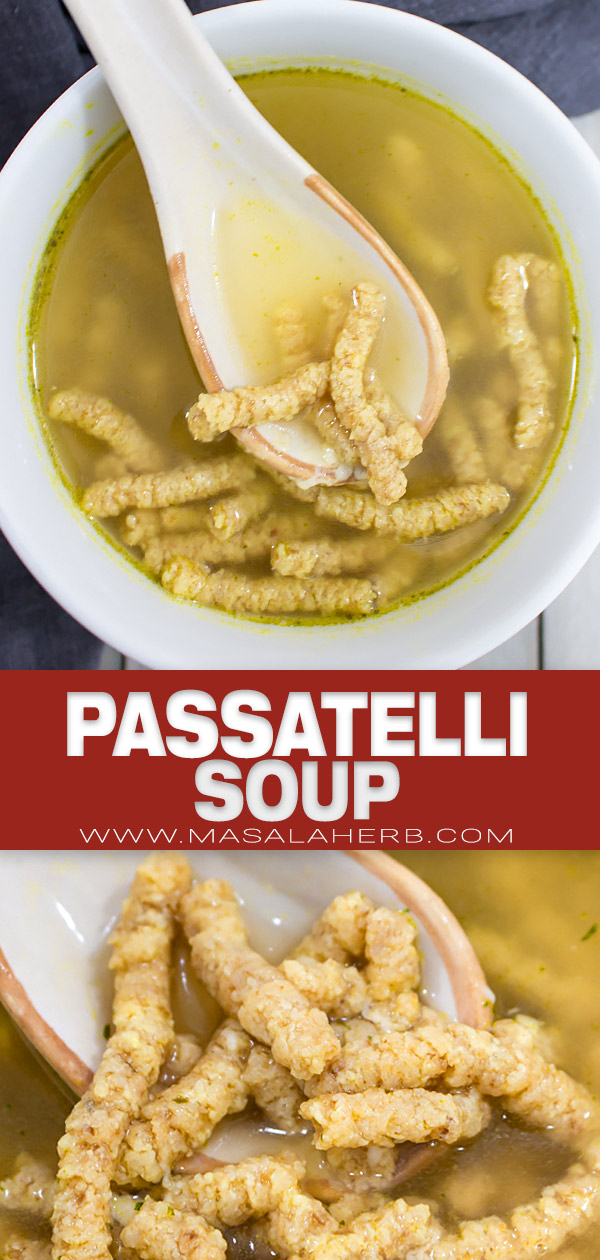 Global Food Recipes
with Spices and Herbs
Free E-Book available for a limited time. Grab yours now and get instantly inspired!
📖 Recipe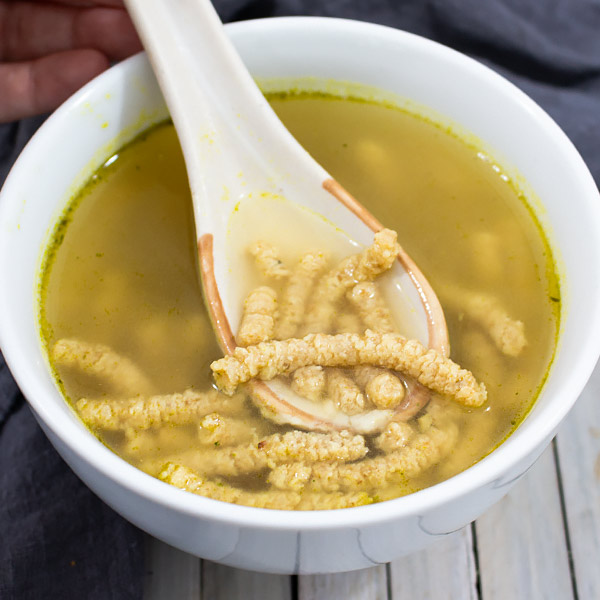 Italian Passatelli Soup Recipe
Passatelli are prepared with breadcrumbs, parmesan, and lemon. They are an Italian regional pasta variety
Print
Pin
Rate
Ingredients
Instructions
In a mixing bowl, add the breadcrumbs, parmesan, all-purpose flour, nutmeg, and lemon or lime zest.

½ Cup Bread Crumbs,

½ Cup Parmesan,

1 Teaspoon All-purpose Flour,

½ Teaspoon Nutmeg,

1 Teaspoon Lemon or Lime Peel

Combine all the dry ingredients.

Stir in your egg, with a fork at first and then with clean hands.

Combine your passatelli mass. It shouldn't be sticky nor too dry. If it's sticky, add some breadcrumbs. If it's too dry, add a few drops of water. The masse should be well combined and shouldn't fall apart.

Wrap passatelli mass into a cling film and place into your fridge for 30 minutes to cool.

Just before you want to cook the passatelli, bring a pot with your broth to boil. Reduce heat before dropping passatelli, it shouldn't boil and bubble too much, it should simmer.

Take your potato ricer and place passatelli mass into the potato ricer. Press passatelli into your soup, use your power wisely! Long passatelli will form, cut them off with a butter knife so that they drop into the soup.

Cook the passatelli until they float all on the surface, then they are ready.

Pour in a bowl and garnish with some more parmesan. You can add freshly chopped parsley or chives too. Serve up your soup.

Parmesan,

Chives or Parsley Fresh
Notes
32 fl oz broth = 4 cups and that's about 950 ml (almost a liter). Liquid broth comes in 32 fl oz packs in the US and in 1 liter packs in the rest of the world, so I made the conversion easier for your region.
Nutrition
Nutrition Facts
Italian Passatelli Soup Recipe
Amount Per Serving
Calories 316
Calories from Fat 117
% Daily Value*
Fat 13g20%
Cholesterol 99mg33%
Sodium 766mg32%
Potassium 504mg14%
Carbohydrates 27g9%
Protein 25g50%
Vitamin A 316IU6%
Vitamin C 4mg5%
Calcium 381mg38%
Iron 3mg17%
* Percent Daily Values are based on a 2000 calorie diet.