3 ways to cut leeks, rings, slices and sticks. rings are great in minestrone soups, slices in a quiche and sticks in salads and stir fries.
A guide explaining how to cut leeks - from garden to plate.
I show you 3 different ways to cut leeks and share at the same time how to clean and trim leeks from A to Z.
Global Food Recipes
with Spices and Herbs
Free E-Book available for a limited time. Grab yours now and get instantly inspired!
I love leeks! I turned it into one of my favorite vegetables over time.
The vegetable tastes great and it can be used really creatively in various recipes (i.e Asian inspired hot and sour soup with noodles)
How do you cut it properly to make the most out of your precious leek?
Jump to:
📕 What are leeks?
Leek is a green and white elongated vegetable stalk, which is related to onions and spring onions.
The green vegetable has a mild onion-like flavor but it's rather mellow compared to onions.
It looks like a big brother of spring onion, as it can get about 2 inches thick.
The dark green leaves tend to turn tough the older they get and are rather inedible.
The edible parts of a leek are the white stalk, with the roots trimmed off, up to the green still soft parts.
Leeks are grown in the northern hemisphere from April to late October and are harvested from July to October (or just before the first snowfall).
❓ How to clean them?
Leeks can be a bit annoying to clean because mud tends to get trapped between all the leave and stalk layers.
Fret not!
There is a straightforward hassle-free way to clean leeks and I show you how in the steps below and in my recipe video at the bottom of this post.
Step 1
Trim off the roots and remove the dark green part, the tough upper green leaves.
Keep the softer green stem leaves because those are still edible and good, so just trim off the difficult to chew leaves.
Remove damaged top layers of your leek.
Step 2
Slit lengthwise across the leaves at the top of your greens.
Turn your leek and repeat to make the same cut.
If you look at your leek from top-down, you should see a cross cut into your green leek leaves.
This is so that you can access the mud that is buried deep between your leek layers.
Step 3
Rinse the leeks, take your leek through running cold water and make sure that all the mud is rinsed off.
Pat dry with a paper towel to get rid of any excess water.
🔪 How to cut them?
Now that we know how to clean a garden-fresh leek, let's move over to the cutting and preparing leeks part.
I commonly cut my leeks in 3 ways; into rings, slices and sticks (also called julienne or matchsticks).
You could also cut your leek into small cubes (aka brunoise) or thick chunks but we are going to focus on the 3 ways mentioned above.
To cut your leek small, cut the whole stalk first into 3 manageable chunks so that it will be easier for you to take on the leek vegetable
Leek cut into rings
The easiest way to cut leek (in my humble opinion) is to cut the stalk into rings.
You just grab the stalk and slice off rings, that's all there is to it.
The lower parts of your leek, close to the roots, are more suitable to be turned into rings.
---
Leek cut into slices
Thick or thin leek slices, you can choose how you need them.
I like to cut the green parts of the stalk into slices because the leek leaves move from one another.
That way you can use the green parts really well too because we don't want to waste perfectly fresh and soft green parts.
You can also cut the white stalk parts into slices by slicing the stalk into half first and then cutting the pieces off.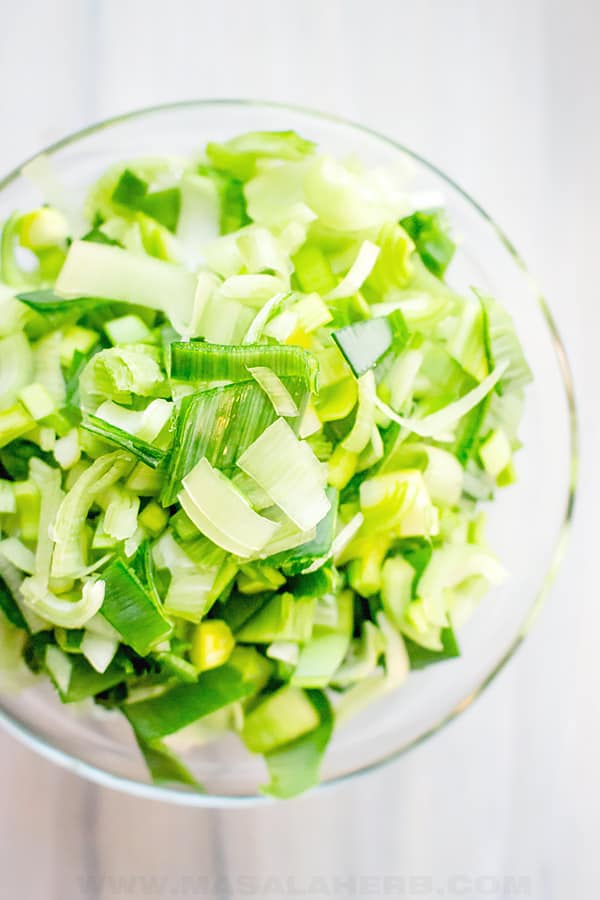 ---
Leek cut into sticks
This is my least favorite way to cut leeks because it takes longer to cut leek pieces into sticks.
Yet, sometimes you might need leek sticks in salad or stir fry recipes because they look nice.
Cut your leek piece into two lengthwise.
Take one into your hand and flatten it down a bit so that it's easier to cut.
With a sharp knife, slice a match stick sized piece lengthwise off.
---
More details, with how to video, can be viewed at the bottom of this post in the recipe card.
🥣 Uses
You can add your cut leek when a recipe calls for it and you can boil, sautee and braise them on their own.
Here are some other ideas to enjoy your cut leek pieces.
🍱 Storing
Trim off the dark green leaves to shorten your leek and you can store it already in its whole form in your vegetable basket in the fridge.
Or proceed to cut your leeks small to store the cut leeks in an airtight container or a bag so that the cut veggies are not exposed to the fridge air.
Another option is to store your cut leek pieces in an airtight container or bag in the freezer for a longer period of time until further use.
💭 FAQs
How long do cut leeks last?
Cut leeks will last a couple of days in your fridge before they turn all wrinkled. Don't wait too long because leeks are best consumed fresh. Frozen cut leeks will last months in your freezer.
What part of the leek do you use?
All the soft parts, except the root, of a leek are edible. Trim off only the tough dark green parts of your leeks. Do not waste good food.
Can you eat leeks raw?
Yes, you can! However, pick only young fresh tender leeks to eat raw in salads.
Are leeks green onions?
No. Leeks are larger and have a mild flavor, green onions are smaller, tender but sharp in flavor.
👁️ More Vegetable Guides
Global Food Recipes
with Spices and Herbs
Free E-Book available for a limited time. Grab yours now and get instantly inspired!
📖 Recipe
How to cut Leeks
3 ways to cut leeks, rings, slices and sticks. rings are great in minestrone soups, slices in a quiche and sticks in salads and stir fries.
Print
Pin
Rate
Instructions
Trim the leek root end off and the tough dark green stem. Cut only the fibrous part, and keep the edible softer parts of your leek.

Discard damaged outer layer too.

Cut into your leek lengthwise into the dark green leaves so to create a cross design. This is to wash out the mud from within the leek. Cut as deep as need be if you still see mud.

Rinse your leek to get rid of impurities and pat dry to soak in excess water.

Cut your leek crosswise into 3 manageable pieces.
To cut leek into rings
Take a leek piece and slice to create full shaped rings.
To cut leek slices
Take the green parts of your leek or cut your leek piece into two pieces lengthwise.

Slice to create smaller pieces (please watch video).
To cut leek sticks
Take a leek piece to hand, cut into two lengthwise.

Take one of the two and flatten it slightly.

Slice thin strips lengthwise of the leek to create sticks.
Notes
Use the leek pieces further in a recipe or store in the fridge or freezer for further use (see post for storing options)
Nutrition
Nutrition Facts
How to cut Leeks
Amount Per Serving
Calories 54.29
Calories from Fat 2
% Daily Value*
Fat 0.27g0%
Sodium 17.8mg1%
Potassium 160.2mg5%
Carbohydrates 12.59g4%
Protein 1.34g3%
Vitamin A 1483.63IU30%
Vitamin C 10.68mg13%
Calcium 52.51mg5%
Iron 1.87mg10%
* Percent Daily Values are based on a 2000 calorie diet.