Handpick your fresh herbs to make this herb compound butter at home.
Make your own Herb Compound Butter easily at home, with your choice of herbs.
I share below how to make your homemade herb butter after your own preferences, and explain further how to use it to it's fullest potential.
Global Food Recipes
with Spices and Herbs
Free E-Book available for a limited time. Grab yours now and get instantly inspired!
Jump to:
📕 What is compound butter?
Compound butter flavored butter, which you can use further in your recipes.
Seasoned butter can be enhanced with herbs, garlic, shallots, lemon, chili pepper, and similar ingredients.
Homemade flavored butter in solid form is then used over a meal such as fish and steaks, in sauces or to flavor bread, so to make garlic butter bread for example.
🍴 Using
You can use this herb compound butter in the following recipes:
Parchment baked Salmon or served with a pan-fried trout fillet
Pan-fried Beef Steak or served with rib-eye steak
Add some over your herb compound butter to your chicken roast during the roasting process..
Spread over your bread and left in the oven to allow the butter to melt over it. ie. Garlic Bread style
Over spaetzle, grilled potatoes, plain cooked rice, and similar side dishes.
In Cream of xyz soups or Goulash soup
served with game meat such as dear with gravy and braised red cabbage
over vegetables in a tray before the veggies are roasted to perfection.
🌿 Choice of herbs
I give YOU to pick what herbs you want to add to your compound butter.
Use fresh herbs only in your herb butter because you want the flavors to pop out as they infuse your food with the wonderful fresh flavors.
You can add the following fresh herbs to your compound butter.
Use them all together or only one or a few together at a time, whichever you prefer.
Parsley
Parsley is mild and the go-to herb for compound butter.
It works with most dishes meat, seafood or vegetarian and parsley balances the flavor of other ingredients too.
Chives
Chives have a sharp but not overpowering flavor profile.
It's another simple go-to herb which combines well with most other ingredients as it enhances all recipes.
Marjoram or Oregano
Marjoram is related to Oregano but the difference is that it's milder and mellow.
Marjoram herb is like a fresh background flavor, that bridges all the other herbs in the herb butter recipe
Eventually, you could use fresh marjoram as the only herb too in this recipe as it makes a great standalone herb in your butter.
Oregano is strong flavored compared to Marjoram, in fact it has some spicy notes that make it a great choice in strong-flavored food.
However, if you can't get Marjoram, feel free to simply substitute the herb with fresh oregano.
Savory or Thyme
Savory is a lesser-known herb outside of Europe and the middle east.
Savory is used in the Herb de Provence seasoning.
You can use this herb to add a Mediterranean touch to your compound butter as it blends well with marjoram and thyme.
The herb compliments fish and meat meals.
If you can't get Savory, you can use Thyme as well instead.
Thyme lends most meals a truely Mediterranean touch and can be used with oregano or marjoram combined.
Dill weed
Dill weed is the unique one in the bunch because it's flavor profile is different.
DIll is very aromatic and tastes a bit like anise, fennel, and licorice.
The herb is commonly used to season seafood recipes but can be a great addition to this DIY compound butter if you have used all the other ingredients as well.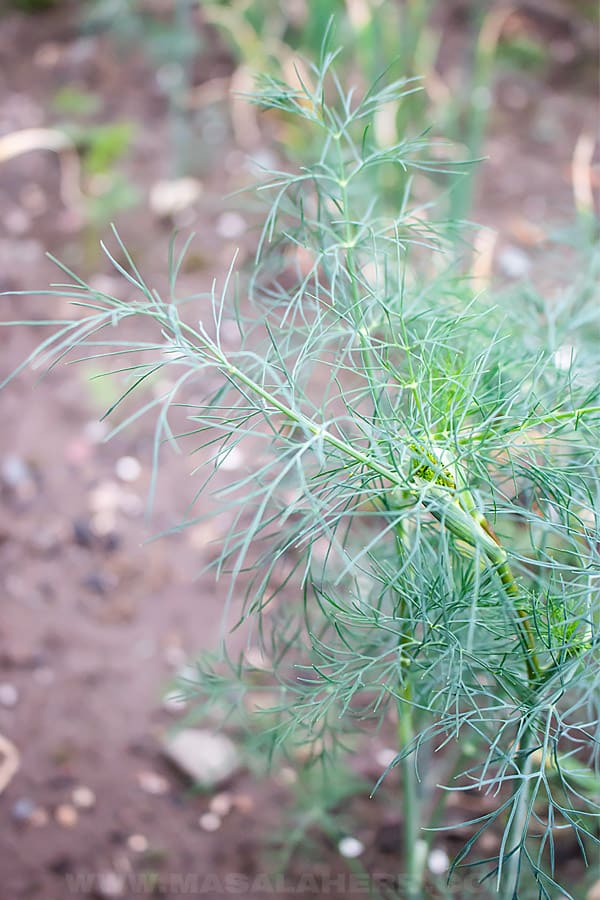 Other herbs that you can add
You can experiment and add the following herb in fresh form to your compound butter with the other herbs or by switching some of the herbs used in the infused butter recipe.
Rosemary - with or instead of savory/thyme
Terragon - similar to dill
Cilantro (aka coriander weed) - use it instead of parsley but not necessarily with the other ingredients but instead with lemon zest/ lemon juice and garlic
Basil - can be used with other ingredients or better even on its own with garlic
Mint - on its own only as it is sweet and very aromatic. Great in mint sauce.
Sage - added in small amounts it can bridge the flavors of the other herbs
Lavender - makes for a very Mediterranean flavor profile if used with thyme, savory, rosemary and marjoram.
🛒 Where to get fresh herbs?
Option 1:
You can grow your own fresh herbs indoors in little pots.
Get a herb growing kit with small pots and seeds and keep them in the kitchen on your window bench.
That way you have always fresh herbs, whenever you need them!
This is a great option if you don't use large quantities of herbs in your daily cooking but instead only small amounts to season your food.
Option 2:
You can grow fresh herbs in your garden outside.
Now, this option is awesome if you have a garden.
That way you can use up as much space as you need.
For example, we tend to plant a lot of chives and parsley because we use those herbs all the time.
You can also keep some plants, such as savory, in a pot to grow on your terrace.
The downside of a garden is that you need to put in some work and that if you live in a cold country, the plants will die in autumn outside.
Option 3:
You can buy fresh herbs in your local supermarket.
The chances that you will get them all at all times are slim and depend a lot where you are living.
Metro supermarkets tend to carry most fresh herbs but I doubt they will have savory or marjoram all the time, so that's a downside.
However, if you are a busy bee and you just want to use fresh herbs for that one time, then buying fresh herbs is a great idea.
You can freeze any surplus, which is great too if you find some fresh savory or marjoram on a, particularly lucky day.
Frozen herbs can be left to thaw and can be used IF these re herbs which have small leaves.
For example, freezing large Italian basil leaves doesn't make much sense because the leaves turn brown and ugly in taste.
🔪 How to make it?
Prepare your own compound butter with these simple straightforward steps.
Detailed ingredients and instructions can be found further below in the post.
Step 1
Take the herbs and rinse them to get rid of any impurities.
Cut your herbs small and chop them as fine as possible.
Step 2
Add your unsalted butter to the bowl and mash it with a fork a bit.
The butter shouldn't be soft.
Step 3
Add your fresh herbs, other seasoning and potential ingredients such as shallots or garlic to your butter.
Combine your butter well.
Use up directly or store for later use.
🍱 Storing
You can store your compound butter in the fridge or in the freezer.
Keep the flavored butter in your fridge for up to 4-6 days in the fridge because the herbs in it won't hold forever.
Store the homemade herb butter in the freezer for a longer period, if need be for up to 6-7 months.
You can shape the compound butter into a block, a log or into smaller balls into batches.
That way you can take out the required quantity, as it will thaw faster.
The butter can be rolled into cling film or into parchment paper.
Another idea is to fill a Tupperware or ice cube trays with the compound butter.
Then you just need to take the frozen butter out and place into a vacuum bag.
👁️ More flavored butters
Dear Reader, how are you going to use your homemade herb butter?
Global Food Recipes
with Spices and Herbs
Free E-Book available for a limited time. Grab yours now and get instantly inspired!
📖 Recipe
Herb Compound Butter Recipe
Handpick your fresh herbs to make this herb compound butter at home.
Print
Pin
Rate
Servings:
6
small servings
Ingredients
5

Tablespoon

Mixed Fresh Herbs

*See Notes

1

stick

Butter

unsalted

2

small

Shallot

optional, chopped, *see Notes

Salt

to taste

Black Pepper Ground

to taste
Instructions
Rinse your fresh herbs to get rid of any impurities.

Cut your herbs small and chop them fine. Keep aside.

In a bowl add the unsalted butter and mash quickly with a fork.

Add the fresh herbs, chopped shallots, salt, and black pepper.

Combine everything with a spoon or spatula.

Use up directly or store in the fridge or freezer for another day. (see post for storing instrcutions)
Notes
Use a mixture of fresh herbs. In my video and pictures I used 1 Tablespoon Parsley, 2 Tablespoon Chives, 2 Teaspoon Savory, 2 Teaspoon Marjoram, 2 Teaspoon Dill weed freshly chopped fine.
Using shallots is optional and you can use garlic or even better roasted garlic instead.
Alternativly you can also us a food pressor to prepare compound butter by adding all ingredients into the food processor and turning it into a well combined mass.
Nutrition
Nutrition Facts
Herb Compound Butter Recipe
Amount Per Serving
Calories 142
Calories from Fat 135
% Daily Value*
Fat 15g23%
Cholesterol 40mg13%
Sodium 137mg6%
Potassium 46mg1%
Carbohydrates 2g1%
Protein 1g2%
Vitamin A 751IU15%
Vitamin C 5mg6%
Calcium 12mg1%
Iron 1mg6%
* Percent Daily Values are based on a 2000 calorie diet.