Chicken Curry Recipes love - Indian chicken gravy recipes for rainy days! ---
The other day I was chatting with my school time friend about random daily things when the topic suddenly changed to curries and Indian food.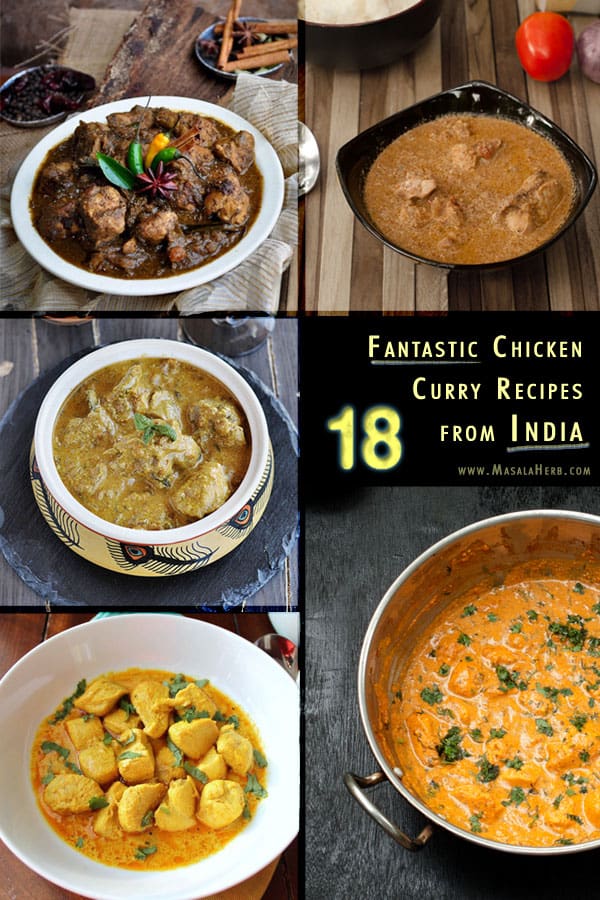 She explained that she had discovered a liking for Indian food specialties and gravy treats and when I heard this I was mighty surprised.
You have to know, Indian food and especially spicy food (because most Indian dishes are generously spiced) is just out of this world and very exotic for an Austrian from the mountains.
"I like to dip that flat bread (nan) into my butter chicken gravy!", my friend proclaimed.
When my ears heard this, I started to ponder about the significance of her words.
My Knödel and Schnitzel loving friend likes curries!
No way!
A miracle has happened and if she likes it, that means sooner or later I will be able to convince others in this world that Indian Curries simply rock.
Then it hit me! We need a collection of exquisite Indian Curries, a roundup of curries to pick from and to try.
First I thought about sharing a whole collection of multiple curry types but then I thought otherwise and decided to take it easy on you.
Believe me you would be overwhelmed by the sheer incredible number of different curries in India.
So I decided to present you today a collection of 18 fantastic Chicken Curry Recipes from India, including my food blogger friend's all time favorites and mine as well, and in the next months I will be sharing more theme specific curries such as veg curries etc.
Today we start with Chicken curry recipes because a reader had requested Chicken curries which she could try and enjoy at home and I am anyway the first one to attack chicken curry dishes at buffet functions (yes I know I am unchangeable), which again proofs that Indian chicken curry dishes are some of the most sought after. 😉
So, take a look at the different chicken curry recipes further down, pick and save the ones you will try and share with us your experience here in a comment. We love to hear from you!
Chicken Curry Recipes from India 🥘
~~~
That's my go to Curry when I am very hungry and tired. Nothing beats the simplicity of this Goan Coconut Chicken Curry.
by Masala Herb
-----------
Chettinad Chicken Curry
A hot and spicy south Indian Chicken Curry full of character.
This is your curry if you are a fan of coconut based curries.
by Life Scoops
-----------
Chicken Cafreal a goan classic with fresh coriander that will transport you to the shores of Goa.
by Masala Herb
-----------
Love anything Chicken Tikka? Me too! Definitely a great crowd pleaser.
by Masala Herb
-----------
...and since Chicken Tikka Masala is a crowd pleaser, we ought to make another low calorie version for the ladies.
by The Lady 8 Home
-----------
A north Indian Chicken Curry classic with aromatic spices, yogurt and nuts
by My Kitchen Treasures
-----------
My take on the Chicken Korma and one of the first recipes I posted here. Forgive the horrible picture, the curry itself is lip smacking good so don't judge the book this time on it's cover.
by Masala Herb
-----------
Mhm lemon chicken curry, vibrant, comforting and a must have.
by Soni's Food
And If you want to learn more dishes from the Indian subcontinent ->
-----------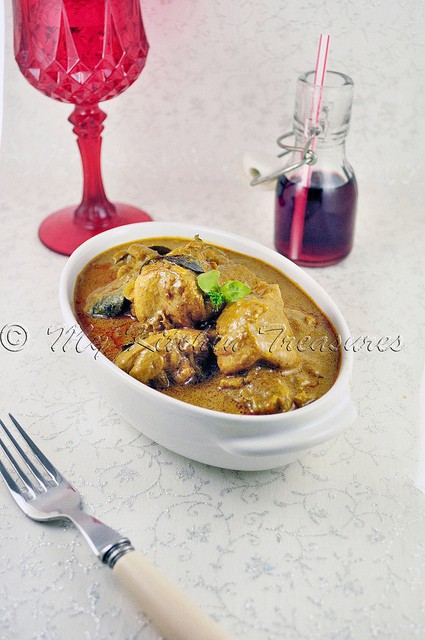 Another south Indian Curry but this time from Kerala. Enjoy with rice, roti, bread, dosa or idiyappoms.
by My Kitchen Treasures
-------
Tomato based North Indian spiced Curry full of comforting flavors!
by Spice in the City
-----------
A mouthwatering mix between Chicken Tikka Masala and Butter Chicken.
by Recipe on Click
-----------
A bright Tomato based Chicken Curry Recipe for busy and hungry days.
by Compulsive Foodie
-----------
Stuffed Chicken Roast in Spiced Gravy
A very special Chicken roast recipe with a curry sauce for special occasions.
by Life Scoops
-----------
A spoonful of this Butter Chicken will make your foodie heat heart jump up in happiness!
by Masala Herb
And when you are in a hurry a Butter Chicken Paste ->
-----------
Nadan Kozhi Curry / Kerala Style Chicken Curry with Coconut
Another smashing good traditional chicken curry from Kerala with coconut as the star.
by Life Scoops
-----------
That's a dish I love the most on Tuesday night. Why Tuesday's? I don't know, I always crave it on that day. =D
by The Lady 8 Home
-----------
A Bengali specialty and slow cooked full-bodied aromatic curry.
by The Lady 8 Home
Dear Reader, which Chicken Curry is your ultimate favorite?
Please feel free to share your thoughts and ideas with us in the comment section further below!
So you love SPICES and HERBS?
GET 5 FREE SEASONING LESSONS
Type in your email address below.
Including free access to the
Seasoning Members only Club!