The best way to use up your fresh chanterelle mushrooms + a simple recipe to dry chanterelles in a dehydrator.
Here are some great chanterelle mushroom recipes to make the most out of your fresh, dried or frozen chanterelles.
Global Food Recipes
with Spices and Herbs
Free E-Book available for a limited time. Grab yours now and get instantly inspired!
Jump to:
📕 What are Chanterelle Mushrooms?
Chanterelle mushrooms, or chanterelles as they are also called, are vibrant yellow or golden colored and funnel-shaped mushrooms.
Variations exist between the white and black color spectrum. Some chanterelles have almost no gills and others have deep gils.
The cap is smooth and wavy and looks a bit like a trumpet. The stem is one piece, not hollow but rather fleshy. Chanterelle mushrooms taste fruity and a bit peppery.
They are called Pfifferlinge in German or Eierschwammerl (egg mushroom) or Reherl in Austrian dialects, girolle in French and rebozuelo in Spanish.
They grow mainly in the wild in the Northern Hemisphere when the weather cools down.
Foragers like to collect chanterelles because they are easily recognized in forests. They grow on mossy mixed tree forests (leaf and need trees) and they grow quickly within days when the temperatures are below 70 Fahrenheit (20 °C).
The perfect foraging time to find chanterelles is from later summer to late October.
Most mushrooms are cultivated on logs but not chanterelle mushrooms. In fact, commercial chanterelles in Europe are mostly foraged in East Europe and are not cultivated.
Yet, there are ways to grow chanterelles from spores in a controlled environment.
📜 Chanterelle Mushroom Recipes
Here are some great uses for your chanterelle. Most turn out best with fresh mushrooms, but you can also use frozen chanterelles.
Sauteed Chanterelle Mushroom Recipe
Simple sauteed chanterelle mushroom side dish recipe to serve with other main course meals.
Get the Recipe
Creamy Chanterelle Soup Recipe
Super delicious and heavenly creamy! Creamy Chanterelle soup is such a hearty, warming treat. This recipe is super quick and simple, but SO good, too.
Get the Recipe
Classic Jägerschnitzel Recipe
Classic Jägerschnitel prepared with either veal, pork, turkey, or chicken meat in a creamy chanterelle mushroom sauce. This is a one-pan skillet recipe.
Get the Recipe
Vegetarian Summer Wild Mushroom Paella with Chanterelles Recipe
Vegetarian Summer Wild Mushroom Paella with Chanterelles and Black Trumpets is a fun modern adaptation of a traditional dish.
Get the Recipe
Chanterelle Ravioli with Sage and Rosemary Oil Recipe
These homemade vegan chanterelle ravioli are a mouthwatering delicacy. Topped with sage and rosemary oil, this wild mushroom pasta is a real foodie feast.
Get the Recipe
Hearty Farmer's Sausage Sweet Corn Chowder Recipe
This Sweet Corn Chowder features sweet corn, potatoes, farmer's sausage and chanterelle mushrooms in a rich cream-based chowder.
Get the Recipe
Home Canned Chanterelle Mushrooms Recipe
Your guide to prepare home canned mushrooms. I used fresh foraged chanterelle in this recipe.
Get the Recipe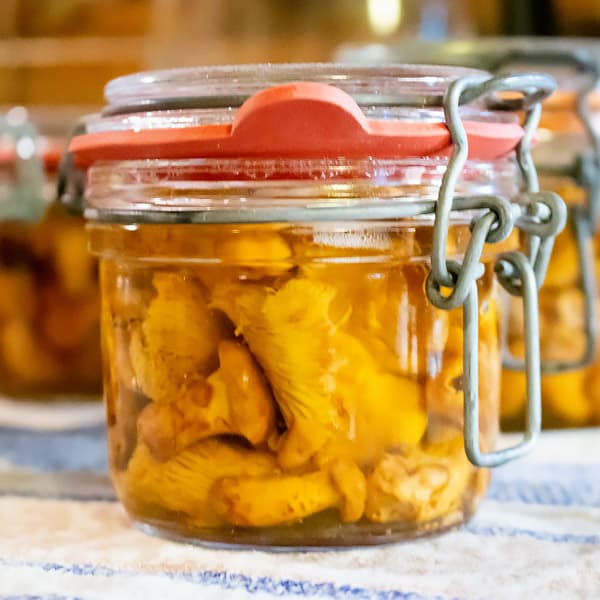 Chanterelle Herb Biscuits with Pine Nuts Recipe
Biscuits enriched with flavorful chanterelle mushrooms and pine nuts.
Get the Recipe
Sweet Pickled Chanterelles Recipe
Sweet pickled chanterelles make a beautiful and delicious addition to an antipasto dish.
Get the Recipe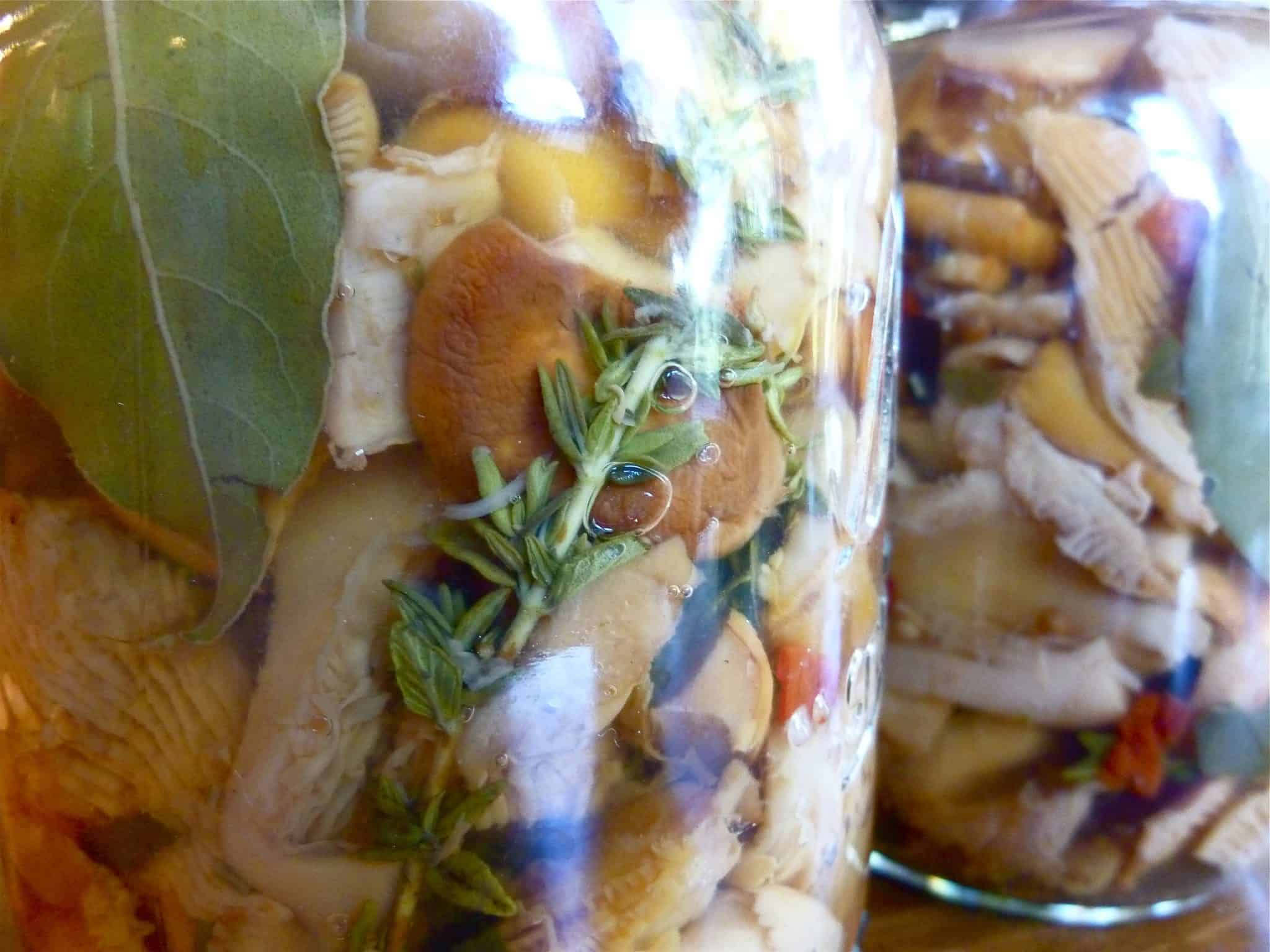 Vegan Mushroom Carnitas Recipe
Easy and healthy stove top vegan carnitas made with chanterelle mushrooms in orange gravy then caramelized under the broiler flames.
Get the Recipe
Tagliolini Pasta with Chanterelle Mushrooms and Speck Recipe
This creamy pasta with chanterelle mushrooms and speck is a very traditional South Tyrolean recipe, full of the flavors of that Northern Italian mountain region.
Get the Recipe
Chanterelle Tart with Ricotta, Rosemary and a Phyllo Crust Recipe
Flaky phyllo crust, creamy ricotta filling and flavorful chanterelles all combined into one wonderful tart.
Get the Recipe
💡 Tips
Clean chanterelle mushrooms from dirt by using a mushroom brush.
Chanterelles are never rinsed or taken through water because water gets trapped in the gils. It also reduces the quality of your mushrooms instantly.
To bring out the flavors of these mushrooms, you just need to season them with salt and pepper. Garlic and onion make for a lovely addition.
Chanterelle are also great with fresh or dried herbs such as thyme, rosemary, and savory herb
They are done cooking within minutes. Olive oil is often a preferred oil to cook chanterelles.
Chanterelles pair well with diary-based products such as butter and cream in a sauce.
Explore layers of flavors by deglazing sautéed mushrooms with white wine
Chanterelle pair well with other mushrooms too, such as in a mixed mushroom risotto with oyster mushrooms, button mushrooms and porcini.
Global Food Recipes
with Spices and Herbs
Free E-Book available for a limited time. Grab yours now and get instantly inspired!
📖 Recipe
Dried Chanterelle Mushrooms
The best way to use up your fresh chanterelle mushrooms + a simple recipe to dry chanterelles in a dehydrator.
Print
Pin
Rate
Instructions
Brush off any mud or impurities with a mushroom brush from your chanterelle mushrooms to clean them. *see Notes about rinsing/water

1 pound Chanterelle Mushrooms

Optional: Slice, half or quarter mushrooms.

Keep your dehydrator ready as per instruction. Turn the device on.

Place and spread the mushrooms on the dehydrator baskets. Don't overcrowd as this can prolong the drying time too but also keep enough mushrooms to dry to use the space properly.

Keep one basket over the other on the dehydrator. As per device, you may be able to stack up to 10 baskets. The more baskets with mushrooms the longer it can take for the chanterelles to dry in the top baskets.

Keep the mushrooms to dry at a medium to high temperature (about 135. F./60. C.) or as per device instructions. The drying time is about 10 to 12 hours, depending on the size of your mushrooms. The larger, the longer they will take to dry.

Check on the drying process of your dried red currants. I like to switch the position of the baskets every few hours so that the chanterelle get equally dried, and I make sure that the mushrooms don't stick to the grid.

Dry crispy or chewy, the way you want. Store your cooled and dried mushrooms in an airtight container until further use.
Notes
Normally, you shouldn't rinse or take chanterelle mushrooms through water because they tend to soak in more water that way and start to decay faster. It reduces the quality of your mushrooms. You can rinse with water if they are very dirty, if you really must but pat them dry with a clean kitchen towel and use them quickly.
In the how to dry mushrooms post you will find a video and step-by-step process shots.
Nutrition
Nutrition Facts
Dried Chanterelle Mushrooms
Amount Per Serving
Calories 172
Calories from Fat 18
% Daily Value*
Fat 2g3%
Sodium 41mg2%
Potassium 2295mg66%
Carbohydrates 31g10%
Protein 7g14%
Calcium 68mg7%
Iron 16mg89%
* Percent Daily Values are based on a 2000 calorie diet.