Candy advent calendar filler ideas to inspire you this Christmas season!
Get ideas on how to fill your Christmas calendar with delicious sweets.
Collect stuffing ideas with homemade candy and get the scoop about the best candy buying options.
You will also find ideas on how to make your calendar with DIY material options.
Global Food Recipes
with Spices and Herbs
Free E-Book available for a limited time. Grab yours now and get instantly inspired!
While we prepare our Christmas fruit bread, sip on our Glühwein and enjoy our Christmas cookies such as the Vanillakipferl and Lebkuchen gingerbread, we count each day to Christmas with our advent calendars.
Jump to:
What is an advent calendar?
An advent calendar is a Christmas countdown calendar.
The advent calendar tradition originated in Germany, where it is still commonplace to open a little numbered window or bag for each day in advent.
Most advent calendars are stuffed with small chocolates, candy and treat but unique and cool advent calendars can be created too with non-edible surprises.
Every school class had one and every day one kid would get to open a bag (sometimes two kids one bag because we were more than 30 kids in class).
The point is to use only candy or gifts with a value of less than 2$ or 2€ per filler piece.
In this post, we will focus on candy and chocolates.
By the way, advent calendars used to be for kids mainly before the year 2000.
We Millenials grew up and now we have upgraded the game and we still practice this tradition every year, even as adults for our own and our loved ones.
How does an advent calendar work?
While we wait for Christmas day to arrive, we open up a numbered bag, window, pouch, box or wrapper. Each number stands for a day in the advent calendar. i.e on the 5th of December you open the one with the number 5 on it.
How many days are there in an advent calendar?
The Christmas calendar counts 24 days to Christmas. It starts on the 1st of December and ends on the 24th. The 25th is not counted because the 24th of December is considered as Christmas day in the German-speaking countries (including Scandinavian countries). However, you are free to add 25 days if you want. 🙂
What to put in an advent calendar?
A traditional advent calendar is filled with chocolates and candy but sometimes people stuff it with other things such as small personal vouchers, inexpensive fun items and similar. Each item should cost no more than 2$ or about 2€ because you need 24 of them. Small candy and chocolates are most suitable in that case.
How to make it?
Let's talk about the making or getting an advent calendar before we move on to the advent calendar filler ideas.
You can either make your own advent calendar from scratch or you can buy a ready-made calendar or the material for a semi-homemade advent calendar
I love to make my own because it allows my creative juices to run to the fullest.
I usually make an advent calendar for my husband Paul because I love to surprise him.
He loves sweets and a little Christmas pick me up every day during the advent season.
In Europe, it has become a thing where the girls prepare an advent calendar for their boys.
So, it's not just for kids, we adults love a fun Christmas countdown too!
Here are some ideas on how to make a homemade calendar from scratch:
hanging bags made of cloth felt or paper
pouches made of cloth felt or paper
drawers in a box
toy train wagon advent calendar
small paper boxes
wrapped candy with numbers
You can either make those from scratch that means stitch the bags, buy paper bags and number them or you can just buy whatever you need and fill them with candy.
I had another fun advent calendar idea last year, which was a bit challenging too for Paul and easy to "build".
The advent calendar was just a sheet of paper with each day of the advent calendar listed and a description or riddle on where to find the candy surprise.
I would then hide the candy at the described place and my husband would have to find it. (which was a challenge in itself!)
Buying
I found a few gorgeous looking advent calendars on amazon which you might appreciate.
These are most definitely some of the most stunning advent calendars that you can buy and they are reusable and environment friendly too!
Filler ideas
I compiled a great collection of candy advent calendar filler ideas.
You can use homemade candy or candy from the store, whichever you prefer.
I personally like to use a combination of the two.
I would select some of Paul's favorite commercial candy, such as mon cherie cherry chocolates and Raffaello coconut balls, and add a few selected homemade candy.
It would be crazy to add 24 individually different homemade chocolates (way too much work!) but you can pick 3 homemade candy and add each about 3-4 times as a calendar stuffing.
I wrap my homemade candy into butter paper or pretty looking candy wrapper before I place them as fillers into bags and pouches.
Old Fashioned Caramel Candy Recipe
Old Fashioned Caramel Candy Recipe prepared with 2 ingredients only over the stove top.


Get the Recipe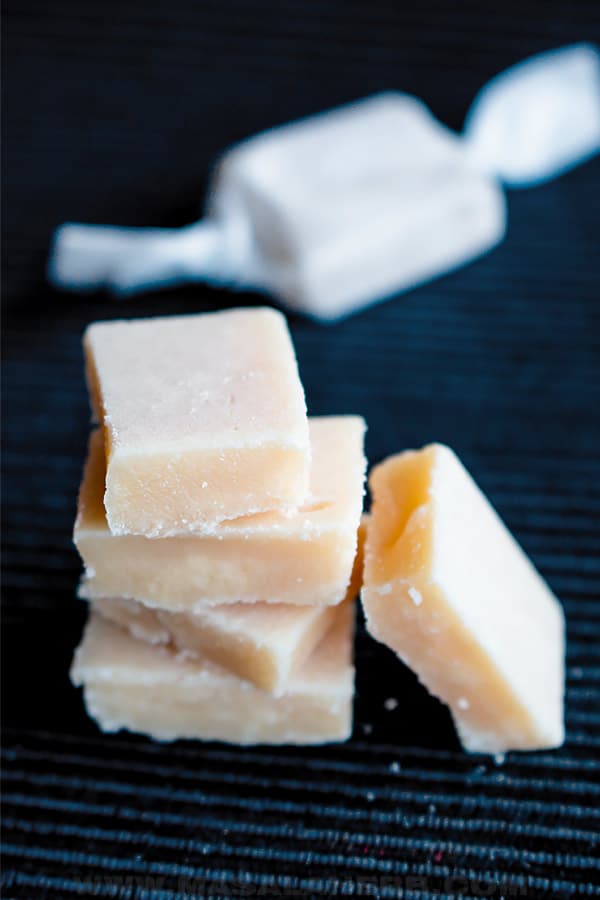 Easy Homemade Chocolates
Various Homemade Chocolates - Flavor ideas for easy DIY healthier chocolates. Prepare these awesome chocolates the way you like!
---
Easy white chocolate fudge
Easiest ever 2-ingredient white chocolate fudge!
Chock full of cranberries and pistachios, it lasts for days and is perfect for gift-giving.
---
4-Ingredient Chocolate Truffles
4-Ingredient Chocolate Truffles are the perfect way to satisfy your chocolate craving.
Roll them in a variety of toppings and make your own box of chocolates!
---
Turkish Delight
So delicious, that Edmund of the Lion, The Witch, and the Wardrobe was willing to betray his family for this exotic rose-flavored treat.
Delight with homemade Turkish delight, a smooth, sticky candy with delicate flavors.
---
Aunt Barbara's Old-Fashioned Fudge
Aunt Barbara's Old-Fashioned Fudge recipe is so easy to make in under 20 minutes!
Made from scratch with rich chocolate and marshmallows, you'll love this creamy chocolate fudge recipe made with condensed milk.
---
Caramel Cashew Clusters
Very easy and delicious, just 3 ingredients make this Caramel Cashew Clusters the best Christmas.
---
Salted Peanut Caramels
Salted Peanut Caramels – My favorite old fashioned caramels with the addition of salted peanuts make the best homemade candies!
Perfect for Christmas, teacher gifts or just to have around for snacking! An all-time favorite treat in our home!
---
Homemade Raffaello Coconut Balls
These 3-ingredient Raffaello coconut balls are not only delicious sweet treats but they also make great edible gifts.
Easy recipe and simple ingredients!
Global Food Recipes
with Spices and Herbs
Free E-Book available for a limited time. Grab yours now and get instantly inspired!