Kletzenbrot is a traditional christmas fruit bread from Tyrol, Austria.
Total Time:
2

hours
5

minutes
Cook Time:
1

hour
5

minutes
Kletzenbrot is a Christmas fruit bread from Tyrol Austria and that's how we make this traditional recipe from scratch at home.
Global Food Recipes
with Spices and Herbs
Free E-Book available for a limited time. Grab yours now and get instantly inspired!
Jump to:
📕 What is Kletzenbrot?
The Kletzenbrot is a dense and moist rye flour fruit bread prepared during Christmastime that is especially popular in Austria and southern Germany.
This bread is notably associated with the Austrian state of Tyrol and the neighboring Italian annexed South Tyrol, where it cannot be missing from Christmas tables and is customarily eaten after the midnight mass.
History
The Kletzenbrot is one of the oldest Christmas confections and the tradition of baking this sweet fruit bread during advent time can be traced back to the Middle Ages.
During that time, sugar was a precious commodity, and this bread was originally made without any sugar, deriving its sweetness only from the dried fruit.
Traditionally, this festive bread has been made with whole dried pears, which are called Kletzen in Austria, from which it derives its name.
Nowadays, this bread can be prepared with a variety of dried fruits, such as apples, figs, prunes, and raisins.
This flavorful and rustic bread can also contain a variety of nuts and warm spices, such as cloves, cinnamon, nutmeg, aniseed, and fennel.
The bread has a crispy crust, and when cut, the loaf releases a warm and fruity aroma of dried fruit, raisins, and spices.
Because of its long history, this traditional bread has been entered in the Register of Traditional Austrian Food.
It is a great example of a recipe that reflects the culture of the region. In Austria, drying fruits has been popular since the Middle Ages.
During that time, many farms and estates had outdoor drying huts and ovens where apples, pears, and plums were dried in the fall to store over the long and cold winter.
Besides a culinary significance, this delicious and nutritious loaf of bread has always been a symbol of fertility.
In Austria, there were various customs to pray for fertile harvests and animals.
For example, after baking, the women who had baked the Kletzenbrot embraced the fruit trees with their hands still covered with dough in the belief that the fertility of the Kletzenbrot would be transferred to the trees and ensure a bountiful harvest in the coming year.
🥜 Ingredients
Flour (rye, whole wheat, or all-purpose flour)
Dairy
Yeast
Nuts (almonds, walnuts, hazelnuts, macadamia, Brazil nuts, cashew, pistachio)
Spices
Dried fruits (dates, pears, prunes, apples, figs, raisins, persimmon, mango, papaya...)
Traditionally, this Tyrolean Dried Fruit Bread has a hard outer layer that is wrapped around the fruity dough to keep everything together.
But for the ease of preparation and since we will be using wheat flour, it is not really necessary, and we will skip that step.
You can make a traditional Kletzenbrot by sticking to the ingredients available in Austria during the Middle Ages, such as dried pears.
Or you can let your imagination run wild and create a tropically inspired confection by including dried pineapple, mango, papaya, and even some pieces of coconut.
🔪 How to make Kletzenbrot?
Here is an overview on how to make this Christmas fruit bread.The complete recipe with US and metric measurements is located at the bottom of this post.
Step 1
Soak dried fruits to rehydrate.
Drain the fruits and chop them into small pieces.
Combine the chopped fruits, nuts, spices, sugar, rum, and milk. Mix the filling and let it rest in the fridge for one day.
Step 2
Combine the ingredients to a smooth dough.
Leave to rise for 1-2 hours.
Step 3
Work and knead fruit filling into the dough.
Shape the loafs and bake.
🥣 Serving
This rich bread makes a delicious and nutritious snack alongside a cup of coffee or tea in the afternoon.
Slathered with some butter, nut butter, or jam for extra fruitiness, it makes a wonderfully quick, and satisfying breakfast when you are craving something sweet and nourishing.
Warm it to up release the beautiful fruity aroma and provide some extra warmth on cold winter days.
This fruit bread keeps well and makes a beautiful home-made Christmas gift that will bless the recipient with the feeling of old-world comfort and tradition.
🍱 Storing
This bread stores well and can be kept for 5-6 days if you live in a temperate climate.
If you live in a country with a tropical climate, it is recommended that you store the bread in the fridge in an airtight container.
It is more practical if you make several smaller loaves instead of one big one.
The Kletzenbrot freezes well and can be kept in the freezer wrapped in cling film or stored in resealable freezer bags for up to 2-3 months. Let the loaves thaw in the fridge and warm them up in an oven, toaster, or on a stove if desired.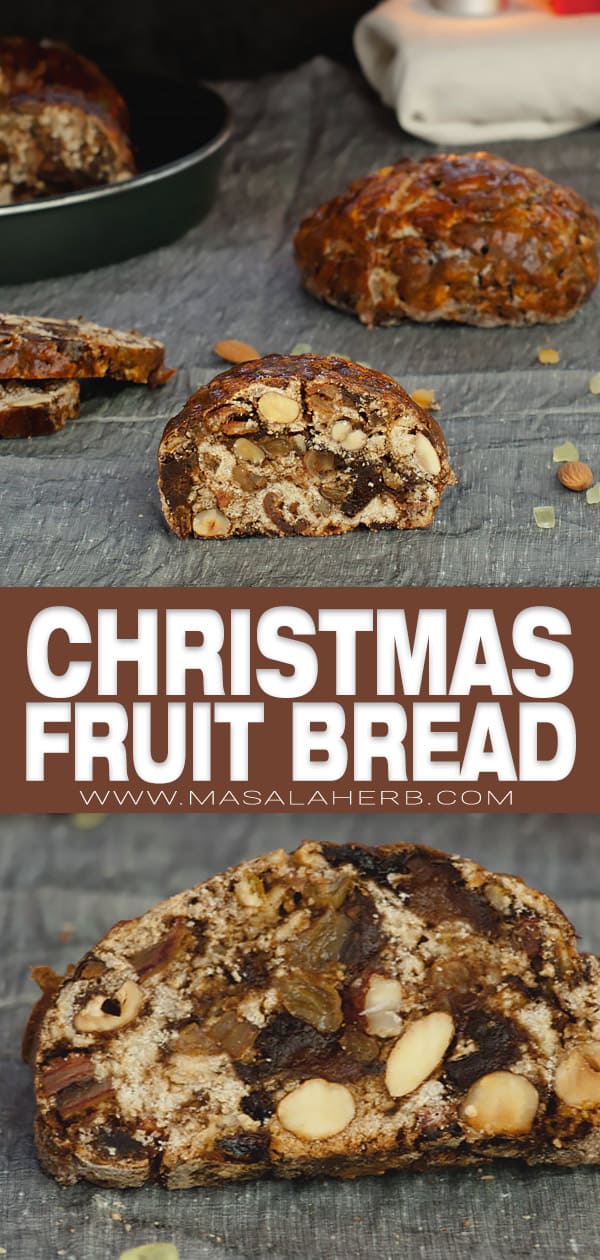 Global Food Recipes
with Spices and Herbs
Free E-Book available for a limited time. Grab yours now and get instantly inspired!
📖 Recipe
Kletzenbrot Recipe - Christmas Fruit Bread
Kletzenbrot is a traditional christmas fruit bread from Tyrol, Austria.
Print
Pin
Rate
Instructions
A day before you intend to bake the Kletzenbrot, prepare the filling. First keep a pot with water to boil and throw in the dried pears and dates for 15 minutes or until the fruits are soft. Take out and drain. Cut the pears and dates into bite size pieces and keep in a big bowl.

Also cut the dates small and add to the big bowl together with the raisins, orange candy, lemon candy, whole hazelnuts, whole almonds, powdered sugar, rum, Milk, cinnamon powder and clove powder. Mix the whole content well and let rest for a day in the fridge. Stir the whole content every few hours.

The next day prepare the dough by combining the flour, yeast and salt first. Make a well in the center and add the luke warm milk and melted butter.

Mix the content and work out to a smooth middle hard dough.

Make a ball, dust with flour, and keep in a warm place to rise. The rising of the dough should take about 1 hour, I kept mine for 2 hours. Do the test if it has risen by poking in the dough with your finger, the dough should be lighter and soft. Also, big cracks appearing is a good sign that it's ready.

Take the dough to a working surface and work out for a few minutes. Now either half the dough and work with one half first or take it all, just as I did it, and roll out as good as possible. If you rolled out half add only half of the filling into the dough, if you rolled out the whole dough add all the filling into the center of the dough.

With your hands fold in all around and now comes the sticky part where you need to work the fruits and nuts into the flour dough. A good tip, use extra flour to help you at this point.

I used the whole dough and cut it into quarters (each around ½ kg heavy), formed into loafs ad let them stand for another ½ to one hour to rise before baking. Little cracks should appear on the risen loafs.

Preheat your oven to 160 Celsius!

Poke with a fork into the loaf and brush beaten egg yolks onto the bread surface.

Bake at 160 Celsius for about 50 minutes.

Keep to cool and store as mentioned in the article above.