Yule Log Recipe is a Christmas Roulade cake, common in French speaking countries and it's neighbors.
The Yule Log is better known as Bûche de Noël in French and both names will tell you that the cake looks like a wooden tree branch.
So, how do you easily make a Yule Log look like a tree branch?
See further below the Yule Log recipe and how I and my mum prepared if form scratch.
We, my mother and I, actually prepared this yule log recipe last year and if you have been following me on instagram from the beginning, because I have an instagram account since last year only, you will know that I posted the very  same Yule log end result picture.
See here what I mean…
So while that picture was rather mediocre and because the beautiful yule log, aka Bûche de Noël, was prepared a day before Christmas, I decided to keep the yule log recipe ready for you this year. Including better picture! 😀
The yule log recipe is our family recipe and we add chestnut paste for the little aha effect!
What is a Yule Log/Bûche de Noël?
The yule log is a roulade cake aka swiss roll decorated into a gorgeous looking log of wood. Oftenwhile the filling is cream based and flavored with chocolate, however this depends on the regional tradition.
We for example tend to fill it with chestnut cream, which lends the Bûche de Noël all the more flavors!
Where do the names Yule Log and Bûche de Noël come from?
The name Yule Log apparently comes from the old Scandinavian and Germanic winter solstice festival known as "Yule". A tree would be burned to celebrate the darkest time of the year and the people would celebrate their pagan gods.
At some point in the different regions in France, the catholic believe must have  merged with the old believes or the yule log tradition may be derived from the fact that peasants had to pay tribute to their over lord with a gift of a log for Christmas. That's where the name Bûche de Noël must have come from.
At the same time the log was still popular later in time because in a region in France they would place gifts under the log.
Does that somehow sound familiar to you?
Think, Christmas tree!
I highly suspect that the traditions merged, or in some cases separated from each other, so that pastry bakeries started to prepare Bûche de Noël for Christmas.
After all a wonderful cake roll as a gift does sound delicious. Don't you think?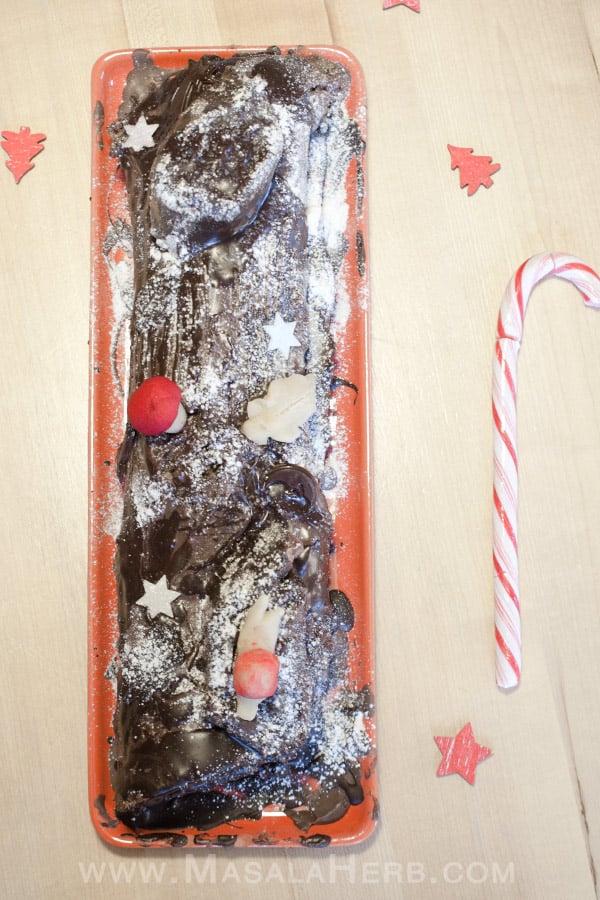 How to prepare a Yule Log/Bûche de Noël from scratch?
To prepare a yule log recipe from scratch you will need to follow the basic roulade recipe, which in some countries is known as swiss roll.
A roulade dough is prepared by separating the egg whites from the yolk and beating the egg whites to a stiff snow and adding sugar and flour to it.
The fluffy mass is then spread on a square shaped large baking tray with baking paper and baked for short time.
A filling is prepared and a thin layer is spread onto the baked cake mass, all this while it's still hot. Then everything is rolled in to create the roulade (rolled in cake aka swiss roll).
Then, to turn the roulade into a beautiful yule log you need to cover and decorate the outer cake wall with a chocolate layer.
Tip: Use shape-able Marzipan (Almond Paste) to create little forest mushrooms, insects and greenery to place and decorate the yule log with.
We usually prepare the Yule log just a day before the 25th December and that for a few good reasons, including…
the yule log is our Christmas dessert cake so it's served on the 25th
the yule log is best enjoyed when still fresh, that means within the 24 hours frame of it's inception. This is because it tends to get dry and hard in a dry indoor environment.
the yule log can be stored in an airtight container but the flavors are not the same so making it ahead is not recommendable. That doesn't matter anyway because…
…the yule log is easily prepared and it's fun to decorate it too!
Easy Yule Log Recipe – Christmas Buche de Noel Cake [French Recipe] below:
Easy Yule Log Recipe - Christmas Bûche de Noël Cake [French]
The easy Yule Log/Bûche de Noël cake is based on a roualde fluffy dough. Swiss rolls are made the same way but the difference with the yule log is the decoration. In this yule log recipe the filling is with a chestnut paste. You can make your own or use a store bought ready made chest nut paste. You can also use jam as a filling or flavored whipped cream or even chocolate! The yule log is best enjoyed within 48 hours of it's inception as it tends to remain soft during that time.
Print
Rate
Ingredients
For the dough:
4

Eggs - yolk and egg whites separated

120

grams

Sugar

1

packet vanilla sugar = 2 teaspoons

120

grams

All Purpose Flour
so that the dough doesn't stick:
For the syrup:
100

milliliter

water or 3.4 floz

1

Tablespoon

Sugar

1

Tablespoon

dark Rum
For the Filling:
350

grams

sweetened Chestnut puree or 12.3 oz or around 1 1/2 cups
For the decoration:
200

grams

cooking Chocolate

optional: Raw marzipan/Almond paste to create little figures and food coloring
Nutrition
Nutrition Facts
Easy Yule Log Recipe - Christmas Bûche de Noël Cake [French]
Amount Per Serving (96 g)
Calories 285
Calories from Fat 94
% Daily Value*
Total Fat 10.41g 16%
Cholesterol 55mg 18%
Sodium 26mg 1%
Total Carbohydrates 42.12g 14%
Protein 5.25g 11%
* Percent Daily Values are based on a 2000 calorie diet.
More Christmas Recipes! 🎄
Homemade Christmas Chocolates

Dear Reader, when are you planning to make the yule log recipe?
Let us know in a comment further below!
This post may contain affiliate links, and I receive a small commission when you click through and purchase. It basically buys me my daily coffee and cheese, and yes, my flour so that I can make pizza for dinner!
The following two tabs change content below.
I am Helene, and created Masala Herb to share my food and travel journey with the whole world. You will find Asian and Western dishes here, as well as unique travel guides to inspire your day. Don't miss a post! Subscribe to the free newsletter!
Latest posts by Helene Dsouza (see all)