Creepy Halloween Candy creatures. Make your own realistic marzipan candy this Halloween in shape of woodworms, slugs, maggots, and earthworms.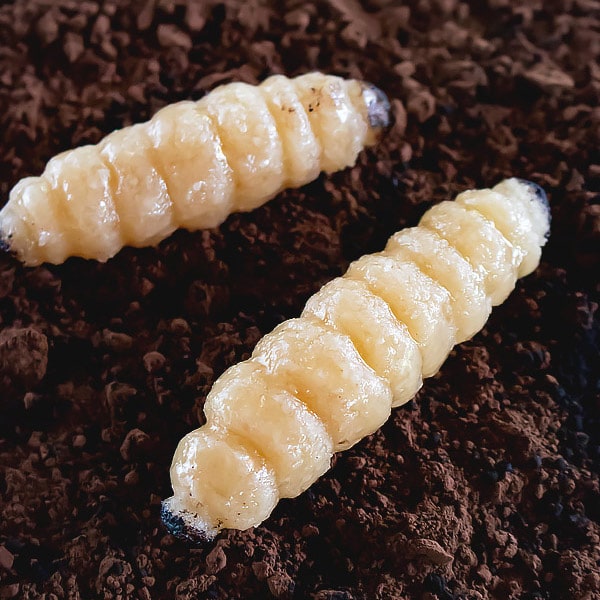 Creepy Halloween Candy Creatures will be the ultimate realistic candy at your Halloween party!
Your guests will think that those slugs, maggots, woodworms, and earthworms are for real.
Global Food Recipes
with Spices and Herbs
Free E-Book available for a limited time. Grab yours now and get instantly inspired!
The candy creatures are prepared with marzipan paste which is really fun and easy to color and shape.
The marzipan figures are also healthy and completely vegan!
I placed the creepy Halloween candy creatures on cocoa powder to give a natural mud-like setting.
Watch my fun how-to video further below!
Discover more creepy realistic-looking Halloween Food Ideas for an adult party.
Jump to:
📕 What is Marzipan?
Marzipan is a traditionally flavored almond paste from Europe and Asia.
The paste is prepared by grinding peeled almonds to a flour and mixing in rosewater or orange blossom water, as well as sugar or honey and often while almond essence.
I show you how to make homemade Marzipan in my dedicated post with the video to make this sweet basic sweetened almond paste.
Marzipan has many uses in cakes, cookies, and candy.
Marzipan candy fruits are widely available in Germany, Austria, and Switzerland.
For New Years we gift each other marzipan candy figurines for good luck, such as pig, clover, chimney sweep, and the red mushroom.
Marzipan is healthier than fondant and it's easier to shape it as well.
Marzipan doesn't need sugar glue because it sticks easily.
Besides, the Marzipan can be coated with a layer of transparent sugar syrup.
This is how I gave my creepy Halloween candy creatures the realistic look!
🐛 Woodworm
The woodworm is my favorite Halloween candy marzipan creature because I feel truly disgusted when I see those in real life.
They totally creep me out.
Those creatures live in wood logs, so sometimes when we would cut a piece of wood with the ax, the creature would be somewhere in between and it would be 3-4 inches long and 1-inch fat!
I dip the end of the woodworm candy in cocoa powder to make them look even more real!
Step 1
Shape marzipan piece into a ball and then into a tree cone.
Shape rings into the marzipan with a molding tool and soften the edges.
Step 2
Dip both ends in cocoa powder.
Spread simple sugar syrup over the woodworms and let dry.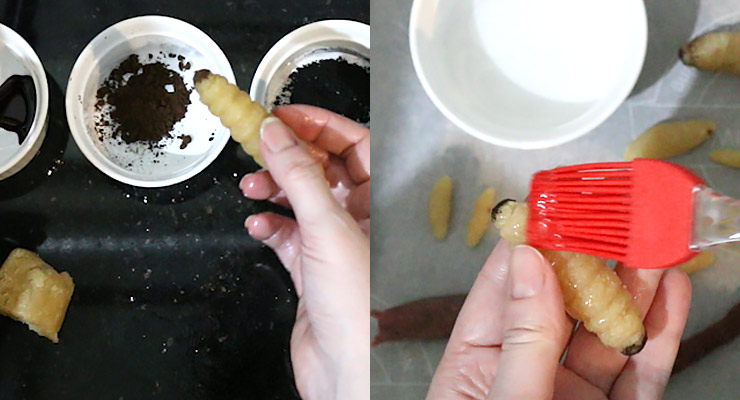 🐌 Slugs
For the marzipan candy slugs, I use a mixture of red food coloring, brown cocoa powder, and some edible charcoal powder.
I try to color each separately to make them all look a bit differently.
You could just color one big batch of Marzipan but I think it's more fun to do it for each individual slug.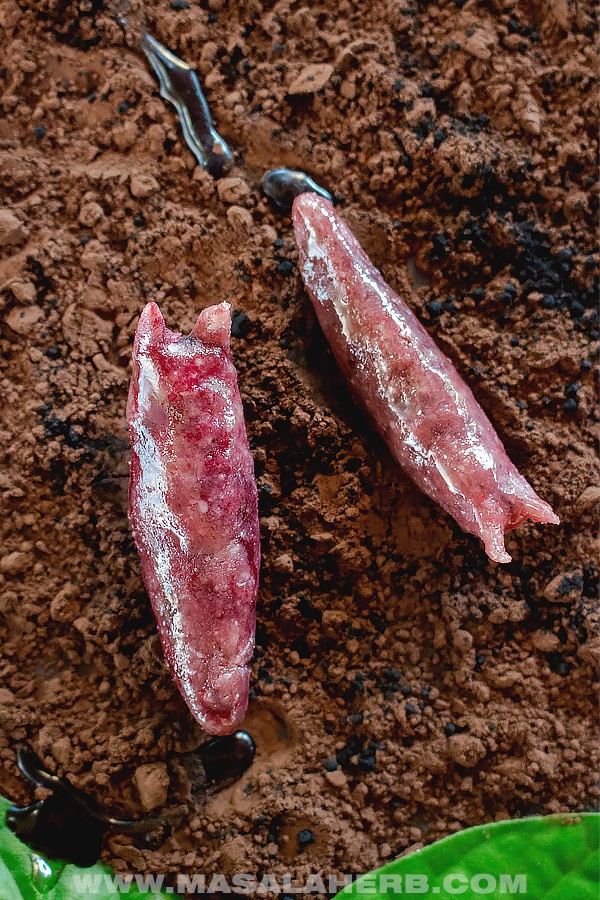 You can try to color the candy slugs more brown or dark grey if you prefer.
I was quite satisfied with the red hue.
Step 1
Color your marzipan by adding food coloring and mix in.
Step 2
Shape into a slug and brush with simple syrup.
🐜 Maggots
The Maggots are the easiest to shape.
Just pick a piece of Marzipan and roll it between your hands.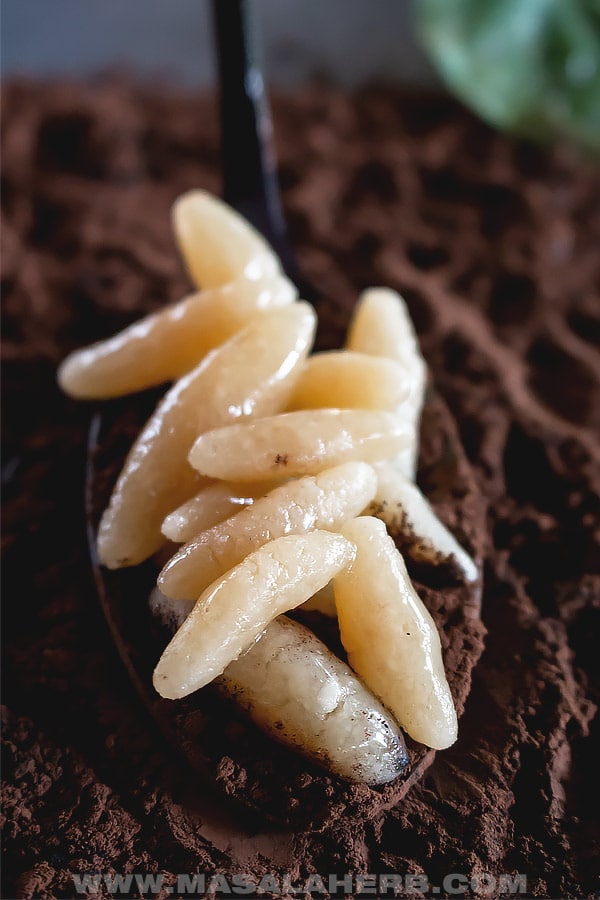 The more uneven each one looks the more realistic they will be.
There are no details added to those because it would be madness to try to add the countless maggot rings for those little creatures.
Step 1
🪱 Earthworm
The Earthworm Halloween candy is the most difficult to prepare because the more you stretch out the marzipan the more the thin shape tends to break apart.
So this shape can look super realistic if you get the hang to shape and roll them out without breaking the fragile earthworm marzipan figurine.
For the coloring of the earthworm, I used almost the same color as for the slugs.
Again here you can mix and match colors to your liking so that each worm looks a tiny bit different, just as in real life.
Step 1
Color your marzipan to a red-brown.
Step 2
Shape and roll into a worm. Brush with syrup.
🍬 Ingredients & Tools
To shape these Halloween candy marzipan figurines you will need the following items:
raw sweetened Marzipan paste - I used my homemade marzipan, you can use store-bought marzipan too
red food coloring - Something like blood-red/tomato red
cocoa or cacao powder - For the woodworm "face", to color the worms and slugs, to add flavor and for the deco placement to make it look like the creatures are sitting on real mud
food-grade active charcoal
simple sugar syrup - For the glaze to create a realistic shine. It gives the slugs the slimy touch too by just dropping some sugar syrup on the cocoa powder as a final deco effect. Besides, it makes the creatures sticky and that adds to the creepy disgusting Halloween feeling that you want to have for your party.
marzipan modeling tools - You can try shaping your creatures without a tool kit, but I don t work without one. Especially when shaping the woodworms and the slugs because of the realistic details. You will be faster too in your work if you have the right tools on hand.
a cup of water to clean tools - It can get sticky with the marzipan
a kitchen towel to wipe off wet tools - the marzipan shouldn't get wet. That's why you need to wipe the tools all the time
a pastry brush to brush the simple syrup over the creatures
💭 Tips
I picked 4 candy creature shapes for this Halloween special.
Woodworms
Maggots
Slugs
Earthworms
Keep everything ready so that you can start out without having some tools missing.
Make sure your hands are disinfected clean before you go ahead and touch the marzipan.
I tend to wash my hands when I feel it gets too sticky.
After washing the hands it gets easier to shape the marzipan figurines.
I didn't add gloves to the list of required things because I don't think gloves are that user-friendly when shaping and coloring marzipan.
I always add colors and I never had a problem washing off the colors from my hands (it's easier to wash off colors then to get rid of food-grade dry active charcoal).
I will leave it up to you if you want to use gloves or not.
There are no set rules on how to use the deco tools to shape the Halloween candy creatures.
Sometimes I found one tool more useful than the others to make a corner or to make a cut.
You can try each out and see which ones work the best for whichever marzipan modeling situation.
🦇 Halloween party presentation
For the presentation, I used edible real leaves from the Betel plant.
You can use other edible plant leaves, just make sure they are edible and not poisonous!
For the mud effect presentation, I used cocoa powder and sprinkled some dry active charcoal over it to give it a contrast.
For the slimy parts of the creatures, I dropped some sugar syrup.
You can use the candy creatures too, to decorate Halloween-themed cakes instead of using fondant.
Marzipan is healthier anyway.
👁️ More Halloween Party Foods
Dear Reader, which Halloween candy creature are you planning to try first?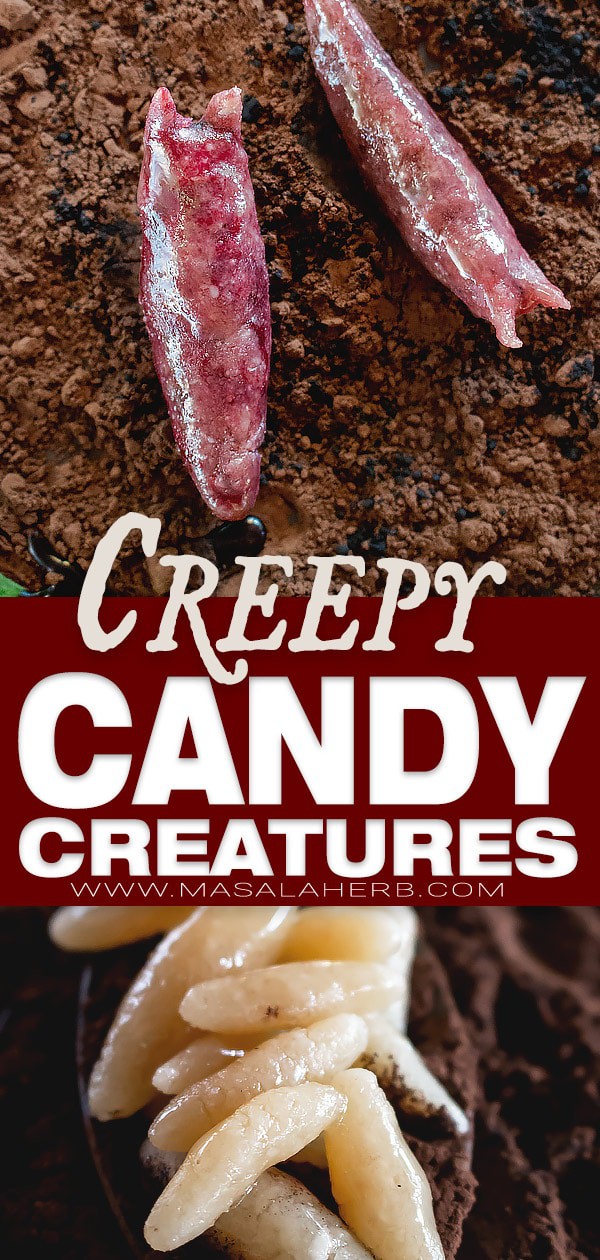 Global Food Recipes
with Spices and Herbs
Free E-Book available for a limited time. Grab yours now and get instantly inspired!
📖 Recipe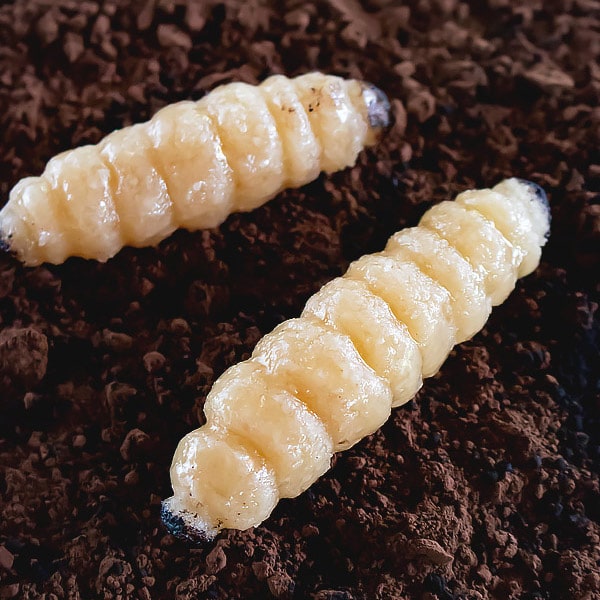 Creepy Halloween Candy Creatures with Marzipan
Creepy Halloween Candy creatures. Make your own realistic marzipan candy this Halloween in shape of woodworms, slugs, maggots, and earthworms.
Print
Pin
Rate
Ingredients
Red Food Coloring

Food Grade Dry Active Charcoal
Instructions
Cut the marzipan into smaller pieces.

For each creature shape, take some marzipan into your hand and shape according to video instructions.

For the colored creature versions add the food colorings to your liking to the marzipan and knead it in until the dough has changed completely color. Adjust the colors to your liking.

Once you have shaped your woodworm, slug, maggots, and earthworm Halloween candy creatures, place them on a baking paper. Brush diluted simple sugar syrup over the candy. That will lend them a realistic effect.

Let them dry.

For the presentation, I have spread cocoa powder over a plate and then I place the creatures over it. Enjoy just like any other candy. You can use the pieces also for cake decoration!