This potato curry is prepared with coconut milk in less than 25 minutes. It's a one-pot meal which you can serve over cooked rice (see serving suggestions below the recipe card)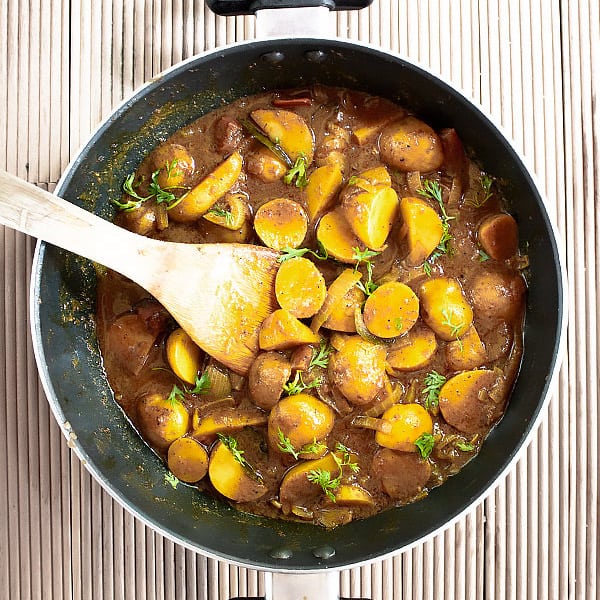 Vegan Potato Curry Recipe makes a great weeknight dinner if you are looking for a spicy, quick and easy meal with an Indian influence.
This Potato Curry is also a healthier low-carb, gluten-free, filling, coconut milk based, one-pot dish, which tastes great served over rice.
Add the curried potato to your meal-prep menu for the week!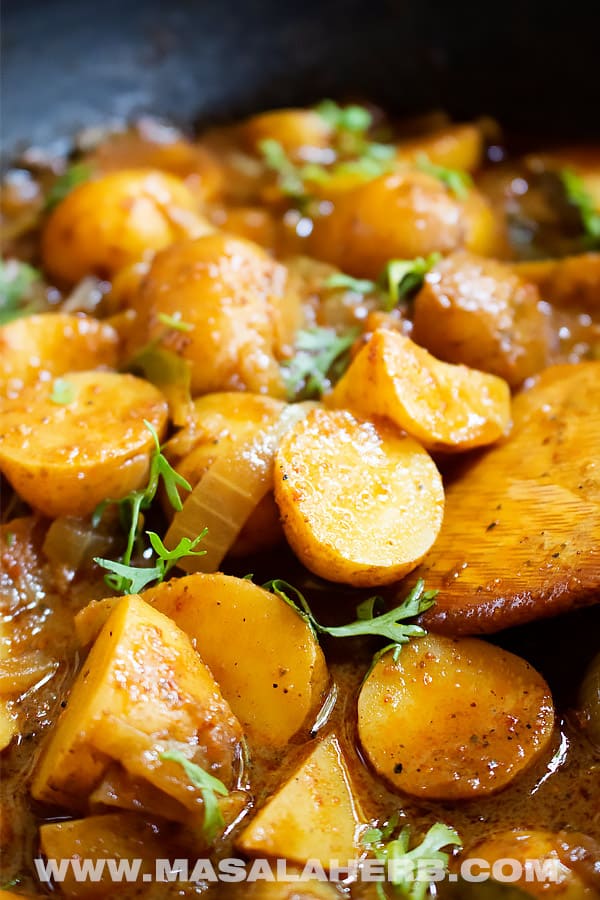 I love this easy Potato Curry recipe because it's so effortless and packed with flavor at the same time!
Over rice, the potato curry turns into a real obsession.
You want to dig into the aromatic flavors in your curry and rice bowl, to savor the spices in a cooked coconut gravy to the fullest!
And of course, this can be your dinner soon!
This Potato Curry is made with...
potatoes
onion
curry leaves (optional)
tomato
ginger
garlic
coconut milk
turmeric powder
chili powder
black pepper
garam masala
fresh cilantro/coriander
So, basically this potato curry is an Indian potato curry.
What Potatoes are best to make Potato Curry?
I like to use small "baby" potatoes to make this vegan potato curry.
Baby potatoes are also known as new potatoes.
New potatoes are harvested before they mature further, so technically speaking they are truly baby potatoes.
The skin of new potatoes is thin and doesn't need to be peeled off.
I like to keep the skin on my potatoes because the skin contains useful nutrients for your body.
If you don't have to peel off a potato then just leave it on.
Saves you time too!
The flesh of the potato is waxy and holds its shape during the cooking process.
You want the potato to keep the shape in the potato curry, not that the potatoes fall apart.
Eventually, you can use other bigger potato varieties too, as long as you use a potato that doesn't fall apart that easily.
Something like an all-purpose type of potato does the trick too.
How to make Potato Curry?
To make this vegan Potato Curry recipe from scratch is quick and easy because it's a one-pot meal.
Slice your Onion and dice your tomato, if you want to use fresh ginger and garlic, chop small as well.
Then you just need to fry the onion tomato with the curry leaves (which are optional) and ginger and garlic before adding the spices one by one.
Once the spices have been added you throw in the potatoes and pour in the Coconut Milk.
Then you just need to let the curry cook in it's own spices aromatic gravy until the potatoes are properly cooked through but not mushy.
The preparation process will take you about 5 minutes only and the cooking process with take you about 30 minutes.
You can shorten the cooking time by 10-15 minutes if you use precooked potatoes.
If you do it my way, you will have your potatoes picking up the flavor of the spices, which I think makes the curried potatoes all the more special.
Can you freeze the vegan potato curry?
Yes, you can freeze the vegan potato curry in smaller batches by storing the cooked cooled curry in food storage containers.
Useful tools to make this vegan potato curry:
How to serve the Potato Curry?
You have the option to enjoy this easy potato curry over plain cooked rice or try it out over lemon rice or aromatic clove rice.
You can also just enjoy the curry by spooning it with a flatbread such as Chapati or Puris, or enjoy the curried potatoes with bread.
Related to the Potato Curry
More Vegan Potato Recipes
Vegan Mashed Potatoes by Know your Produce
Roasted Potatoes by The wholesome Dish
African Stew by Avocado Pesto
Dear Readers, with what are you planning to serve this vegan potato curry?
Please feel free to share your ideas and thoughts further below in the comment section.
Global Food Recipes
with Spices and Herbs
Free E-Book available for a limited time. Grab yours now and get instantly inspired!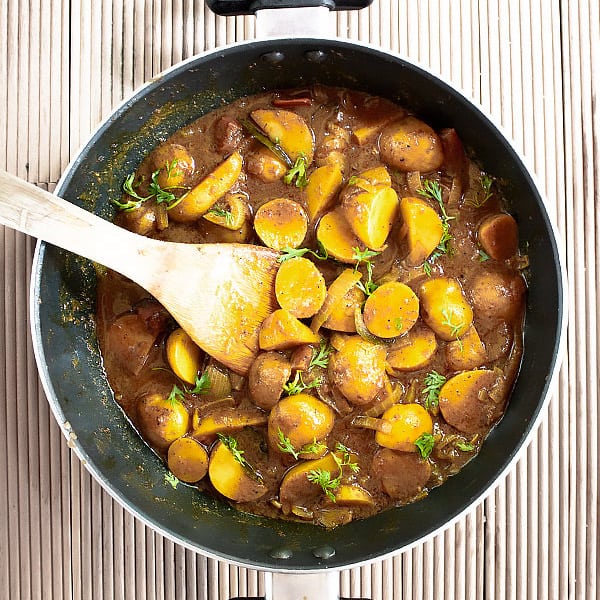 Vegan Potato Curry Recipe
This potato curry is prepared with coconut milk in less than 25 minutes. It's a one-pot meal which you can serve over cooked rice (see serving suggestions below the recipe card)
Print
Pin
Rate
Instructions
Scrub and Wash your baby potatoes well. Cut into half or quarter if they are bigger in size. Keep aside.

Slice your onion, dice your tomato. If you are intending to use fresh ginger and garlic instead of a paste, just chop both fine.

Heat up your

shallow pan

and add your oil. Fry your onion slices soft. Next add in your Curry leaves and stir fry along the onion to release the aroma.

Then continue to add in the tomato pieces. Stir cook for a minute on medium heat before adding in the ginger and garlic.

Now throw in the spices one by one, the turmeric, the black pepper, the red chili powder and the garam masala. Stir fry the spices on medium heat for a minute to release the aroma, then add the potatoes and at least pour in the coconut milk.

Mix the whole content well and bring to a quick boil. Take down the heat and simmer the curry on a lower heat setting, covered until the potatoes are cooked.

Garnish with fresh cilantro/coriander and serve still hot over rice or with chapati flat bread.
Notes
 You can use other potato varieties too. See my potato choice suggestion in the post.
I don't peel my baby potatoes as they taste great with the peel on. Besides nutrients, which are good for you, tend to be in the peel and you save time not peeling your potatoes. Just make sure to wash them well!
Use light coconut milk to reduce the calories in this recipe.
The vegan coconut curry is low carb but high in fats. These fats are good for you, the bad trans fats are almost nonexistent in this potato curry recipe.
You can choose to add curry leaves fresh or dried. Fresh is always better. Curry leaves lend the curry a special flavor.
You can cover the curry while it's cooking but you need to keep it on low heat because if the coconut milk gets too hot it can curdle slightly. Covering the pot will help in cooking the potatoes faster.
Nutrition
Nutrition Facts
Vegan Potato Curry Recipe
Amount Per Serving (263 g)
Calories 249
Calories from Fat 81
% Daily Value*
Fat 9g14%
Sodium 13mg1%
Potassium 728mg21%
Carbohydrates 37g12%
Protein 4g8%
Vitamin A 555IU11%
Vitamin C 74.6mg90%
Calcium 119mg12%
Iron 1.5mg8%
* Percent Daily Values are based on a 2000 calorie diet.