Oven roasted pork tenderloin with garlic and a delicious sauce.
Roasted Garlic Pork Tenderloin cooked and served in a flavorful sauce.
This recipe will help you to learn how to cook pork tenderloin in the oven.
Jump to:
What is pork Tenderloin?
Pork tenderloin is also known as fillet, which is a long boneless meat cut in a pig.
It's the most tender and usually most expensive meat cut in any animal.
The tenderloin should not be confused with the loin, these are two different meat cuts.
I have a recipe for a pork loin too.
Ingredients
This is a super simple, but flavorful, pork tenderloin roast.
You will only need a handful of ingredients and the meat doesn't need to be marinated in advance.
Here is what you will need:
pork tenderloin
garlic cloves - fresh
onion
lard or butter
broth
salt and black pepper
caraway or cumin seeds
water and all purpose flour to create a slurry (to thicken the sauce)
How to cook this pork tenderloin?
This is a great recipe for beginners. I loved it and my sister loved it too because it taught her to cook pork fillet the right way in the oven.
Here is a visual overview of how it's done. The recipe with US and metric measurements is located further below in the printable recipe card.
Step 1
Peel and cut garlic, slice onion
Cut holes into the tenderloin and push garlic in. Season pork.
Place lard (or butter), onion and tenderloin into a cooking pot.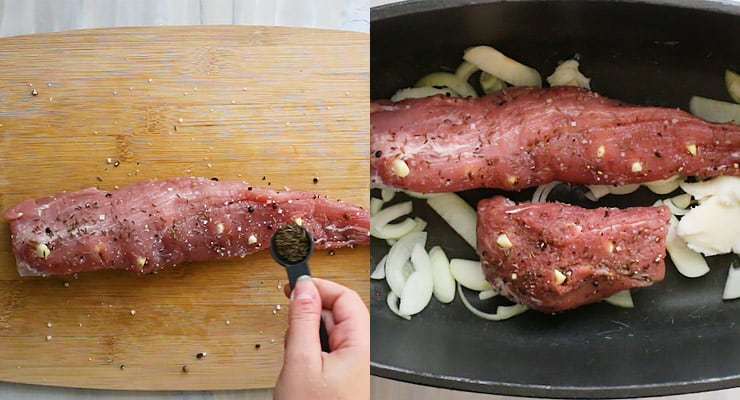 Step 2
Sear meat over medium to high heat on all sides.
Pour broth in and cover pot with a lid.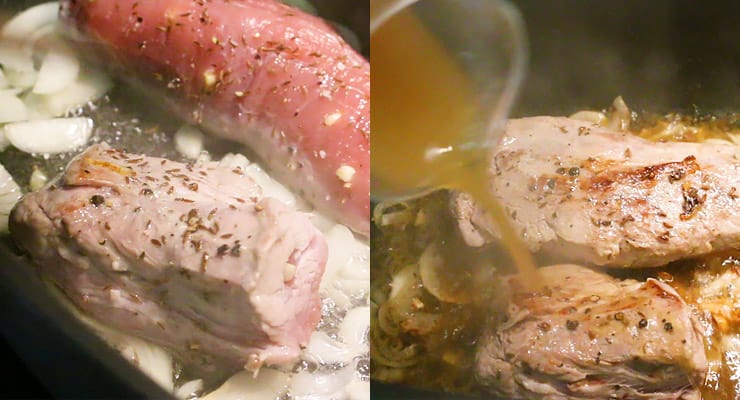 Step 3
Roast pork tenderloin.
Prepare slurry by combining flour and water.
Pour slurry in and finish roasting the meat.
Serving
Pour some of the sauce in the pot over the meat before serving.
That way it looks shiny, which will bring out the colors of the sear and the meat will be juicy.
Cut the meat in slices before you intend to serve it.
I love to serve up my pork roast tenderloin with root vegetables such as potatoes, carrots, or turnips.
Mashed potato is a great side dish as well as braised red cabbage.
Sauerkraut and dumplings is also an excellent choice to enjoy with pork.
Storing & Using Leftovers
You can keep leftovers cooled in an airtight container for up to 4 days in your fridge.
The cooked pork meat is already cooked but jsut need to be warmed up. That way you can easily use it as a flavorful addition to other meals.
You could add your tenderloin leftovers to your...
Cuban sandwich - so gooood!
pasta - to a sauce or in a bake
rice - as in fried rice
quesadillas or tacos
ramen or other asian noodle soups
FAQs
How long to bake pork tenderloin?
Bake your pork tenderloin for about 25-30 mins. The one in the picture baked for 30 mins, and it's done. If you want it more pink roast it for about 25 min more or less.
At what temperature to roast the pork tenderloin?
Roast at 400 Fahrenheit/ 200 Celsius.
Do you cook the pork tenderloin covered or uncovered?
Cook it covered for the first ⅔ of the cooking process. Then add the slurry and finish roasting it uncovered.
Should you sear pork tenderloin before baking?
Yes! Searing brings out the wonderful flavors of the meat. It will have a lovely golden brown color on the outside, which looks nice too when you are serving up your meat.
How to know when the meat is done?
Follow the heat and time instructions in the recipe. You can cut in to check if it's done to your liking. Another and even better idea is to get a meat thermometer. Poke the thermometer into the meat to see the inside temperature. For medium rare, at 145 Fahrenheit/ 60 Celsius, up to 160 Fahrenheit/ 70 Celsius Medium well done.
Please feel free to share your thoughts and ideas with us in the comment section further below!
So you love SPICES and HERBS?
GET 5 FREE SEASONING LESSONS
Type in your email address below.
Including free access to the
Seasoning Members only Club!
📖 Recipe
Roasted Pork Tenderloin with Garlic Recipe
Oven roasted pork tenderloin with garlic and a delicious sauce.
Print
Pin
Rate
Ingredients
For the Slurry
½

cup

Lukewarm Water

1

Tablespoon

All-purpose Flour
Instructions
Peel garlic and cut it lengthwise into smaller manageable pieces.

Make some holes all over the pork tenderloin and push a garlic piece into each hole until all garlic has been used up.

Season pork with salt, black pepper, and caraway seeds OR cumin (any of the two).

Place lard (or butter) with the sliced onion into a large pot and keep pork tenderloin over that.

Preheat oven to 400° Fahrenheit/ 200° Celsius.

Place a large pot over the stove to sear the meat and onions first. Brown meat on all sides.

Pour broth into the pot and mix it a bit in. Cover the pot.

Place into the oven and roast pork for about 20-30 mins at 400° Fahrenheit/ 200° Celsius altogether. The duration depends on how you want your meat cooked, if it should be pink (cook for 20 mins) or well done but juicy (cook for 30 mins). Use a thermometer to determine inner temperature doneness (see notes).

Prepare slurry by combining flour and water.

Pour after 15-20 mins cooking time the slurry into the pot and mix it in to create a thick sauce and finish cooking your meat.

Take out meat when done and pour sauce over the meat. That will bring out the lovely color of the sear. Cut into meat slices and serve up with the sauce.
Notes
For medium-rare, at 145 Fahrenheit/ 60 Celsius, up to 160 Fahrenheit/ 70 Celsius Medium well-done.
Nutrition
Nutrition Facts
Roasted Pork Tenderloin with Garlic Recipe
Amount Per Serving
Calories 97
Calories from Fat 18
% Daily Value*
Fat 2g3%
Cholesterol 41mg14%
Sodium 473mg20%
Potassium 305mg9%
Carbohydrates 5g2%
Protein 14g28%
Vitamin A 357IU7%
Vitamin C 5mg6%
Calcium 28mg3%
Iron 1mg6%
* Percent Daily Values are based on a 2000 calorie diet.