Fresh Iced Tea prepared with real Passion Fruit fruit pulp and Green Tea Leaves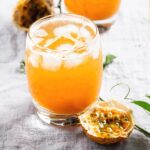 Iced Passion Fruit Green Tea is a refreshing fruity summer delight which you can easily make at home within minutes.
Enjoy a glass on your own or sere up a pitcher at a party, everyone will be raving over this summer time beverage!
Homemade Iced Teas
We enjoy iced teas when the days are getting hotter and our thirst grows every day all the more for a fruit ice tea.
I love preparing homemade iced teas.
I tried to use up fresh mangoes by turning the sweet tropical fruit into a mango iced tea and since ever then, we are totally hooked!
You will love this passion fruit iced tea if you want real flavors in your summer time drink.
Homemade fruit iced teas are more intense in flavor and definitely deserve your time and attention.
This is why.
Iced Passion Fruit Green Tea Ingredients
To prepare the best and freshest fruit flavored iced tea I use only fresh fruit pulp and only loose tea leaves.
I recommend that you use quality ingredients for the best result.
Passion Fruit [Maracuja]
Fresh passion fruits will take your ice tea to a whole new level and are definitely the way to go to enhance the flavor experience.
You can use yellow or purple passion fruits.
I use yellow ones because that's what grows in my garden.
The fruits are sweeter and completely ripe when they form wrinkles on the outer shell.
One fruit with the pulp goes a long way.
Passion Fruit seeds are edible and healthy.
In fact the seeds add a crunch and you can add them to your iced tea if you like.
I strain the passion fruit pulp to separate the pulp form the seeds.
Green Tea Leaves
If you want a tasty delicious iced green tea, use loose green tea leaves and not tea bags.
Tea bags might be convenient but they rarely contain quality tea leaves.
Using loose leaf green tea has its advantages because you can see, smell and inspect the quality of your tea.
There are countless green tea varieties and brands out there to prepare hot or cold green tea.
I tried fresh green tea when we visited the south Indian tea gardens in the Nilgiris and this was the best green tea I ever tried.
The biggest tea regions are located in India (Assam, Darjeeling, and Nilgiris), China and Japan.
Buying the right green tea, that you enjoy, around the world and online is trial and error.
You can start with this loose green tea if you are planning on drinking green tea more often in the future.
Tip: Try using japanese matcha green tea for a different experience.
Other ingredients
You will also need the following ingredients to make this iced passion fruit tea.
Water
Powdered sugar, honey, stevia or sweetener (optional)
Ice cubes
How to make Passion fruit green ice tea?
To prepare the passion fruit iced tea from scratch, follow the steps:
Step 1
Boil water with the green tea leaves.
Take from the heat and allow the tea leaves to infuse for about 5 minutes. (longer would turn the tea bitter)
Strain the tea and place into the fridge to cool.
Step 2
Cut the passion fruits into two and take out the fruit pulp with seeds with a simple teaspoon.
Drop the fruit pulp with seeds into a sieve with a bowl placed under the sieve to collect the fruit pulp.
Lightly press the fruit pulp through the sieve with a spoon by moving around so that the pulp falls through the sieve and the seeds are left in the sieve behind.
Step 3
Mix the passion fruit pulp with the cooled green tea, add sugar or similar to sweeten and ice cubes to serve cold.
More summer time drinks
Dear Reader, what green tea did you use to make this iced tea?
Please feel free to share your thoughts and ideas with us in the comment section further below!
PIN to save for later!
So you love SPICES and HERBS?
GET 5 FREE SEASONING LESSONS
Type in your email address below.
Including free access to the
Seasoning Members only Club!
Iced Passion Fruit Green Tea Recipe
Fresh Iced Tea prepared with real Passion Fruit fruit pulp and Green Tea Leaves
Print
Pin
Rate
Instructions
Keep the water over heat with the green tea leaves and bring to a boil.

Take the tea form the heat and allow the green tea to infuse for about 5 minutes before you strain the tea and discard the tea leaves.

Keep the tea in the fridge to cool further.

Prepare the passion fruit by cutting the fruits into half.

Keep a sieve ready with a bowl under the sieve to collect the fruit pulp with the seeds. Take out the fruit pulp form the passion fruit shell with a spoon into the sieve.

With a spoon press the fruit pulp through the sieve so that the seeds are separated from the pulp. Discard the seeds and collect the pulp in the bowl.

Mix the cooled tea with passion fruit pulp and sugar.

Pour the cooled passion fruit green tea into a glass or a pitcher and serve with ice cubes.
Notes
Add sugar or honey, stevia or sweetener according to your taste preference. Taste test and adjust.
Nutrition
Nutrition Facts
Iced Passion Fruit Green Tea Recipe
Amount Per Serving
Calories 103
Calories from Fat 9
% Daily Value*
Fat 1g2%
Sodium 49mg2%
Potassium 370mg11%
Carbohydrates 25g8%
Protein 2g4%
Vitamin A 1350IU27%
Vitamin C 31.8mg39%
Calcium 24mg2%
Iron 1.7mg9%
* Percent Daily Values are based on a 2000 calorie diet.
This post may contain affiliate links that point to things or services that I recommend. This may include Amazon, getyourguide and booking.com. As an Amazon Associate I earn from qualifying purchases.