Momos Recipe made at home with a veg cheese filling and fried crispy. Best served warm and with a spiced dipping sauce.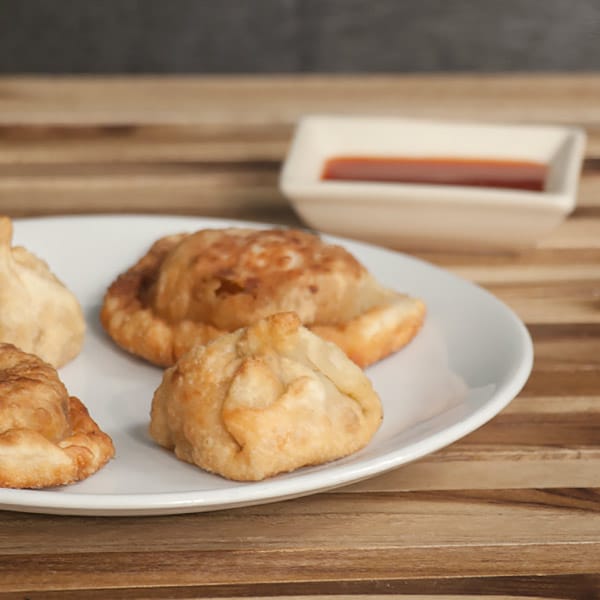 Momos Recipe with a veg cheese stuffing and fried for an extra crispy momo.
Tibetan and Nepali momos specialties as you can find them on your journey to Goa!
Learn how to make your own momos with the momos recipe below.
Global Food Recipes
with Spices and Herbs
Free E-Book available for a limited time. Grab yours now and get instantly inspired!
Jump to:
When you visit Goa, the unique tropical Indian coastline state, you will definitely take around and visit different restaurants.
The choice of restaurants is gigantic here during the tourist season, which by the way is happening between November and April every single year.
You can dine Indian, Italian, French, Chinese, Greek, German, Vegan, Pescetarian you name it!
Of course not all restaurants are perfect or otherwise, I would be dining out every single day and introduce you to some cool eateries but that's another story for another day.
Among all the International eating joints, one cuisine seems to be forgotten.
Nepali and Tibetan food should be high up there with the others because their food is some of the healthiest out there and of course, I am a fan of the food flavors.
At least while having scanned through several restaurant and beach shack menus I noticed that one Nepali and Tibetan dish always shows up the famous Momos!
📕 What are Momos?
Momos are basically Tibetan and Nepali flour dumplings stuffed with vegetables or non-veg fillings.
From what I understand, the traditional momos are steamed and commonly served in or with a clear soup.
The popular version in Goa are crispy fried momos, frequently even stuffed with chicken or beef.
Of course very nontraditional but very delicious!
My husband loves my fried momos recipe with veg and cheese but I have to confess I prefer the steamed version of veg and cheese.
The momo filling is not spicy and therefore I always suggest food struggling Indian visitors to check out momos first.
Momos are a great way to get into Asian food and believe me you won't be disappointed!
There are 2 main momo sealing versions here that I learned and I would like to share this knowledge with you.
The "bun" sealing version, or how I call it, is actually more suitable for the steaming process but if you have a deep frying pan ready then this momo form will work as well.
The crescent-shaped momos are more suitable for frying since they can be easily turned without that the wonderfully crafted shape gets smashed.
I leave the choice up to you!
Serve with Sweet Chili Sauce Dip.
👁️ Related Recipes:
Global Food Recipes
with Spices and Herbs
Free E-Book available for a limited time. Grab yours now and get instantly inspired!
📖 Recipe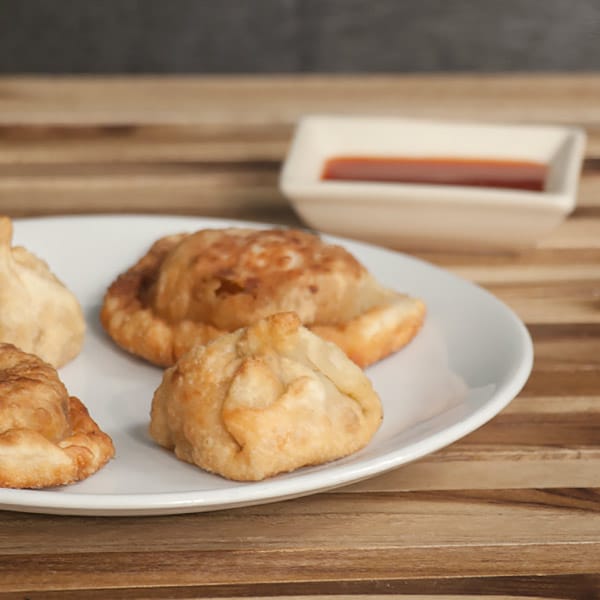 Fried Veg Momos Recipe
Momos Recipe made at home with a veg cheese filling and fried crispy. Best served warm and with a spiced dipping sauce.
Print
Pin
Rate
Instructions
For the momos recipe dough, mix the flour and salt first. Make a well in the center and add the water.

Mix the whole content and work the dough out for a short time until smooth. Keep aside covered with a cloth for 20 minutes to rest.

In the mean time, grate your carrot and cabbage thin. Chop your onion small. Heat up a pan and add 1 Tablespoon Oil and fry the onion first translucent, then add the grated carrot and cabbage and stir fry frequently while adding in the ginger garlic paste, salt, pepper, ajinomoto, coriander, vinegar and water. Stir fry until the vegetables are all soft and cooked and until the mixture is more dry. Keep aside to let cool a bit.

In a mixing bowl add the grated cheese and the previously fried vegetable mixture.

Combine the whole content well and keep aside.

Grab your dough and work it out again shortly with some extra flour so that it doesn't stick on.

Form into a big fat sausage and cut same sized pieces. Roll those in turn into smooth balls. Flatten and continue to roll them out into thin roundish circles.

If you want to make crescent shaped momos then place some of the filling (about 1 ½ Tablespoon full) onto one side more towards the center of the rolled out flat dough.

Fold over one side, wet the ending with a drop of water and twist in edges as shown. Do that with the remaining dough or...

shape the dumplings into buns by placing some of the momos recipe filling (again about 1 ½ Tablespoons of the filling) into the center. Wet the edge and fold in 3 sides to the center and hold and fold in the new 3 corners to the center.

Press and twist it at the center together so that it is properly sealed. Do that with the remaining dough or choose the crescent version.

Heat up a pan or deep frying pan (I used a simple pan because I wanted to save oil but I suggest that you use a deep frying pan or the Western style home deep frying machines) and wait for the oil to get hot. The oil should never smoke, that's very unhealthy and dangerous too!

To test if the oil is hot enough just take a piece of dough and drop it in. If it bubbles, it's a good sign and you can go ahead and drop a batch of the momos.

Fry the momos for a few minutes first on one side until golden and then turn and fry on the other side until golden. Take out from the oil and drain excess oil on a paper towel.

Serve hot with a spicy tomato sauce!
Nutrition
Nutrition Facts
Fried Veg Momos Recipe
Amount Per Serving
Calories 100
Calories from Fat 18
% Daily Value*
Fat 2g3%
Cholesterol 6mg2%
Sodium 110mg5%
Potassium 84mg2%
Carbohydrates 15g5%
Protein 5g10%
Vitamin A 910IU18%
Vitamin C 7.1mg9%
Calcium 87mg9%
Iron 0.9mg5%
* Percent Daily Values are based on a 2000 calorie diet.