More than 30 Mango Recipes, la creme de la creme, and only the best!
You get to pick your future favorite Mango dish!
See what I and my food blogger friends share on mango recipes further below.
I think we covered everything from dessert to salads and anything in between.
Mango Season
We are celebrating Mango months right now so to fully enjoy the mango harvest from the tropics, we get to taste a piece of summer feeling once again with these sunny sweet and savory mango dishes.
Mangoes are at times available all year round everywhere in the world but of course, these amazing stone fruits taste the best during the switch from spring to summer.
These orange shaded juicy stone fruits grow in countries such as India, Thailand, China, Mexico, Brazil, South Africa,, Australia, US, Israel, and Caribbeans.
In fact, by now the fruit is grown wherever it's warm and frost free and then exported to the rest of the world.
So, you will have noticed an increase of mangoes in your local grocery store and if the mango prices are tumbling you may consider buying a load full.
The beauty of mangoes is that they can be peeled, cut and the flesh collected and stored in the freezer for later use.
In fact, you can also prepare a mango pulp which you can defrost at any point in the coming months to create all kinds of recipes calling for mango puree.
In fact, I have a separate post about mango puree and its uses here.
Today, however, I want to focus on mango recipes as a whole.
That means the BEST ripe, unripe, whole or pureed mango recipes from masalaherb.com and a strict selection from some of the best food bloggers out there.
I hope you get to discover some recipe gems and maybe some food bloggers along the way.
You know I love to share all good things in life and of course, I do enjoy reading other food blogs.
Some have been an inspiration for a few years now.
Mango varieties
There are countless Mango variations. Some mango cultivations are listed here, however, I can see that a lot are missing in that list alone.
For example, the main picture shows the biggest mango variety.
It's known as Bispo or Bishops Mango.
It's my all-time favorite Mango but it's missing from all accounts.
So, as you can see there are Mango varieties which are rather rare and they specifically grow in certain areas of this world only.
Alphonso mangoes are undoubtedly the most well-known mango variety out there and that for a good reason.
Besides tasting great and being juicy, Alphonso mangoes tend to have no fiber strings.
Therefore, when you pick a mango you should look out for a variety with fewer fibers.
I often end up with fibrous mangoes, I still use them because these are some of the best-tasting mangoes ever.
But, I will strain the pulp as I did in the mango iced tea (recipe link further below) or I will boil the mango jam with the seed core because I don't want the strings in my jam (recipe with link further below).
In no particular order, with sweet Mango Dessert Recipes, Savory Mango Recipes, Easy Mango Recipes and much more!
[Including a few frozen Mango Recipes] without further ado.
Tip: To get to your chosen mango recipe click on the title or picture.
+30 of the BEST Mango Recipes
~~~
platingsandpairings.com
~~~
by aberdeenskitchen.com
~~~
~~~
by healthylittlefoodies.com
~~~
by peasandcrayons.com
~~~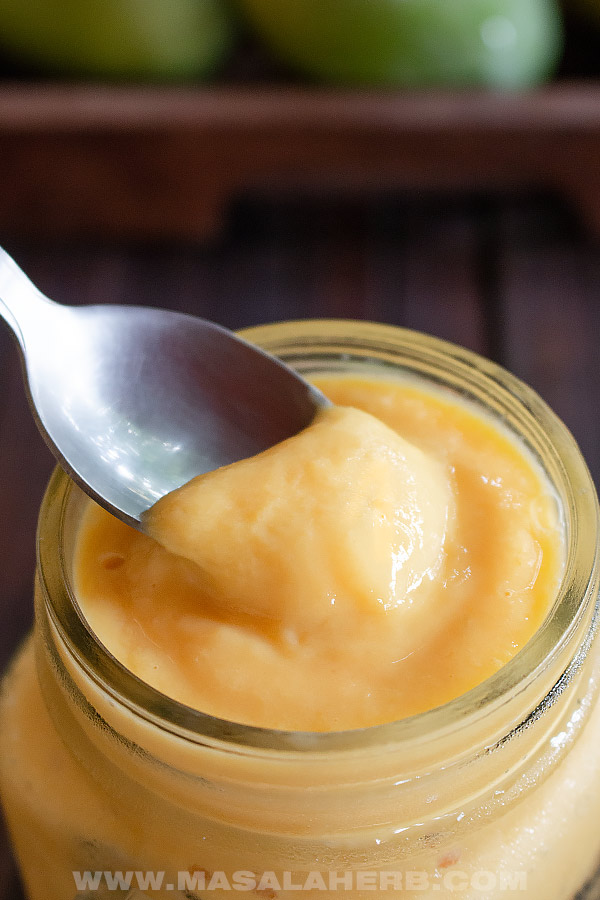 ~~~
by dessertfortwo.com
~~~
by iowagirleats.com
~~~
by saltandlavender.com
~~~
by helloveggie.co
~~~
by theliveinkitchen.com
~~~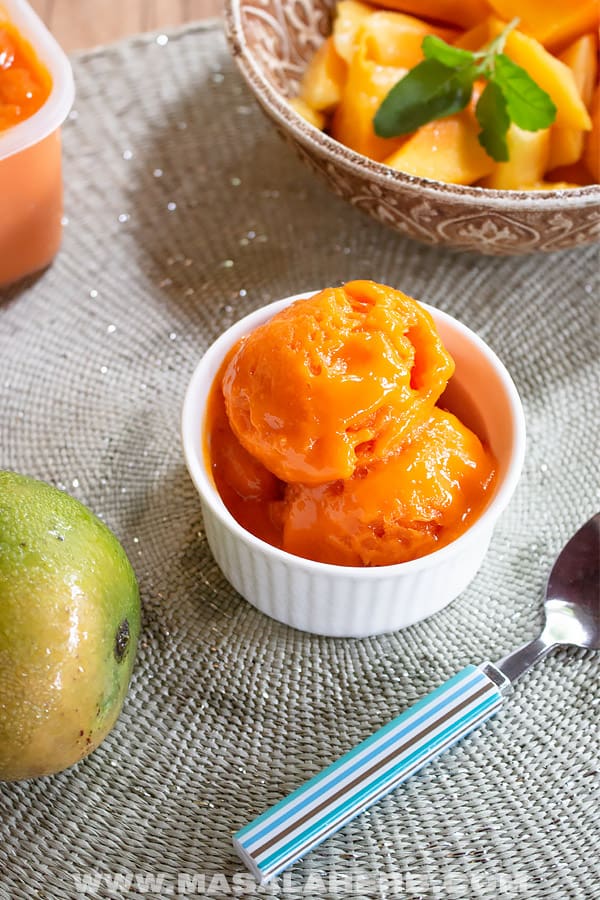 ~~~
by recipesfromapantry.com
~~~
by savoryspin.com
~~~
~~~
by thatskinnychickcanbake.com
~~~
by orgasmicchef.com
~~~
by justonecookbook.com
~~~
by frieddandelions.com
~~~
~~~
by ijustmakesandwiches.com
~~~
by deliciouseveryday.com
~~~
by lovefoodnourish.com
~~~
~~~
by kidgredients.com.au
~~~
by abraskitchen.com
~~~
by knowyourproduce.com
~~~
by goodinthesimple.com
~~~
by thepkpway.com
Dear Reader, which Mango Recipes are you planning to try first?
Global Food Recipes
with Spices and Herbs
Free E-Book available for a limited time. Grab yours now and get instantly inspired!