Sweet Dandelion Jelly, aka honey, is truly a delightful breakfast treat. Forage your own dandelions and make this amazing jelly!
Total Time:
2

hours
20

minutes
Cook Time:
1

hour
30

minutes
Jump to Recipe
Dandelion jelly is prepared with real dandelion blossoms and is also known as dandelion honey.
This is a simple, no pectin dandelion flower jelly recipe.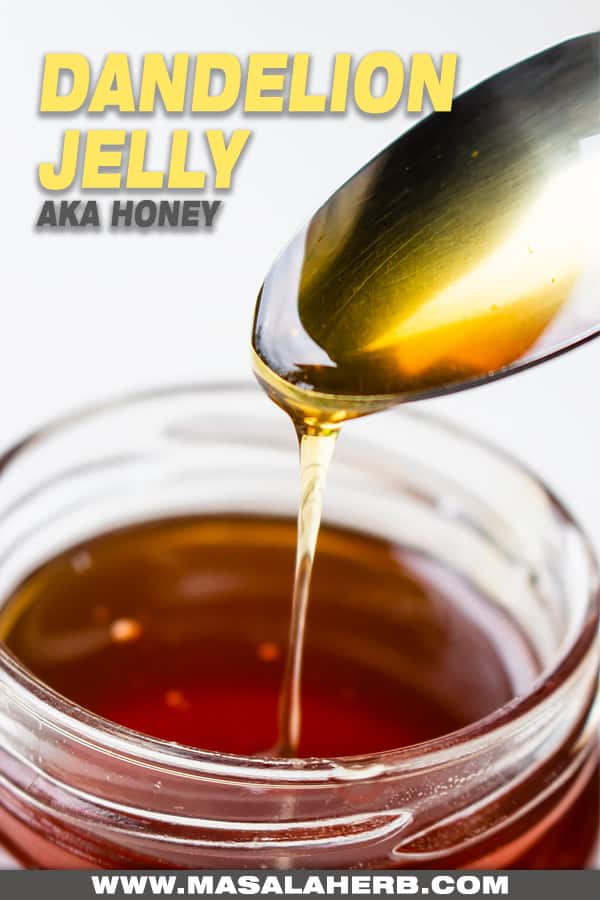 Global Food Recipes
with Spices and Herbs
Free E-Book available for a limited time. Grab yours now and get instantly inspired!
Jump to:
📕 What is Dandelion Jelly?
Yellow dandelion flowers are foraged and collected. The flower buds are cooked and the juice extracted.
That juice is then preserved to create dandelion jelly.
It tastes and looks more like fresh flower honey from your forest fields.
💐 Ingredients
This is an all natural recipe, you will need a handful of ingredients only and no artificial pectin. I have listed all that you require.
The full recipe with US and metric ingredients is located in the recipe card further below.
Dandelion Flowers - foraged
Water
Sugar - regular crystallized sugar
Lemon Juice + Lemon Halves - freshly squeezed and use untreated (no pesticides) lemon halves in your food.
🔪 How to make it?
Step 1
Pick flowers, rinse and keep them to dry for 2-3 days.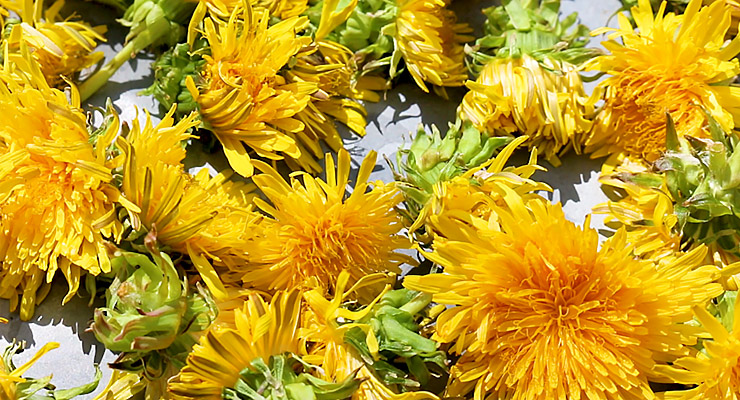 Step 2
Separate yellow dried blossoms from the green stem. Discard the stem.
Step 3
Boil flower blossoms to infuse the water.
Strain and discard flowers.
Step 4
Boil flower blossom water with sugar and lemon juice.
Reduce your jelly and test if it's set with a candy thermometer. Setting temperature is 220 Fahrenheit/ 105 Celsius.
Step 5
Pour dandelion preserve into clean jars. Close with a lid and store in a coold and dry place.
🌻 What are dandelion flowers?
The dandelion flower petals can be easily recognized because of their yellow flower heads.
The flower buds close during the night and reopen every morning again.
The yellow petals turn white in time with the seeds dangling at the bottom.
Some people will know it as a dandelion puff and kids love to blow away the seeds.
The head is carried by a hollow stem that contains a white sap and usually, each flower comes with a set of jagged leaves.
Dandelion flower head, leaves, sap and roots can be all consumed.
You can prepare a dandelion greens salad or make a lovely tea of it.
🌍 Where to find Dandelion flowers?
I remember my grandmother who would collect dandelion leaves to add them to salads, or she would make a dandelion tea of them.
So you see, the dandelion flower is not just one of those hazardous wildflowers, but in fact a very useful plant.
The awesome part is, that Dandelion flowers grow pretty much everywhere in the Northern Hemisphere, so you can forage for them!
So you might just find it outside your house growing and since nobody knows the value of the plant, nobody will be bothered if you collect them for your own use.
Dandelions can be easily foraged and collected in the fields for free.
You can use a Dandelion picker or puller to help you collect the flower buds.
Usually, dandelion fields are not contaminated with poison, if you are not sure, ask the local farmer (or whoever owns the property).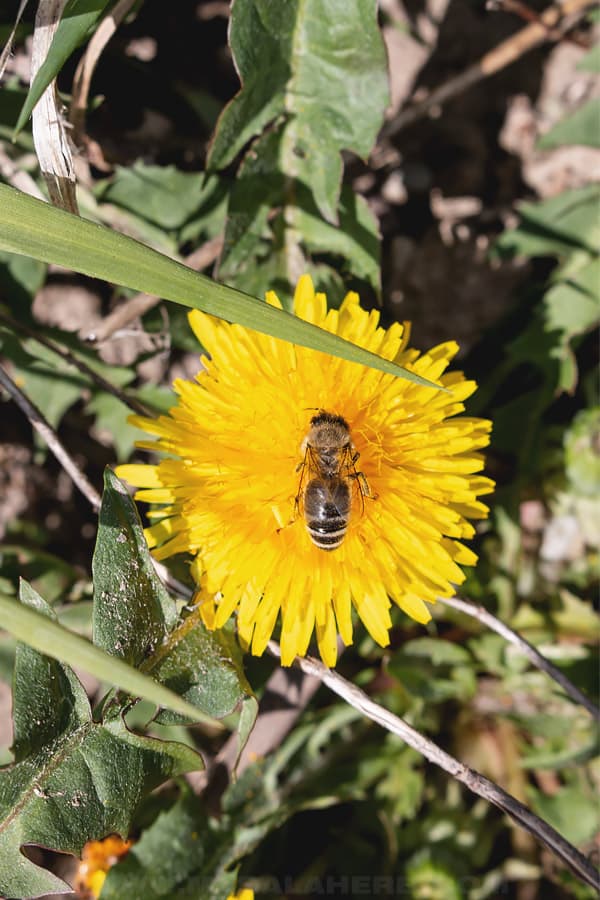 🌱 When are the flowers in Season?
The yellow, humble dandelion flower, can be commonly found end of March to end of August.
The plant tends to grow twice a year in spring/summer. The flowers tend to grow a little later in higher altitudes.
That said, the first batch in spring has usually more flowers growing on the fields.
A harsh winter might reduce dandelion growth to a one-time field growth in a season.
🥣 Jelly Uses
We love to drop and spread some dandelion jelly over a slice of bread. Especially if it's a wholewheat bread.
You can use the jelly to sweeten your tea too. Just the way you would use honey. This is common in Russia too.
Dandelion Jelly makes a great addition to cakes, pastries, and cookies. You can use it as a filling in thumbprint cookies, doughnuts, and other sweet treats.
I like to add a spoonful of Dandelion honey to my homemade yogurt, and I usually have this after my dinner as a dessert.
🍱 Storing
This jam is best stored in a cool and dry place. If you live in a cool climate, then storing it on the shelf, will do as long as it is unopened.
In doubt, store in your fridge. The Jelly can be frozen in smaller batches in your freezer too.
You can choose to add another layer of food safety by water bath canning your jars. This will add another few months to your jelly preservation.
💭 FAQs
Are dandelions good for you?
We believe in our culture that dandelions are great to treat urinary infections. In fact, the name of the flower is pissenlit in French, which translates to pissing in the bed. And so the leaves and flower buds are still used today to fix kidney and urinary tract problems.
What's the infused dandelion water and sugar ratio?
ratio is 1:1 water and sugar
i.e 1 liter water with 1 kilogram sugar OR 1 quart with 2 pounds.
Can you reduce the sugar quantity in the recipe?
I don't recommend reducing the sugar in the recipe because sugar helps in preserving your jelly. If you reduce the sugar, your jelly will barely last long enough. This is something you need to keep in mind.
How long does dandelion jelly last?
Prepare the jelly as per recipe instructions and test if it is set. Store in a clean sterilized jar and your jelly will last from 5 months and up to 10 months unopened, kept in a dry and cool place away from direct sunlight.
👁️ More Jelly Recipes
Global Food Recipes
with Spices and Herbs
Free E-Book available for a limited time. Grab yours now and get instantly inspired!
📖 Recipe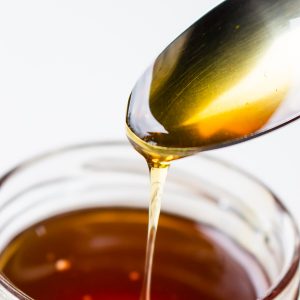 Dandelion Flower Jelly
Sweet Dandelion Jelly, aka honey, is truly a delightful breakfast treat. Forage your own dandelions and make this amazing jelly!
Print
Pin
Rate
Ingredients
200-250

Pieces

Dandelion Flowers

freshly plucked, *see Notes

1

Quart

Water

Sugar

quantity according to infused water (*see Notes)

2

Lemon Halves

use lemons treated without pesticides
Instructions
Pick your flowers freshly from the fields and rinse them well to get rid of any impurities and insects. It helps to add a cap of vinegar to the water to get rid of insects when washing the flower heads.

Keep dandelion flowers to dry for 2-3 days in the sun. The flowers can be dried in a dehydrator too but sundried dandelion petals are better.

After they are dried, pick out the yellow flower blossom and keep them in a bowl. Discard the green parts, those are bitter.

Pour water into sauce pan and add flower pieces. Bring to a boil, cover and keep over slow fire for about 1 hour. Allow it to simmer slowly.

After cooking, when the water has been infused, strain the juices from the flowers well and press out all the juices of the flower. Discard the flower pieces.

Take the strained liquid back to the heat together with the sugar and lemon juice and squeezed out lemon halfes. Mix well and bring to a boil. The sugar quantity depends on the quantity of the strained liquid, if you have 1 quart you need 2.2 pounds sugar (*see Notes). The ratio is 1:1 water and sugar.

Stir well and let it cook slowly until the jelly sets OR until you are satisfied with the consistency (*see Notes). Skim and remove the foam on the jelly.

Check if the jelly is good with a candy thermometer. The right temperature is 220 Fahrenheit/ 105 Celsius. You can also test if it is done, by dropping some hot jelly on an ice-cold plate. If it runs a lot it's not ready and needs more cooking, if it's not running but appears like honey, it is ready.

In the meanwhile, sterilize the 2-3 Jars and keep a few drops of rum (or vodka or other) into the inner jar lids. That will help to preserve the jelly for a longer period. Fill your sterilized jars to the rim, close with the lid and turn upside down to create a vacuum.

Leave it upside down overnight. The next day, label your jelly and store in a cool and dry place. Store in the fridge once opened.
Notes
The flowers need to be picked freshly with the head opened and not closed. Pick only flowers from untreated (nonpoisonous) fields.
You can add one orange (juice and skin, without the white flesh) to your cooking flowers. That helps in adding natural pectin to the jelly. The original recipe included orange but I have been skipping it lately to keep it simple.
Important: Add as much sugar as you have infused dandelion water. Measure after straining the liquid left. 1 liter =1 kilo sugar, 1 quart = 2.2 pounds. The ratio is 1:1. I.e with one liter water I ended up having 700 milliliters infused water after cooking and therefore added 700 grams sugar.
Dandelion jelly won't set the way a red currant jelly sets because it lacks fruit pectin. That is why I think honey is a better name. However, you can cook it down further to increase the thickness. It's fine if it is a honey consistency (see picture and video) and it will last for 5-10 months unopened in a cool and dry place. Keep in the fridge once opened.
1 serving = 1 Teaspoon, 70 servings = about 2-3 jars.
Nutrition
Nutrition Facts
Dandelion Flower Jelly
Amount Per Serving
Calories 35
% Daily Value*
Sodium 2mg0%
Potassium 14mg0%
Carbohydrates 9g3%
Vitamin A 295IU6%
Vitamin C 2mg2%
Calcium 7mg1%
Iron 0.1mg1%
* Percent Daily Values are based on a 2000 calorie diet.