Slowly cooked onions in a skillet with a few ingredients. This is a basic DIY caramelized onions recipe.
Caramelized Onion are cooked slowly in a skillet, releasing natural sweet flavors as they turn brown and super delicious!
This is a simple recipe that shows how to make, including ideas to use your homemade caramelized onions.
Jump to:
📕 What are caramelized onion?
Caramelized onions are slowly cooked in a skillet and that way the natural sugars are released and "candied".
It has to be done slowly so that the onions don't burn and that takes time.
There is no shortcut for perfect delicious caramelized onions.
But you can help yourself by using a non-stick frying pan/skillet. That way you won't need to use that much fats and the onions are less likely to burn on.
Tip: Use only BPA and PFOA-free non-stick frying pans and skillets to avoid contaminating your food with harmful chemicals.
🧅 Ingredients
I kept this recipe simple because the onions taste great as is, but I do share some seasoning options below:
Onions - any will do. I use red onions but you can use yellow, white, and pearl onions too. Each onion variety has its perks but some are definitely naturally sweeter than others. Spanish onions and Vidalia onions are super sweet and you won't need to add sugar if you use these onions.
Butter - Brings out all the flavor and I don't recommend switching with other fats. Butter makes it taste so delicious caramelized.
Salt and Black Pepper - I like to use pink salt or another salt that tastes umami. I use freshly crushed black peppercorns for the best flavor effect.
Sugar - I love to add some brown sugar. It's optional, so if you want to go low carb, skip the sugar. Some onion varieties don't need the addition of sugar, so if you use a sweet onion variety, also skip the sugar in this recipe.
That's it! These are the main ingredients, however you can also add some other seasoning such as a few drops of tabasco sauce, Worcestershire sauce or balsamic vinegar.
🔪 How to make caramelized onions?
Making caramelized onions is easy but you need to keep an eye on them so that they don't burn.
Here is an overview to give you an idea, the full recipe with US and metric adjustable measurements is located further below in the recipe card.
Step 1
Peel and cut onions.
Cut them into half or quarters and into slices. The slices shouldn't be too thick nor too thin.
Step 2
Heat up a pan with butter and add the onion.
Sauté onions and season.
Step 3
Cook onions down over a slow heat setting, stirring every now and then.
This will take about 40 minutes or until you are satisfied and the caramelized onions have turned the way you like them.
🍴 Uses
I just eat my sweet cooked onions straight out of the pan. I can barley stop myself but there are so many great uses for homemade caramelized onions.
You can add them to your burger, pizza, pasta or toast. A caramelized onion dip makes for a great party appetizer.
Serve as a side dish with steak, beef tenderloin, pork tenderloin, chicken breast, sausages or sauteed mushrooms and bell peppers.
Caramelized onions are great in egg-based dishes too such as quiche, frittata, or omelette. I love them in our French onion tart.
You can enhance your mashed potatoes, risotto, focaccia bread, hummus and goat cheese appetizers with these sweet-tasting browned onions.
🍱 Storing
You can make these onions ahead of time.
Store your caramelized onions for up to 5 days in your fridge in an airtight container.
Warm them gradually up in a pan. When they sizzle a bit and they are hot enough, they are ready.
I don't recommend freezing them because their consistency will be weird when you thaw and reheat them.
Except if you freeze them in batches on a tray, so that they are separated a bit from each other. You don't want clumps.
That way you can reheat them in the oven and they will turn a bit crispy too.
💭 FAQs
How long does it take to caramelize onions?
About 40-50 minutes from start to finish. Choose when they are done, they can be light brown to medium light, like mine, or darker shaded.
What temperature to cook the onions so that they caramelize?
In the beginning, you need to simply sauté them over a medium heat setting. The onions will turn glossy and then you need to be careful that they don't burn so you will need to reduce the heat and stir more frequently. The onions will need to caramelize slowly so that the sugars are released at the right temperature. Keep over the lowest heat setting until they are done and fully caramelized.
What's the difference between caramelizing and sautéing onions?
Caramelized onions are prepared by first sautéing them. The heat is then reduced and the onions are slowly cooked, which released all the beautiful natural sugars in the onion. Sautéing is just cooking onions for a short time over a medium heat setting until they are translucent or glossy.
How to make this fast?
There is no faster method to caramelize onions.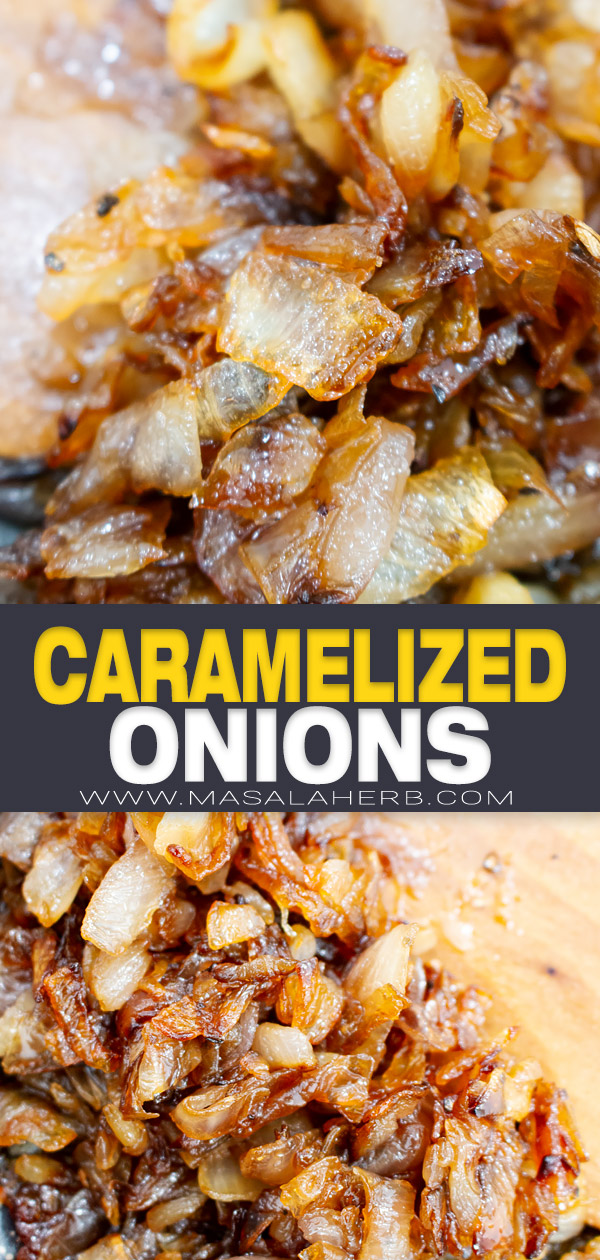 📖 Recipe
Simple Caramelized Onion Recipe
Slowly cooked onions in a skillet with a few ingredients. This is a basic DIY caramelized onions recipe.
Print
Pin
Rate
Ingredients
3

large

Onion

*see Notes

3

Tablespoon

Butter

¼

Teaspoon

Salt

¼

Teaspoon

Black Pepper

½

Tablespoon

Sugar

optional, brown sugar is great!
Instructions
Peel your onions and cut them into half or quarters. Cut into not too thick and not too thin slices. All should be the same.

Heat up a pan and add your butter. Melt butter and stir in onion slices.

Keep over a medium heat setting and sauté onions until translucent.

Takedown the heat a notch and season with salt, black pepper, and if you want you can add sugar too. Stir mix.

When the onions start to get some color, take down the heat further to the minimum stove setting. Or else your onions will burn and won't caramelize.

Keep cooking it on slow heat for about 40 mins or until you are satisfied with the caramelization degree. Stir occasionally to prevent the onions from burning.

The onions will get sweeter over time and the quantity will reduce significantly. Decide if you want them to be light brown or darker brown. Take from the heat.

Use in your favorite food as a topping, in dinner meals, breads, dips etc.
Notes
Pick an onion variety that you like. I used purple onions because that's what I got here. Yellow ones are more suitable, but purple onions are not that sharp too. 3 large onions equal to 5 medium-small onions.
Use a non-stick PFOA and BPA-free skillet or frying pan. That way the onions are less likely to burn.
Nutrition
Nutrition Facts
Simple Caramelized Onion Recipe
Amount Per Serving
Calories 253
Calories from Fat 153
% Daily Value*
Fat 17g26%
Cholesterol 45mg15%
Sodium 450mg19%
Potassium 337mg10%
Carbohydrates 24g8%
Protein 3g6%
Vitamin A 531IU11%
Vitamin C 17mg21%
Calcium 58mg6%
Iron 1mg6%
* Percent Daily Values are based on a 2000 calorie diet.