Quick and easy broccoli casserole recipe. Serve as a holiday side dish or an all year round vegetarian dinner meal.
You are going to love this broccoli casserole if you are looking for a healthier quick and easy recipe!
I show you in my recipe video and in the process shots further below how to make broccoli cheese casserole from scratch.
Global Food Recipes
with Spices and Herbs
Free E-Book available for a limited time. Grab yours now and get instantly inspired!
I was inspired by my zucchini casserole and broccoli cheese soup when I came up with this broccoli casserole recipe.
Brace yourself and eat guilt-free!
This healthier vegetable casserole with broccoli is loaded with nutritious elements, real ingredients, and it packs flavors.
Jump to:
🔪 How to make it?
To make our own easy and healthier broccoli casserole, you will need a casserole dish and a pot to blanch the broccoli.
Find the full printable recipe card with ingredients and instructions details and video at the bottom of this post.
Step 1
Keep a pot with salt water to boil.
Place your clean broccoli floret chunks into the cooking water and keep a timer to 3 minutes to blanch the vegetables.
When done, take the broccoli through cold running water as this will retain the green color too.
Get rid of excess water and keep your broccoli aside.
Step 2
Add to a mixing bowl the eggs, cream, black pepper, Italian seasoning, cheese, and Dijon mustard.
Combine all the ingredients.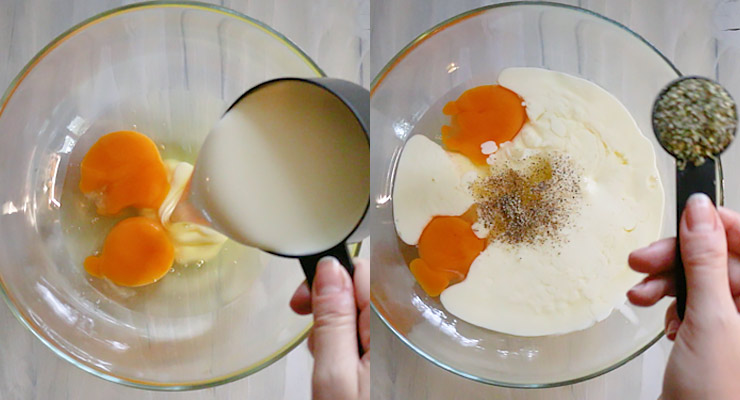 Step 3
Place broccoli florets into your baking dish.
Pour egg-cream mixture over the broccoli in the dish and spread out as well as possible.
Drizzle some olive oil over the dish and bake in the oven.
🥦 Choice of Broccoli
For my easy broccoli recipe, I recommend that you use fresh broccoli because it will save you waiting time.
A garden fresh casserole with broccoli would be the ideal thing, but you can, of course, use grocery broccoli too to prepare this tasty dish.
You can also use frozen broccoli to make the broccoli and cheese casserole recipe.
Frozen vegetables will need to thaw first or else they will be mushy and boring, so leave them out, defrost completely, and use them just like the fresh florets.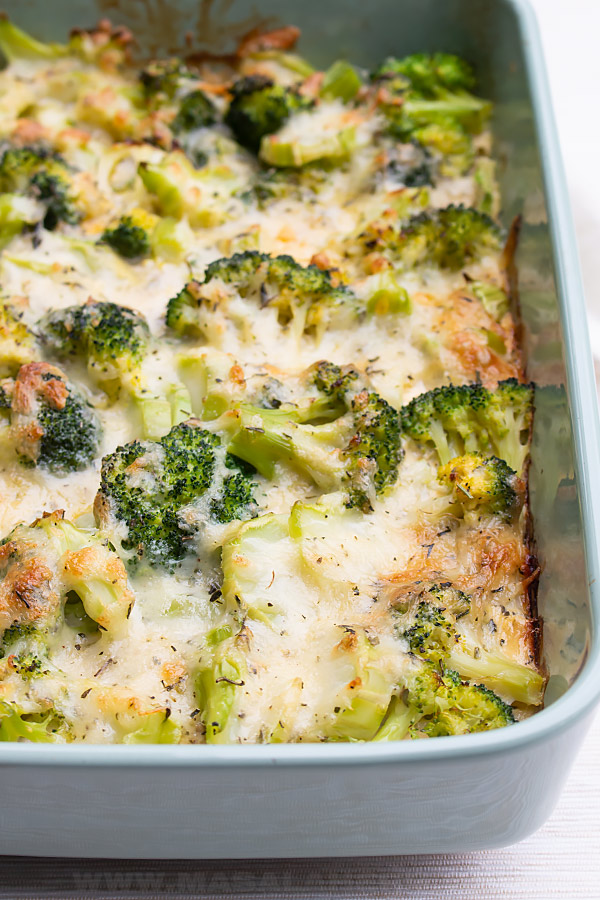 🍲 Why blanch Broccoli?
If you chose to use fresh broccoli, you will need to blanch the florets.
Blanching means boiling your vegetables for a brief moment and then taking them through cold water to stop the cooking process.
Blanching kind of precooks the broccoli before the florets are placed into the oven, where they are cooked through completely.
I choose to blanch my broccoli in this recipe because they don't need to cook through as they will be getting soft in the oven.
Besides, blanching helps in retaining vitamins and minerals and this is another reason why this is a healthy broccoli casserole.
AND blanching will quicken the progress of your dish preparation because blanching is done within 3 minutes.
🍴 Serving
The easy broccoli casserole recipe makes a lovely side dish with roasted turkey or chicken.
That means you can serve this vegetable casserole dish for thanksgiving with other amazing side dish meals.
OR you can simply enjoy your casserole as a stand-alone vegetarian dish.
I even make it in summer when I'm craving more vegetables!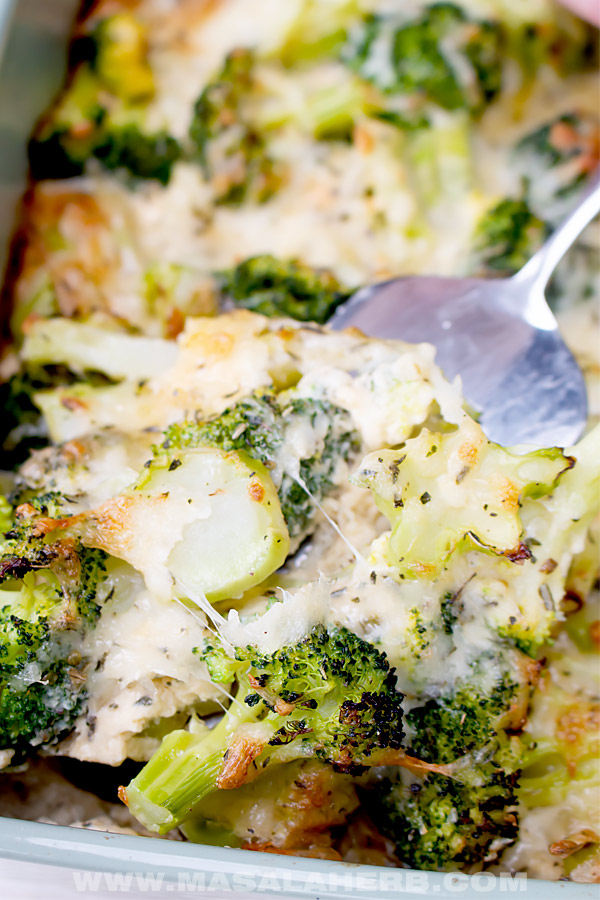 🥣 Variations
You can pimp your broccoli dish to turn it into a wholesome dinner meal.
Here is how:
with leftover rotisserie chicken or Thanksgiving ham - Just add the meat shredded or cut into pieces over the broccoli before pouring the egg-cream mix over the uncooked dish.
with bacon - fried bacon chopped to small piece
with rice - a layer of cooked leftover rice over the broccoli
with a different seasoning instead of Italian seasoning - you can use only oregano, Herb de Provence or my versatile spaghetti seasoning
🍱 Freezing
Prepare the dish as per recipe instructions in a foil-lined casserole dish.
Place into your freezer and allow your casserole to freeze completely.
When hard frozen, take it out (it's easier because we lined it with foil) and wrap the dish completely in foil.
Take your casserole dish back to the freezer, where it can be stored for up to 4 months (I don't recommend any longer).
To thaw your broccoli cheese casserole, place it frozen into the fridge for about 24 hours before you intend to bake it.
Make sure your casserole is properly thawed or else it might turn out soggy after the baking process.
💭 FAQs
How long does Broccoli Casserole last in the fridge?
A baked cheesy casserole with broccoli is good for about 3-5 days in the fridge.
What cheese can you use in this easy broccoli cheese casserole?
I like to use cheddar, Emmenthal or Raclette cheese. You can use hard mozzarella cheese and other cheese such as Gruyère too.
Can I double the recipe to make a larger batch?
You can make two casserole dishes to serve a larger crowd.
👁️ More Casserole Recipes
Global Food Recipes
with Spices and Herbs
Free E-Book available for a limited time. Grab yours now and get instantly inspired!
📖 Recipe
Easy Broccoli Casserole Recipe
Quick and easy broccoli casserole recipe. Serve as a holiday side dish or an all year round vegetarian dinner meal.
Print
Pin
Rate
Ingredients
To blanch broccoli
21.2

ounces

Broccoli

cleaned + cut into florets, *See Notes

1

Teaspoon

Salt

Water

to blanch Broccoli
Instructions
Keep a pot with water and salt to boil and place your clean broccoli pieces into the water so that they are submerged completely. Place the timer to 3 minutes to blanch your broccoli and then take out to leave in cold running water or a bowl of ice water to stop the cooking process.

Preheat oven to 350° Fahrenheit/ 180° Celsius.

In a mixing bowl combine the egg, cream, salt, black pepper, Italian seasoning, mustard paste and cheese to a well-combined sauce.

Place cooled broccoli pieces into a large casserole dish. Spread out so that they fit into the whole dish and that they are on a level.

Pour cream sauce mixture all over the broccoli in the casserole dish.

Sprinkle and spread out olive oil over the dish.

Bake cheesy broccoli egg casserole at 350° Fahrenheit/ 180° Celsius for about 30 minutes or until it has a golden crust, it's cooked through and done.
Notes
Use fresh or frozen broccoli. Fresh broccoli needs sot be blanched. Frozen broccoli needs to be thawed but I don't blanch frozen broccoli. You can skip step 1, blanching, if you use frozen broccoli. Frozen broccoli is usualy blanched before it was frozen to retain the vital vegetable enzymes.
You can substitute Italian seaosning with your favorite dried herb or herb blend such as oregano, Herb de Provence, Spaghetti Seasoning (yep that does the trick too) or even a mediterranena multi purpose herb blend such as Zaatar.
The addition of Dijon Mustard is optional. It adds some interessting flavors and compliments the broccoli. Besides, mustard is an emulsifier and it will help bind your sauce for the perfect bake.
You can use a good melting cheese that has flavor and that you enjoy. I like to use cheddar, raclette, ementhal, gruyere, and sometimes some parmesan. You can also mix two or three cheese.
Nutrition
Nutrition Facts
Easy Broccoli Casserole Recipe
Amount Per Serving
Calories 387.43
Calories from Fat 295
% Daily Value*
Fat 32.82g50%
Cholesterol 164.59mg55%
Sodium 1357.66mg57%
Potassium 486.35mg14%
Carbohydrates 11.56g4%
Protein 14.75g30%
Vitamin A 1908.56IU38%
Vitamin C 107.58mg130%
Calcium 342.8mg34%
Iron 1.78mg10%
* Percent Daily Values are based on a 2000 calorie diet.